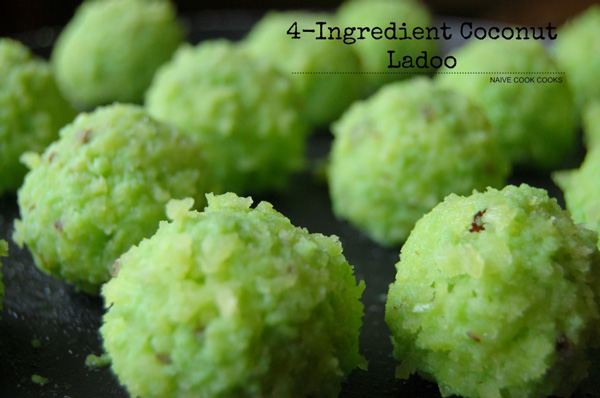 I am in India for another few weeks and this time two of my favorite – Holi + St.Patrics day are falling on the same date. As excited as I am for eating Gujiya (Indian sweet empanadas), sev (Spicy noodles made from chickpea paste) and lots of other food items especially made during festival of Holi, I am equally looking forward to see pictures of my friends and chicago river being green!
While trying to figure an Indian sweet recipe for post today, I decided why not colour it green as it will serve both the purpose. Eating green fresh coconut ladoo is not new to me. My mother would always make green and yellow coloured coconut ladoos and I remember looking forward to eating them and with me around they never lasted more than a day.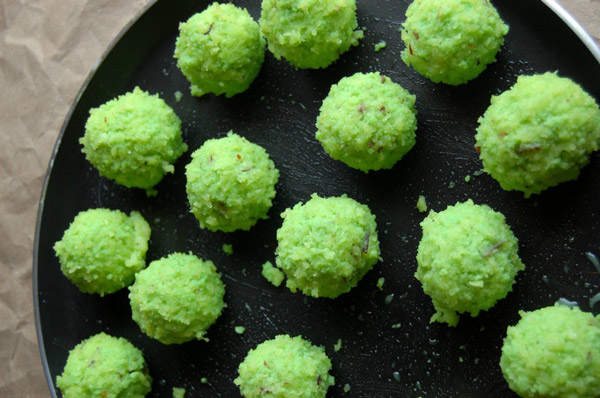 I always used to feel intimidated by the thought of making ladoos. I remember my mother spending  hours on making chickpea flour or sesame seed or whole wheat ladoos. Though they were always my favorite, I could till now never gather the courage to try them out. Recently I remembered coconut ladoos and when I asked my mother, I realised these are not really hard and in fact they come together from start to finish in exactly 1 hour. I love the fact that they are simple with no raisins or nuts in them as I don't like the idea of nuts or raisins in ladoos and these are just so coconuty and creamy. So if you are a coconut freak like me, I can assure you that you are going to love these. They taste best when eaten chilled.
Well if you are still not convinced than let me tell you that while writing this post I already ate 3. They are that good. Perfect as finger food, you can make them ahead and serve them to your friends and family and surprise them with these from scratch homemade ladoos.
4 Ingredient Fresh Coconut Ladoo
Ingredients
1 liter milk, full fat ~ 4.25 cups
2 cups fresh grated coconut
Sugar to taste
¼ tsp cardamom powder
2 drops green colour (optional)
Instructions
In a heavy bottom deep pot, heat milk at medium-low flame. Keep stirring it occasionally to prevent sticking and let it cook until it reduces to half. To it add coconut, sugar and colour(if using) and stir to combine everything together. Keep cooking and stirring until it changes to almost a dry mix. To it add cardamom powder and mix. Take it off the heat and let it cool somewhat so it is easy to handle. Now using your clean hands, take around 2Tbsp mixture in hand and shape it into small balls.
More Fun Dessert Recipes: