Delicious & soft CHOCOLATE OREO CAKE perfect for holiday entertaining!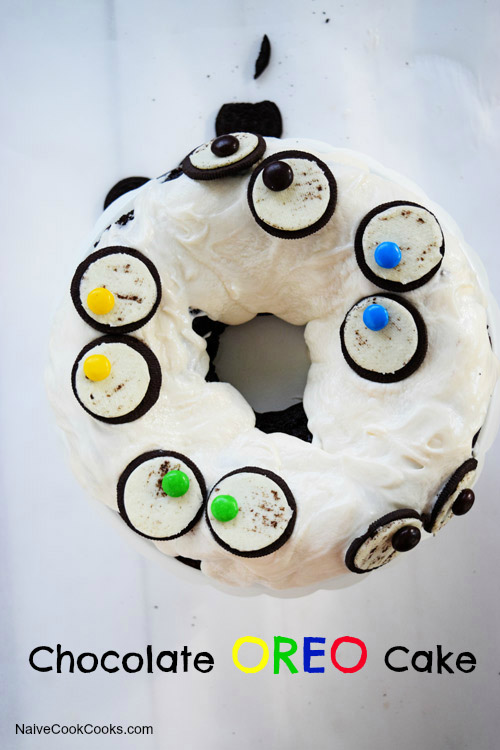 Got you a perfect after dinner treat friends!I know I know it's Monday and after binge eating all weekend you are probably trying really hard to maintain on that strict diet & here I post a cake on Monday! So unfair hehe but it's seriously so good that I couldn't wait until Friday!??
CHOCOLATE + OREO = makes for the best dessert ever! You knew that already but seriously making a cake with lots of crushed oreos makes it taste even better and then topping it with an equally luscious frosting that tastes EXACTLY like oreo cream filling! See now you are listening!
Come holidays and my mind is filled with ideas with all sorts of cheesy, buttery, chocolaty foods and I feel like I want to share so many delicious recipes with you guys and I wish you could all of them with me!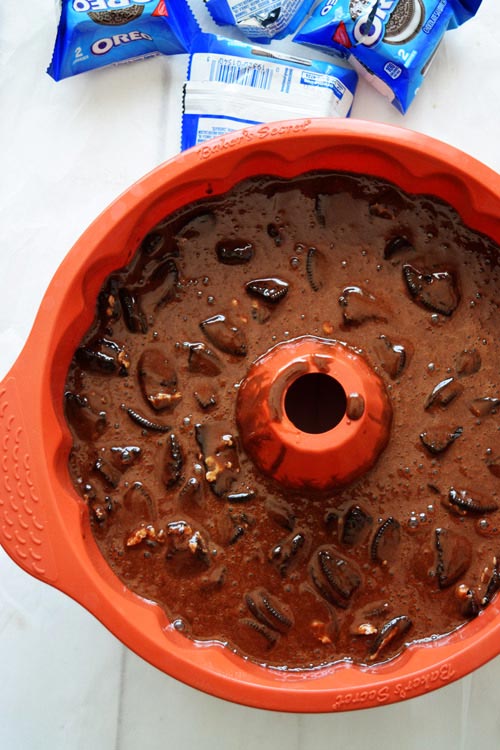 So today's recipe is inspired by my favorite chocolate cake of all times, Ina's chocolate cake which comes out perfect EVERY.SINGLE.TIME I make it! But to give it some twist, I added crushed OREOS inside the batter, baked it into a soft ( this cake is extremely moist & if you are wondering what the secret ingredient is : Yes!! You guesses it right – using oil in place of butter). Actually I have been using this technique a lot lately and my latest DOUGHNUTS recipe also use oil. Makes so much difference. AND then top it with the most decadent frosting ever that tastes just like OREO CREAM!
Then since it's October, I made some crazy spooky looking OREO EYES using OREOS & candy! Kids and adults will go crazy for this cake. It's seriously simple. It took me from start to finish Max. 2 hours or even less if you work faster than me which I suppose you probably do and it looks so fancy!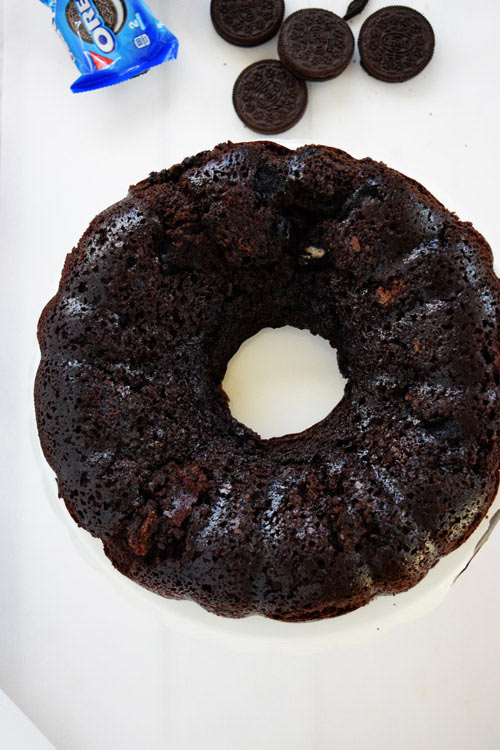 I was able to get all the ingredients for this cake from my favorite store Tom Thumb which is at a 5 mins distance from my place and probably people there assume I work there since you can find me there every single day! While I was there I coudn't resist but pick a case of Fanta because well who eats cake with a soda?! NOT ME!! If you know me well, you must know that I love soda. These days I have been really good with my intake and keep it to only weekends but hey cake like this calls for a can of FANTA even if it's only MONDAY! #judgeme
Let me tell you that this is my opinion only and  you should too give this a try! OREOS + FANTA = makes for a really delicious snack!
If you are hosting a party, I suggest try serving this cake with lots of chilled Fanta or make a Fanta punch! My aunt makes a mean Fanta punch and she ends up filling the huge punch bowl atleast 3-4 times during the entire party.It is my favorite way to eat a super rich chocolate cake.
If you want to get more ideas, check out their Pinterest page here.
By the way, if you decide to make this delicious cake ( which you must!), then lookout for this special coupon which should be rolling out soon. You will save $1.50 when you buy (1) Fanta mini-can or 8-pk 12 oz. bottles AND (1) Nabisco Cookie or Cracker (4.5 oz. or larger, any variety.). Pretty cool, right?!
Oh and if you are someone like me, this picture down here will come handy when going shopping! ?
Go make this!
Follow along for a lot more delicious treats and life happenings on INSTAGRAM || FACEBOOK ||PINTEREST ||TWITTER ||GOOGLE+
Chocolate OREO Cake
Ingredients
Chocolate Oreo Cake
1¾ cups all-purpose flour
2 cups sugar
¾ cups good cocoa powder
2 teaspoons baking soda
1 teaspoon baking powder
1 teaspoon salt
1 cup buttermilk, shaken or make your own buttermilk by mixing 1 cup milk with 1 Tbsp white vinegar and let it sit for 10 mins before using.
½ cup vegetable oil
2 extra-large eggs, at room temperature
1 teaspoon pure vanilla extract
1 cup freshly brewed hot coffee
10 OREOS, crushed
Oreo Filling Frosting
¼ cup unsalted butter, softened to room temperature
¼ cup shortening
2 and ½ cups confectioners' sugar
4 Tablespoons milk or water (I used water) (Use less water if you want thicker frosting)
2 teaspoons vanilla extract
OREO Eyes
Oreos, split and we will use only the side with cream on it
Colorful candy for making eyeballs
Instructions
Chocolate OREO Cake
Preheat the oven to 350 degrees F. Butter two 8-inch x 2-inch round cake pans OR a large bundt cake pan like I did.
Sift the flour, sugar, cocoa, baking soda, baking powder, and salt into the bowl of an electric mixer fitted with a paddle attachment and mix on low speed until combined or you can just mix it using hands with a wooden spoon. In another bowl, combine the buttermilk, oil, eggs, and vanilla. With the mixer on low speed, slowly add the wet ingredients to the dry. With mixer still on low, add the coffee and stir just to combine, scraping the bottom of the bowl with a rubber spatula. To it add crushed OREOS and stir gently. Pour the batter into the prepared pan and bake for 35 to 40 minutes, until a cake tester comes out clean. Cool in the pan for 30 minutes, then turn them out onto a cooling rack and cool completely.
Meanwhile make the frosting. Clean the same bowl and add butter & shortening and mix either with handheld mixer until light and fluffy. To it add sugar & milk/water and vanilla extracts alternating until everything is mixed uniformly.
Using a spatula, slather the frosting generously over the cake!
For making OREO Eyes
Split the OREOS and keep the one with cream aside. Now taking colorful candies in pairs add it to the OREOS with cream and since the frosting is still creamy and at room temperature, push them tho the frosting on the cake and they will stay in place.
If not eating cake immediately, cover and keep in fridge for 1-3 days. Thaw for an hour or so before serving.
Notes
Chocolate Cake recipe adapted from Ina Garten's Chocolate Cake and OREO frosting, adapted from Sally's Baking Addiction OREO Cake recipe.

More Dessert Recipes: