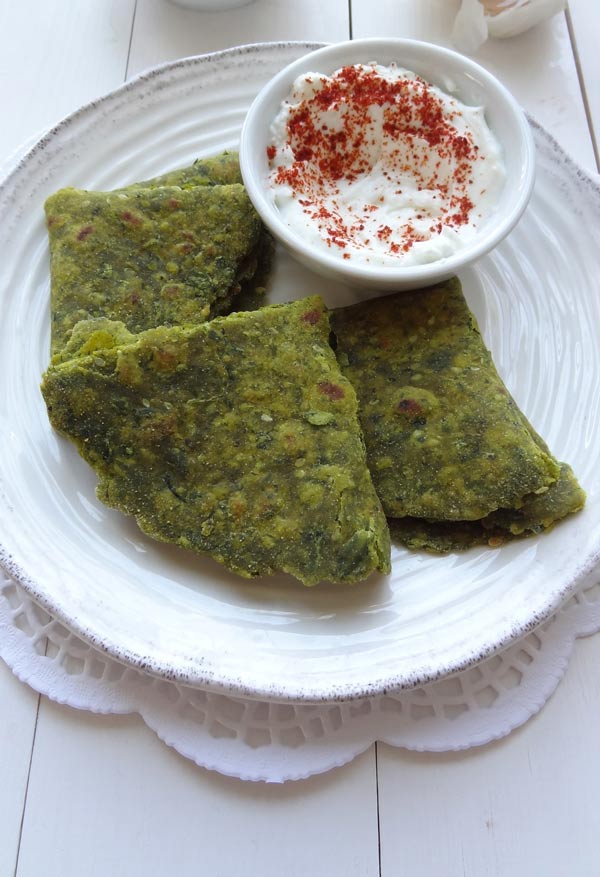 It's been exactly 7 days since I wrote my last post. I remember writing it while waiting for our flight to depart. A week worth remembering.
With happiness comes pain too and I achieved my fair share when I came back home,  by getting sick. On my second dose of antibiotics now, I feel light headed sometimes and sleepy all the time.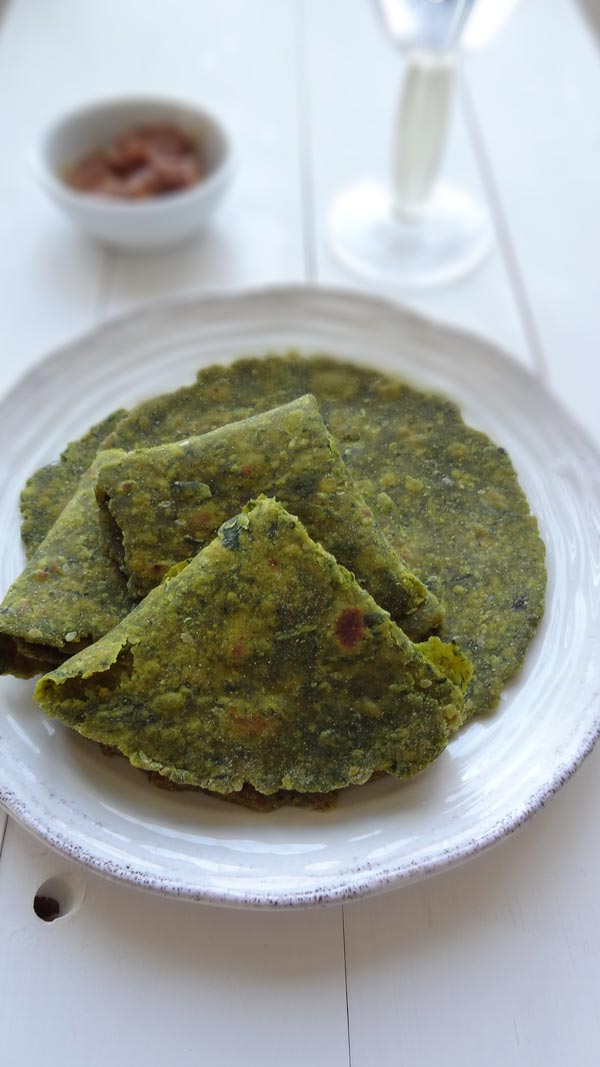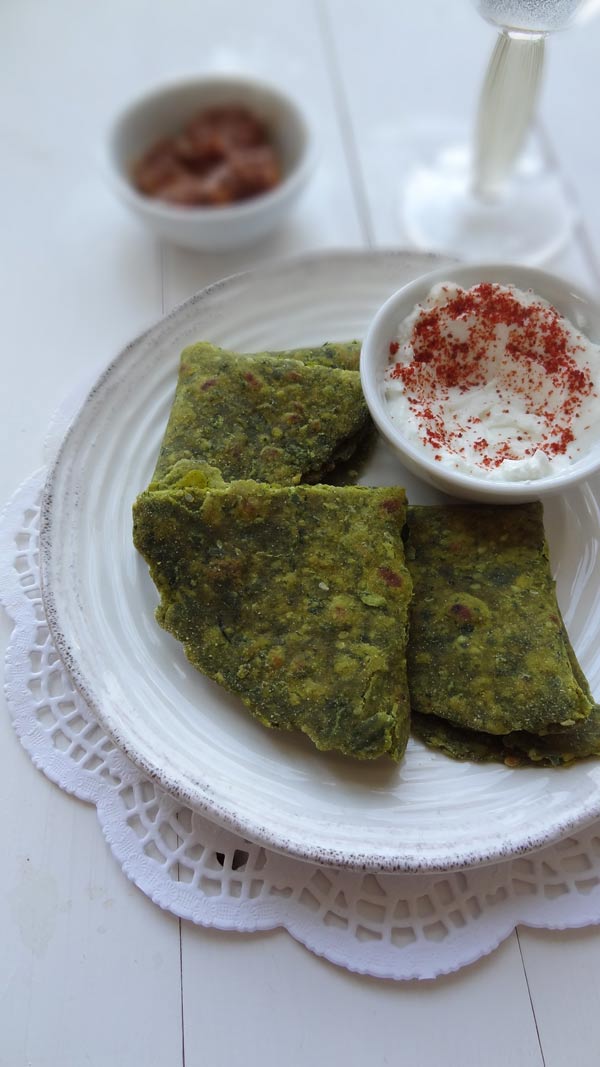 I made these flat breads in the wee hours of morning today. It combines three kinds of flour – whole wheat, sorghum and corn flour. This flat bread commonly known as Thepla comes from the state of Gujarat in western India. Packed with fresh fenugreek, spinach, garlic, ginger, green chilies, sesame seeds and olive oil, it makes for a perfect morning breakfast. It can be made ahead and stored in an air tight container.
Enjoy it with some spicy mango pickle, spicy greek yogurt or simply slather them with ghee. Goes along really well with tea or coffee.

Fenugreek Spinach Flatbread
Ingredients
1 cup whole wheat flour plus additional for rolling
¼ cup corn flour
¼ cup sorghum flour
Salt to taste
Pinch of asafoetida (optional)
1 tsp turmeric powder
½ tsp white sugar
2 tsp sesame seeds
2-3 tbsp garlic paste
1 tbsp ginger paste
1 tbsp green chili paste
2 tbsp olive oil
¾ cup chopped fenugreek (fresh or frozen)
¼ cup chopped spinach (fresh or frozen)
Ghee or any good vegetable oil for cooking
Instructions
Wash fenugreek and spinach leaves. Roughly chop them and pulse them in a blender. Keep it aside.
In a big bowl, add everything except ghee and fenugreek-spinach mix. Mix them in the bowl with hands till it all combines. Add mix from blender. Work the dough while adding warm water by tbsp until it  turns into a soft ball of dough. Taste and if you feel adjust salt, garlic, ginger or green chilies if desired. Make sure you fold it all properly in the dough again.
Heat a skillet on med-high. Break the dough in to small balls. Coat the ball with whole wheat flour and roll into a circle of ½" or less thickness. Transfer the rolled out dough to the skillet. Let it cook for 2-3 minutes. Flip and coat the top side with ghee or oil. Flip it again and coat the other side as well. Let it cook nicely by pressing it occasionally with  spatula. Transfer the thepla or flat bread to a plate.
Repeat for the remaining balls. Once they reach normal temperature, store them in a clean airtight container.
More Indian Inspired Recipes:
https://www.naivecookcooks.com/indian-porridge/