SPINACH + YOGURT + CHICKPEA FLOUR  = Weird combo, right?
Not when it combines and yields this beautiful golden pot of Indian soup/"Kadhi" as called in India. Growing up, I shared a love/hate relationship with Kadhi. The most popular way of enjoying this delicacy was and is with chickpea flour  fritters dunked in hot soup of yogurt & chickpea flour along with spices. It was always and always served with chapati and hot steaming rice. I was never the chickpea fritter type and would make sure that I leave out chickpea fritters and enjoy it plain along with rice.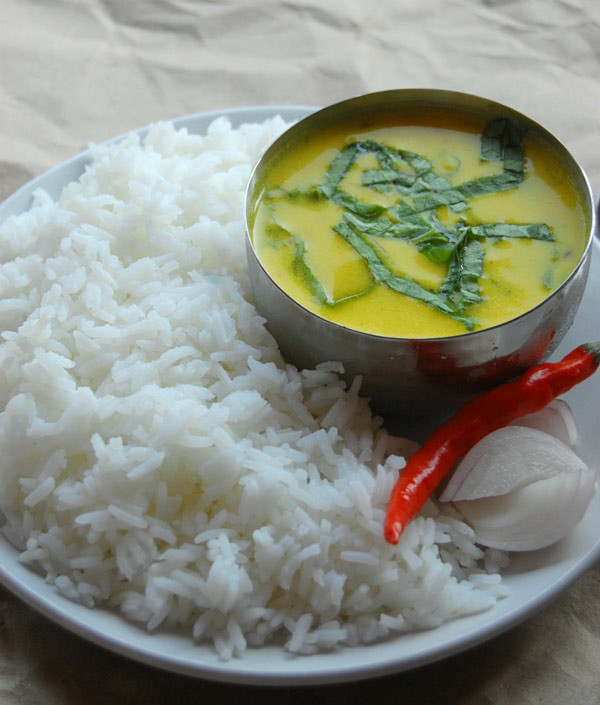 Now all grown up and in charge of my own well being, I decided to give it a go and as you guessed it, I knowingly left out the fritter part. Who needs fritters in this life when you still have some leftover carb loaded "Pad Thai" in refrigerator! Well, wrong I was because after taking a took at the big pot and stirring it somewhat, Jerry inquired about the mystery of lost fritters.
Lesson learnt : Man needs his carbs.
After that I made it quite a few times but I still need to learn how to make chickpea fritters. I love adding fresh spinach leaves towards the end with makes it look super appetizing and boosts up the health quotient.
One of the quickest Indian recipes to put together and goes wonderfully with hot steamed rice.
Perfect weekday meal as it takes less than 30 minutes to get palak punjabi kadhi and rice ready. Served along with a healthy protein rich salad and you got yourself a complete meal.
Palak Punjabi Kadhi
Ingredients
For Kadhi :
1 cup yogurt, low fat
2 Tbsp chickpea flour / besan
Salt to taste
½ tsp red chili powder
1 tsp turmeric powder
1 tsp oil, vegetable oil or any cooking oil
Pinch of asafoetida / hing (optional but recommended)
¼ tsp dry fenugreek seeds / dry methi seeds
1 tsp cumin seeds
¼ cup fresh spinach, chopped in thin strips
For tempering (optional but recommended) :
1 - 2 tsp oil
½ tsp cumin seeds
1 tsp red chili powder
Instructions
In a bowl, mix together yogurt, chickpea flour, salt, red chili powder and turmeric powder and stir it to mix it evenly. To it add 1 cup of water and mix it again. Keep it aside.
Take a deep pot and heat it on med flame. To it add, oil. Once oil gets hot, add asafoetida, cumin seeds and fenugreek seeds. Let them cook for around 30 seconds or less or until fragrant. Lower the flame and add the yogurt mix. Star mixing it immediately or yogurt will split. Keep the flame low and keep stirring it after almost every minute so yogurt doesn't split. Keep it cooking like this for another 30 minutes and in between add more water if it starts getting too thick. Taste and adjust salt. Once cooked, add spinach and cook for another 2-3 minutes on low. Keep it aside.
In another small pot, add oil for tempering. Once hot, to it add cumin seeds and red chili powder and immediately turn off the gas so red chili powder doesn't burn. Serve kadhi in bowls and on top add tempering. If you like kadhi to be more tangy, add few drops of lemon juice.
Serve with hot steamed rice.
Notes
P.S In pictures above you do not see tempering as I totally forgot to add it while taking pictures!
More Indian Inspired Recipes: