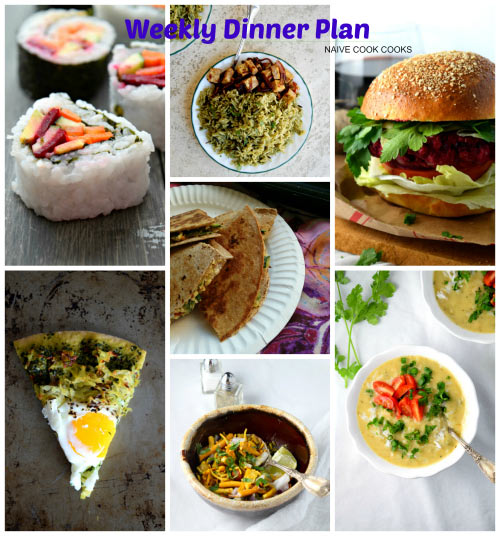 Guys I hope you are having a relaxing weekend. I am visiting Jerry's parents to take care of some personal work. Last night after getting picked up from the airport we decided to have some talking time over few drinks and by the time we reached home it was almost 1 am. In the morning when my alarm clock went crazy, I wondered why I was still so sleepy and then it hit me Daylight savings has started and how much I hate it?! I feel so sad when every time we loose an hour! On the bright side, it does makes me look  forward to spring! Yohoo tons of fresh fruits, veggies and no more bundling up though I will be honest, I kind of love love winters and being in snow ALL THE TIME.
Ok enough talk about spring! Lets jump to the delicious weekly dinner plan I have planned for you guys. Pick your favorites from the choices or just go with the meal plan.
MONDAY:
https://www.naivecookcooks.com/spicy-mayo-vegetable-sushi/
This is perfect to start monday on a healthy note. And don't feel scared. I used to feel the same but once I made these, I realised sushi is seriously super easy to make and so delicious to eat for dinner and leftovers are perfect for next day lunch.
TUESDAY:
https://www.naivecookcooks.com/kale-hashbrowns-pistachio-pesto-breakfast-pizza/
This is one delicious pizza with eggs baked on top. Delicious kale pistachio pesto and don't worry it's not bitter at all. Its creamy with parmesan, hash browns and eggs which cook right on top of the pizza!
WEDNESDAY:
I am craving this really badly now. This is my favorite way to eat greens and taste super yummy. I like to serve spinach rice with Ottolenghi's black pepper tofu or you can serve it with meat of your choice or grilled veggies or some nice gravy!
THURSDAY:
This is one pot quick meal that comes together in under an hour and packed with so much flavour and protein from chickpeas, this is one meal that tastes delicious even after days. You can make chickpeas ahead of time and if you want instead of serving it in a chaat form, you can eat chickpeas with flatbread, naan or rice.
FRIDAY:
This is my absolute favorite burger recipe at the moment. And BEET HATERS rejoice as you can not taste beets at all! Pinky promise. Well FRIDAY deserves something extra delicious, right?
SATURDAY:
This recipe comes from cheesecake factory and until now I had never tried it before. I came to know about it from one of my family member and the way he described, I just had to make it! Super delicious and comforting, this recipe comes straight from Cheesecake Factory website and is a keeper!
SUNDAY:
https://www.naivecookcooks.com/zucchini-and-goat-cheese-breakfast-wraps/
These wraps were our favorite way to curb hunger while staying in NY in a rented apartment. These are super easy and make for a perfect lazy sunday dinner.
Happy eating you guys! Love you guys and I am always always thankful for you guys to take time to stop by and make this place worth something!
Sharing is Caring, remember those wise words?!! 
Follow along for lot more delicious treats and life happenings on INSTAGRAM || FACEBOOK || PINTEREST