Creamy (made with NO CREAM) Garlicky Spinach Broccoli Soup made with just handful of ingredients but makes for a super tasty & nourishing lunch or dinner. Serve with some grilled cheese to make a complete meal!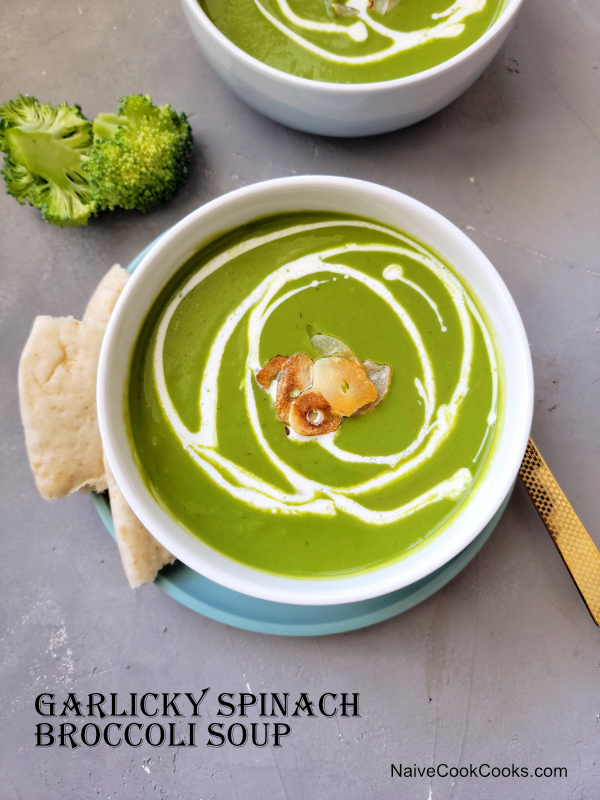 Finally fall is here and this year it has brought with it tons of things to look forward to especially for my family. If you follow me on Instagram ( I share lots of fun stuff, my life and food obviously !) you must already know that I am pregnant with our 2nd baby and due date is almost there! Also Aria has started school this year and we are all getting into a new kind of routine. I have missed her so much in the initial few weeks of school just because she's gone for solid 7 hours and I only get to spend few hours with her! But on the happy side I am getting back to work slowly but steadily and that's making me feel really good. 
When I see you guys making my recipes, interacting with me on Instagram, asking for help/guidance/just saying hello, it makes my day 🙂 
So with the onset of fall, I realised that I had to make one of my current favorite soups and share with you guys! Its really simple, super simple flavors but so darn tasty! Not to mention loaded with spinach & broccoli and even 4 yr old Aria enjoyed it 🙂 Great way to sneak in tons of veggies into your family's diet.
Let's make this SOUP ->
As I mentioned, it's a really simple soup . First I wash a broccoli head, cut in pieces, massage some oil and throw in airfryer to get it slightly charred and cooked. It gives a really nice flavor but you can totally skip it, if you want to. If you don't want to use airfryer, you can use your oven or even make them charred on your gas.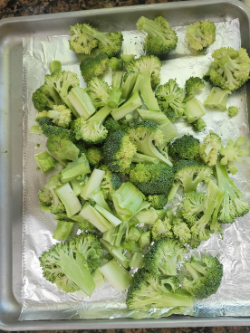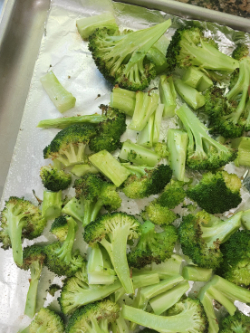 Meanwhile chop garlic, onion and clean spinach. In a heavy dutch oven pot or any soup pot, saute garlic & onions in oil. Once raw smell is gone and onions are translucent, add charred broccoli along with some water.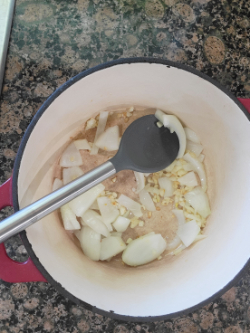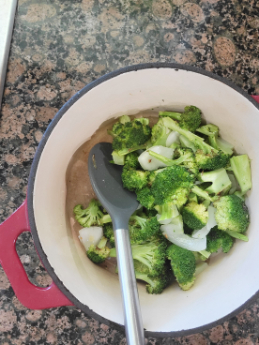 Add salt and pepper. Add fresh spinach and cover and let it cook on low for few minutes.  Once spinach is all wilted and soup is slightly cold, puree in your high speed blender or using a hand blender. Add more water as per the consistency you like. Adjust salt and pepper until you are happy with the taste!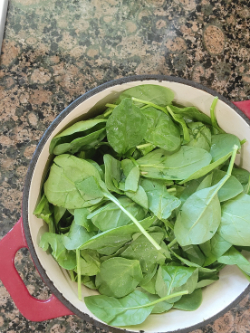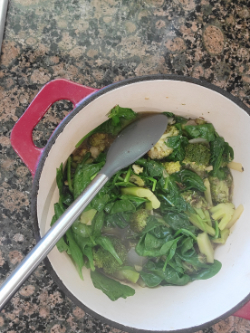 That's about it. Serve with some fried garlic ( not necessary but such a game changer!). 
 I hope you make it and share it with your loved ones!
So go ahead and make this GARLICKY SPINACH BROCCOLI SOUP! If you make this, remember to tag us on social media by using #naivecookcooks . We will feature your pics on our SOCIAL MEDIA CHANNELS!
If  you enjoyed this recipe, don't forget to FOLLOW me on  INSTAGRAM ||FACEBOOK||PINTEREST ||TWITTER ||GOOGLE+ || BLOGLOVIN || YouTube 
I have a SHOP PAGE on AMAZON STOREFRONT where you can find tons of items from KITCHEN, FOOD ITEMS, KIDS/BABY TO HOME STUFF TO BEAUTY stuff I absolutely love and use on regular basis! Hope you check it out and find it useful 🙂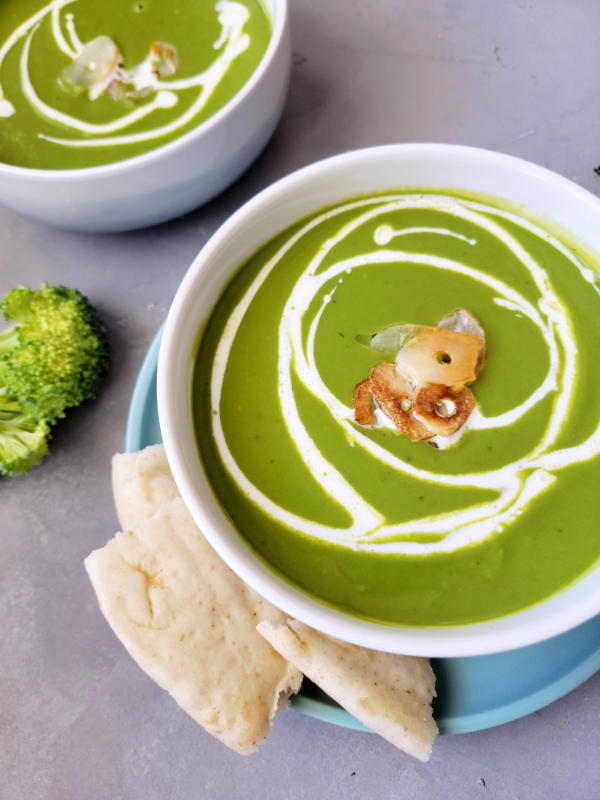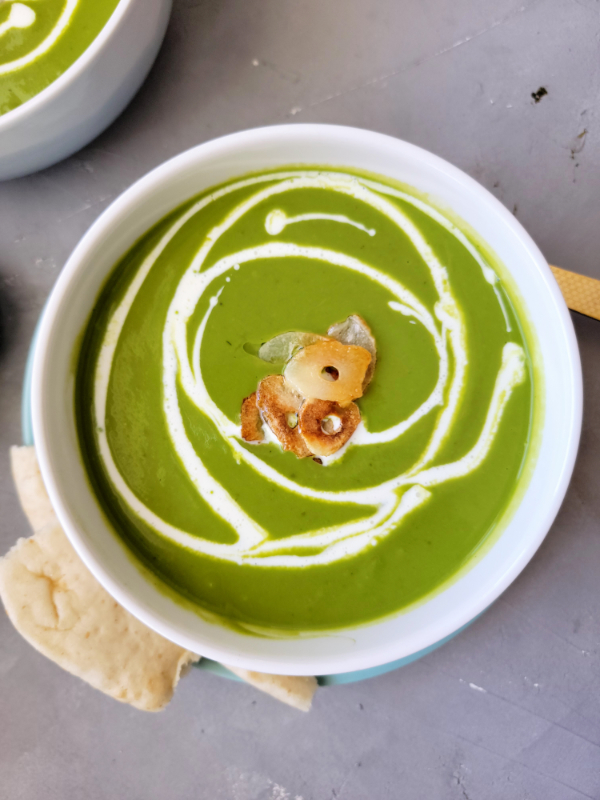 Garlicky Spinach Broccoli Soup
Ingredients
1 broccoli head (about 11.2 oz/317 gm)
1 tbsp oil for cooking broccoli in AirFryer
3 fat garlic cloves, chopped fine
2 fat garlic cloves sliced for frying
½ onion (I used yellow)
2 tbsp oil for making soup
2 cups water plus more as needed
salt & pepper to taste
5-6 cups fresh spinach leaves
Instructions
Heat Airfryer to 350 F. Wash broccoli, cut into pieces and transfer to the airfryer along with 1 tbsp oil. Cook for 5 mins at 350F. Keep it aside.
Meanwhile in a heavy dutch oven pot, add 2 tb sp oil. To it add 3 finely chopped garlic cloves and ½ onion chopped and saute until raw smell of garlic is gone and onion is translucent.
To it add that cooked broccoli with salt, pepper and 2 cups of water. Let it come to a boil and simmer for 7-10 mins. Add spinach and cover & cook on low heat for 3-5 mins until spinach is wilted. Let the soup cool down a bit. Blend using a hand blender or high speed blender ( I love my Blendtec) and then transfer it back to the pot. Add more water as per the consistency you like. Adjust salt and pepper and taste!
Just before serving fry some sliced garlic in oil and serve soup topped with fried garlic!
Enjoy as is or along with some grilled cheese!