16 Healthy, delicious and easy to make recipes to make weeknight meals with your family stress free and more fun.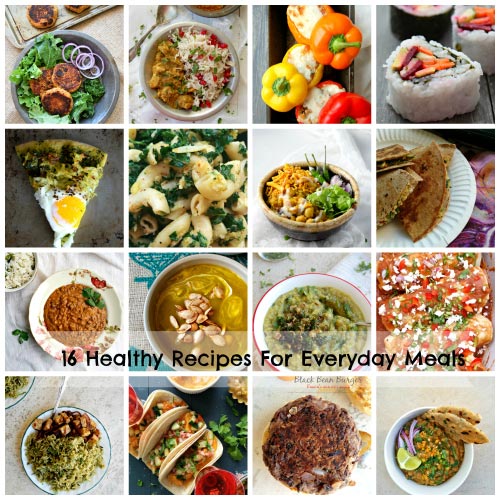 Hey you! Hope you are all having a relaxing sunday.
I know today was all about eating and in particular just simple plain good old game food! No need for feeling guilty as I have planned 16 Healthy Recipes for Everyday Meals for you to ease into this week with some simple delicious recipes. Don't worry there's always balance in my kitchen so will be eating everything but in moderation!
So let's go..
https://www.naivecookcooks.com/chicken-kebab-patties/
These Chicken Kebabs are so super easy to make and they are packed with tons of flavorful easy-to-find-in-your-pantry spices! Serve them for dinner along with some steamed rice, flatbread, naan or just plain with salad.
Spicy and flavor packed Chicken gravy dish Chicken Malvani served along with zesty pomegranate rice is an easy and healthy weeknight meal option.
These Peppers got quinoa, kale and sausage filling in them. Packed with protein, these are a lean meal option and they will keep you fill for hours too.
Spicy Vegetable sushi is so doable that you will never think of getting sushi takeout ever! You can customize it by adding meat of your choice if you want a more filling option.
https://www.naivecookcooks.com/kale-hashbrowns-pistachio-pesto-breakfast-pizza/
This breakfast pizza is so delicious that you can easily have it for dinner. Packed with tasty kale-pistachio pesto, hashbrowns and eggs, it's a perfect and filling meal in itself.
This is my favorite way to use up leftover mac & cheese. Sauteed kale gives it a wonderful flavor and your a hint of your favorite hot sauce makes for super satisfying meal.
Warm Chickpeas in delicious tomato gravy along with chopped veggies and Indian cereal mix, is a perfect dinner option. It comes together in less than an hour and chickpeas make it filling.
https://www.naivecookcooks.com/zucchini-and-goat-cheese-breakfast-wraps/
While staying in New York with my mother at an amazing airbnb rental, this wrap was our favorite way to get a healthy and delicious breakfast before heading out. It's super simple and even kids love it.
My favorite comfort food. Restaurant style Indian lentils, dal makhani, way healthier than any restaurant version but still so creamy served with green pea rice.
A big bowl of this warming soup is perfect for these chilly winter night meals and you bet, it's delicious with those crispy ghee roasted squash seeds. Serve with fresh no knead homemade bread
Quinoa bowl with tons of veggies sneaked in. Perfect for picky eaters. Serve with lots of yogurt or sour cream.
These enchiladas with quinoa and black bean mixture and a homemade red enchilada sauce will be a winner with your family. Make them family style with lots of beans, mexican rice and extra sauce on the side.
Another of my favorite way to sneak in greens in my family's diet. This spinach rice is so delicious that often I eat leftovers plain.
Who doesn't like butter chicken?! This fusion of Indian and mexican cuisine is another favorite of ours.
https://www.naivecookcooks.com/black-bean-burgers-franks-hot-sauce-flavored/
These black bean burgers are made up of buffalo sauce and lots of crispy tortilla chips! Yes, tortilla chips in burger patty! So addicting.
https://www.naivecookcooks.com/amritsari-kulcha-chola-chaat/
Last but not the least. Another of my favorite recipes. Spicy Indian street food perfect for dinner.
Hope these will inspire you to cook healthy yet delicious meals for your family. So what are you waiting for?! Get, cooking!