What do you do when you are stuck with tons of leftovers?? Make another meal with it! "Kale Mac & Cheese."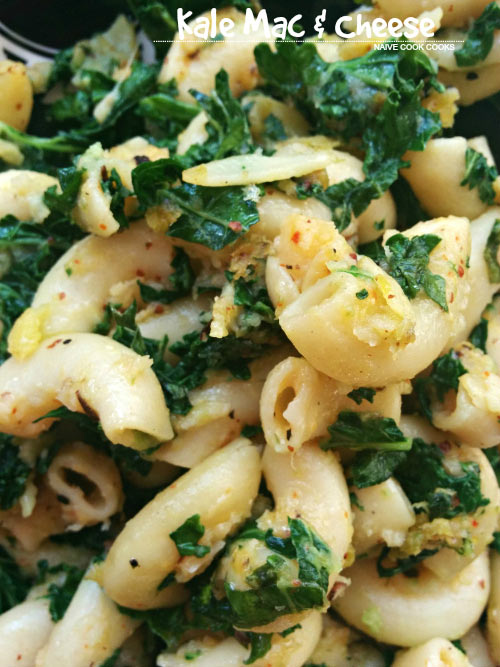 Happy Friday Folks!
Next two days are seriously intense for me with lots and lots of cooking involved. I decided to help out with the diwali party my folks are organizing tomorrow and I am making my all time favorite spinach dip and lemon-pistachio bars (I mean a huge load of it for a crowd !).I am excited and both scared and I am keeping my fingers crossed that the dishes turn out good and people enjoy them. So well when life gets crazy hectic, that's the time when you need quick, fast meals (usually made out of leftovers) that taste ah-mazing!
There is a story behind this mac & cheese. So few nights back I decided to try Ellie Krieger's Macaroni and cheese with butternut squash. It was a very simple humble recipe but it lacked a big time in the flavor department. So my attempt at sneaking more veggies into our meals didn't receive a big thumbs up and I was left with leftovers sufficient to feed 3-4 human beings with a good appetite!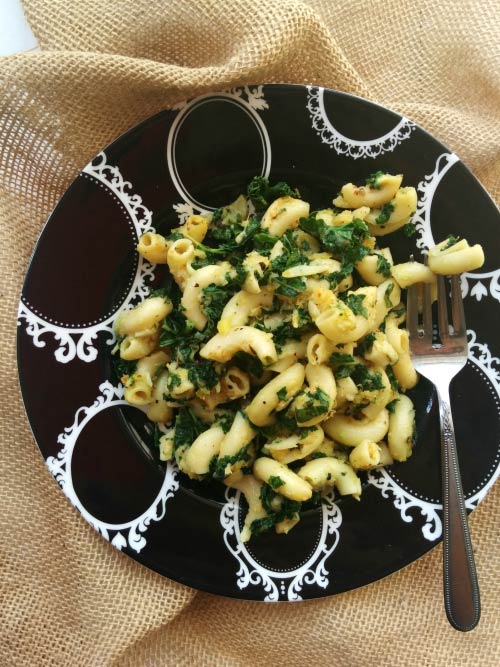 The only trouble being that in no way I was going to throw it in the trash. Can you imagine all that cheesy goodness going to the drain?!! So nest day when looking for a quick lunch option for myself, I decided to saute a bunch of kale and throw in some of the mac & cheese goodness and spice the things up with some hot sauce!
I am telling you that was like the best use of left over food ever (atleast in my kitchen!). Leftovers never tasted that good! So If you are stuck with a big pot of mac and cheese (any flavor, any kind basically), try this twist and you will love your leftovers!
If you are wondering what recipe I used initially for mac & cheese, then this is the one.
Kale Mac & Cheese
Ingredients
1 cup leftover mac & cheese
1.5 cups chopped kale
1 tsp oil
Salt to taste
Black pepper to taste
Your favorite hot sauce **
Instructions
In a skillet, add oil. Once hot, add chopped kale. Saute until little soft. Add salt and pepper to taste. Stir it around. Add reserved mac & cheese and your favorite hot sauce. Mix it all together and cook it little longer so cheese melts and it gets warmed all through. I like cooking it little bit extra so I get crispy bites of macaroni.
Serve while hot.
Devour every single bit!
Notes
This is one of the ways to use up leftover mac and cheese. You can make make a delicious grilled mac and cheese sandwich, use it up in the form of a mac and cheese soup, mac and cheese fritters and what not!!
Hit me with your ideas to use up leftover mac and cheese!!
More Simple Pasta Recipes: