Baked peppers stuffed with a delicious filling of sausage, kale and quinoa! Quick and tasty weeknight dinner!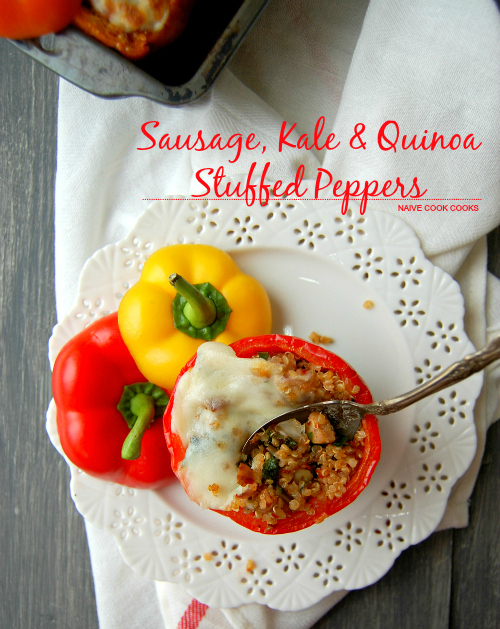 Cold weather calls for comforting foods and these days these peppers are just the right kind of comfort food I have been in the mood for lately. Not too cheesy, perfect for health conscious folks (though you can always load them up with cheese if that's what you want!) , delicious and filling. When I
am all by myself, I try to prepare food that is not his kind and I can eat it for days. So I don't need to worry about cooking for dinner and that leaves me more time for working. Win-win for both of us. I remember my mother cooking stuffed tomatoes and bell peppers and serving as a side dish. I recently discovered how delicious these taste when eaten as a meal on their own. Just this and a glass of wine. You got yourself a delicious meal.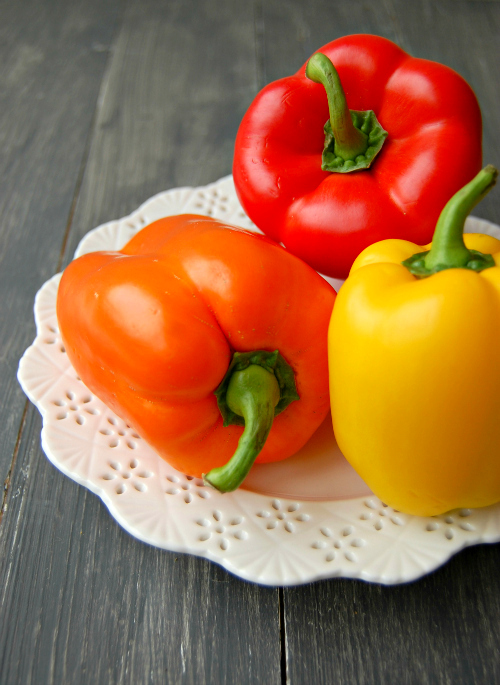 Sausage, kale and quinoa stuffed peppers can be really good to serve as a side dish on your thanksgiving table too. If you are looking for little change in your usual thanksgiving menu, I suggest you go with these as one of your side dish. To be on the safe side, prepare them few days ahead or weeks ahead so you can find the right setting and adjust them to your taste too. Then once you already know how to make them perfectly, for Thanksgiving meal, prepare them a night in advance and just leave the baking part. Bake them just few minutes before thanksgiving dinner and hoola everyone will be impressed at how much work you put in these but in reality, these are a charm to make!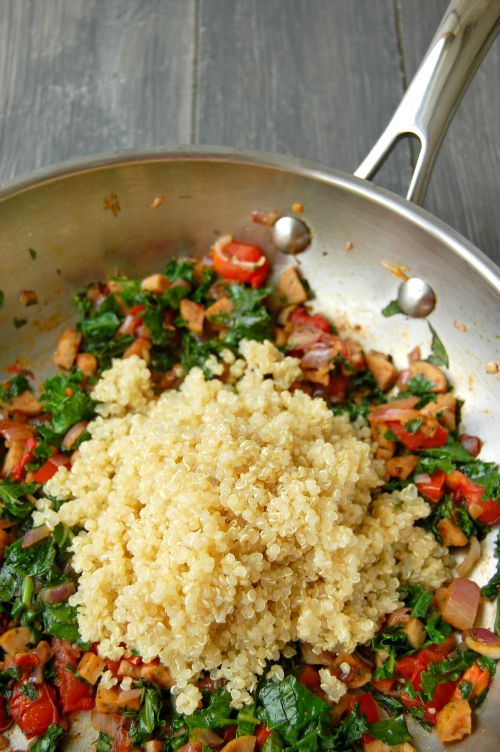 If you are not into quinoa, you can easily substitute rice, brown rice, farro, millet in place of quinoa. Totally customizable. I really like meals when I know I can customize them to my liking! I feel more control of what I am cooking and a sense of relief that it will be enjoyed by my near and dear ones. On another note, this filling was so darn tasty that I ate the leftovers for my lunch. I suggest serving the leftover filling as a side too. It's too tasty just eaten alone! So if you are like me and halfway through the process, you decide to just serve this filling as a side dish and forget about those gorgeous bell peppers, don't worry. I won't judge you!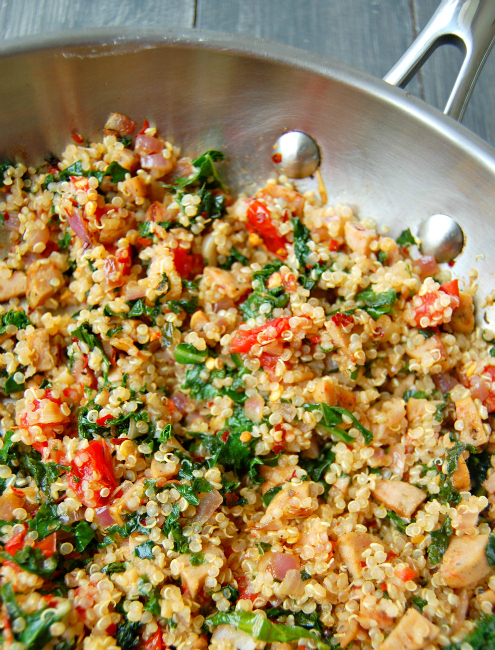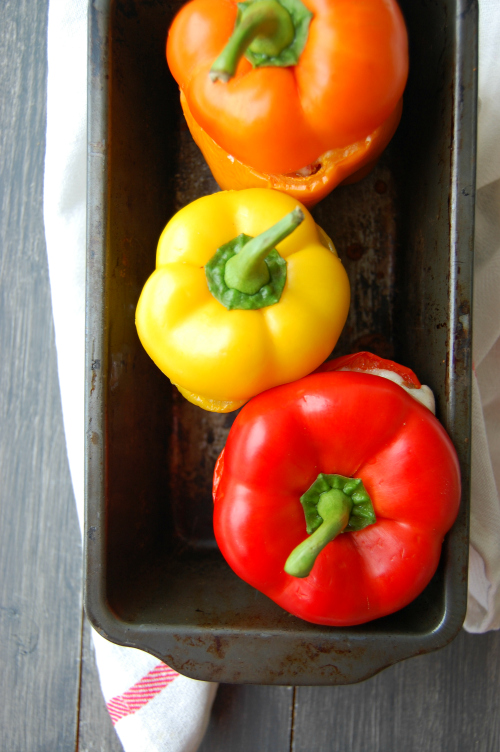 I just love all the beautiful colors and I think these make usual winter dinners a lot more interesting!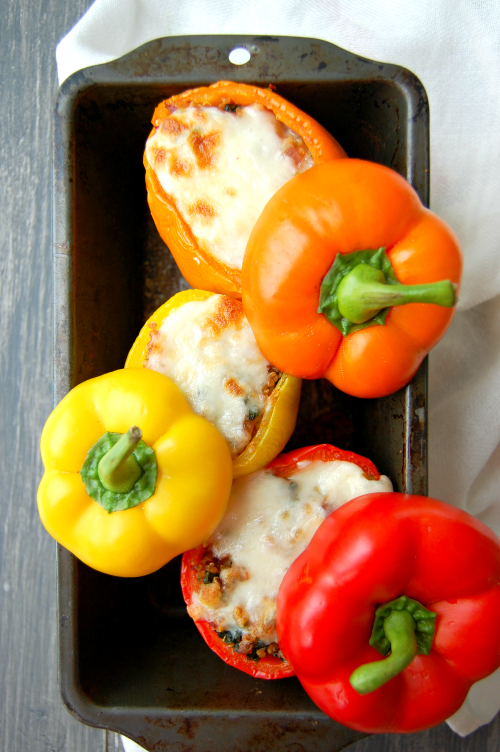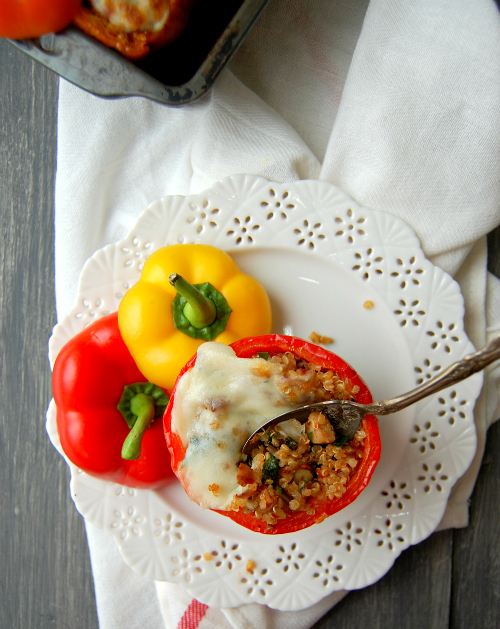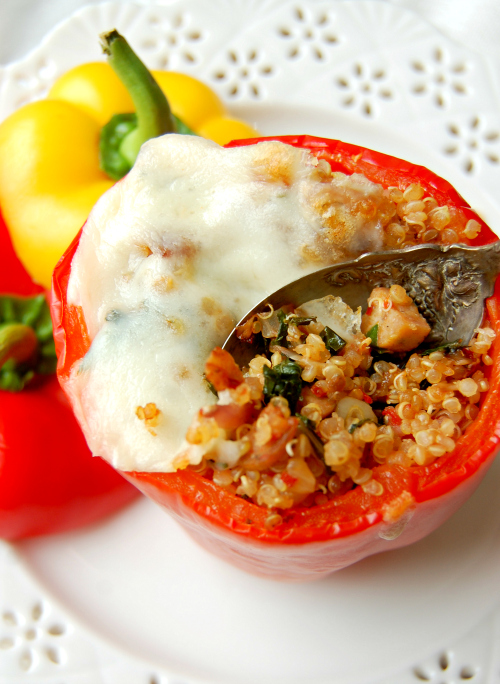 So what are you waiting for?! Get going! Only 21 days to go!

Sausage, Kale & Quinoa Stuffed Peppers
Delicious baked peppers filled with meaty-cheesy filling!
Ingredients
3 large bell peppers (I used one each of red, yellow and orange but you can use any color you prefer)
2 garlic cloves, chopped
½ cup, chopped onion
¼ cup uncooked quinoa
1 tsp olive oil
1 chicken sausage, chopped fine (I used spicy jalapeno chicken sausage but you can use basically any kind of meat you want. You can also replace sausage with ground meat BUT remember to season it really well while cooking.)
1 cup finely chopped kale (You can use any green such as spinach, collard greens, etc)
2 tomatoes, chopped
½ cup mozzarella, shredded
⅓ cup red wine (I used moscato)
Salt to taste
Black Pepper to taste
½ tsp red chilli flakes
Instructions
In a microwave safe bowl, add ½ cup water. Place bell peppers (head chopped off, cleaned from inside) cut side up and sprinkle with some salt. Cover with a plastic wrap and microwave for 5 mins. Once done, uncover and take them out of the bowl.
Meanwhile cook quinoa as per package directions. Keep it aside.
In a skillet, add oil. Once hot, add garlic and onions. Saute until onions are softened.
Add sausage or any meat you are using. Saute well until meat starts to brown.
Add tomatoes and stir. Cook for 5 minutes.
Add chopped kale and stir. Add salt, black pepper and chilli flakes. Cook for another 5 minutes until kale wilts a bit.
Add quinoa and stir again to make sure everything gets mixed up properly.
Add wine and continue cooking for another 5-7 minutes. Taste and adjust seasoning if needed. Turn off the gas.
Pre heat oven to 400F.
In a baking pan, arrange all the bell peppers. Stuff them up with 1 tbsp cheese first in each one of them and then with the filling. Make sure filling is upto your taste as filling is what's going to make these peppers shine!
Cover with some more cheese. Close the lid and bake them in a 400F oven for 10-15 minutes or until tender.
Serve with rice, as a side dish or make a meal out of it.
More Quick and Easy Recipes: