Warming comforting soup for braving this cold weather. Classic creamy tomato soup with grilled cheese croutons! Dinner at it's best.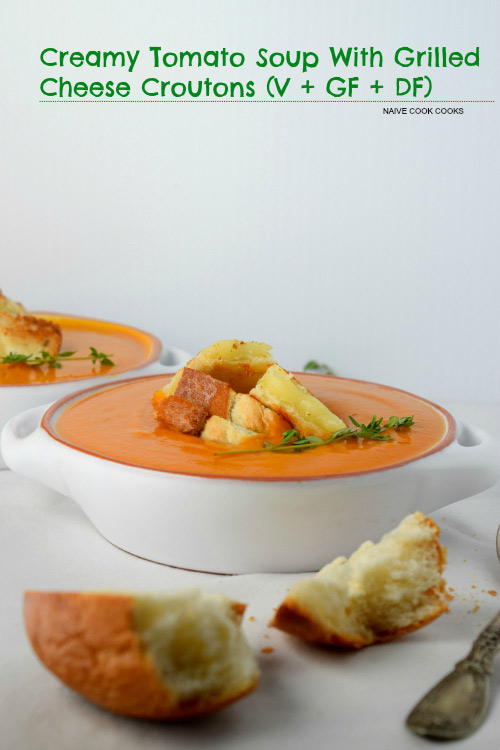 I have finally realised one thing after all these years.
Sometimes it's all about SIMPLE COMFORT FOOD. I have a habit of giving my own twists to recipes, so much that sometimes it gets really hard for me to follow recipes. I know it is good to some extent but sometimes all a man wants is simple wholesome meal. Most of the time the simple meals I cook at home for us, I hesitate to document here since I like keeping this work space buzzing with creative recipes, something you will get excited about, not all same old same recipes.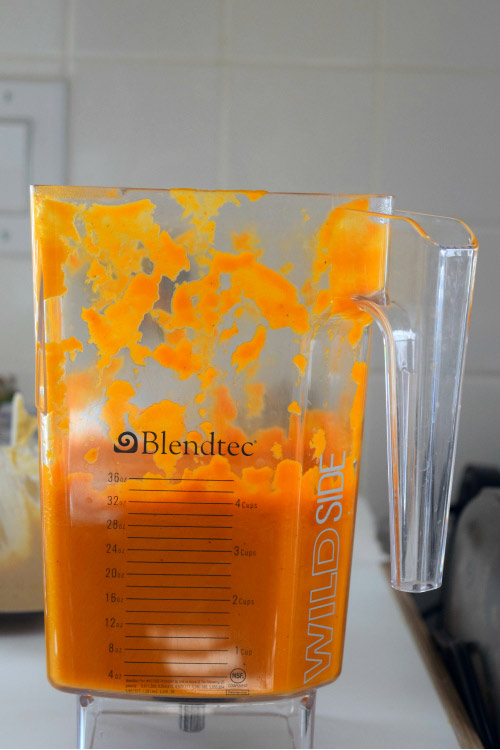 But today, I changed my mind.
On Jerry's request, I was making us tomato soup for lunch and usually when we have tomato soup, it's a norm to have grilled cheese along with it. But seriously who documents a tomato soup. Well in my early stages, when I was just starting out here, I had posted a tomato soup recipe (ahem, pictures are horrible. Just warning you!). It was delicious but it was simple. That night all we had was a simple tomato soup along with lots of cheesy grilled cheese.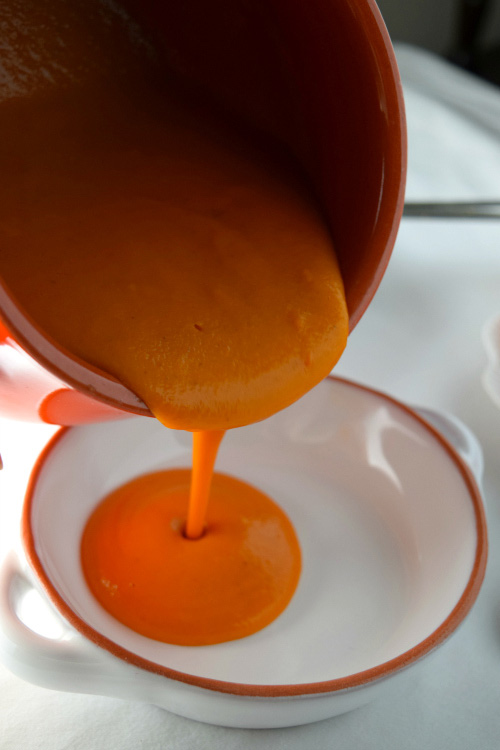 But since then things have changed. I have learnt a bit more since I started and now as I mentioned, usually every meal has something unique to it. So while preparing this soup, I realised that the old recipe is almost useless as it's stuck in the old website and sometimes we all want to have simple food, something we know all our family members will enjoy no matter what.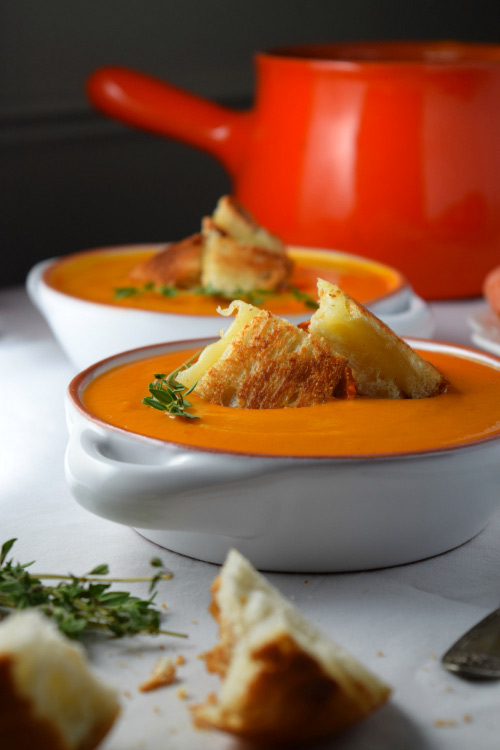 So here we are! This soup. First of all it's so CREAMY that you will think it's loaded with cream. But, NO. it's just pure lots and lots of fresh tomatoes, few carrots, red onions cooked and simmer and a little spicy paprika for little kick. AND, the most important thing GRILLED CHEESE. Yes, we are having grilled cheese (as who eats a soup without grilled cheese?!) but this time we are dunking it straight into our creamy bowl of soup! I call this Creamy Tomato Soup with Grill Cheese Croutons. One bowl soup, I suppose!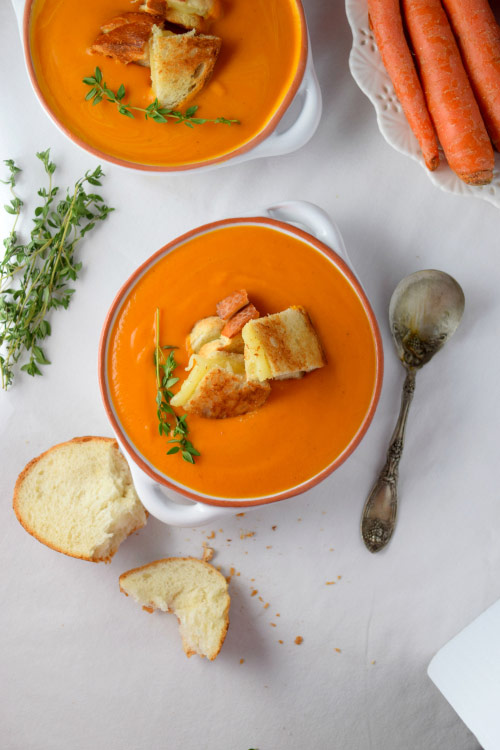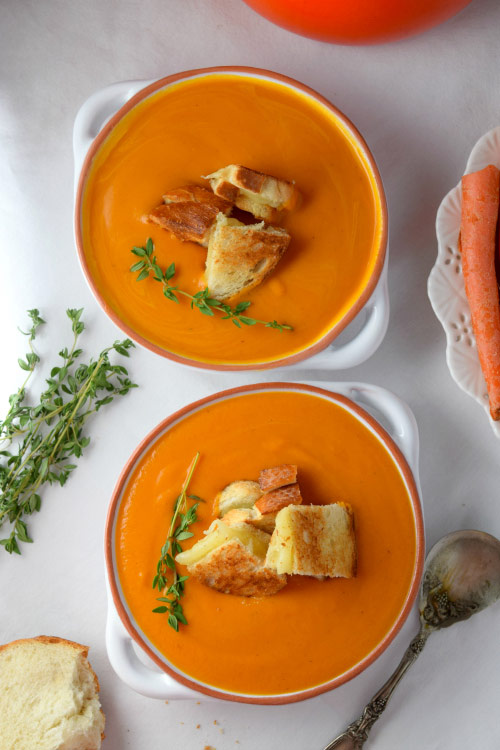 Just do it!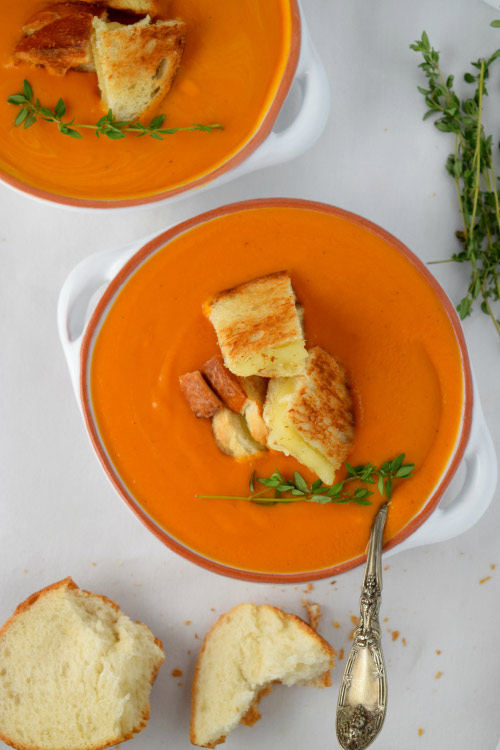 Who knew #meatlessmonday can be so delicious?!
This recipe was made using my favorite BlendTec Blender. I love it for pureeing soups as it makes them super smooth & creamy and that means you don't really need to add any cream to make soups thick or creamy!
Creamy Tomato Soup With Grilled Cheese Croutons
Warming comforting soup for braving this cold weather. Classic creamy tomato soup with grilled cheese croutons! Dinner at it's best.
Ingredients
1 tbsp olive oil
1.5 cups chopped red onion (around 1 medium-large onion)
¾ cups chopped carrot (around 2 carrots)
3 garlic cloves, chopped
1 tbsp tomato paste
4 cups chopped fresh tomatoes ( around 5 fresh tomatoes)
2-3 cups water
½ bouillon cube ( If not using bouillon cube, replace water with vegetable broth)
Salt to taste
Black pepper to taste
½-1 tsp hot paprika (I used picante hot paprika but you can use any kind or omit it if you don't want any heat)
½-1 tsp basil powder
¼ cups fat free half & half (optional)
1-2 tsp sugar or as per taste (optional)
Bread slices ( If going for gluten free version, make sure they are GF)
Your favorite Cheese slices (Vegans and DF get the desired vegan / DF cheese)
Little olive oil for cooking
Instructions
Creamy Tomato Soup
In a pot, add olive oil. Once hot, add onions and carrots. Saute for 5-7 minutes. Add garlic and cook for another minute. Add tomato paste and using back of your spatula or spoon stir it around so it it gets distributed and cooked. Add fresh tomatoes along with salt, pepper, paprika, basil, water -bouillon cube or broth whichever using. Stir it all around and bring to a boil. Let it simmer for good 25-45 minutes at medium heat. Add more water if it starts to get really dry.
Turn off the heat and once little less hot, transfer to a high speed blender and blend until smooth and creamy.
Transfer it to the pot again. Add little fat free half & half (if using) along with some water to get desired consistency. Adjust spices and warm up. Serve with grilled cheese croutons.
Grilled Cheese Croutons
Heat up a skillet with little olive oil. Add the bread slices to it. Cook for few minutes and flip. Now add cheese and cover each slice with the other bread slice. Cook until cheese gets all melted. Cut in cubes and serve with hot creamy tomato soup!
Notes
You can make soup in advance and just before serving, make these grilled cheese croutons!
And now some thing for after dinner ->>
https://www.naivecookcooks.com/pineapple-marshmallow-blondies/