Chocolate fudge + chocolate cake equals seriously deadly & deliciously addicting baked doughnuts that your valentine can't say no to!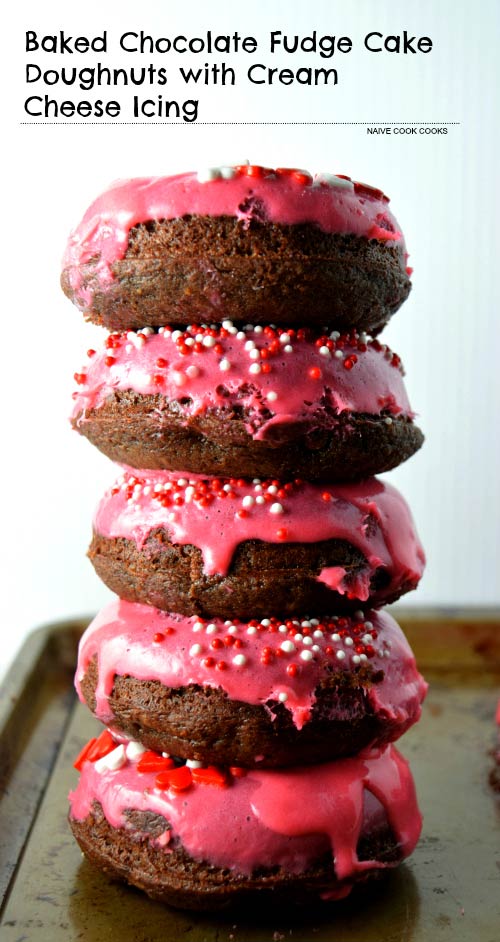 These doughnuts are the bomb.
I mean I never really believed that baked doughnuts could taste this good and even my carb loving Jerry was so skeptical on hearing that they were baked. When i told him the title of the blog, "Baked Chocolate Fudge Cake Doughnuts with Cream Cheese Icing", he made that face that all guys do when they think it is a healthy dessert. I had to convince him really hard to give these a try. See what I live with!! But all bets were off once he had a bite. As the name suggests, these are so deliciously gooey, fudgy and chocolaty and that tangy cream cheese icing just balances it all.
The last gym we used to go had a dunkin donuts next to it. In my opinion it was a a very smart business strategy for both the gym and dunkin doughnuts but not so much for people like us . Most of the time, after our workouts we would have to convince ourselves really hard to not let our brain make us believe that we really needed doughnut in our system. So much for all that work out!huh?!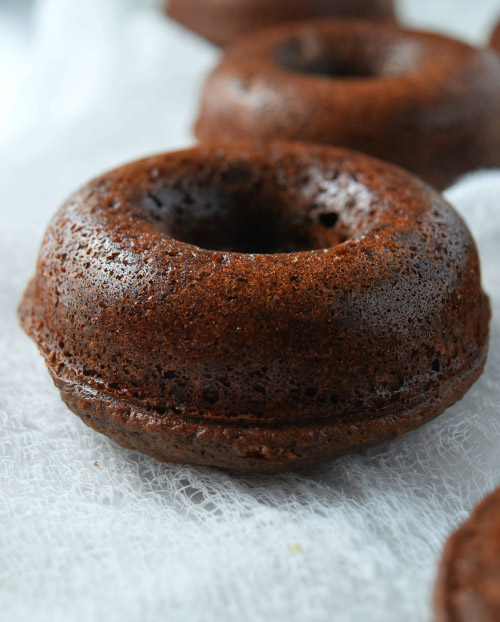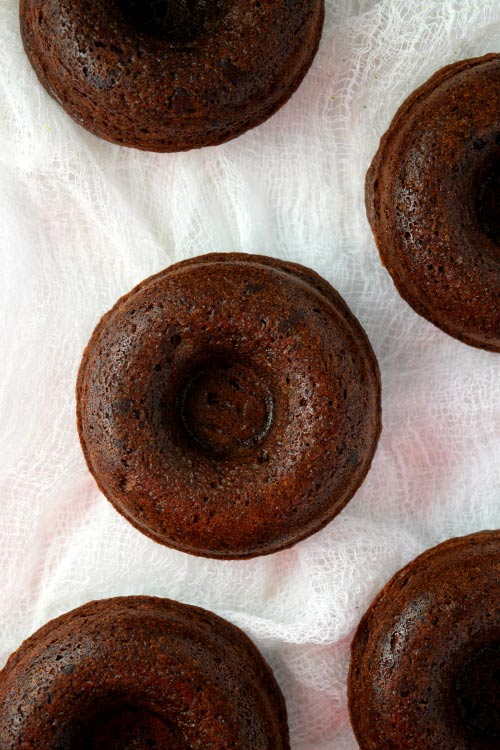 There is something about doughnuts. Fried or baked, either way they are an an occasional indulgence I like to indulge in from time to time. They go great with a glass of chilled milk or for breakfast, a cup of hot black coffee goes along very perfectly with these. There was a time I used to live on doughnut holes and I won't lie if I tell you that last night while making these, I might have sneaked all the doughnut holes in my belly all by myself. So good!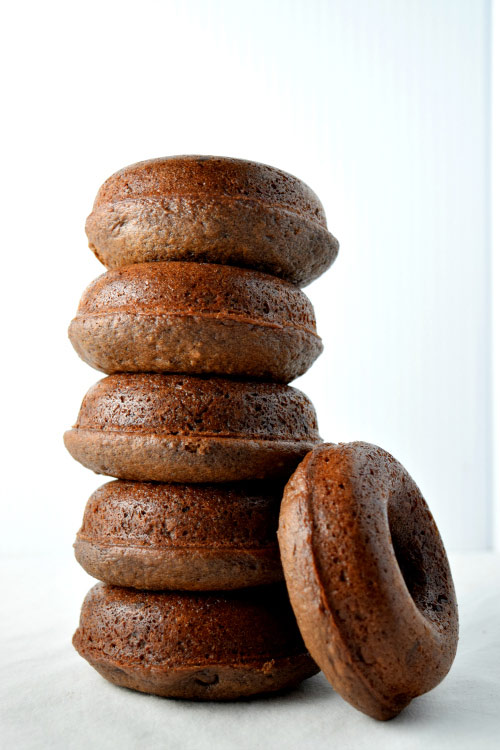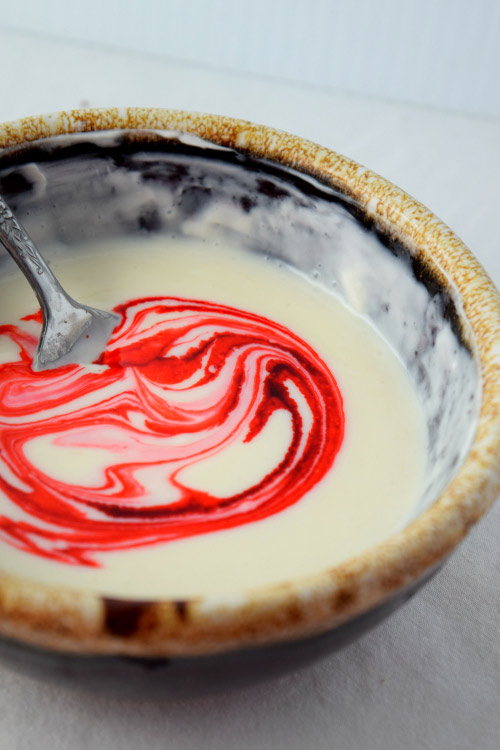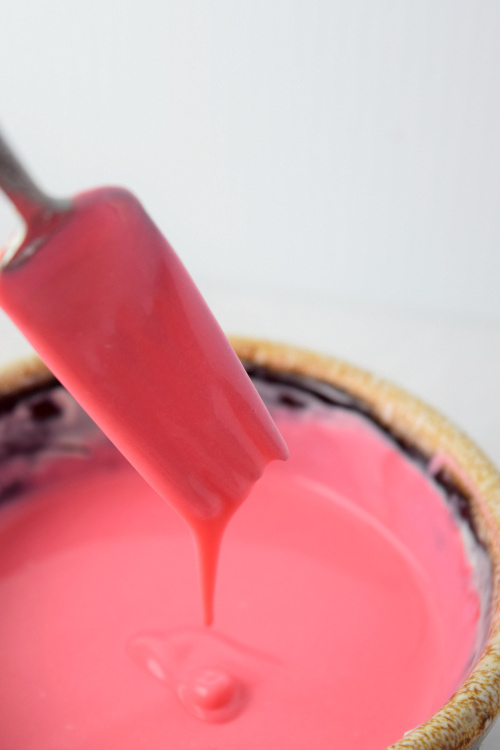 With super bowl only 2 days away, I know all you are looking for are game day recipes. Dips, appetizers, finger foods, menus, drinks and what not. But hey in my defense you can totally bake these for dessert and then you can bake them again for valentines day for your loved ones. You can keep the icing just plain white for game day and go all out with pink icing, lots of sprinkles for valentines day. Now that's a win-win situation?!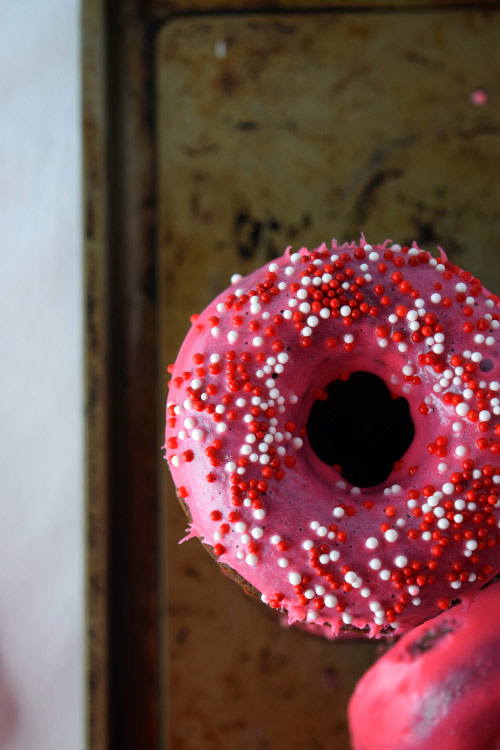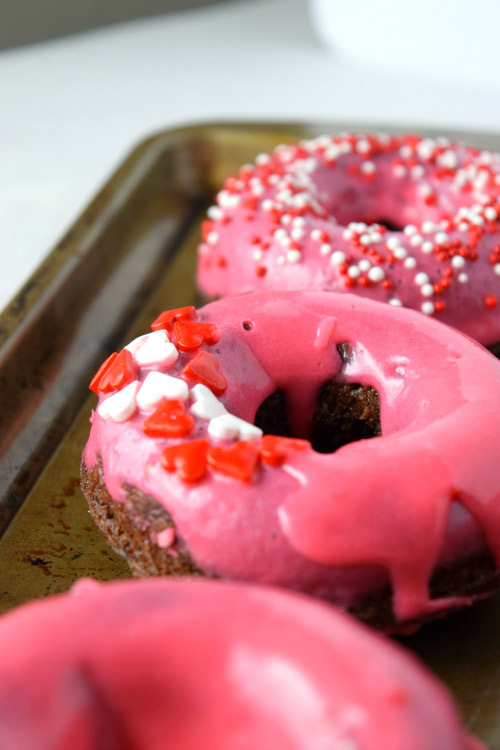 And don't even get me started on the icing. It is so ridiculously deliciously that I might have licked my fingers uncountable times while dipping doughnuts in icing. So worth it and yes I might need extra workout sessions in the near future. Just saying.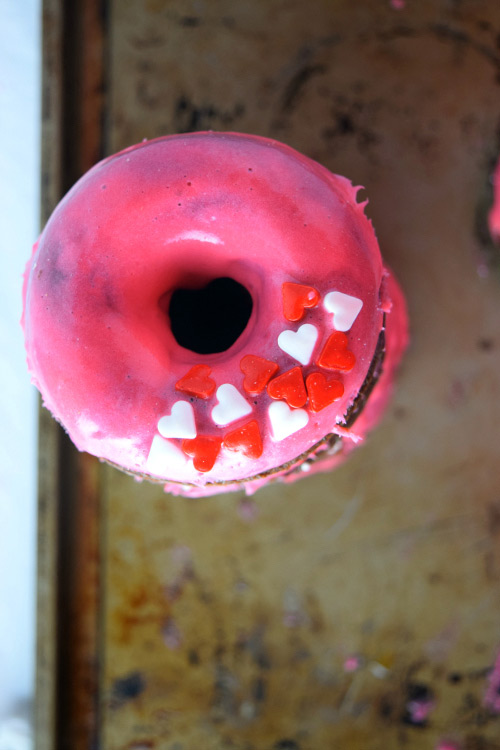 On a side note, while writing this I was tempted almost 1000 times to go ahead and have another doughnut before making sure I save some left for my family. So unfair! #foodbloggerproblems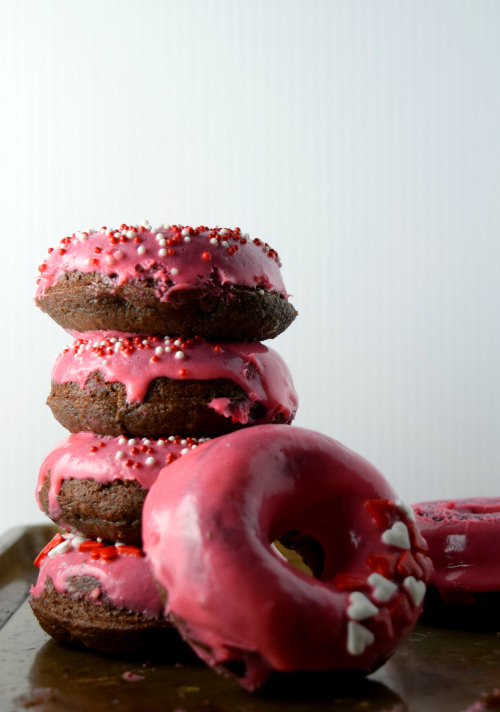 Baked Chocolate Fudge Cake Doughnuts
Chocolate fudge + chocolate cake equals seriously deadly & deliciously addicting baked doughnuts that your valentine can't say no to!
Ingredients
⅓ cup Dutch-process cocoa
½ cups + 6 Tbsps King Arthur Unbleached All-Purpose Flour
½ cups + 2 Tbsps light brown sugar
½ teaspoon baking powder
½ teaspoon baking soda
¼ + ⅛ teaspoon salt
½ cup chocolate chips
1 large eggs
¼ + ⅛ cup milk
1 teaspoons vanilla extract
1 teaspoons vinegar, white or cider
¼ cup (4 tablespoons) melted butter
Cream Cheese Icing
4 oz cream cheese, low fat (softened at room temperature)
1 tsp vanilla extract
1-2 tbsp hot water or milk
½-3/4 cup powdered sugar (depending on how thick or thin you want)
few drops of red food color, if you are going for colored pink icing
Instructions
Preheat the oven to 350°F. Lightly grease the doughnut pan.
In a large mixing bowl, whisk together the cocoa, flour, sugar, baking powder, baking soda, salt, and chocolate chips. Set aside.
In another bowl, whisk together the eggs, milk, vanilla, and vinegar. Milk might a curdle a little and that's ok.
Add the wet ingredients along with the melted butter to the dry ingredients, stirring to blend; there's no need to beat the batter, just make sure everything is well-combined.
Spoon the batter into the prepared pan, filling them between ¾ and full.
Bake the doughnuts for 12 to 15 minutes, or until a toothpick inserted into the center of one comes out clean.
Remove the doughnuts from the oven, and after 30 seconds or so, loosen their edges, turn the pan upside down over a rack, and gently let the doughnuts fall onto the rack.
Let them cool.
Icing
Add all the ingredients in a bowl and stir until smooth. If you want a thicker icing, add more sugar. For thinner icing, add water or milk.
Dip the doughnuts one at a time in the icing to coat. Add sprinkles on top if using. Let them sit uncovered for few hours for the icing to set.
Notes
Basic chocolate fudge cake doughnut recipe adapted from "King Arthur Flour"
More Dessert Recipes:
https://www.naivecookcooks.com/triple-fun-chocolate-bars/