Dahi (Yogurt) – Misal (Mixture) is a snack popular in Maharashtra, a western state of India. Crunchy, zesty and packed with tons of flavors and protein, it is one filling snack!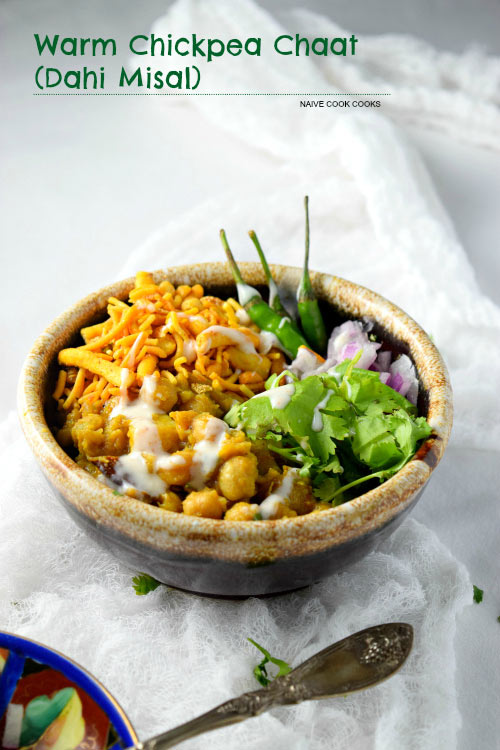 SNACK TIME.Remember how we talked about how much I love eating snacks. Yesterday after going through the remains of goat cheese, grape jelly and last of the crackers, all I could think was how to run to the store at darn 11 PM and restock! Yes this situation is getting out of hand as I am kind of addicted to this combo. Seriously, if you have never tried this before, just do it. And btw I am so looking forward to hear your favorite snacks list at the moment!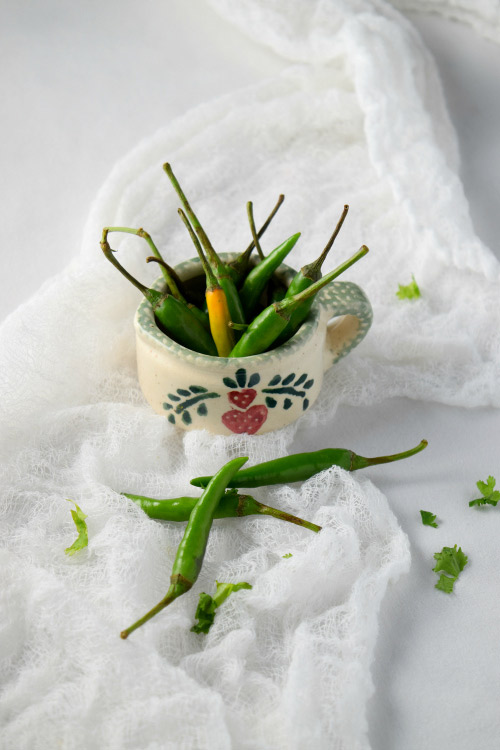 With my snack obsession showing no signs of slowing down, I decided to (well you must have guessed) to serve snacks for dinner. Is it even acceptable?! It did work, I had a happy partner and this is all that counts! This dish is so easy and can be customized in so many ways. It is basically a mix with chickpeas made in a thick gravy, namkeen (it's basically Indian mix with some nuts, crunchy chickpea flour sticks and some other stuff. You can think of this as an equivalent of a savory cereal mix), lots of onion (I love using red onion), freshly chopped cilantro or herb of your choice, sweet and salty yogurt along with little cilantro chutney and dates chutney. In all, warm chickpea chaat (Dahi Misal) is a mouth watering combo.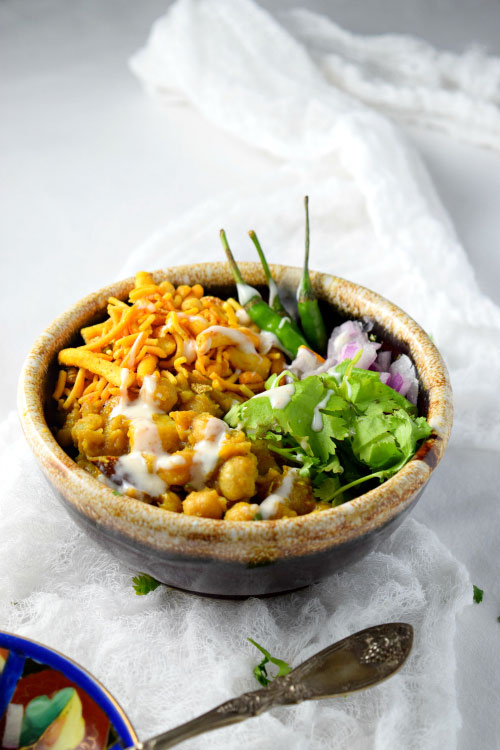 I have seen people having their own particular way of making it but this is the way we enjoy and I so hope you give this a try. It comes together super quick and you can enjoy it as a weeknight dinner or weekend appetizer. Did I tell you that it can even pass for game season. Something unique which nobody will think but everybody will love munching on while watching their favorite game!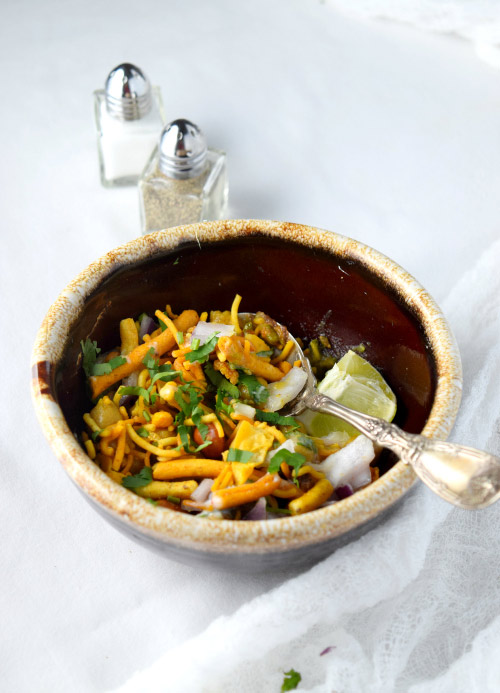 Warm Chickpea Chaat (Dahi- Misal)
Dahi (Yogurt) - Misal (Mixture) is a snack popular in Maharashtra, a western state of India. Crunchy, zesty and packed with tons of flavors and protein, it is one filling snack!
Ingredients
Warm Chickpeas
1 + ⅔ cups chickpeas, boiled (You can use canned or boil dry chickpeas at home)
1-2 small potatoes, boiled, peeled and mushed
1 tbsp olive oil
2-3 bay leaf
1 cinnamon stick
4-5 cloves
2-3 dried red chili
½ cup finely chopped red onion
1 tomato, chopped very fine
½ tsp garam masala
¾ tsp amchoor powder (or dried mango powder) (Easily found at Indian stores)
Salt to taste
¼ tsp turmeric powder
2 tsp dry coriander powder
¾ tsp cumin powder
1-2 green chili, made into a paste (or less if you want less spicy)
2 tsp fresh ginger paste
1 tsp garlic paste
1 cup water
Assembling
Warm Chickpeas (Recipe above)
Namkeen (You can find the one named "hot mix" in Indian stores or you can use any packet kinds sold in almost all Indian stores and even in some big grocery stores)
Lots of chopped red onion
Chopped fresh cilantro
Sweet & Salty Yogurt
Green cilantro chutney
Sweet Date Chutney
Chopped tomatoes (optional)
Instructions
Cooking warm Chickpeas
In a pot, add oil.
Once hot, add bay leaf, cinnamon stick, cloves and red chili to it. Once they start to sizzle, add chopped onions and cook until softened.
Add tomato and cook until it becomes a bit soupy.
Add spices (garam masala, amchoor, salt, turmeric, coriander powder,cumin, green chili paste, ginger paste and garlic paste)
Stir it all around until cooked through. Add a cup of water to it and cook on slow-medium until gravy gets a bit thick. Add mushed up potatoes and chickpeas. If starts to get dry, add more water. Cover and cook on low for 10-15 minutes or until the flavors develop. Taste and adjust seasoning. Keep it aside.
Sweet & Salty Yogurt
Mix ½ cup yogurt with ¼ cup water, salt to taste, pinch of red chili powder, ½ tsp roasted cumin powder and pinch of sugar.
Green Cilantro Chutney
Blend together bunch of freshly chopped cilantro, few green chilies or as per taste, salt, ¼ tsp cumin seeds, 1 tsp ginger chopped and lemon juice to taste until smooth. Adjust seasonings as per taste) or you can simply ready made.
Sweet Date Chutney
Soak 10-12 dates in hot water for 15-20 minutes. Blend it in a high speed blender until smooth.Transfer it to a pot.To it add salt to taste, 1 tsp chili powder, ½ tsp garam masala, Sugar or jaggery as per taste along with some water. Cook on low with frequent stirring until it gets thick or reaches the desired consistency. Taste and adjust seasoning.
Assembling
In a bowl or plate, place some warm chickpeas. To it add some namkeen/ hot mix, green chutney, date chutney, yogurt, onions, cilantro and tomatoes (if using). Serve immediately.
Notes
It can be made in advance and you can assemble it just before eating!
More Indian Inspired Recipes:
https://www.naivecookcooks.com/chutney-paneer-sandwich/