Spicy chicken simmered in a coconut gravy – this dish comes from Western coast of India. Packed with freshly homemade spice mix and lots of coconut, this dish is one for keeps. Served with cumin – pomegranate rice!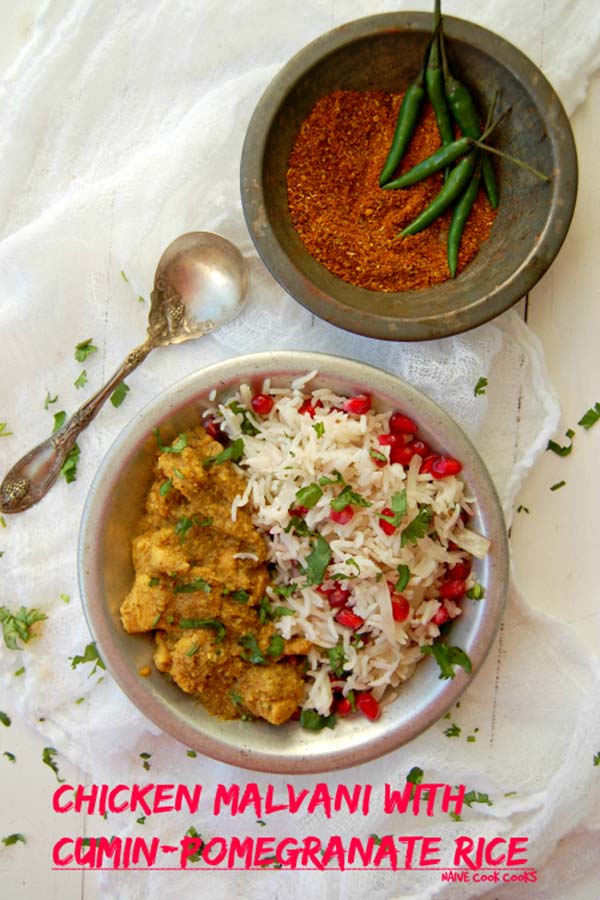 Meals that are easy yet delicious and nourishing always takes the cake at my place. Sometimes life gets in the way and on top of zillions of unfinished tasks, cooking an elaborate dinner feels like a chore in itself. Behold!That's when recipes like these come into play! Last few days since weather dipped in low 40's, all I have been wanting to eat is warm comforting spicy meals. Not really spicy but comforting. Though I can never have enough spicy food!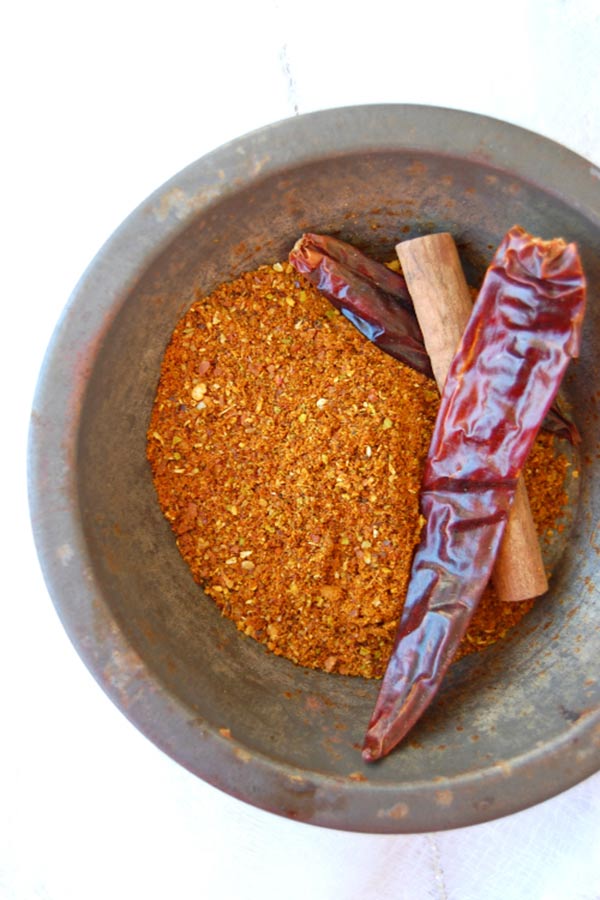 This chicken dish is my new favorite chicken dish now. Seriously. It's packed with tons of flavors and you won't believe when I tell you that it took only 2tsps of olive oil TOTAL to cook this awesome dish. The magic happens when you roast a mix of spices and grind them. Spices here are the stars of the show but I am sure you will already have most of the stuff in your pantry apart from may be chicken and coconut.
It takes start to finish 1 hour to come together and if you are really fast then you can cook rice on the side and be done with the entire meal in an hour. If you are planning to make it during a weekday, you can make both the spice mixes a night before and that will make the cooking much easier. Trust me!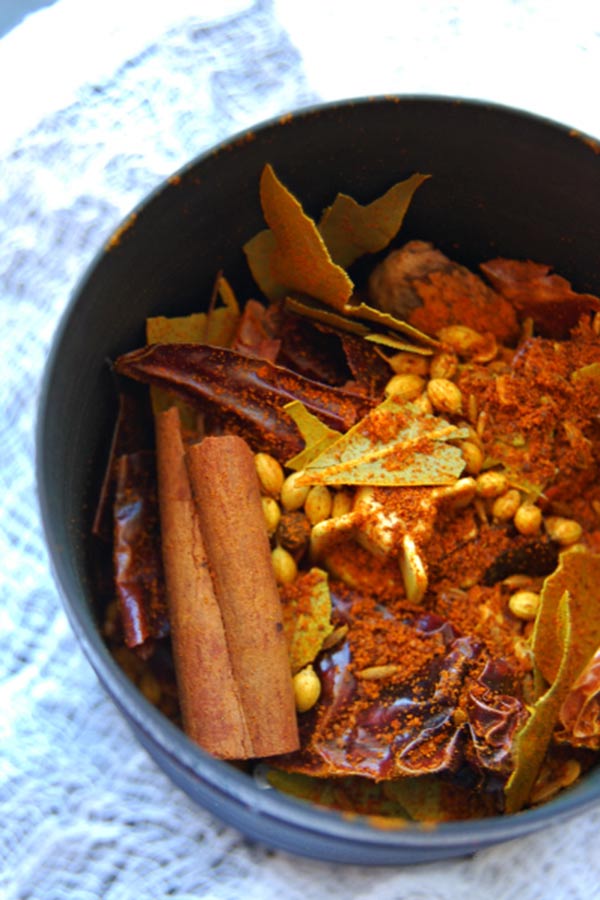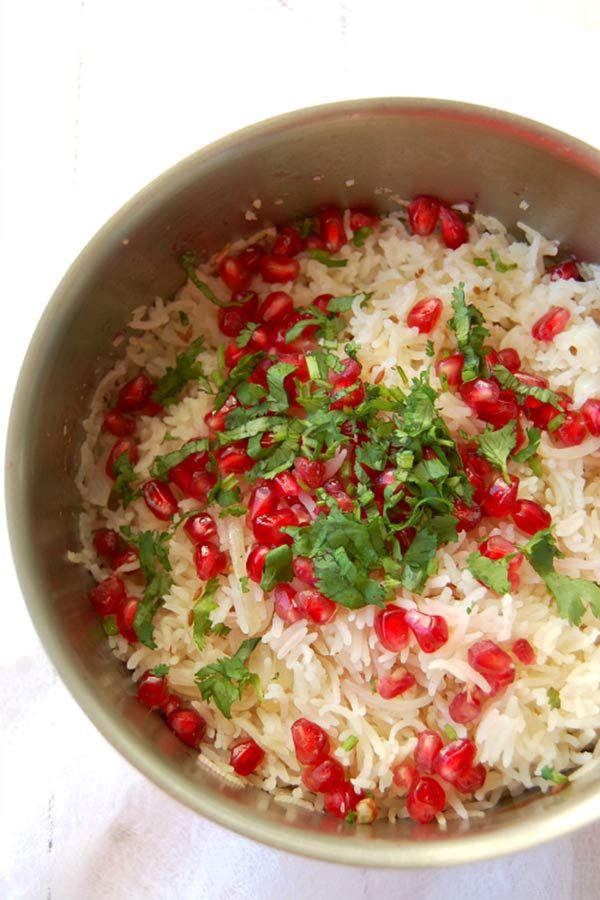 Changing course a bit here but have you been to Sam's club lately?!! This weekend we were surprised to notice that most of the food magazines they had were talking about Christmas already. Hey fellas we still got Thanksgiving to go first was what I wanted to tell everyone! Well we both love Christmas so it was an icing on the cake.
Coming back to this dish, I want to tell you to make this but do make this pomegranate rice with it. Pomegranate in the rice helps to sober down the heat a bit but if you are not into spiciness at all, no worries. Just use very less red chillies and green chillies and you will be good.
And I am done with both the seasons of Orange is the new black and waiting for 3rd season!! Any suggestions on what to watch next? I started watching weeds for a bit thinking it might be good since it's was made by the creator of OITNB but I wasn't impressed. What about you??Got any good fall show suggestions?
Seriously this chicken malvani with cumin-pomegranate rice = Best meal ever.
Chicken Malvani
Spicy chicken simmered in a coconut gravy - this dish comes from Western coast of India. Served with cumin - pomegranate rice!
Ingredients
Dry Spice Mix For Chicken Malvani
1 large bay leaf or 3-4 small bay leaves, dry
¼ whole nutmeg
6-7 cloves
3-4 dry red chillies (If you want less spicy, lower the amount)
10 black peppercorns
1 large cinnamon stick
1 tsp cumin seeds
1 tsp coriander seeds
½ tsp red chilli powder
½ tsp turmeric powder
For wet spice mix for chicken malvani
1-2 green chillies
5-6 garlic cloves
½ cup freshly grated coconut (found in frozen sections) or dry shredded coconut
¾th inch of ginger
For the gravy for chicken malvani
1 pound chicken breasts, chopped in small pieces
1-2 cups water
2 tsp olive oil or ghee
1 cup finely chopped onions
Juice of ½ lime
Pinch of sugar (optional)
Salt to taste
Cilantro for garnishing
Cumin-pomegranate rice
1 tsp oil
¼ cup thinly sliced onion
1 tsp cumin seeds
¼-1/2 cup fresh pomegranate seeds
Salt to taste
1 cup basmati rice, rinsed
Instructions
Dry Mix
Dry roast all the above ingredients on a skillet for 3-5 minutes at medium heat. Grind to form a spice mix. Keep aside.
Wet mix
Grind all the ingredients and keep aside.
Gravy
In a deep pot, add oil. Once hot, add chopped onions and the wet spice mix. Saute for few minutes until raw smell goes away. Add 3 tsp of dry spice mix and stir around. Add 1 cup water and bring it to a boil. Add salt, lime juice and pinch of sugar. Stir it around and cook for another 3-5 minutes. Add ½ cup water if the gravy looks to thick. Add chicken pieces and cook covered on lowest setting for 12-17 minutes or until chicken gets cooked through that is there is no pink left inside the chicken. If gravy looks too thick, add more water but remember chicken will loose some water too so add little water at a time only.
Once done, taste and adjust seasonings if needed.
Cumin-Pomegranate Rice
In a pot, add oil. To it add cumin seeds. Once they start to pop, add onions and saute for 5-7 minutes. Add washed rice along with 2.5 cups water and salt to taste. Bring it to a boil. Cover and let it cook on medium gas until cooked through. Add pomegranate seeds and stir around.
Serve chicken malvani with cumin-pomegranate rice.
Notes
You can devour the leftovers for lunch the next day.
Dry spice mix and wet spice mix can be made a day in advance.
You can even make the gravy in advance and just before dinner, add the chicken pieces and cook.
More Indian Recipes: