Restaurant style vegetable sushi. So flavorful with tons of fresh veggies and spicy sriracha mayo that you will be surprised to know how easy it is to make at home!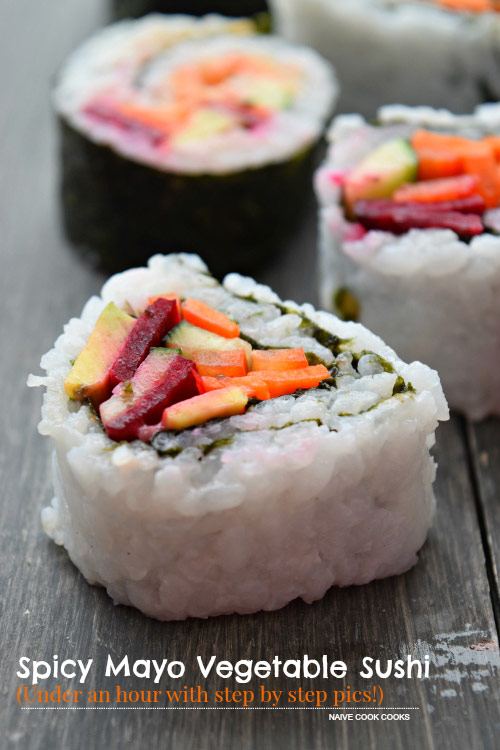 Sushi is one of our favorite food. Vegetable sushi to be precise. Both of us can't stand sea food smell (I know how I wish I was able to so I could enjoy all those dreamy or should I say 99% of the menu at any sushi restaurant but anyways!), so we always look for good sushi places wherever we go. Until now sushi was an indulgence and having only few good places around us wasn't of much help either.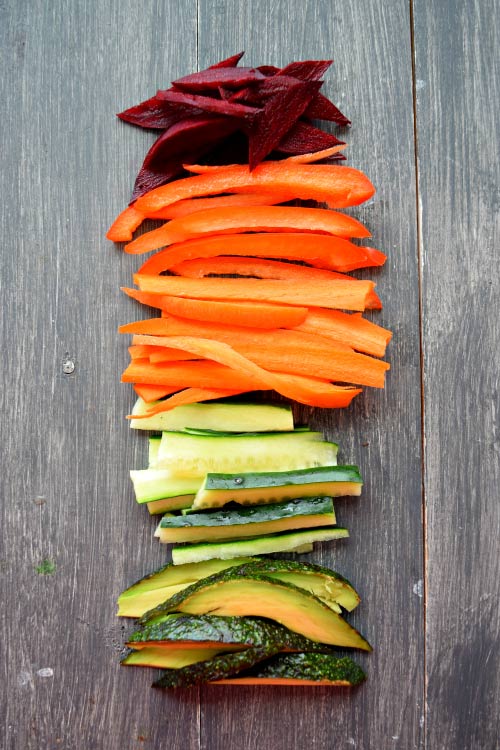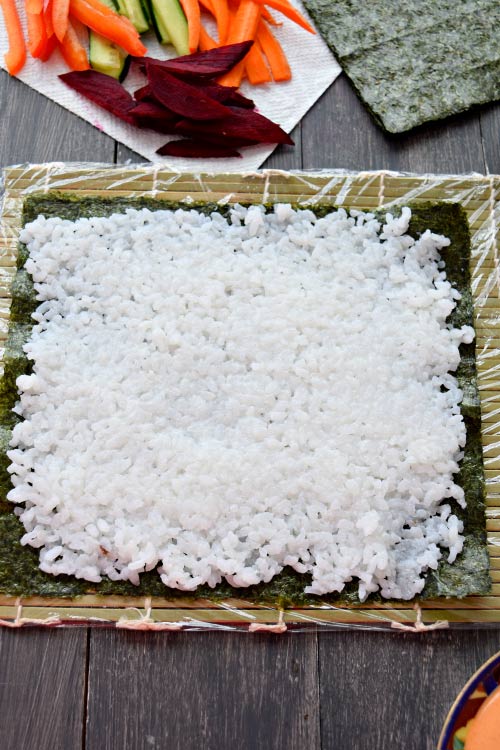 But then one day I was craving sushi really bad and it being a weekday, i thought why not? So I made it from scratch and let me tell you there is no not-scratch way when it comes so sushi but darn it was tasty! It tasted just like the ones we were used to eating out and much better as I could control the amount and type of veggies as per my taste.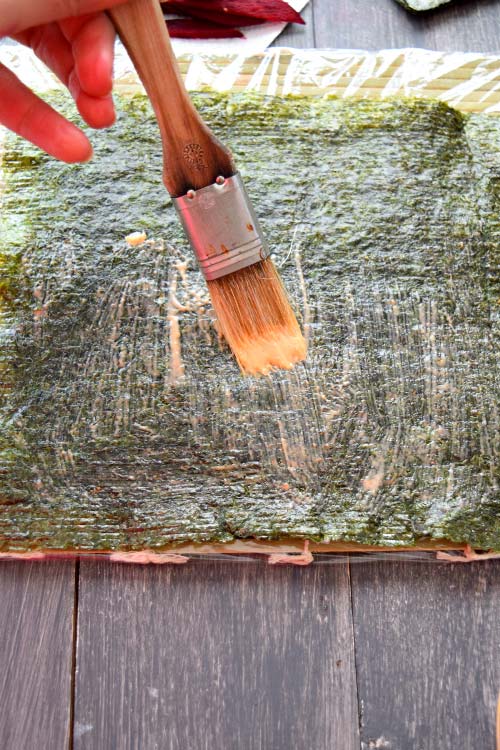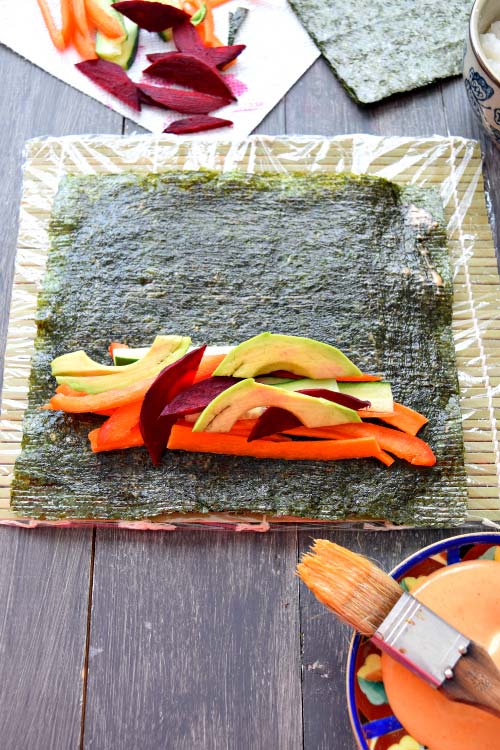 The best part? You don't need any special equipment to roll it either. I know you can see that I have used a sushi  rolling bamboo mat but before bamboo mat, I made it with a thick sturdy towel and some saran wrap and it worked like a charm. And start to finish, it comes together in less than an hour and you can easily feed a crowd.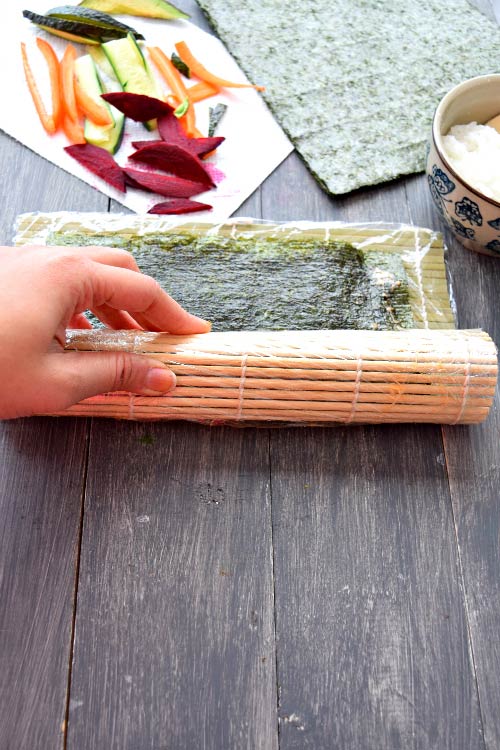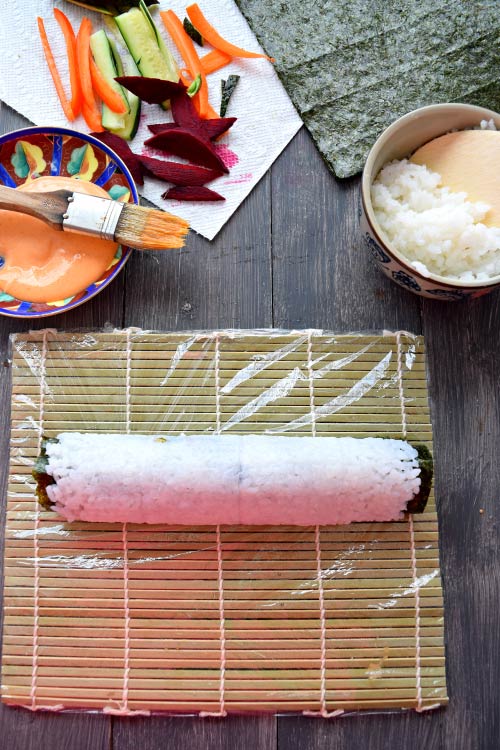 It's so easy to customize too. Here in this particular version, I made a spicy mayo and added some inside the roll and called them Spicy Mayo Vegetable Sushi. I serve the rolls with more of that spicy sriracha mayo and soy sauce. I pack it for lunch too and it stays fresh for good few hours until lunch time. So win-win. It allows me to make him eat lot more raw veggies sneaked in sushi which otherwise he will never eat.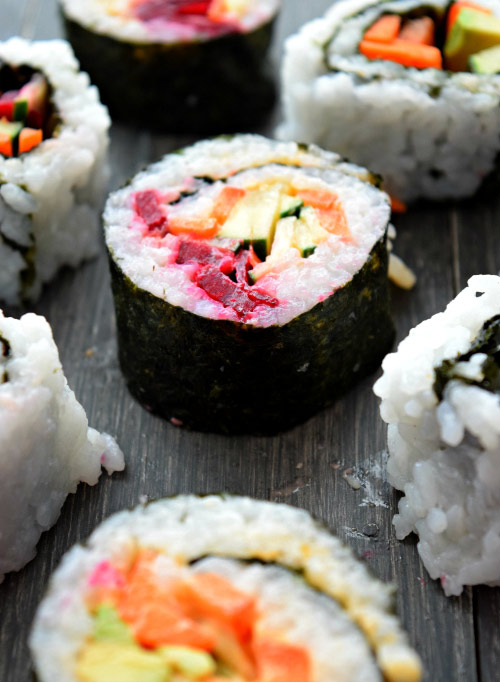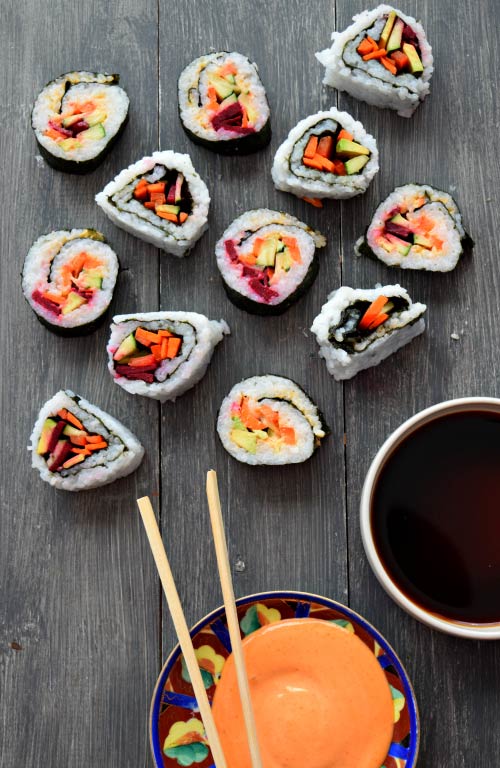 Spicy Mayo Vegetable Sushi
Restaurant style vegetable sushi. So flavorful with tons of fresh veggies and spicy sriracha mayo that you will be surprised to know how easy it is to make at home!
Ingredients
¾ cups sushi rice
1 tsp rice vinegar
Salt to taste
¼ cup low fat mayonnaise
Sriracha sauce ( as per taste)
Bunch of fresh raw veggies of your choice, sliced thin (I used carrots, cucumbers, beets, bell peppers and avocado)
Soy sauce for serving
2-3 Nori sheets for rolling (You can find them in almost all grocery stores or order online on amazon)
Instructions
Sushi Rice
Rinse rice under water until it becomes clear. Add 2 cups of water to the rinsed rice and cook on medium low heat until almost all the water evaporates and it's soft. Keep stirring in between if it starts to stick to the pot. Once cooked, add rice vinegar and salt and stir it around using a fork. Keep aside.
Spicy Sriracha Mayo
In a bowl, add mayo and to it add 1-2 tsp sriracha sauce or as per taste. Mix and keep aside.
Chop all the veggies and once you are ready, begin to assemble your sushi rolls.
*Keep referring the pictures above.
Wrap a clean thick sturdy towel or bamboo mat (whichever you are using), with a saran wrap all around. Now place one nori / seaweed sheet on top. To it add few tbsp full of rice and using your hands or back of spoon start to press it down evenly all over the nori sheet. You can keep using few drops of water on your hands or back of spoon, so rice doesn't stick to you or the spoon.
Once rice is evenly distributed, you can either continue that way if you want a sushi roll with nori sheet on the outside.
But if you are looking for a sushi roll with nori sheet on the inside, gently flip the nori sheet. This way now the rice is at the bottom and then you have your nori sheet.
Whichever way you choose, now using a pastry brush, gently coat the entire surface with spicy mayo. Now leaving few inches on the nori sheet, place all your veggies (few of each) and start rolling.
Make sure you roll it into a tight roll. Starting from your side, roll it once and using your hands press it so everything gets tightly pushed against each other. This way you can keep shaping it too. Now continue and repeat until you have rolled it fully. Keep it aside and continue with the remaining rolls.
Using a sharp knife, cut them in circles. Serve along with more of that spicy mayo and soy sauce.
Notes
These are best eaten fresh but they stay good for upto 3-4 hours.
More Recipes: