Put you slow cooker to work and enjoy a delicious Slow cooker Creamy Tomato Sauce Chicken with just 10 mins of prep work.
Continuing my series of slow cooker recipes, I got you another mind blowing, made with cheap already available pantry ingredients and great in flavor department CHICKEN DINNER. Yes it's getting colder here and since last 10 days I have bad cold, which has made slow cooker my best friend. Lately slow cooker has been my dinner time savior and making me look like a person who has her life under control but in reality without slow cooker, I can't imagine my life right now! #foodbloggerproblems 😛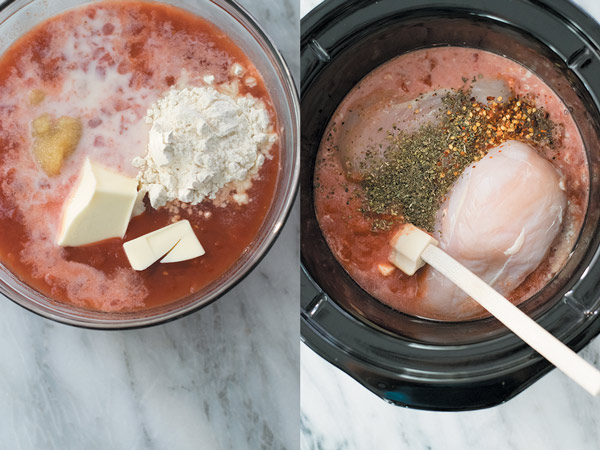 This is one of the easiest slow cooker recipe till date and packed with so much flavor! It took me just 10 minutes to throw everything in slow cooker and walk out of the door to finish tasks. Chicken cooks in creamy tomato sauce on low for 6 hours and then you can shred it and add back in the sauce, or cut in pieces or serve a whole chicken breast with lots of sauce over pasta. Probably the easiest meals to put together with simple pantry ingredients. Star here is the creamy tomato sauce. It's so good that you can even just use up the sauce and mix with pasta for a meatless dinner and add some veggies if you want.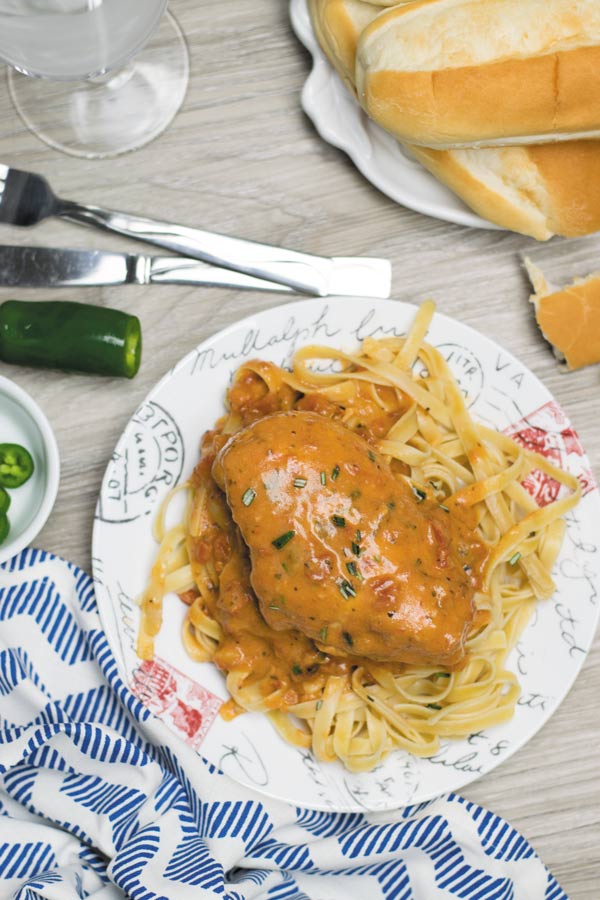 This dish also tastes great served over creamy mashed potatoes.
So go ahead and give this a try! If you make these or any other recipe from our blog, do tag us by using#naivecookcooks on social media channels.
If  you enjoyed this recipe, don't forget to FOLLOW me on  INSTAGRAM ||FACEBOOK||PINTEREST ||TWITTER ||GOOGLE+ || BLOGLOVIN || YouTube

Slow Cooker Creamy Tomato Sauce Chicken
Ingredients
Slow Cooker Creamy Tomato Sauce Chicken:
In slow cooker for first 6 hours ->>
1 can diced tomatoes (14.5 oz)
1 can tomato sauce (8 oz)
4 tbsp butter
4 tsp garlic paste
4 tbsp all purpose flour
½ cup milk
1 cup water
½ tsp black pepper
½ tsp basil powder
⅜ tsp oregano powder
½ tsp red chili flakes
3 chicken breasts
In slow cooker after 6 hours ->>
¼ cup heavy cream
¼ cup shredded parmesan
1 tbsp cornstarch
Salt and pepper to taste
Extra red chili flakes if desired
Pasta, cooked as per package directions for serving
Instructions
Slow Cooker Creamy Tomato Sauce Chicken:
Add all the ingredients under " In slow cooker for first 6 hours" in the slow cooker. Cover and cook on low for 6 hours.
After 6 hours pull out the chicken breasts and keep them on a plate. To the sauce add heavy cream, parmesan,salt and pepper. In a small bowl mix some sauce with cornstarch and add this paste into the sauce in slow cooker. Cover and cook the sauce on high for 30 minutes.
Meanwhile cook pasta as per package directions.
You can either shred chicken or cut it in pieces or serve as is over pasta with lots of sauce.
Some more DINNER recipes ->>