Happy new year you guys!
I am seriously so thankful to all of you for sticking around, for making this place so wonderful with all your lovely comments, for giving your inputs and for just being YOU. I can't imagine this place without you all and I really hope the best of everything for you all in 2015.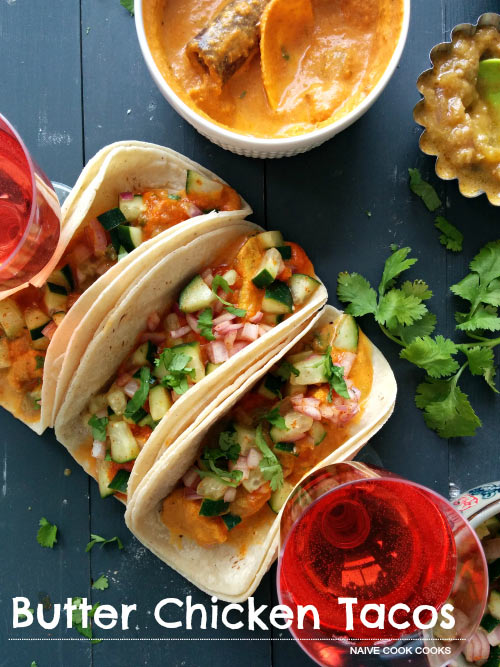 2014 went by in a blink. Only few months ago, I had my birthday and here I am AGAIN only few months away from it. It can't be real is all I keep telling myself but we are in 2015!! I am looking for this year to be so much more than what I have planned it to be. Keeping my fingers crossed and wishing the best for us and all alike.
The last few days of 2014, we celebrated by relaxing, spending quality time with family and eating our weight in good food and among food these BUTTER CHICKEN TACOS were my favorite. So delicious that I have been craving them again.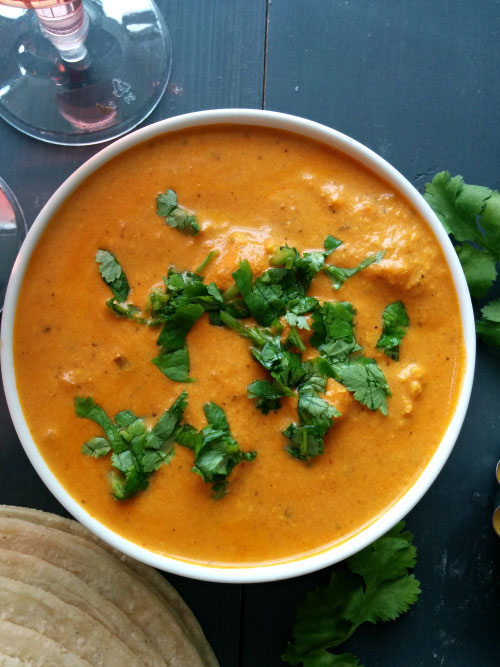 The best part about this dish is that you can enjoy these as a taco meal and if you still end up having leftover butter chicken, you can enjoy it next day with some steamed rice and flour tortillas. So darn tasty. And if you are one of those people scared of making Indian food, don't be. This recipe is seriously so simple and so doable.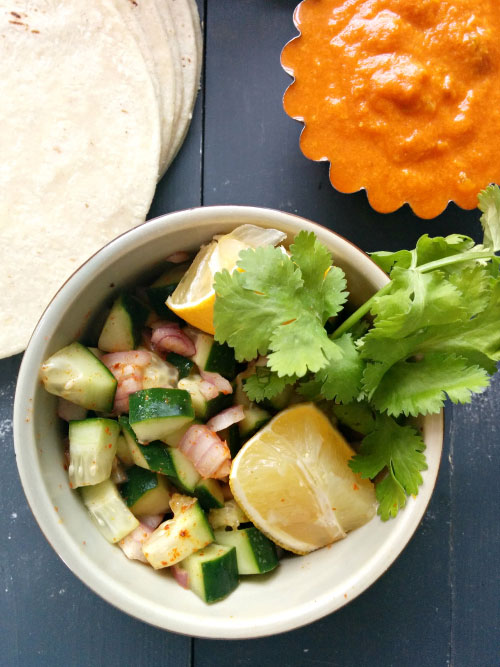 What did you guys do for new years eve?? Dinner with family, drinks with friends or chilled at home??! I am so jealous of those of you who chilled at home. So doing this next year as lately I have been craving just being a couch potato, ordering some pizza and a bottle of wine. That sounds a pretty good plan to me?! What say? We stayed till wee hours with Jerry's friend and had a blast!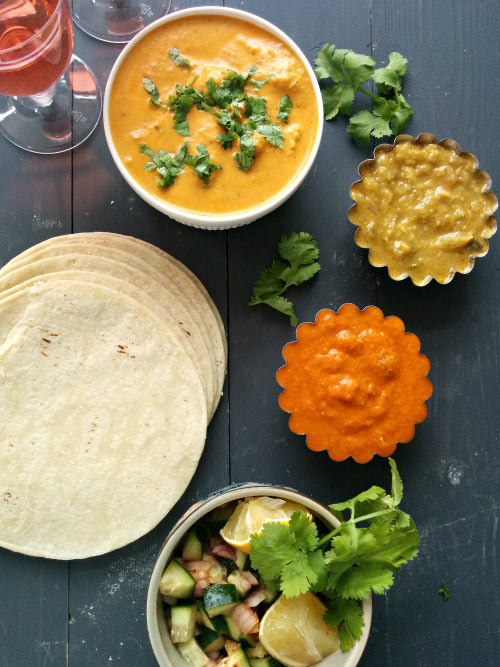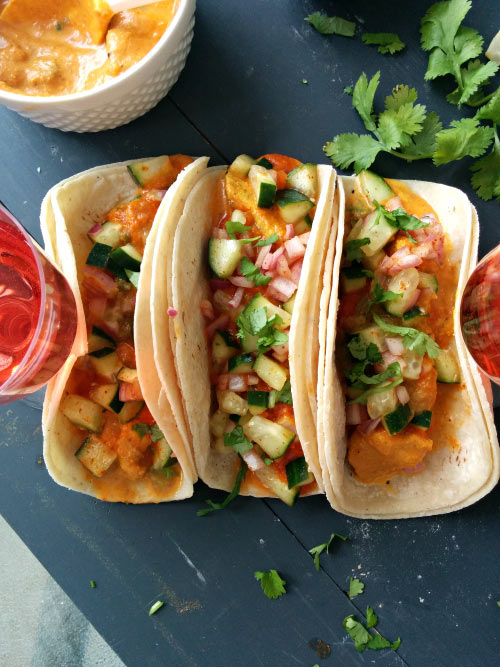 These tacos are pretty healthy so if you are all about resolutions and trying to eat clean and healthy this year, I must insist you to make these. These are nothing like the greasy Indian food you get at most restaurants. Clean, low fat and delicious is what these chicken tacos are.  Served with a crispy cucumber – red onion salsa, your favorite kind of hot sauce or salsa verde and chilled wine or beer, it's a meal you should be celebrating the first day of new year with!
Butter Chicken Tacos
Tacos with a twist! Indian Butter Chicken meets Mexican Tacos!
Ingredients
For 1st marination
1.5 lbs chicken breasts, cleaned and chopped in small pieces
½ tsp red chili powder
1 tbsp lemon juice
1 tsp salt
For 2nd marination
½ cup thick plain yogurt
½ tsp dried fenugreek leaves or kasuri methi ( easily found in Indian stores)
1 tsp turmeric powder
1 tsp garam masala
1-2 tbsp olive oil or any other good cooking oil
1.5 tbsp ginger paste
½ tbsp garlic paste
For sauce or gravy
2.5 tbsp ginger paste
8-10 cloves of garlic, made into a paste
7-8 fresh green chilies, slit lengthwise
1 tbsp ghee
1 tbsp olive oil
4-5 green cardamoms
1-2 black cardamoms
4 cloves
2-3 inch long cinnamon stick
4 cups tomato puree from fresh tomatoes or you can use canned too
½-1 tbsp red chili powder or to taste
10 almonds, soaked and made into a paste
1 tsp garam masala
1 tsp dried fenugreek leaves or kasuri methi
1-1.5 tbsp sugar or to taste
½-3/4 cup heavy cream
Salt to taste
Cucumber-red onion salsa
Chop 1 cucumber and ½ red onion in a bowl. To it add, salt, lemon juice, red chili powder and handful of cilantro. Taste and adjust.
For tacos
Butter Chicken
Flour tortillas
Cucumber-red onion salsa
Salsa verde (homemade or store bought)
Red hot sauce or salsa (optional)
Instructions
First marinade
In a bowl, add chicken pieces, salt, lemon juice and red chili powder and let it sit for 20-30 minutes.
Second marinade
In a bowl, mix all the ingredients for second marinate and to it add the chicken pieces from first marinade. Cover and let them sit in refrigerator for 2-8 hours.
Sauce
In a deep heavy bottom pot, add ghee and olive oil. Once melted and hot, add cloves, both green and black cardamoms and cinnamon stick. Once they start to sizzle and become fragrant, add ginger paste, garlic paste and green chilies. Let it cook so it's no longer raw. To it add the tomato puree, salt, red chili powder. Cook it for 15-25 minutes until it starts to thicken. At this point you can blend the sauce in a high speed blender but BE CAREFUL as it's extremely hot so you want to be careful. Remove cinnamon stick and cardamoms. You can add them back to the sauce after blending.
Transfer the smooth blended sauce to the same pot and turn on the gas. To it add 1-2 cups of water depending on how thick or thin you want the gravy to be. Add almond paste and cook it for 10-15 minutes. To it add sugar and fenugreek leaves. Cook for few more minutes. Keep it aside.
Cooking the chicken
While your gravy is being cooked, you can cook your chicken in the oven. Pre heat the oven to broiler setting. Take a deep oven safe pan and layer with aluminium foil. Add the marinated chicken pieces but try not to over crowd. Cover with another aluminium foil making sure its properly covered. Cook for 15-17 minutes or until almost cooked. You might notice that chicken is still little pink inside but don't worry as we will be cooking it for sometime in gravy too.
Add the almost cooked chicken to the gravy. Put it on low heat and add heavy cream, salt to taste if needed.Taste and adjust salt, heavy cream, red chili if needed.
Assembling the tacos: Place a flour tortilla. To it add butter chicken, red salsa if using, salsa verde and cucumber-red onion salsa. Devour immediately.
Notes
You can prepare the gravy a day or two ahead and keep refrigerated.
If you don't want to cook chicken in oven, you can grill it or cook it on stove top.
Butter Chicken recipe roughly adapted from "ecurry.com"
More Taco Recipes: