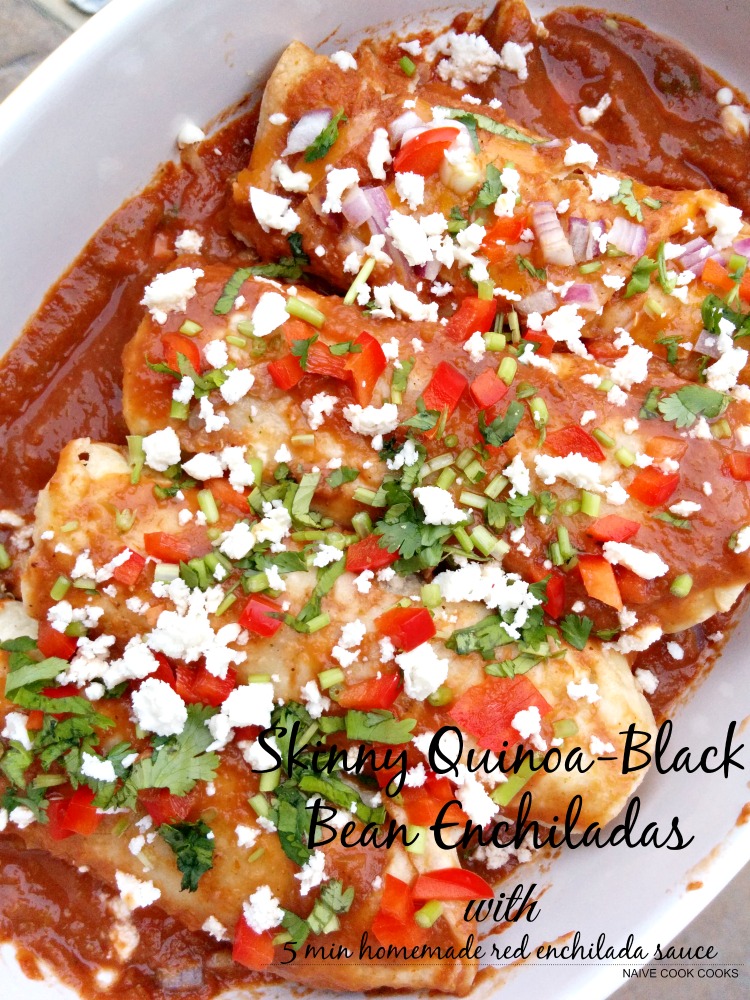 Skinny Quinoa Black Bean Enchiladas are filled with quinoa, black beans, red onions and  bell peppers which are sauteed with jalapenos and packed inside white corn tortillas and topped with a quick homemade red enchilada sauce for a healthy and satisfying dinner. It requires little planning but you can make the filling and sauce a day ahead or during weekend. Then it takes few minutes to throw it all together for a satisfying weeknight meal bursting with flavors and healthy goodness.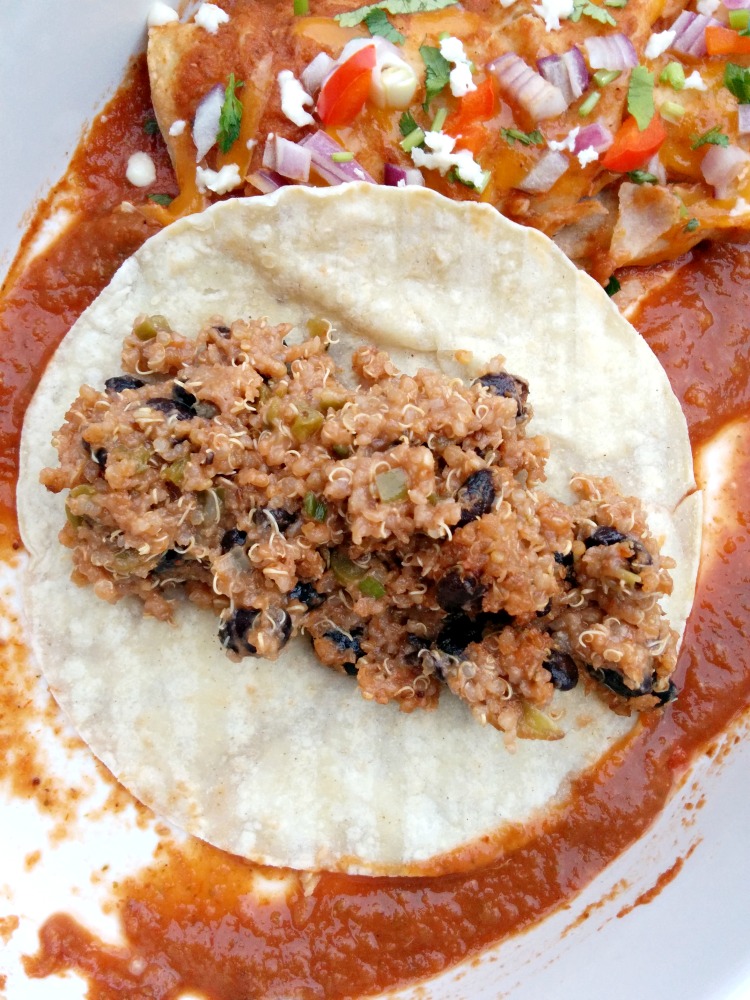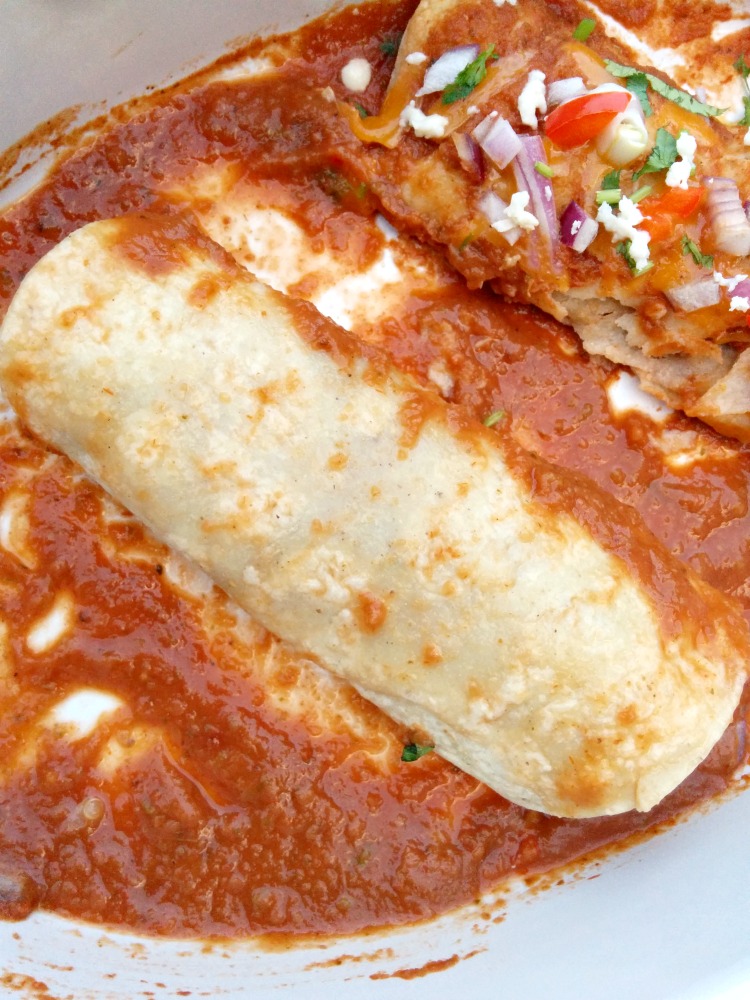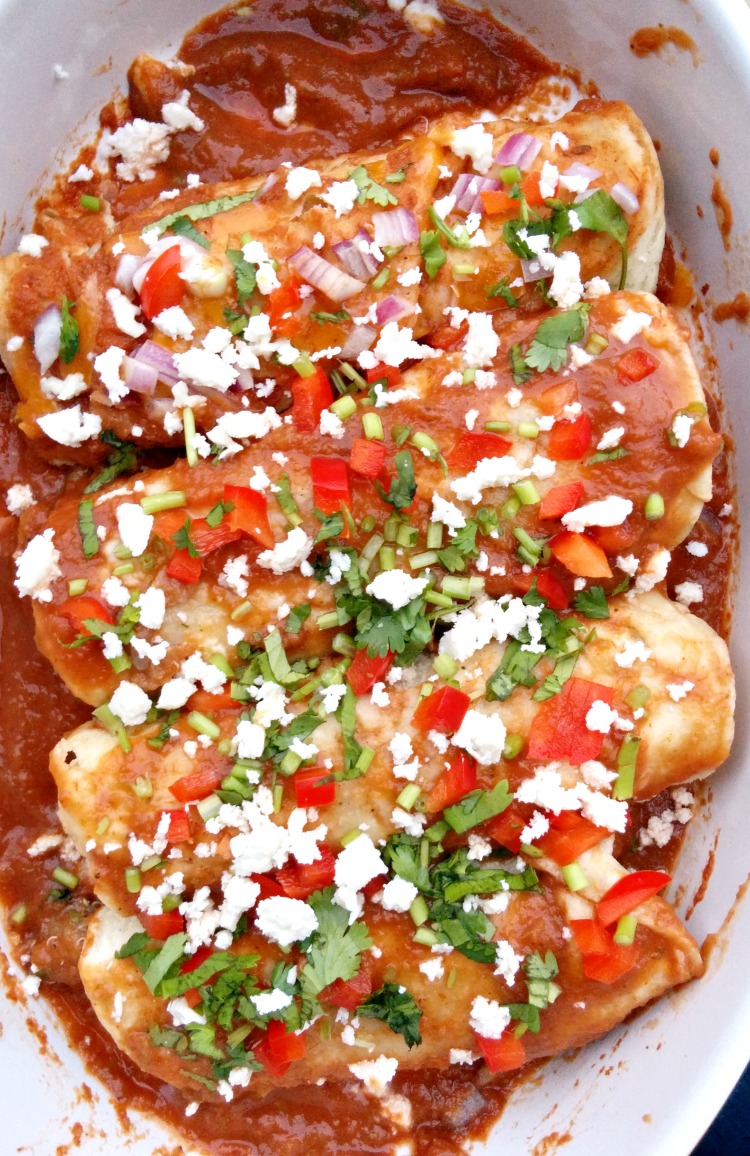 Quinoa is a nutrient powerhouse with 1 cup of cooked quinoa packing 58% manganese, 21% fibre, 15%iron apart from other nutrients. Quinoa has been known as mother of all grains as it is packed with all life sustaining nutrients and has all 8 essential amino acids.
On the other hand, black beans are also a good source of protein and fibre and the combination of black beans & quinoa makes this dish super healthy, nutritious and sauce gives it a depth of flavor. Jerry loved them and he said the sauce matches a high quality restaurant sauce. Thanks FauxMartha for the wonderful enchilada sauce recipe!
I bet you can't just eat one. They are so good and perfect for next day lunch, only if you can resist and save some!

Skinny Quinoa Black Bean Enchiladas
Ingredients
Filling:
1 cup dry quinoa, cooked with 2 cups water
½ dry black beans, boiled
1 cup chopped bell pepper
1 cup onion chopped, very fine
½-1 jalapeno chopped
1 Tbsp olive oil
3 garlic cloves chopped
salt to taste
½ tsp red chili powder
½ tsp cumin powder
25 oz. tomato sauce can (I used Hunt's)
1 red onion medium size, chopped
2 cloves garlic, chopped
1 fresh jalapeno, chopped
¾ tsp. chili powder
¾ tsp. cumin
½ tsp. oregano
2 tbsp. fresh cilantro
¾ cup water
4 Tbsp plain low fat yogurt
Salt to taste
Black pepper to taste
Little brown sugar to taste
Assembling:
White corn tortillas
Red onion, chopped for garnishing
Bell pepper, chopped for garnishing
Queso fresco for garnishing
olive oil for softening the tortillas
Instructions
Filling:
In a skillet, add oil. Once warm, add chopped garlic, jalapenos. Saute for few minutes. Add bell pepper and onions and cook until soft. Add salt, red chili powder, cumin, black beans boiled, cooked quinoa and stir to mix it all together. Add ¼ of the sauce and mix with it. Taste and adjust seasoning.
Keep aside.
In a high speed blender, throw all ingredients together and blend until smooth. Transfer it to a deep pot and cook on medium flame. Taste and adjust seasoning if needed.
At this point, you can store the filling and sauce and use for later.
Assembling:
Preheat oven to 350F.
Put little oil on tortillas and warm them up and store in an aluminium foil.
I like assembling them in individual plates as you can assemble them as per request. More beans? Less sauce? Totally customization.
Add little sauce on the plate. Place one softened tortilla and place filling in the center (I use a lot of filling but it's totally up to you). Roll them up and repeat with another tortilla. Add sauce on top. Some red onions, bell peppers, queso fresco cheese and cilantro and bake until fully warmed.
More Mexican Food Recipes: