This soup has both sweet and spicy notes and that makes it a perfect winter comfort food in a bowl!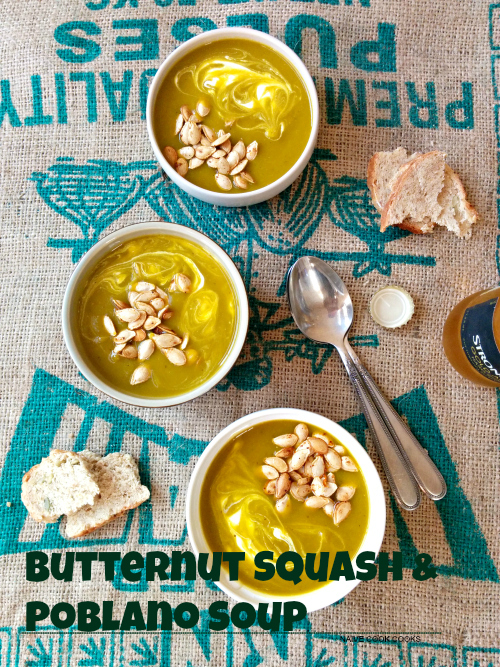 Can you believe that it's almost Halloween?!! I feel that October just started few days back  and now here we are with only a day between us and November!! Soon there will be Christmas!
Temps have started to come down here now and weather like this demands a soul warming soup. I will be honest here and tell you that I am not much of a butternut squash soup eater but this combo – TO DIE FOR. Not lying, when I say that I made 3 big bowls of this soup and ate it all  by myself in 2 days! This is one healthy, nourishing bowl of goodness. The sweetness from roasted squash and the spiciness from poblano pepper gives it a kick that you usually see in holiday dishes loaded with spices such as ginger, nutmeg, cinnamon, cloves. To me butternut squash and poblano soup represents beginning of cold weather,big fuzzy sweaters, endless cups of hot chocolates and warm comforting foods.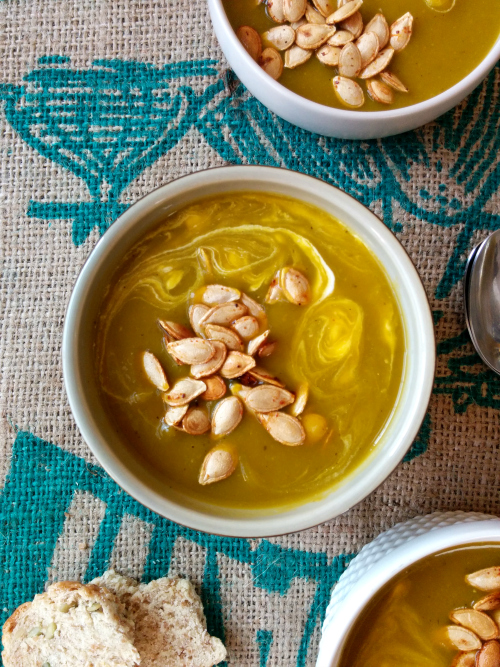 So seriously make this soup. It is stupidly simple to make and freezes like a charm. Make a big batch of it and have it for a quick nourishing goodness filled dinner ready in minutes. The  day you are planning on eating the leftovers, just take it out of the freezer and let it thaw in refrigerator or kitchen countertop. Before serving, heat it nicely all the way through and serve with yogurt or sour cream along with a good amount of these crunchy ghee roasted squash seeds!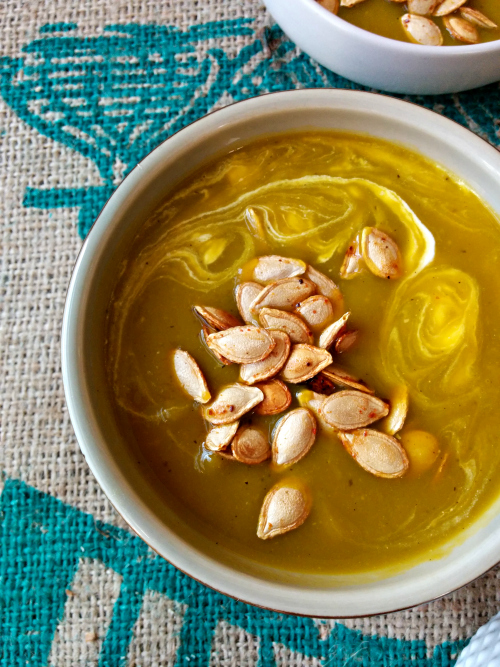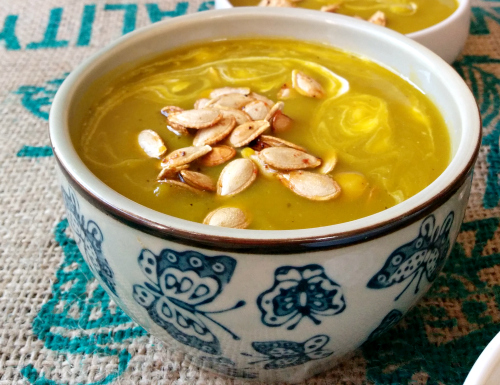 Butternut Squash & Poblano Soup
Sweet & Spicy winter goodness in a bowl!
Ingredients
3 cups chopped butternut Squash
1 tsp olive oil
½ tsp salt
1 Poblano pepper
½ cup red onion, chopped
4 oz apple cider beer
1.5 cups water
Pinch of nutmeg
Salt & Black Pepper to taste
Butternut Squash Seeds (That you pull out of the butternut squash)
Salt to taste
½ tsp red chilli powder
1 tsp ghee or coconut oil or any other high temperature oil
Instructions
Pre heat oven to 400F.
In a lined baking pan, throw all the butternut squash. To it add salt and olive oil and stir it around using hands. Bake for around 30 minutes or until fork tender.
To grill a poblano pepper, see **.
In a hot deep pot, add chopped onions and chopped poblano pepper. Stir it around for 3-5 minute. Add apple cider beer and deglaze the pot. Add water, butternut squash pieces, nutmeg, salt, black pepper. Bring it to a boil and cook for 3-5 minutes. Using a hand blender, blend it until smooth. Add more water if you feel it's thick. Taste and adjust seasoning as per your taste buds.
Serve with ghee roasted squash seeds and sour cream or yogurt.
Ghee Roasted Squash Seeds
Pull out all the seeds from butternut squash. Transfer them to a strainer and under running water. Pull out everything except the seeds. Once properly cleaned, dry them using a paper towel. Throw them on a parchment paper lined baking sheet. Add ghee and salt and stir them around. Bake at 400F for 12-15 minutes.
And now lets get Halloweening!! I got some of my favorite links around the internet and felt like you might like these!
Not so much Halloweening!
That's all folks!! Happy Halloween!!
More Halloween Recipes: