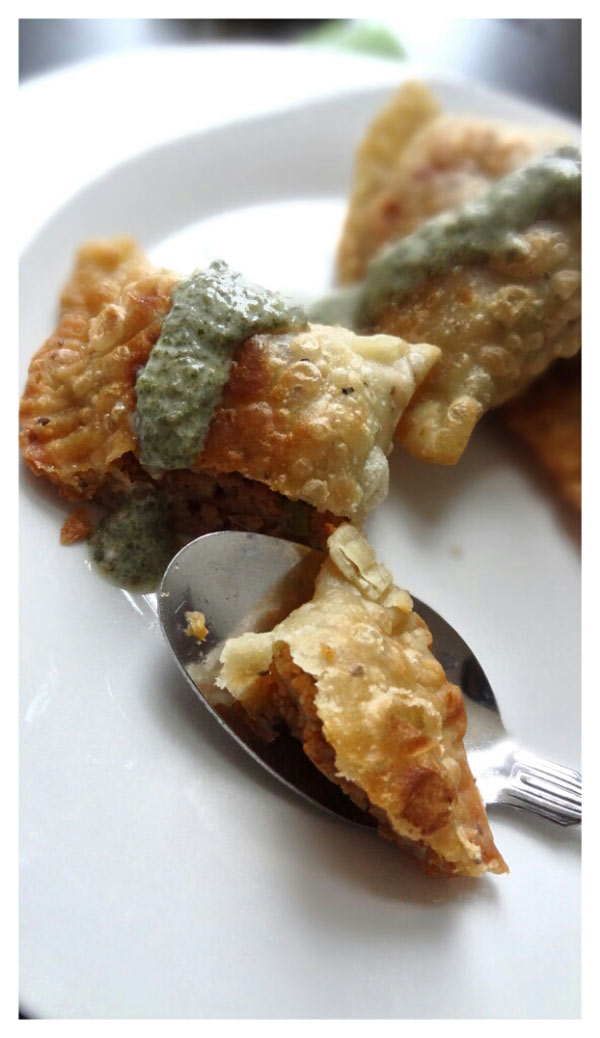 Every time when  memories overpower my taste buds, these are something I reach for. Samosa, an Indian appetizer has been everyone's favorite since long. It has it's lovers worldwide and no doubt there are so many ways to make these. But the filling is always a combination of potatoes and peas, the variation being in the way you season them. I have seen their fancier version where they are packed with cashews and raisins as well. That gives them a slightly sweet taste. Then you have bite sized samosas which are usually good to be stored over longer periods of time and have a dry filling. My favorite has always been the fresh ones. The ones for which, we would fight as to who gets the first one. Perfect comfort food for winters or year round.
I remember as a kid when I used to visit my nana's place, she used to make someone run and fetch freshly made samosas from the road side vendors. In India road side vendors are the ones who have the best mouth watering food items. In winters, having hot samosa along with some mint-coriander-yogurt chutney and a hot cup of tea, will take away all kind of blues. It was a tradition to have them at least twice a week either freshly made at home or fresh from vendor. They both tasted equally good. But to me my mom's hand made samosas still hold a special place. I try to recreate them and I think I have reached quiet close to her version.
Spicy and tangy, crunchy and soft. Hot samosas  served along with chilled mint-coriander-yogurt chutney.
P.S  They are very easy to make. Little time consuming but worth all the efforts and made with items you can find easily in your pantry(!).

Vegetarian Potato Samosa
Ingredients
For Filling
3 medium potatoes, boiled and skin removed
½ cup green peas, frozen or fresh
1 tsp oil for cooking plus additional for frying
1 tsp cumin seeds
2-3 green chilies, finely chopped (optional)
1 tbsp ginger paste
Salt to taste
1 tsp red chili powder or more to taste
1 tbsp coriander powder
1 tbsp mango powder or amchoor or khatai
½ tsp garam masala
For Crust
2 cups, all purpose flour
2 tbsp oil, canola or olive oil or any other light cooking oil
½ tsp carom seeds
Salt to taste
Instructions
For Filling
First make filling.
Heat a skillet on med-high gas. Add 1 tsp oil. When oil becomes hot, add cumin seeds, green chilies and ginger paste. Stir it and let it cook for a minute or two. Put the gas flame to low. Add green peas and salt. Cook till peas soften about 7-10 mins while stirring frequently. Meanwhile, break the boiled potatoes using hands and crumble them in fine or small pieces. Add the potatoes to the cooked peas. Mix it. Add red chili powder, coriander powder, mango powder, garam masala and salt to taste. Mix it all properly. Cook it for 10-12 mins till the mixture cooks up nicely and your home smells heavenly.
Take it aside and let it cool.
For Crust
In a bowl, take flour. To it add, carom seeds, salt and oil. Mix it all together using hands so flour gets evenly coated with oil. Now take hot water and combine the dough. Keep adding water 1-2 tbsp at a time till it all comes together. Keep it little soft but not too sticky. Let it sit for 15 minutes.
Assembly
Take a deep skillet for frying. Pour oil and let it heat up. Divide the dough in four equal sized balls. Take one ball at a time. Flatten ball into a thin circle. Divide the circle into two semi circles. In a small bowl, take 2 tbsp water and 2 tsp flour. Mix it and keep aside. This paste will be used as a sealant. Now take one semi circle. Using your finger, coat the straight side of semi circle with the sealant we just made. Now bring the two corners of semi- circle together and overlap the vertical sides to make a triangle. Make sure you pick them up immediately and it will look like a triangular pocket in your hand. Put filling inside it but do not over pack. Seal the edges with hands first, then rub little sealant along the sealed edges. I have made a little drawing to show the steps to make a pocket.
Make sure oil is hot by dropping a little piece of flour. If it comes to the top immediately, then oil is ready. If not, then wait till it reaches desired hotness. Fry them on low- med flame till the crust becomes golden brown. Place them on a paper towel to soak the additional oil.
Serve hot with fresh chutney. Enjoy.
More Appetizer Recipes: