This is the ULTIMATE, No-Knead Bread recipe that takes start to finish only 3 hours & cooks in a skillet!!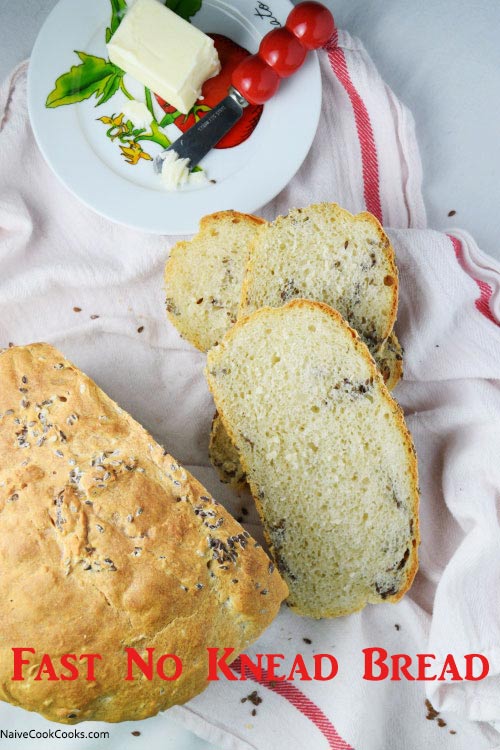 Looking to improve your bread game? Well look no further as this dreamy start to finish no-knead bread recipe takes seriously ONLY 3 hours (3 hours from bowl – belly!) and is so addicting! I have already made this thrice in a week and there is no stopping. Remember the last time I posted no-knead jalapeno & cheese bread, since then I have been wanting to try out a no knead version that's much quicker. Because well let's be honest not all of us have the patience & time to let it sit overnight & then bake a bread first thing in the morning!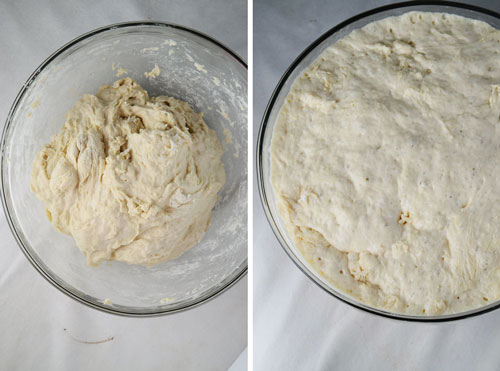 So here is my solution. This recipe is again heavily inspired by my favorite You Tube channel bread baker "ArtisanBreadByStev". If you haven't checked out his youtube channel, I suggest you do that like now! His methods are really simple, explanation to the point & makes bread baking a breeze. So when I saw his Turbo no knead skillet bread, I had to try and I was not disappointed!
This bread cooks in SKILLET so friends if you don't have a dutch oven, no worries!! I remember 2 years back when I was itching so badly to try out no knead bread at home but all recipes called for dutch oven and I had none at the time. So I went looking everywhere to buy dutch oven but now you don't need to go through that torture of buying a dutch oven just so you can enjoy fresh bread at home!! Skillet does the job wonderfully!!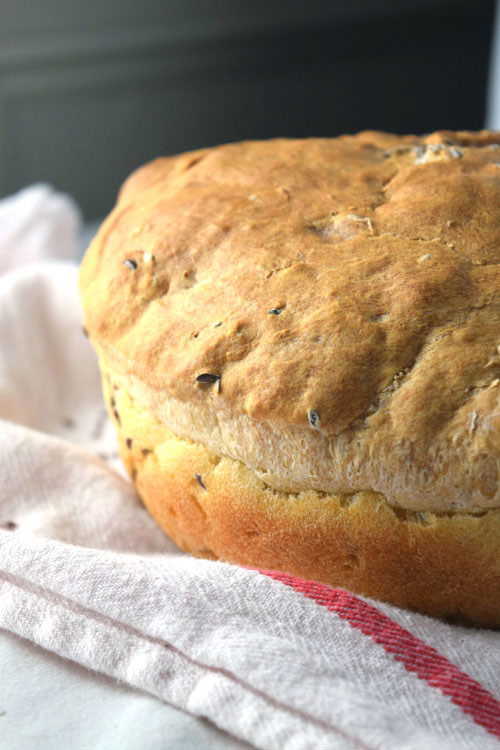 I mean seriously how simpler can it get? I say it takes total of 3 hours and I have tested it thrice! Here is how I do it:
Stirring the dough ingredients in a bowl : Max 20 mins
Letting it sit & rise :1 hours 30 mins
Stirring the dough & second rise :30 mins
Baking :40 mins
Total time to bake a fresh no knead "better than store" bread at home in your very own kitchen : 3 hours!! The top is hard & crusty while the inside is really soft! Cut in thin or thick slices, toast & slather with avocado puree, salt, chili flakes, lime juice and some boiled eggs (our favorite breakfast these days!) or simply enjoy fresh bread with some good quality extra virgin olive oil mixed with balsamic vinegar and salt+ black pepper!Another all time favorite.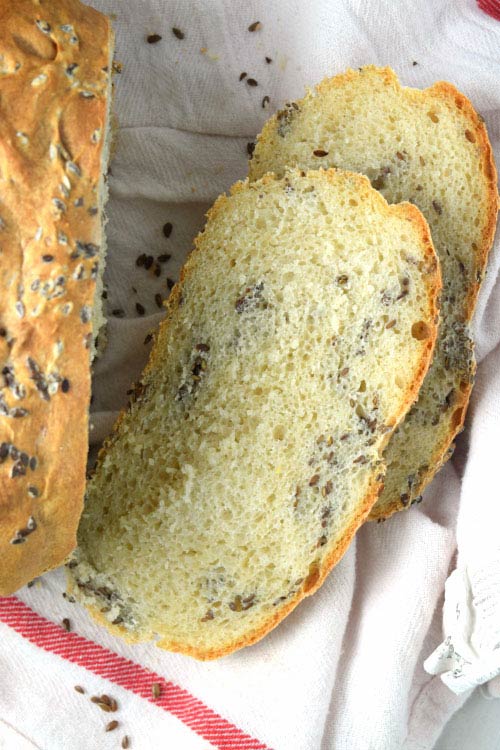 This is a perfect Friday night project if I say so!
Help in spreading the word!
Follow along for a lot more delicious treats and life happenings on INSTAGRAM || FACEBOOK ||PINTEREST ||TWITTER ||GOOGLE+

Fast No Knead Bread
Fast no knead bread, cooked from scratch in 3 hours!! & cooked on a skillet!
Ingredients
13 ounces warm water
1.5 tsp salt
1.25 tsp instant yeast
3.5 cups all purpose flour or bread flour ( I tested with both & both the flours work great!) plus extra for adding towards the end
Optional toppings ( I have baked with poppy seeds, flax seeds & both taste great)
Oil spray
Instructions
Take a glass bowl and heat it for a minute in microwave. To it add warm water, salt & yeast and simply stir using back of your spoon .
Add flour and stir using back of you spoon both clockwise & counter clockwise direction until it all comes together.
Cover and place in a warm place for 90 mins (1 hours & 30 mins). I like to keep it in turned off oven with light on.
Now after 90 mins, stir it again using back of your spoon and add 1-2 tbsp of flour to make it little less sticky and stir. This is the time you can add any toppings if using. In this batch I added ¼ cups flax seeds. Add them and stir the dough around so it gets coated with flax seeds.
Spray a cast iron skillet with some oil & transfer the dough to the skillet. Just simple slide it on to the skillet, don't worry if it looks all messed up.
Cover and let it sit for 30 mins.
Meanwhile heat your oven to 400F.
After 30 mins, transfer the skillet to the oven and bake bread for 40 mins. Take it out and invert the skillet to take out the bread. Let it cool for 15-25 mins on a wire rack.
After it's cooled, wrap it tightly in plastic wrap & enjoy!!
Notes
This recipe heavily inspired by the one & only My favorite Bread Baker on Youtube "Artisan Bread By Stev" I have given a link as well on top or simply type in artisanbreadbystev you tube!
More Bread Recipes: