The best tomato basil bruschetta recipe everyone should know how to make! A perfect appetizer or meal for hot summer days!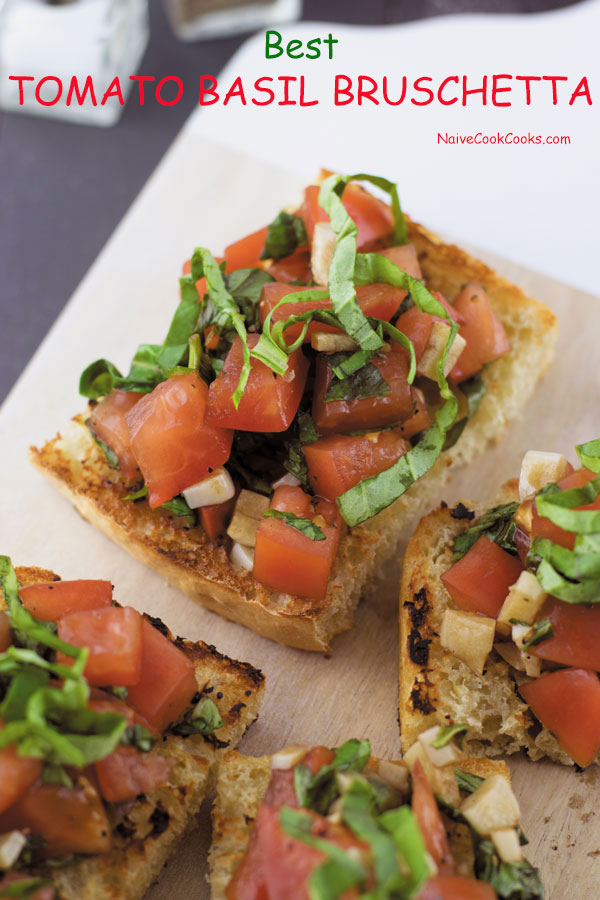 It's my second favorite time of the year when grocery stores are loaded with fresh produce and all I want to do is cook rather then sit in front of computer! Last year I perfected classic bruschetta recipe and I made them quite a few times. For me they make a hearty fresh meal along with my favorite wine. All winter I was waiting for fresh tomatoes and yesterday when I saw fresh red juicy tomatoes I had to get a bunch!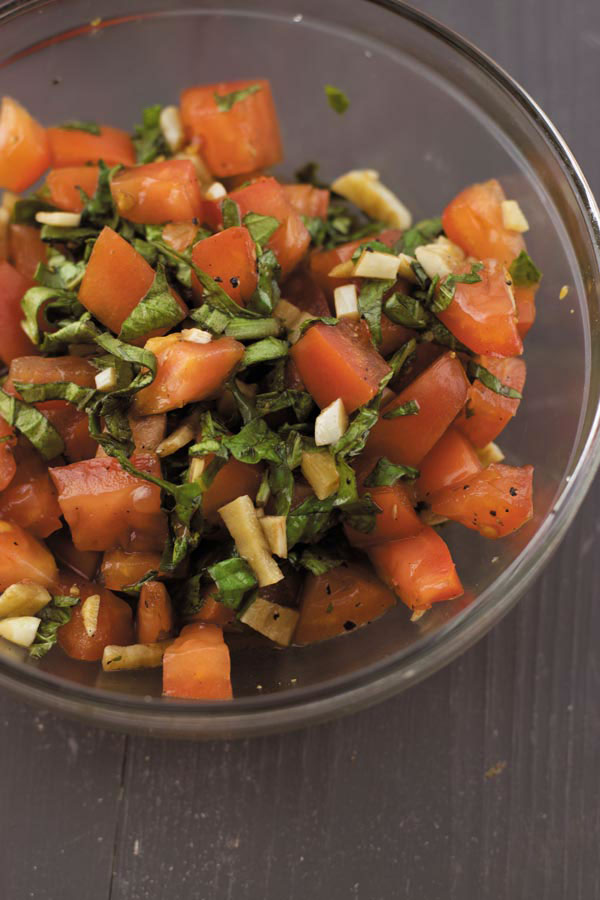 In this bruschetta recipe, using fresh basil is a MUST. So please don't even think of skipping on it! Freshly chopped tomatoes, garlic sauteed in olive oil, freshly choped basil and a good amount of balsamic vinegar makes these bruschetta one of a kind. Since I learnt how to make bruschetta at home, I no longer crave to eat bruschetta at my favorite Italian restaurant. If you love cheese, you can also use freshly shaved parmesan. I have also made these by drizzling homemade balsamic glaze but this, today's version is my favorite!
This was our Sunday night dinner though as assumed Ronak had his with cheese! 😛
These are great if you are entertaining as the mixture is made ahead of time and then you let it chill. When ready to eat, all you need to do is cook bread is oil/butter and top with the fragrant mouthwatering tomato basil mixture! It's so addicting that I always end up eating way more than I probably should!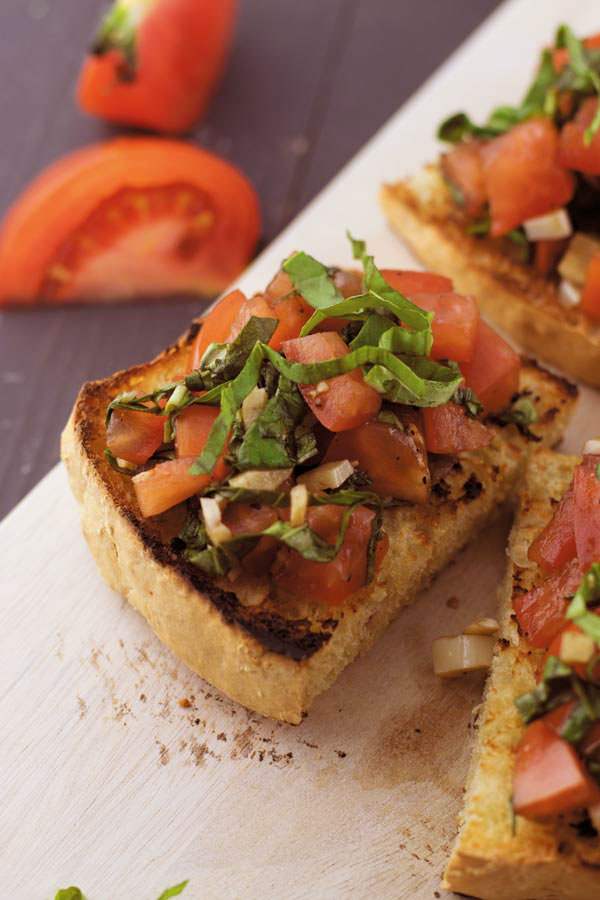 If you enjoyed this recipe, don't forget to FOLLOW me on  INSTAGRAM ||FACEBOOK||PINTEREST ||TWITTER ||GOOGLE+ || BLOGLOVIN || YouTube
The Best Tomato Basil Bruschetta Recipe
Serves:
4 medium slices of bruschetta
Ingredients
1 fresh juicy tomato, chopped
7-10 fresh basil leaves, chopped
Salt & pepper to taste
3 garlic cloves, chopped
1 tbsp olive oil
1-2 tbsp balsamic vinegar or as per taste
Thick cut slices of french bread ( I make my homemadeFast No Knead Breadfor this)
Oil or butter for cooking
Instructions
In a skillet, add oil. To it add chopped garlic cloves and saute until golden but not overly brown.
Let it cool. In a bowl, add chopped tomatoes, basil, salt, pepper, cooled down garlic with oil, balsamic vinegar. Mix everything and adjust spices as per taste.
Cover with plastic wrap and let it chill minimum for an hour.
You can serve it straightaway but I feel letting them sit makes them taste so much better.
When ready to serve, heat some oil or butter on a skillet. Lay thick slices of french bread and cook until golden on both sides. Immediately top with good amount of mixture and serve straight away!
If you enjoyed this, then ALSO try these ->>
https://www.naivecookcooks.com/chutney-paneer-sandwich/