Warm cheesy dip with a hint of truffle oil served with tons of delicious dippers. Super easy to assemble with some simple tricks!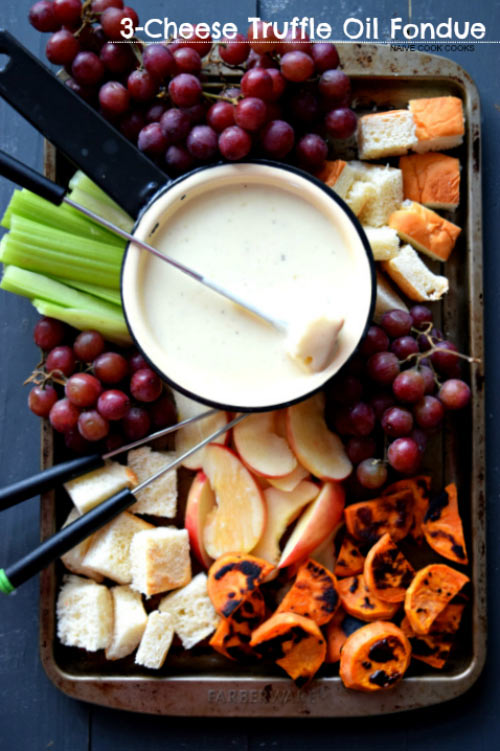 Monday. Just like that. Not going to bore you again about how much I NOT look forward to weekend ending. But well it's Monday anyway so why not get into the groove of  things with a happy note!
So just because it's Monday and every Monday needs something comforting to make the transition from weekend to weekday more bearable, I made you guys a rocking 3 Cheese Truffle Oil Fondue with tips to assemble a rocking fondue. Sounds classy, eh?
How was your weekend? My weekend was not really a relaxing one as we found ourselves fixing a lot of the house stuff which we were neglecting for sometime. Our occasional breaks  aka snack breaks were mostly me inhaling crackers, goat cheese, grape jelly (This combo is my new obsession!), oreos, instant chai made using chai tea bags I got from trader joe's (ok they are nothing like homemade Indian Chia we make at home but I do like it for the convenience part.). So yes I am a big snack person and if it wasn't for Jerry forcing me to eat proper dinner, I was on the verge of filling myself up with all these snacks and calling it a meal. That too a happy meal!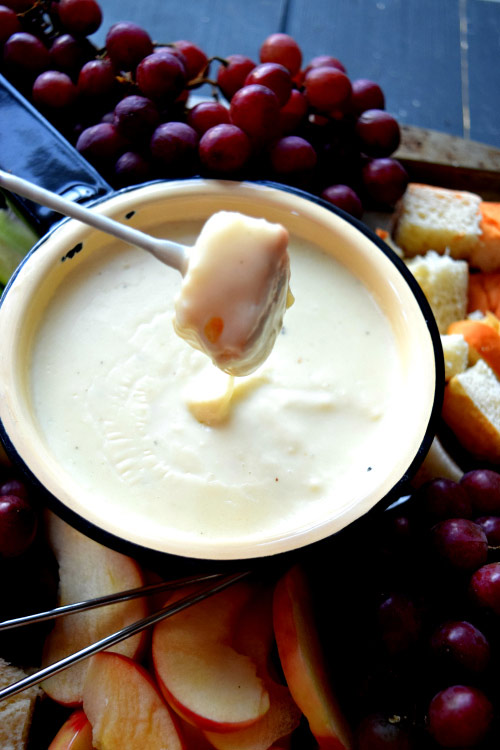 This fondue. I had this fondue at a wine bar quite a few times until I decided to give it a try myself. So I searched for their menu online and I was able to know what cheeses they were using in here. Well after a bit of trial and error, I came with a version which to my knowledge is slightly better than the restaurant version. NAILED IT!
Making cheese fondue is really simple and all you need to know for getting a perfect cheesy, stringy fondue is just few simple tricks which will make it a breeze to make any kind of cheese fondue.
1. It's all about the CHEESE Baby. I can't stress this point enough. A good quality cheese is a must for getting a great cheesy stringy restaurant kind fondue. Don't skimp on the cheese and certainly DON'T even think of buying the  preshredded kind. Trader joe's keeps an amazing selection of cheeses. A bit pricey but worth it.  Good firm cheeses like Emmentaler, gruyere, comte make a great fondue. Shred them yourself.
2. A good DRY WHITE WINE is a must here. Though you can also make it with beer and if you are going a non alcoholic route, you can use lemon juice as acidity in wine keeps the cheese smooth which helps in giving a uniform texture to fondue. So for non alcoholic route replace it with lemon juice for acidity.
3. THICKENER is a must. You can use cornstarch or all purpose flour as a thickener. Though the best way is to toss your cheese with thickener as it prevents lumping  but I have found that even if you don't coat the cheese in thickener and instead you add the thickener in the pot, it works well too. Though STIRRING and I mean good-arm-workout-kind stirring is a must here.
4. I always like smearing the inside of my pot with a garlic clove before I start as it gives an amazing garlicky fragrant cheese fondue. But you can totally skip this step if garlic is not your best friend.
5. SLOW and STEADY wins the race. Heard this a lot growing up?! Well if not in real life but it does holds true here. Adding the cheeses slowly with constant stirring helps them to melt beautifully and not make lumps.
6. Serve with tons of your favorite DIPPERS. Choices are endless when it comes to dippers such as bread, crispy potatoes, green beans, broccoli, apples, sausages, sweet potatoes and many more.
7. The last but a really important one. You DON'T need to buy a FONDUE POT. You can easily make it in a stainless steel pot and then transfer to a bowl or something that can take heat. You can make you own fondue setting at home by using cheap tea lights and placing them under a metal baking sheet and place your pot or bowl on top. Cheap but serves the purpose!
Well that's all between you and this heavenly cheesy dip. So what are you waiting for?!
3 Cheese Truffle Oil Fondue
Ingredients
1 garlic clove
1 tsp olive oil
2 tbsp all purpose flour or cornstarch
1 cup good dry white wine
1.5 cups gruyere cheese (Shred it )
1.5 cups fontina cheese (Shred it)
½ cup gorgonzola cheese (I found it in crumb form. Worked great.)
1 tsp lemon juice
Salt to taste
¼-1/2 tsp black pepper
Few drops of truffle oil (I got mine from Trader Joe's)
** If you find your fondue to be too thick, you can thin it out using fat free half & half, milk, heavy cream.
Instructions
Rub insides of your pot with a garlic clove. Add olive oil and heat the pot on a medium-low flame. Add flour and cook stirring constantly. To it add wine and cook for a minute or two until it all mixes together. Add the shredded cheeses slowly few tbsps of each cheese at a time with constant whisking so it melts before you add the next batch of cheese. Make sure the flame is SUPER LOW. Add salt, lemon juice, black pepper. Taste and adjust seasoning. Just before serving, add few drops of truffle oil.
Serve with lots of tasty dippers!
Notes
You can even make it ahead of time. Just warm it slowly on a super low flame before serving.
More Appetizer Recipes: