Roasted Poblano, colby jack cheese and blackened shrimp all together make this out-of-this-world delicious queso which is perfect for enjoying with friends & family. You can substitute mushrooms or just leave out shrimp for veggie option!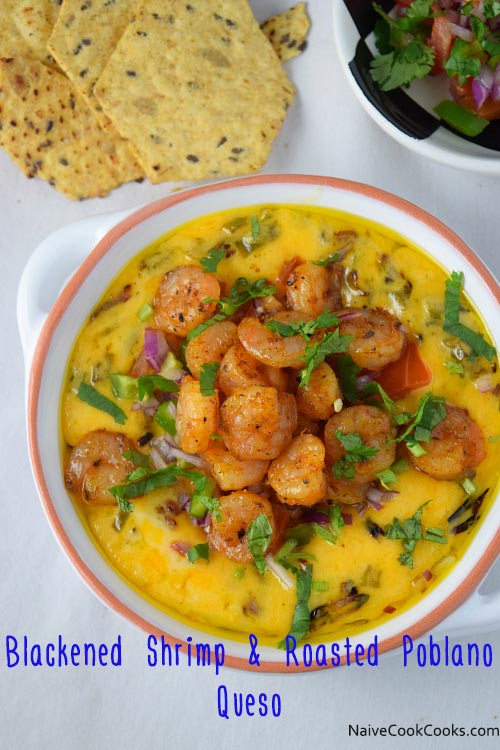 Happy Saturday dear friends.
Hope you all are having a relaxing weekend. Today I got something to make your weekend extra delicious and the best part : it's seriously the easiest appetizer to make when all you want to do is be lazy but still eat delicious food that is comforting and flavorful (atleast that's what I feel during weekends!). I had something resembling this queso last year while visiting Boston with our friends. It was so good that between 5 of us, we were able to finish a big bowl of this cheesy dip in a matter of minutes. Since then I have been waning to make it at home but kept forgetting.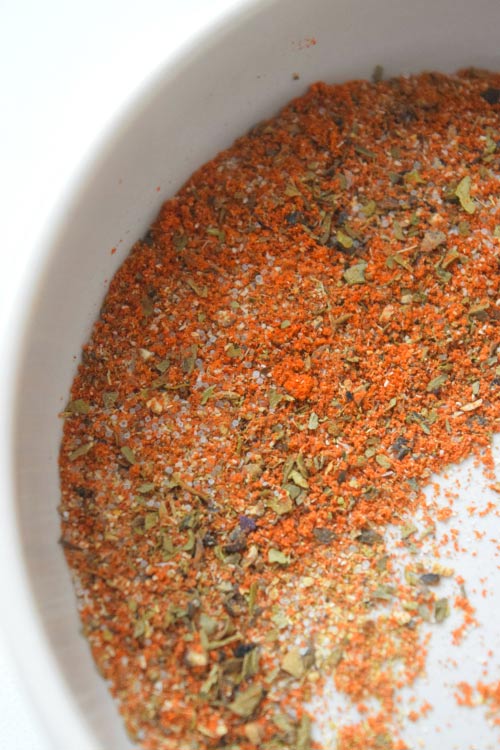 This is my version and it's so addicting. Poblanos are a must here but I am thinking if you can't find poblanos, you can substitute tomatillos for a similar effect. It's seriously simple to make. I used cocktail shrimp here as I find it much easier to handle but you can totally use regular shrimps if that's what you like better. This queso is basically divided into 5 parts and if you know your way around kitchen you can easily make this in under 30 minutes or around 60 mins max.
Make shrimp
Roast & puree poblano
Saute veggies
Assemble and bake
Make pico de gallo
For blackened shrimp. we start by making a super simple spice mix and after a gentle massage with oil & spices, shrimp is cooked on high heat for say 30 seconds each side. I used pre-cooked cocktail shrimp but if you are using regular shrimp, adjust cooking time accordingly. While shrimp is cooking, I start roasting a poblano on stove top and let it steam by putting it in a covered glass bowl. Then after few minutes, peel the skin and take out the seeds from poblano and puree.
Now I chop bell pepper, onion and garlic super fine and saute in little oil. While these are cooking, I start shredding cheese and hopping onion, tomato, cilantro  for pico de gallo.
Then it's just assembling left which takes like a minute and then it's the waiting part that's the hardest. I suggest eating it straight out of the oven but if you are making it advance, reheat it properly either in microwave for around a full minute or in oven. Serve with lots of pico de gallo and chips and cold beer ( a must!).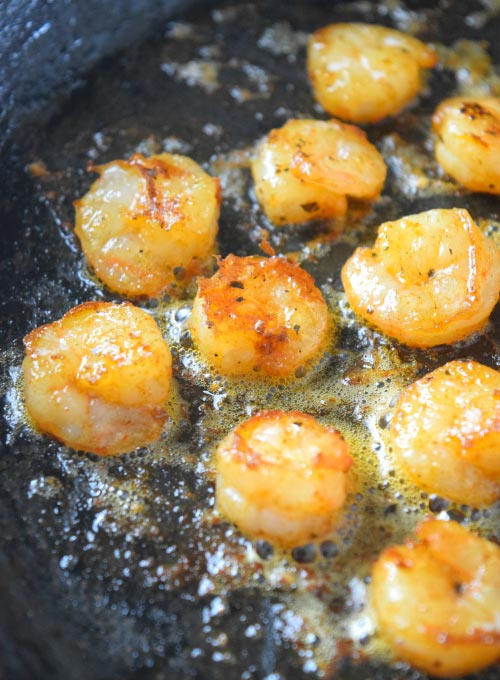 I can guarantee you that this BLACKENED SHRIMP & ROASTED POBLANO QUESO will make your weekend so much more tastier! Today is going to be super busy saturday for us as we are finally receiving our ubox and I am totally looking forward to see how things which we packed almost 2 years ago look! Keeping our fingers crossed and hoping that it's free from bugs or it will be a extra tiring weekend for us!
On my way to make another batch for extra energy, you know!
Help in spreading the word!
Follow along for lot more delicious treats and life happenings on INSTAGRAM || FACEBOOK || PINTEREST 

Blackened Shrimp & Roasted Poblano Queso Fundido
Ingredients
Blackened Shrimp
¼ tsp ground basil
¼ tsp ground thyme
¼ tsp garlic powder
¼ tsp black pepper
¼ tsp salt
½ tsp cayenne pepper
¼ tsp hot paprika
Around 20 cocktail shrimps or 3-4 large regular shrimps
1 tbsp olive oil plus 1 tsp for cooking
I poblano, roasted, skin removed and pureed
2 cups colby jack cheese, shredded
¼ cup red onion, finely chopped for saute
¼ cup bell pepper, finely chopped for saute
2 garlic cloves, finely chopped for saute
1 tsp olive oil
Salt to taste
½ cup red onion, chopped
2 tomatoes, chopped
½ cup finely chopped cilantro
1 jalapeno finely chopped or as per taste
salt & lemon juice as per taste
Instructions
Blackened Shrimp
Make the seasoning by mixing the first 7 spices together. In a ziplock or any plastic bag or conatiner, add shrimps, 1 tbsp olive oil and ½ tsp of the just made spice mix. Stir around so all shrimps get evenly coated. Heat a pan with 1 tsp olive oil. Bring it to high heat and add the shrimps. Cook for 30 seconds each side if using pre cooked cocktail shrimps and longer times for regular shrimps. Keep aside.
Roast a poblano by placing it directly on stove top. Once charred on all sides transfer it to a conatiner and cover with a plastic wrap. Let it sot for 5-7 minutes so it steams up which helps in removing the skin. Peel off the skin and take out the seeds. Puree poblano and keep aside.
Heat olive oil in a pan and add bell pepper, onion and garlic. Add salt and saute until almost soft.
Preheat oven to 400F. In oven safe dish, start layering by adding ½ cup grated cheese. Top it with the sauteed veggies and then another layer of 1.5 cups of cheese. Melt in the oven for good 7-8 minutes.
While queso is getting ready, make pico de gallo. Simply mix onion, tomatoes, jalapenos & cilantro and add salt and lemon juice to taste.
Take queso out of the ovenand immediately add 1 tbsp poblano puree, salt and mix. Taste and serve with lots of pico de gallo and shrimp.
Enjoy immediately with chips and cold beer!
Looking for more dip recipes??
https://www.naivecookcooks.com/low-fat-spinach-artichoke-dip-cpk-inspired/
White Beans and Cranberry Chutney Dip with Homemade Tortilla Chips