A much simpler way of making everyone's favorite Chicken biryani. Slow Cooker Chicken Biryani – Indian spiced Chicken & Rice cooked in slow cooker, a delicious BIG ON FLAVOR meal ready with NO-FUSS.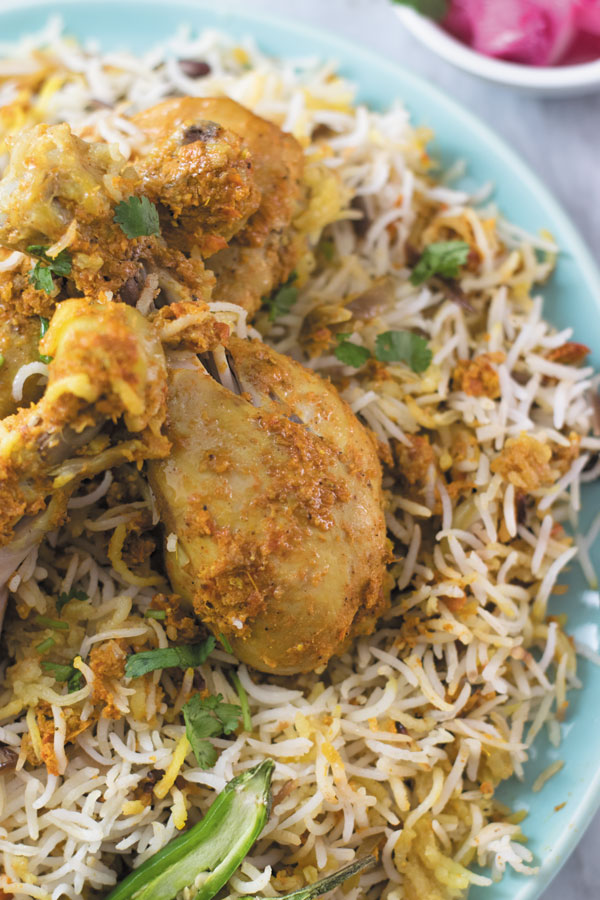 Are you guys enjoying weekend? Today was a super busy day for me. I woke up super early, finished bunch of recipes before my trip for which I am super excited. If you follow me on Instagram, you might have seen me talking about those crazy delicious cinnamon rolls I made us for brunch. Ohh boy, they were delicious and no yeast! I already have bunch of cinnamon roll recipes on the blog but wanted to try my hand at some easy no wait rolls and these turned out great! Recipe coming soon friends.
Ok now onto today's recipe. I grew up eating biryani basically Indian version of one pot meal where rice and meat are cooked together with tons of spices. Biryani is slow cooked which makes the flavors intense and the meat super tender. Now I have always loved eating biryani but never knew how to cook one at home. The real reason being that I was really scared at the thought of trying something that always sounded soo fancy and complicated. Few days ago I came across an Indian Slow Cooker cookbook by Neela Paniz  and immediately had tons of pages bookmarked. I mean just the thought of being able to make recipes (that usually take hours in the kitchen) using slow cooker with just few minutes of prep work was exciting to me.
The first recipe I wanted to try was obviously Chicken Biryani cooked in slow cooker as I always wanted to learn to make my own and what better way than to try my hands by making it in a slow cooker. The first time I made it last weekend, our house smelled divine. I mean fragrant smell of spices cooking slowly was simply intoxicating. It was one of the best Biryani's made in slow cookers.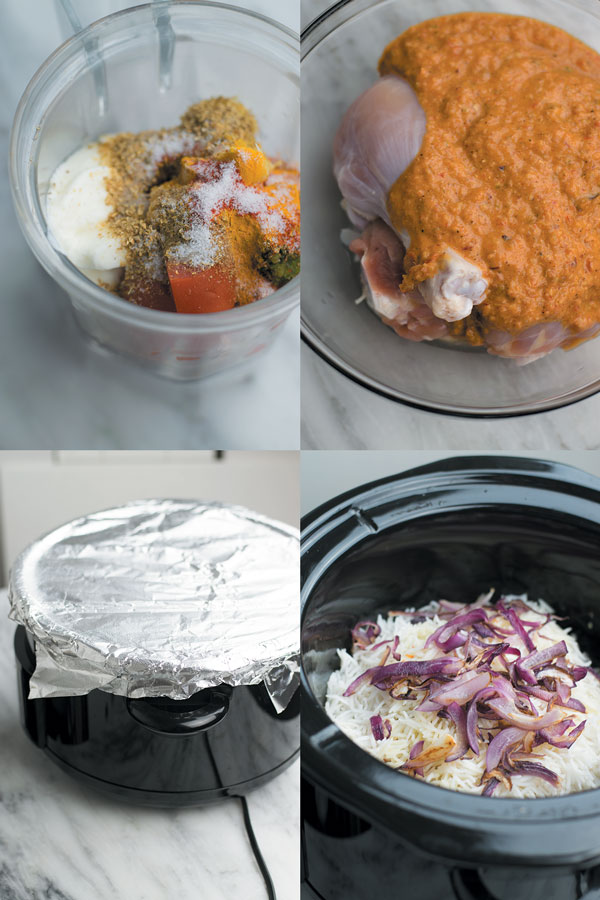 This recipe takes just 30 mins of prep work and the rest is done by slow cooker. How cool is that?! Few years back I bought this slow cooker and I absolutely love it. The rice is parboiled and while rice is cooking, chicken is marinated in a spicy sauce and some onions are fried. All this takes around 30 mins and then everything is layered in slow cooker and cooked for about 3 hours on low. That's about it to make restaurant style Chicken Biryani at home with much less effort. Big on Flavors this is one dish great for parties, gatherings and for lazy weekend dinners!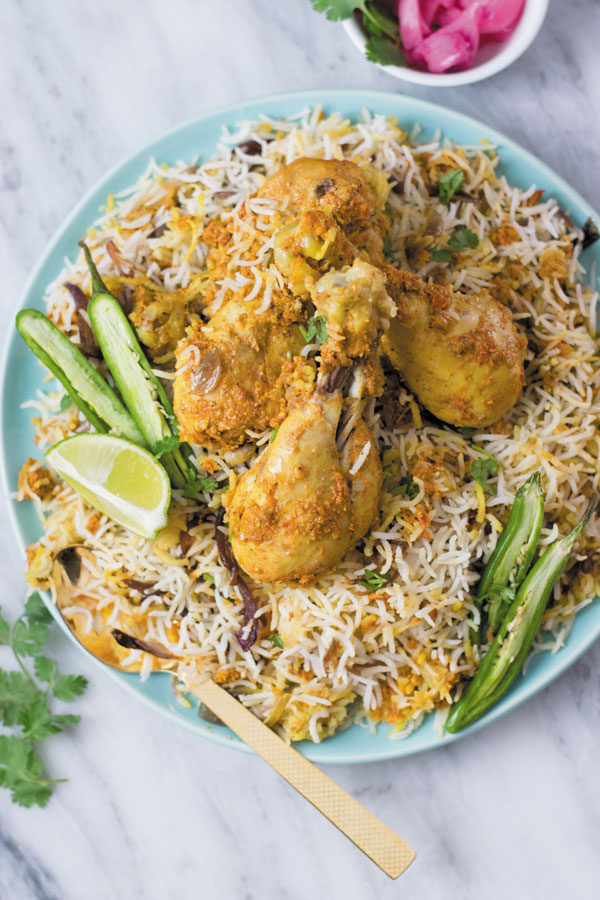 If  you enjoyed this recipe, don't forget to FOLLOW me on  INSTAGRAM ||FACEBOOK||PINTEREST ||TWITTER ||GOOGLE+ || BLOGLOVIN || YouTube

Slow Cooker Chicken Biryani
Ingredients
Rice:
1 cup rice, rinsed under cold running water until water runs clear.
1 tsp salt
2 tbsp milk
½ tsp saffron
Chicken Biryani:
1 large red onion, divided
2 tsp oil, divided
1 tomato
2 tsp green chili paste
Salt to taste
1 tsp turmeric powder
1.5 tbsp garlic paste
1.5 tsp ginger paste
1.5 tbsp garam masala
1 tbsp yogurt
1 tbsp ground coriander
1 tsp red chili powder
Pinch of black pepper powder
4 chicken drumsticks, skin removed or left if You like it that way
Instructions
Chicken Biryani:
After cleaning rice soak it in a pot with 2 cups of hot boiling water. Let it sit for 15 minutes.
In the meantime, cut onion in half. Chop one half of the onion in finely chopped pieces while other half in medium thickness slices.
After 15 minutes of resting, turn on the heat and cook the rice for 3-5 minutes just until rice is just cooked or al dente but not fully cooked as we will cook it in slow cooker. once its just enough cooked, strain and rinse it under cold running water and keep aside.
In a small bowl take milk and heat for 30 seconds in microwave. To it add saffron and crush using back of spoon and let it sit.
Heat a skillet and add 1 tsp oil and to it add finely chopped onion pieces and cook until softened.
Transfer the cooked onion pieces into a blender. Add one chopped tomato, green chili paste, salt, turmeric powder, garlic paste, ginger paste, garam masala, yogurt, ground coriander, red chili powder and black pepper powder and blend until you get a smooth paste.
In a bowl add cleaned chicken drumsticks and this paste you just made. Make sure to make some cuts in chicken so marinade seeps into the chicken. Cover and let chicken marinate for 15 minutes.
Now in the same pan where you cooked onion pieces, add another tsp of oil and add sliced onions and cook on slow to get them browned but not burnt.
Get your slow cooker ready by heating it up for 15 minutes. Turn of the switch and in the hot slow cooker, rub some oil on the base and sides of the bowl where we will be cooking. Lay marinated chicken pieces first, cover with half of the sliced browned onions, half of saffron milk. Cover with all of the barely cooked rice and add the remaining browned sliced onions and saffron milk on top.
I personally don't like cashews or raisins in my food but if you want to have the true authentic taste, then go ahead and add some cashew and raisins on top as well. Using an aluminium foil cover the top tightly and then cover this with the lid that came with slow cooker. Cook on low for 3 hours.
Remove the aluminium foil and let it sit for 15-20 mins.
Serve with cucumber yogurt.
Some more delicious SLOW COOKER recipes ->>