Celebrate in style with these easy buttery Tri Color Pinwheel Cookies!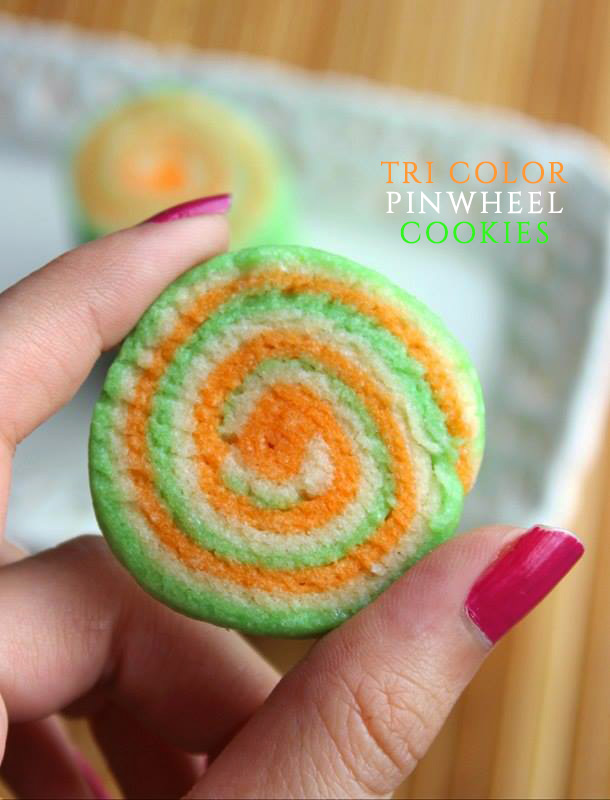 Happy 70th Independence day to all of my dearest Indian readers 🙂 Today is a very important day in history for us Indians and what better way to celebrate than by eating your heart out ?! These crazy easy yet delicious buttery tri color cookies are so fun to make and great to enjoy with your loved ones!I will keep this post su[per short so all you do is make these cookies and celebrate this amazing day with your loved ones! 🙂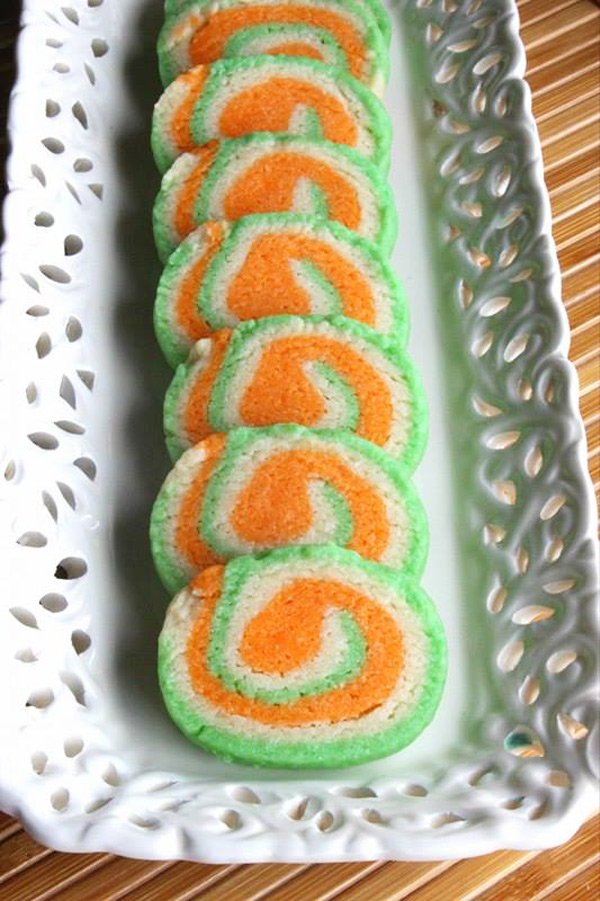 If  you enjoyed this recipe, don't forget to FOLLOW me on  INSTAGRAM ||FACEBOOK||PINTEREST ||TWITTER ||GOOGLE+ || BLOGLOVIN || YouTube
Tri Color Pinwheel Cookies
Ingredients
3¼ cups all purpose flour
1½ teaspoons Baking powder
½ teaspoon salt
1 cup butter at room temperature (skip salt if using salted butter)
1¼ cups fine sugar
1 teaspoon vanilla or almond extract
¼ cup milk
Instructions
Cookies:
In a bowl, sift together the flour, baking powder and salt.
In another bowl, cream the butter and sugar using a hand mixer, until light and fluffy.
Add the milk and vanilla and mix until combined.
Add the flour mixture and make a smooth dough. Add a few spoons of flour if your dough is very wet.
Divide the dough in 3 approximately equal portions (divide dough depending on the number of colors you want in the cookie)
As we are making tricolor cookies, add few drops of green color to one portion of dough and few drops of saffron color to another portion. The third dough does not need any color. Chill the dough in fridge for 15 min for ease of rolling.
Place the saffron dough in between two pieces of butter paper and roll it into a rectangle about ¼ inch thick. Roll out the white dough and green between separate pieces of butter papers in the same way.
On a butter paper, place the rolled green dough on the bottom, then place the white dough over it and then place the saffron dough over the white to make a 3 layered dough rectangle.
Starting at one end of the rectangle, roll the dough as tightly as possible into a log. Use butter paper to hold if it sticks to your hand. Repeat the rolling process with the remaining dough.
Wrap the logs in butter paper and refrigerate them for 1 hour. I got 2 logs with this recipe. You can also refrigerate them overnight.
Preheat the oven to 170 Degrees C when ready to bake. Line a baking tray with parchment paper. Using a sharp knife, slice each log into ¼ inch rounds. Place them apart on the prepared baking tray. Bake the cookies for 9 to 10 minutes and then transfer them to a wire rack to cool
completely. They turn slightly crisp on cooling.
 Some more easy COOKIE recipes ->>