Delicious & Easy Chocolate Cinnamon Rolls for a yummy brunch with family!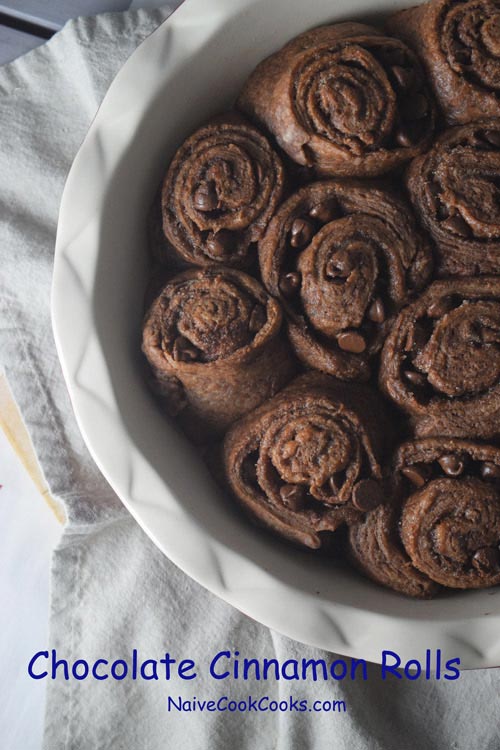 Are you planning something special for New Year's day? After our trip, I am still feeling super lazy and after getting cold yesterday, I am living on hot cups of caramel latte  and spending my time browsing Pinterest. Pinterest ->> I can spend hours browsing and it always always leaves me hungry! Warning : Never browse pinterest in bed just before falling asleep. I have faced the consequences and eaten way too many cookies with milk in bed.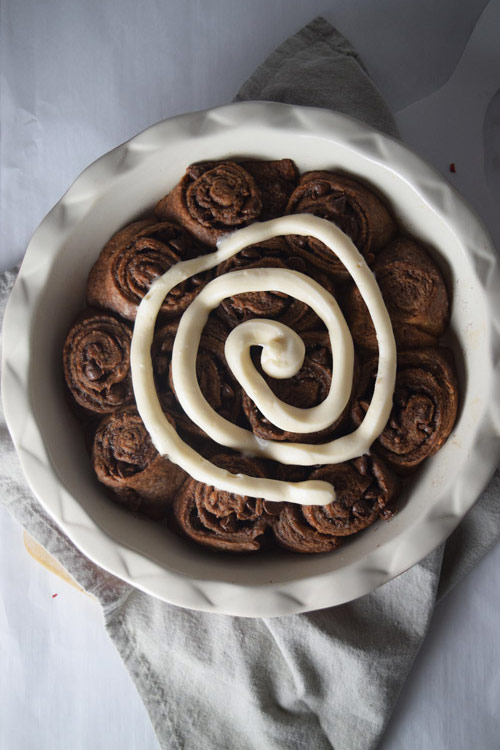 So even if you have absolutely zero plans for new year's day, you MUST make this. I mean who doesn't love cinnamon rolls right? And if there is chocolate involved too, then well there is no stopping me! First time I baked them around dinner time and as you might have guessed, these became my actual dinner that night.
Cocoa powder is added in the dough and then along with cinnamon-butter mixture, chocolate chips are also folded inside the rolls. Everything is baked into these soft, puffy, rolls that melt in your mouth. Then smeared with a creamy icing – you can either do cream cheese icing ( my personal favorite ) or a buttery icing. This pie pan was sent to me by dear friends at Personal Creations and you should check out the products they have. So cute and there are so many options for everyone! I love the fact that you can customize the products to your own liking and they make for such amazing gifts.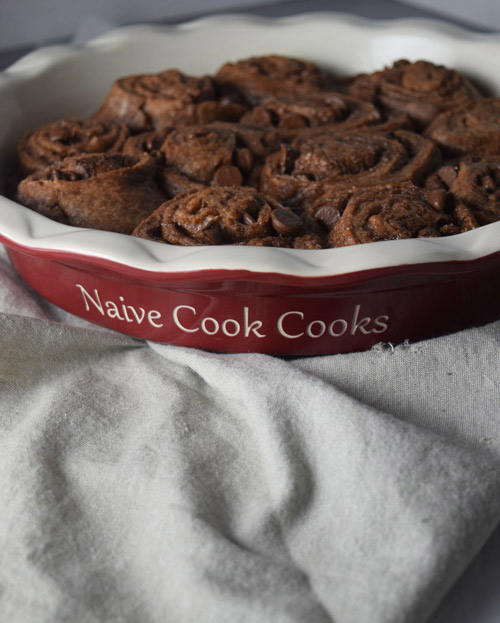 Follow along for a lot more delicious treats and life happenings on INSTAGRAM || FACEBOOK ||PINTEREST ||TWITTER ||GOOGLE+
Chocolate Cinnamon Rolls
Ingredients
1 cup whole milk
½ cup canola oil or any vegetable oil
¼ cup white granulated sugar
1.25 tsp active dry yeast
2 cups plus ¼ cups all purpose flour
½ tsp baking powder
½ tsp baking soda
3-4 tbsp cocoa powder
1 tsp salt
5 tbsp butter, melted
10 tbsp white granulated sugar
3-4 tbsp cinnamon powder
1 cup semi sweet chocolate chips
Cream Cheese Glaze
4 ounce cream cheese, softened to room temperature
2 tsp vanilla extract
¼ cup milk (I suggest staring with 1 tbsp and proceeding depending on how thick/thin you want your glaze)
¼ -1/2 cup powdered sugar (Start with ¼ cup and taste and adjust)
Instructions
Instructions
Heat the milk, oil and sugar in a deep pot. We want it lukewarm basically at the appropriate temperature where yeast can thrive.
If it feels too hot let it cool down a bit and make sure it's not too cold either.
Add yeast and stir and let it sit for 10-15 minutes until you start to see bubbles forming on the surface.
Add 2 cups flour and stir until mixed. Cover and let it sit in a warm place for around an hour until it doubles.
Once double its size, add baking powder, baking soda, salt, cocoa powder and ¼ cup flour and stir to combine it thoroughly.
Now you are ready to shape or if you want you can cover it tighlty and refrigerate for future use.
Divide the dough into two parts and roll out the first ball of dough into a 12-in. x 10-in. rectangle.
Add half of the melted butter and spread it all over. Sprinkle half of the sugar and half of the cinnamon powder and use your hands to make sure its all spread evenly. Now evenly distribute half of the chocolate chips. Now start rolling from the short side opposite to you and roll it into a tight roll towards you. You should have a tight thick roll filled with butter, sugar, chocolate and cinnamon mixture.
Cut the rolls into about ½" size using a knife.
Preheat oven to 375F.
Take a baking pan or pie pan and grease it with oil or butter. Lay the rolls side by side and cover and let them rise second time for good 20-25 minutes. Transfer them to oven and bake for around 15-18 mins or until golden brown but make sure you don't want them to get too browned too!
While rolls are baking make the glaze with mixing all the ingredients . Taste and adjust the sweetness and consistency as per your liking. As soon you pull the rolls out of the oven, drizzle with cream cheese glaze and using a spoon spread to the glaze around so it seeps in all the nooks and crannies.
Notes
Ami says :
Recipe adapted from
HERE
.

More BRUNCH recipes ->>