This shop has been compensated by Collective Bias, Inc. and its advertiser. All opinions are mine alone. #FallWithATwist #CollectiveBias
Delicious Slow Cooker Meatless Chili with pumpkin, black beans & a secret ingredient!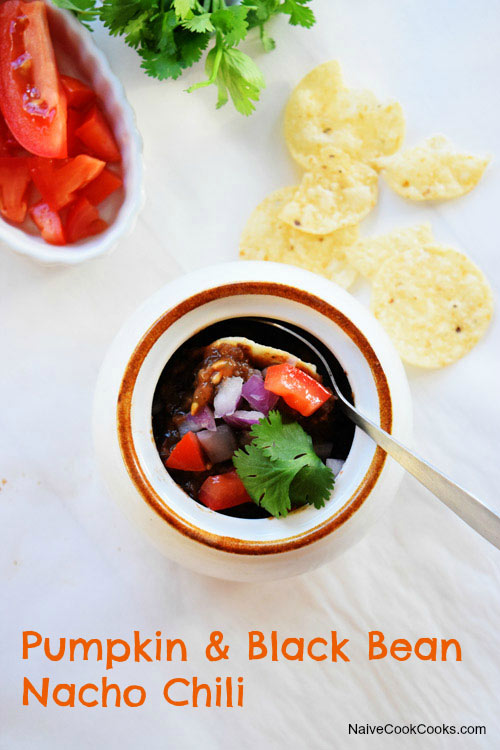 This Chili! It has one of my favorite fall vegetable : PUMPKIN!! Yes today we are making meatless pumpkin & black bean chili that tastes like an authentic chili thanks to the secret ingredient here! Yes, you guessed it right – we are adding veggie crumbles from MorningStar Farms!At our place, Jerry loves eating MorningStar Farms veggie sausage links. When I first saw him eating those few years back, my immediate reaction was NO. But he forced me to take a bite and I must say after cooking them on skillet with little oil, they turned amazing. These are completely meatless so I find them great to have for breakfast once in a while. But I have never before cooked using these crumbles from MorningStar Farms but last time while visiting Chicago, I clearly remember eating some chili at my friend's place. Now our friends are vegetarian so I wanted to know what was in the chili because it tasted so meaty and just like eating an authentic chili! She told me that the mysterious ingredient was these crumbles and since that day I have been wanting to try them and finally I did!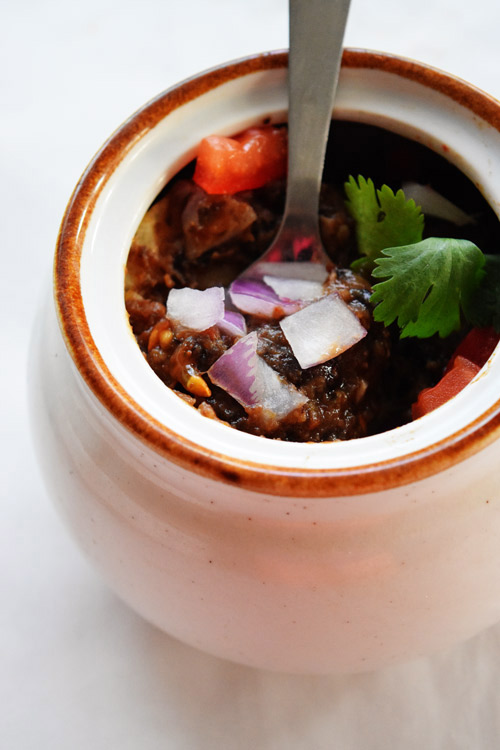 This PUMPKIN & BLACK BEAN NACHO CHILI is cooked slowly in slow cooker and towards the end, I add these which makes it super hearty and filling and not to mention healthy! I like to call it fall chili because well it has pumpkin ? and cinnamon and is a perfect cold weather comfort food! And then to make it extra decadent I like to top it on crunchy tortilla chips and add cheese because well cheese makes this world a better place! Best NACHO CHILI ever!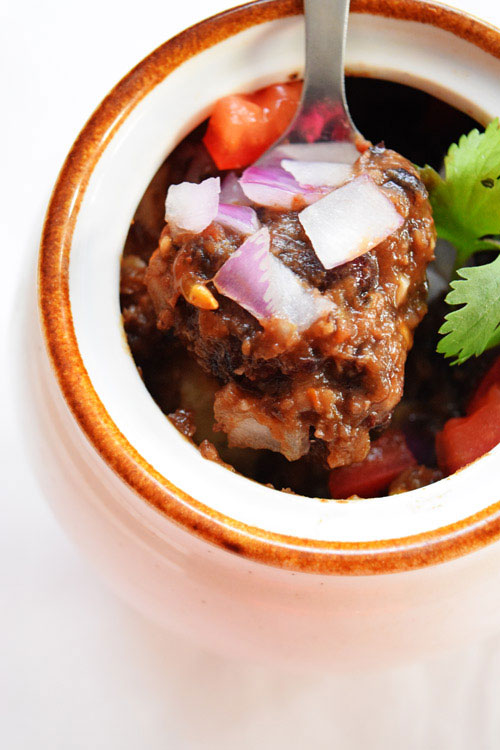 Can you believe it's almost end of October?! It's like time is flying and I want it to stay still so this holiday season never ends! Oh want to know an embarrassing fact? We have already started listening to christmas music and watching christmas movies! Is it way too early? Jerry also placed few lights around the house and it's all Christmasy at our place!
Have you started planning your Christmas shopping yet? We finally decided what kind of tree decorations we want to do this year and I know this weekend I am going to be pinning tons of decoration ideas. #callmecrazy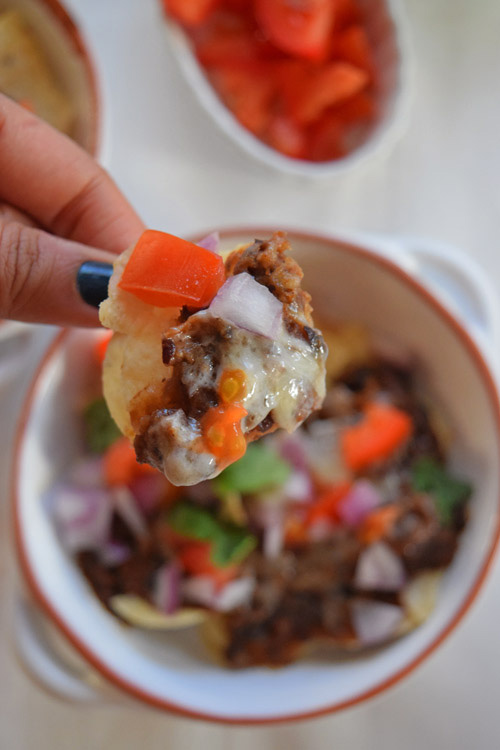 Now go make this!
Follow along for a lot more delicious treats and life happenings on INSTAGRAM || FACEBOOK ||PINTEREST ||TWITTER ||GOOGLE+
Check out all the MorningStar Farms products you can find at Target here and here is a snapshot of the freezer section where I found these.

Slow Cooker Pumpkin Black Bean Nacho Chili
Ingredients
1 tsp oil
6 garlic cloves, chopped
½ onion, chopped
2.5 cups cooked black beans
1 cup pumpkin puree ( NOT pumpkin pie filling)
1 + ⅓ cup tomato puree (you can use fresh or cans)
2 serrano peppers or as per taste, ground to paste
Salt to taste
2 tsp cumin powder
2 cups water
1 tsp red chili powder
1 cup MorningStar Farms Griller Crumbles for meatless option
½ tsp cinnamon powder
Shredded cheese for topping
Chopped onion for topping
Tortilla chips
Tomatoes chopped for topping
Instructions
In a skillet, add 1 tsp oil. Once warm, add garlic & onion and saute for 4-6 mins. Now in the bowl of your slow cooker, add this sauteed mix along with black beans, pumpkin puree, tomato puree, serrano pepper paste, salt, cumin, water, red chili powder. Cover and cook on high for 1.5 - 2.5 hours.
Uncover and using a hand blender, blend until coarsely smooth. Now add Morning Star Griller Crumbles and cinnamon and some more water if too thick. Cover and cook on high for another ½ hour or so. Taste and adjust seasonings.
To serve, in a plate lay tortilla chips. Top them with warm pumpkin black bean chili, shredded cheese, tomatoes, onions & enjoy!
Notes
If you want to cook it faster, instead of slow cooker cook it on stove top in a pot and after adding all the ingredients cook for 1-1.5 hours on low heat.
More Chili Recipes:
https://www.naivecookcooks.com/three-bean-ancho-chili/