Soft melt in your mouth Slow Cooker Butter Chicken Meatballs! A perfect meal for anytime!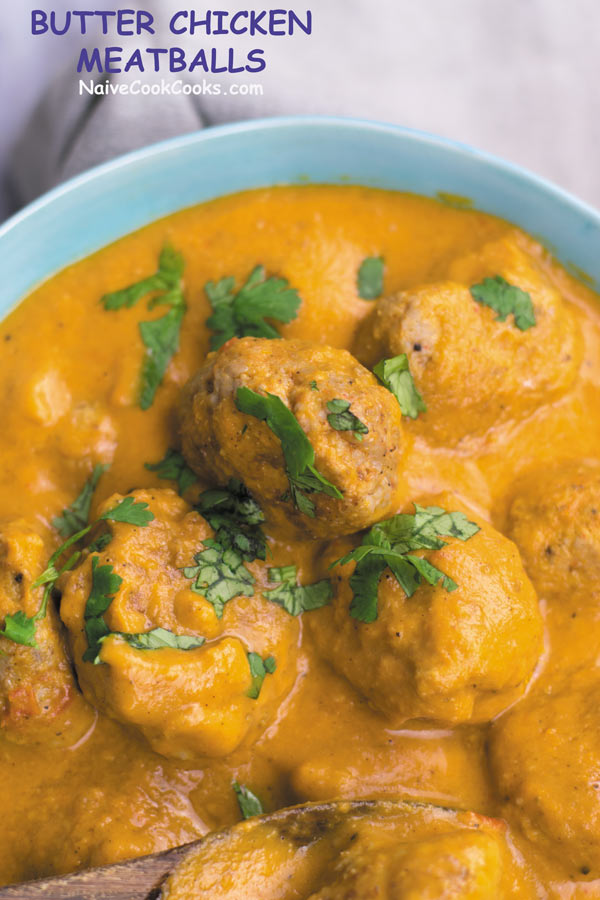 After sharing my favorite whole wheat croissant recipe yesterday or should I say food that I have been living on for the past few days, I am today sharing with you another favorite of mine! If you love Indian food or even if you are only remotely familiar with Indian food then you MUST have tried butter chicken! We love butter chicken around here but I was looking for a simpler easier version where I can just throw everything in the slow cooker in the morning and forget about it. Then I saw people using meatballs instead of chicken pieces and I knew I had to perfect it!
I wasn't really sure if both of us would enjoy this as we are not big on meatballs but one bite of these perfectly seasoned soft chicken meatballs and creamy gravy, we were SOLD. Ronak even declared this to be the best chicken dish I have ever made! The gravy is really a no fuss recipe where I throw in all the basic ingredients in a blender and then saute them in little oil. Then cook it for good 20-30 minutes until all the raw smell is gone. While my gravy is cooking I shape meatballs and brown them in just enough oil on a skillet so they are not really cooked from inside, just outside gets color so they don't crumble when cooking in slow cooker.
Then everything goes in slow cooker and you WAIT. The hardest part if I say so!
If you have been following me on Instagram, you must have seen how I got so excited today to know that we are having a bunch of amazing food trucks in our downtown area for about 4 months straight! Today we were sort of late and by the time we went most of the food was sold out. I am looking forward to going more often so I can try food from each one of the food trucks!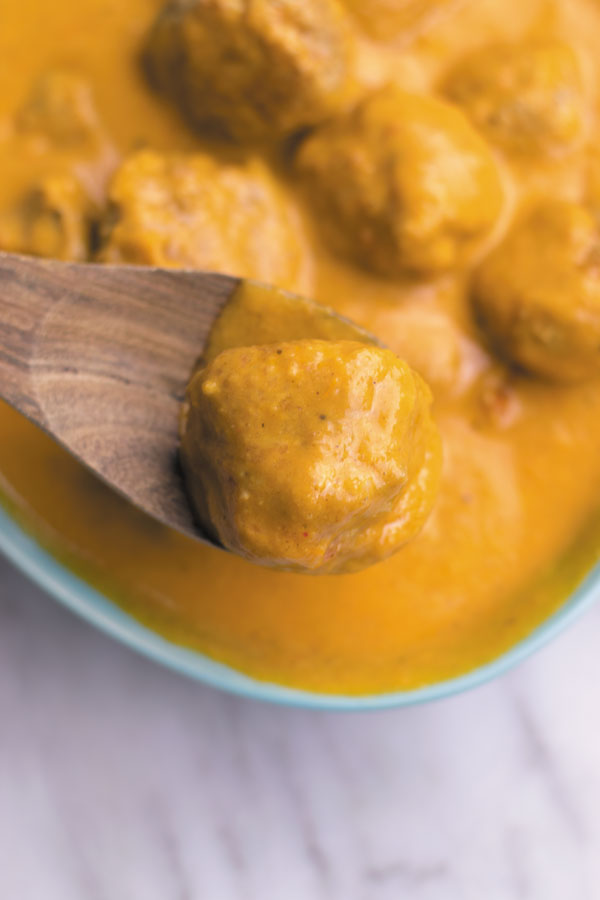 For this recipe I did not go the step by step picture route as ->> I got lazy!!! This is a pretty simple basic recipe to make and I thought the written steps would be more than enough. I know I know I am covering for my laziness 😛 Don't judge me!!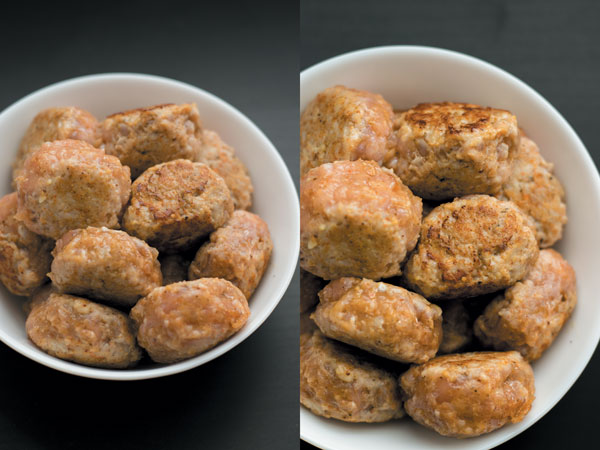 As you can in the picture above after I shaped these meatballs I browned them on all sides just for few minutes so they will hold their shape while cooking in slow cooker but inside meat is still uncooked which will cook in slow cooker.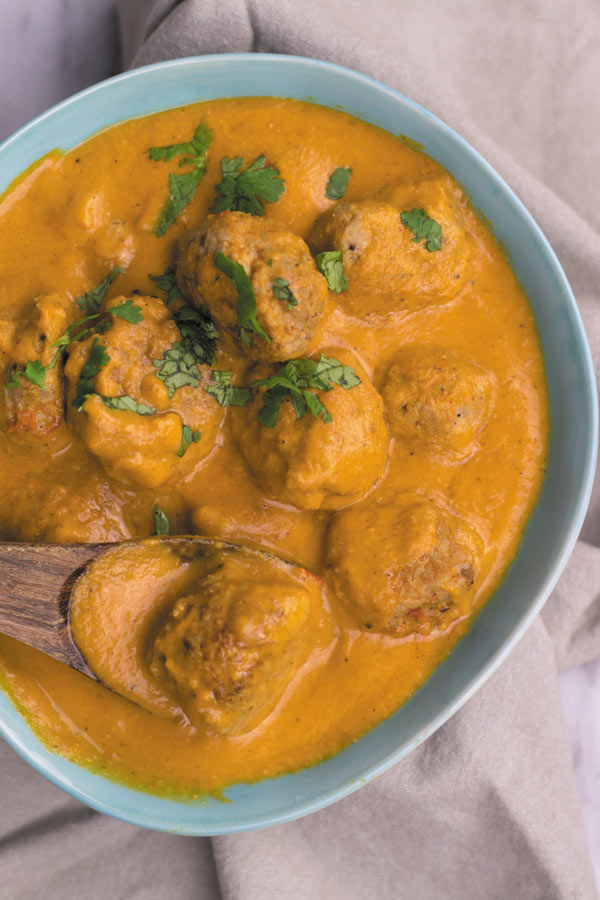 If you enjoyed this recipe, don't forget to FOLLOW me on  INSTAGRAM ||FACEBOOK||PINTEREST ||TWITTER ||GOOGLE+ || BLOGLOVIN || YouTube 
Slow Cooker Butter Chicken Meatballs
Ingredients
FOR MEATBALLS ->>
1 pound (roughly ½ kg) ground chicken ( I used extra lean)
½ tsp red chili powder
½ tsp garam masala
2 tsp coriander powder
1.5 tsp garlic paste
2 tsp ginger paste
¾ tsp salt
1 tbsp thick yogurt
2 tbsp eggs
3 tbsp breadcrumbs
Few tsps oil for browning
CURRY ->>
2.5 tbsp ginger paste
8-10 cloves of garlic, made into a paste
7-8 fresh green chilies, slit lengthwise
1 tbsp ghee
1 tbsp olive oil
4-5 green cardamoms
1 black cardamoms
4 cloves
2-3 inch long cinnamon stick
4 cups tomato puree from fresh tomatoes or you can use canned too (I used 7 medium size tomatoes)
½-1 tbsp red chili powder or to taste
10 almonds, soaked and made into a paste
1 tsp garam masala
1 tsp dried fenugreek leaves or kasuri methi
1-1.5 tbsp sugar or to taste
4 tbsp heavy cream
Salt to taste
Instructions
FOR MEATBALLS ->>
In a bowl add all the ingredient for meatballs and mix just until mixed, DO NOT OVER MIX. Roll into golf sized balls. I ended up with 16 golf sized balls.
In a skillet, add few drops oil and once hot lay the meatballs without overlapping and cook 45 seconds on each side. We are browning them just so they don't break while cooking in slow cooker and hold their shape.
CURRY ->>
In a blender add ginger paste, garlic paste, green chilies, green cardamom, black cardamoms, cloves, cinnamon powder or cinnamon stick and tomatoes or tomato puree and blend until smooth.
Heat ghee+oil in a pot and once warm add the mixture we just blended to it. Cook for 10-15 minutes until the raw smell starts to go. Then add red chili powder, almond paste, garam masala, dried fenugreek, sugar and heavy cream. Taste and add salt.
Let it simmer for another 10-20 minutes.
In a slow cooker add half of this gravy. Lay the meatballs gently and cover with the remaining gravy. Cook on high for 2-3 hours or until meat is cooked through. Take the meatballs out of the gravy and if you feel gravy is on the thinner side, reduce it further until nice and thick. Sometimes I even blend the gravy in my blendtec for a creamier texture as you see in picture.
Notes
Ami says :
If you don't want to use slow cooker, just add the browned meatballs into the fully cooked gravy and simmer until meatballs are cooked through.
GRAVY recipe adapted from my
BUTTER CHICKEN TACOS
recipe.
 Some more easy DINNER recipes ->>