Easiest fluffiest Giant Chocolate Cinnamon Roll Cake with Orange Icing. Breakfast, anyone?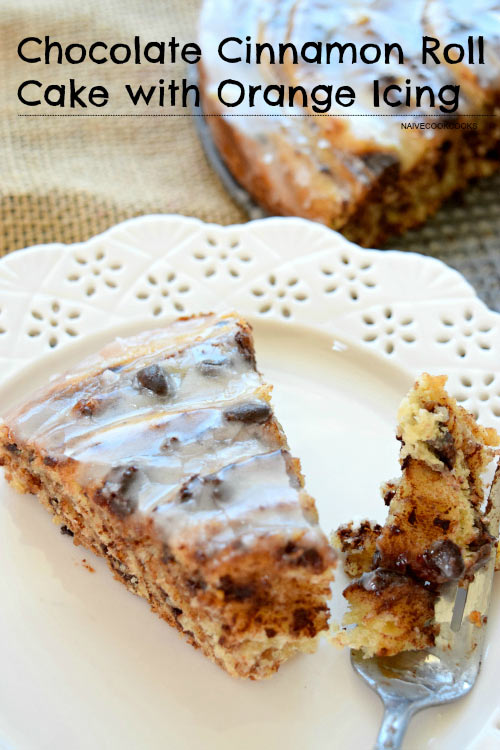 This cake! It's Tuesday and we are 1 day closer to Friday so why not celebrate it by eating a cake and that too not just a cake but a giant cinnamon roll cake with layers and layers of chocolate, cinnamon and sugar. We are in the first week of new year but and I am sure we all have our own set of resolutions, dreams, targets for this new year which we want to achieve.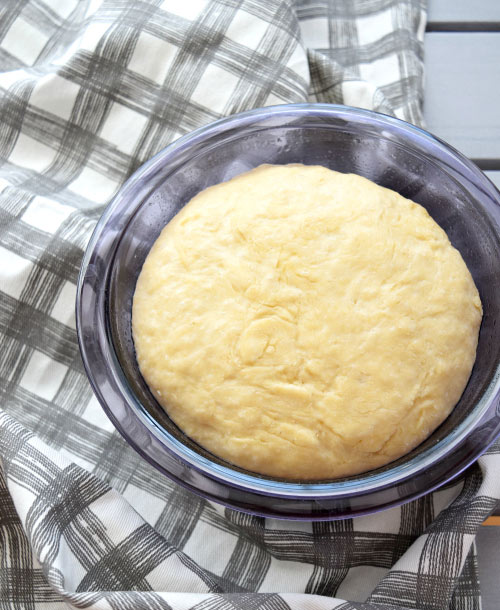 Few years ago my resolution was clean eating and clean eating to the point that it tasted bland, flavorless and just barely edible. Well with time things have changed and I look at a more balanced approach rather than going all out. This year among lots of other goals I have, one goal is eat lots of wholesome balanced meals along with balanced amount of butter, fats and other delicious things.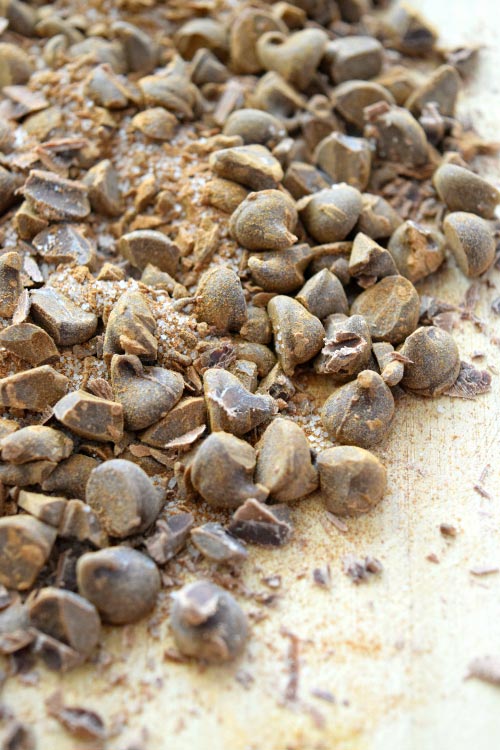 Talking about crazy clean eating, while on our Boston trip last year, my friend decided to order this steamed veggie power bowl kind of thing with grain of your choice and it read on the menu that it comes with a delicious tahini based dressing. I won't lie saying that I wasn't looking forward to it because I was so excited for that mystery bowl. I have seen a lot of those kind of so called power bowls, wholesome good for you kind of bowls doing the rounds on the internet and they are especially loved by people following a super clean diet or something like that.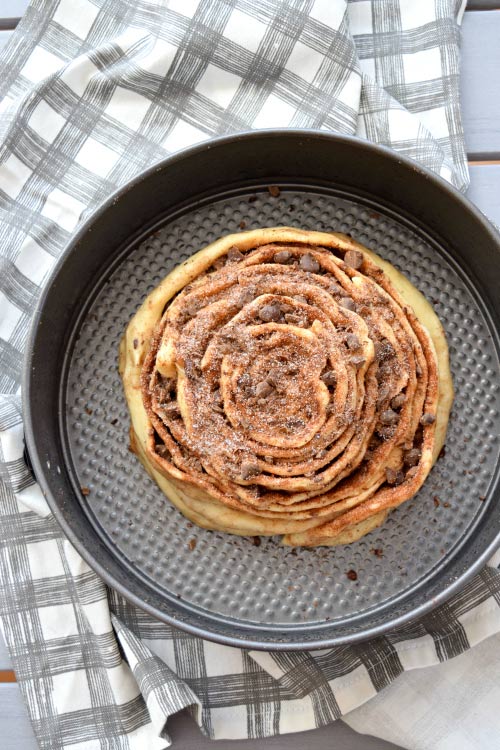 Well, we were disappointed. SERIOUS DISAPPOINTMENT. The bowl was bland, there was almost no flavor from the much hyped about dressing and it felt that it consisted of  tons of roasted veggies but there was not even salt or pepper. At a whopping price of $14, there was only few tbsps of cooked farro and that was the first and last time I had a mystery power bowl.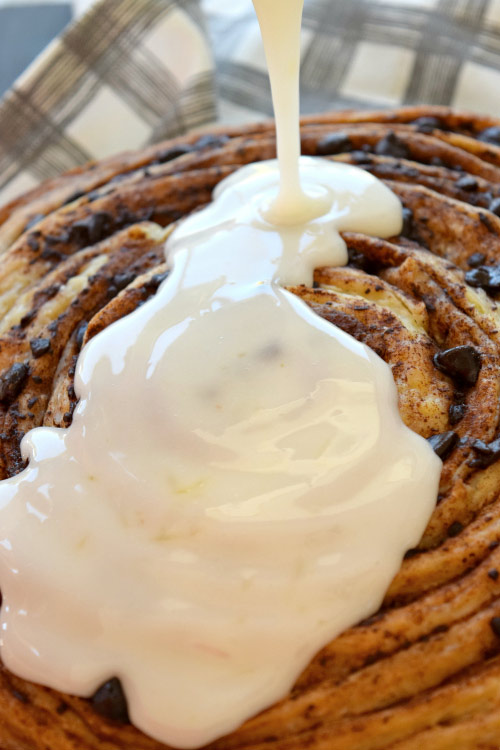 So here we are starting new year with keeping things in balance. This cake is the perfect epitome of all we talked about earlier. It has way less butter than I have noticed in cinnamon roll recipes, super soft, moist, and you can enjoy this within 3 hours. You can also make the dough, roll it and assemble it and let it sit overnight if you have a hot cinnamon roll breakfast in mind. Glazed with zesty orange juice spiked icing, it is a match made in heaven. Chocolate and orange is a winner combination which I realized long time back when i made this BREAD. This bread is another of my favorite thing to eat for breakfast or tea time snack.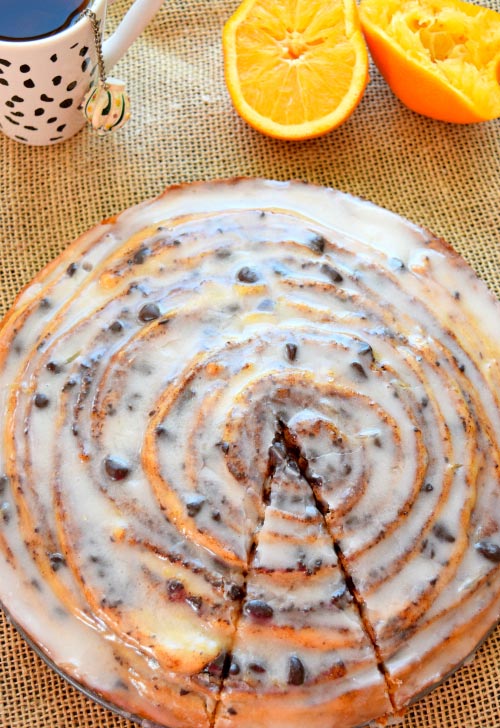 And if you are still intimidated with a giant cinnamon roll cake, don't be. I felt the same but after 2 trials and let me tell you, every trial being a success, I have realised that it's really not hard to wrap long dough slices around each other. Just a bit of patience is all it takes.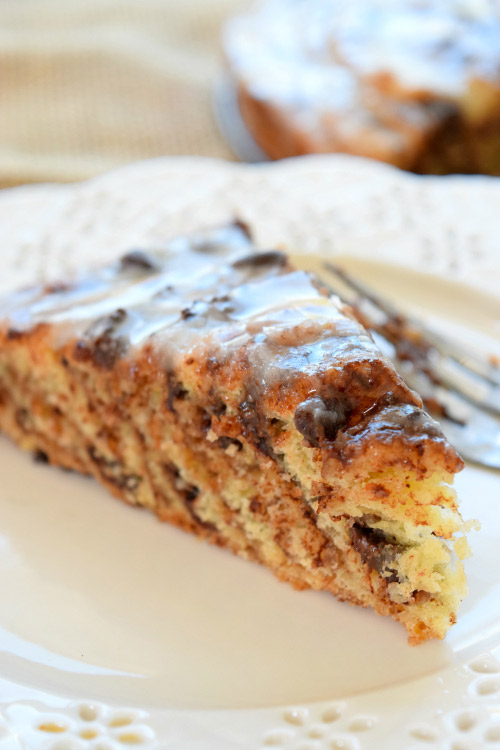 So get on to this. You won't believe that making giant chocolate cinnamon roll cake with orange icing can be so easy!
P.S What are your new year resolutions?? Do you also like making some crazy weird resolutions when it comes to food??
Chocolate Cinnamon Roll Cake with Orange Icing
Easiest fluffiest Giant chocolate cinnamon roll cake with a heavenly orange juice icing. Breakfast, anyone?
Ingredients
Dough
2 and ¾ cups unbleached all purpose flour
3 tbsps granulated sugar
1 tsp salt
2 and ¼ tsp instant yeast (If using active yeast, make sure you let it rise additional 50% of the time stated)
½ cup water
¼ cup milk ( I used 2%)
3 tbsp unsalted butter
1 large egg, at room temperature
Filling
3 tbsp unsalted butter, softened
1 and ½ tbsp cinnamon powder
2 tbsp granulated sugar
1 cup semi sweet chocolate chips or your favorite kind of chocolate, chopped or chips
Orange Icing
1 and ½ cup powdered sugar
3 tbsp milk or water
1 tsp vanilla extract
3-4 tbsp orange juice
Instructions
Dough
In a bowl, add 2 and ¼ cups of flour, sugar, salt and yeast and stir it around. Keep aside.
In another bowl, add water, milk and butter and melt in the microwave until butter is almost melted. The mixture will be hot to touch.
Add this butter mix to the dough mix and add a large egg. Mix using a spatula until smooth. Add slowly the remaining ½ cup of the flour. You are looking for a soft dough that pulls from the sides of the bowl. I used only ¼-1/3 cup of flour but you might need full ½ cup. Transfer the dough to a floured surface and knead for 3-4 minutes.
Transfer to an oiled bowl and cover tightly and let it sit for 30 minutes until it rises a bit. It usually won't double up but thats ok.
Roll out the dough on a floured surface to 12*15 inches rectangle. In a bowl, mix all the filling ingredients except butter. Brush the softened butter all over the rolled out rectangle. Then using your fingers, sprinkle the chocolate-cinnamon filling so it covers the dough evenly. Now cut the dough lengthwise into 6 equal strips. I usually use pizza cutter for cutting as it makes it really easy to cut.
Take a 9-11 inch diameter round baking pan and spray with some oil. Take the first strip and roll it very gently MAKING SURE NOT TO ROLL IT TIGHTLY as we need some room for the dough to rise. Don't panic as you see most of the filling falling on the working surface. Once you roll that strip, transfer to the center of the bowl and the filling that came out, using your hands sprinkle it on top and if you can inside the little spaces you see from top. Roll the second strip around it gently. Be slow, have patience and keep repeating until you a giant rolled out dough cake. Make sure you sprinkle all the leftover filling. Loosely cover the dough and place in a warm draft free place for around 90 mins.
If you want to let it sit overnight, then instead transfer it to a refrigerator.
When ready to bake, pre heat oven to 350F. Bake uncovered for first 15 minutes and then bake covered with aluminium foil to prevent over browning for another 15-20 minutes.
Meanwhile make the icing. Add all the ingredients in a bowl and stir until smooth. For thicker icing, add more sugar and for thinner icing, add more juice or water/milk.
Once the cake is done and out of the oven, let it sit for 3-5 minutes and then pour the icing so it goes in all nook and crannies.
Serve.
Notes
Basic cinnamon roll dough recipe adapted from SallysBakingAddiciton.com
More Dessert Recipes: