This shop has been compensated by Collective Bias, Inc. and its advertiser. All opinions are mine alone. #YesYouCan #CollectiveBias
Easiest fall dinner with an easy & quick 3-Bean Chili made in slow cooker and served with buns & turkey hot dogs!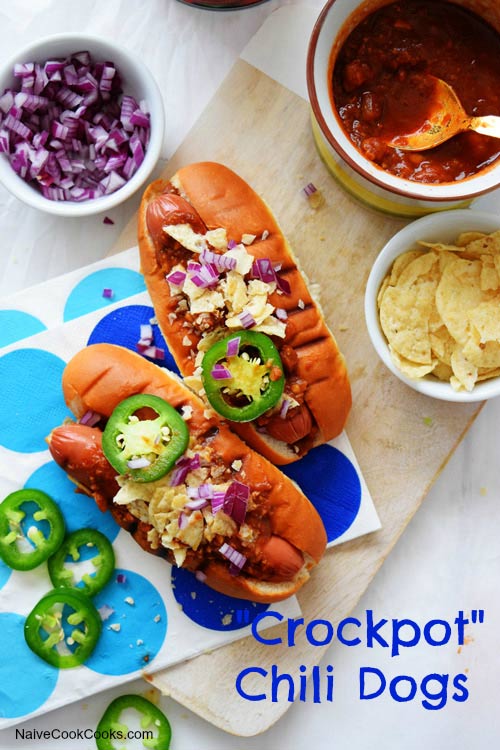 Almost weekend friends and what better way to relax and enjoy fall weekends but with some comforting food and company of your loved ones?! Now we all know it takes work to get some comforting meals ready and during weekends especially, it takes double energy as all I want to do is sit on the couch and do nothing!
So few weekends ago I did an experiment and it made our lives so much easier. See I don't really care during the weekend as to what I eat since being a food blogger I cook almost every day during the week and we eat pretty well around here but it's a different story when it comes to all men, I suppose! Jerry needs his proper meals and he is okay eating out most of the time for 2 straight days of weekend but then I get this guilt feeling that I can't even make him something healthy over the weekend?! What kind of food blogger am I?!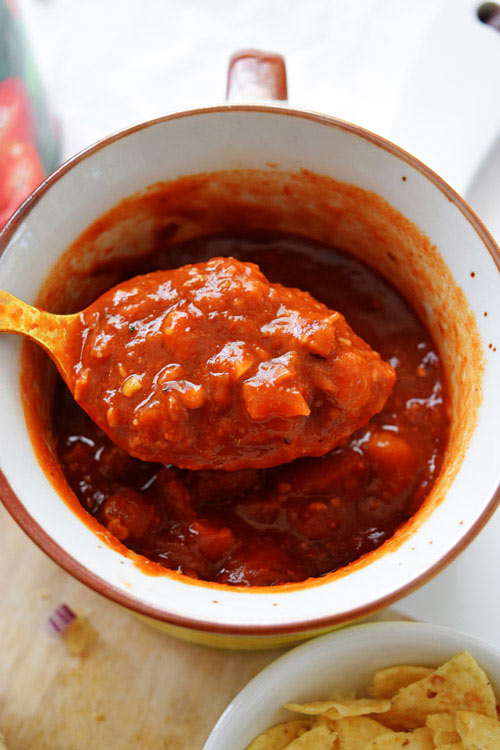 So few weeks ago I got my ingredients (and since we are trying to be all time savvy here I used my favorite tomato sauce from Hunt's from Walmart which by the way is a life saver when tomatoes taste horrible during winters!Any thoughts??) and got to work! This recipe is an oldie but since it's fall and we are all about making easy "lazy" meals, I used my trusted Crockpot Slow Cooker and in no time a delicious 3-Bean Chili was ready! So while Chili was getting ready in slow cooker, I cooked some turkey sausages (you can use any meat or veggie hot dogs you like) and warmed up some hod dog buns and we were in business! A very delicious yet relaxing meal which took very little work!! ??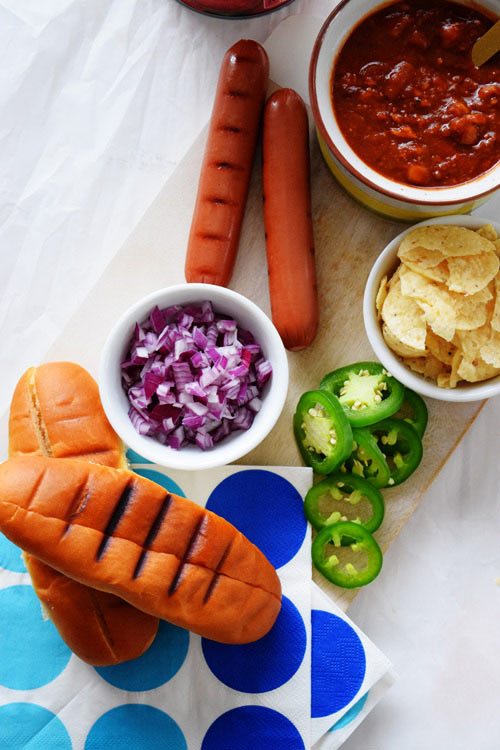 This Chili is good eaten plain with some cornbread and toppings but I strongly suggest you guys to try it this way!! So so delicious. I ended up having them for two meals in a row just because I had to take pictures and it was far from dinner time and I had no intention of wasting them + I WAS STARVING!! ?
If you are wondering about assembly part then that is super simple too! Just warm up hot dog buns, place few tbsp of chili in between, then place a grilled/cooked hot dog (If you are using meat I strongly suggest using smoked version) and top with more chili, onions, crushed tortilla chips, jalapeno (A must if you love spicy food!), smoked gouda cheese (our favorite!) and may be some sour cream!! That's it!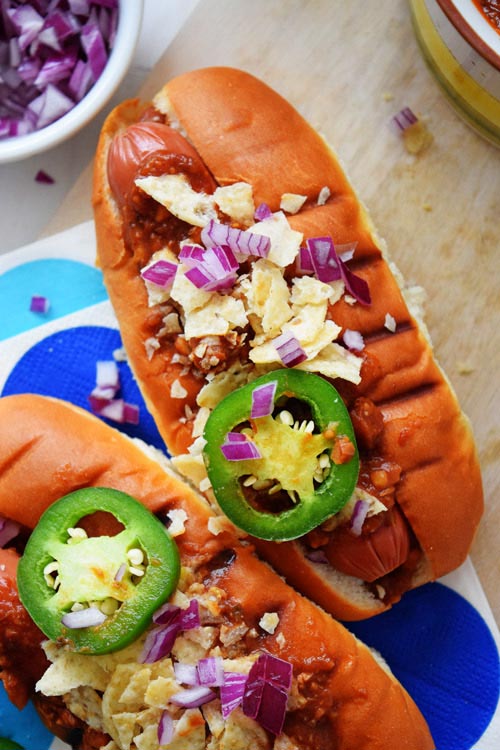 Get the stuff and make them for weekend. You can make chili today and refrigerate and enjoy over the weekend or week!
Follow along for a lot more delicious treats and life happenings on INSTAGRAM || FACEBOOK ||PINTEREST ||TWITTER ||GOOGLE+
You can get more ideas to make easy simple recipes here.
Chili recipe adapted from here.
Slow Cooker Chili Dogs
Ingredients
Ingredients
¼ cup pinto beans, dry or 7 ounce cooked canned pinto beans, drained
¼ cup chickpeas, dry or 7 ounces cooked canned chickpeas, drained
¼ cup red kidney beans, dry or replace with 7 ounces cooked canned red kidney beans or 7 ounces pinto beans, drained
1 ancho chili, dried
1 new mexico chili, dried
1.5 cups water
⅓ whole chipotle chili in adobo sauce plus 2-3 tsp sauce from adobo sauce can
3 garlic cloves, chopped
1 tsp olive oil
⅓ cup red onion, chopped
1 tsp cumin powder
2 tsp oregano
1/ tsp soy sauce
1 can Hunt's tomato sauce, 14.5 oz
Salt to taste
2-4 tbsps sugar or to taste
Few tbsps of tomato ketchup to balance the flavors
Additional
Smoked Turkey Hot dogs (or your choice of meat or veggie hot dogs)
Red onions, chopped
Jalapeno, chopped
Sour cream
Crushed Tortilla Chips
Shredded smoked gouda cheese
Instructions
Instructions
If cooking beans at home : Soak all three beans overnight if possible. Before cooking, boil all three beans together either in pressure cooker or in a pot. Keep it aside.
In a pot, bring 1.5 cups water to boil. Add both ancho and new mexico chilies and let it soften by boiling on medium heat for good 10-15 minutes. Add more water if it starts to get dry. Once done grind it to a fine paste along with chipotle chili.
In a big pot, add oil. Once hot, to it add garlic cloves and onion. Saute for few minutes until fragrant. Add cumin powder, oregano, soy sauce to it. Stir and add the chili paste to it. Let it cook for few minutes. Add half of the boiled beans along with their water. Remaining half of the beans, grind them coarsely. Add them to the pot as well. Stir it around and add the tomato sauce as well. Add salt as per taste. Now transfer all the ingredients to your slow cooker and cook on high for 30 mins - 1 hour or on high for 2-4 hours if you have lot of time on hand. Keep an eye as if it starts to get dry, you will need to add some water.Once ready, taste and add the remianing seasonings. Adjust as per your taste.
** Remember chili keeps getting better the longer it sits.
For making chili dogs, toast your hot dog buns and grill or cook hot dogs. Now add some chili in between the buns and place a cooked hot dog. Top it with more chili, onions, jalapenos, tortilla chips, sour cream, cheese and enjoy! You can serve more chili on the side as well.
Notes
Chili stays good in fridge for upto a week and infact becomes better with time!
Sometimes I like to freeze it in an airtight conatiner for upto 1-2 months.
More Simple Recipes: