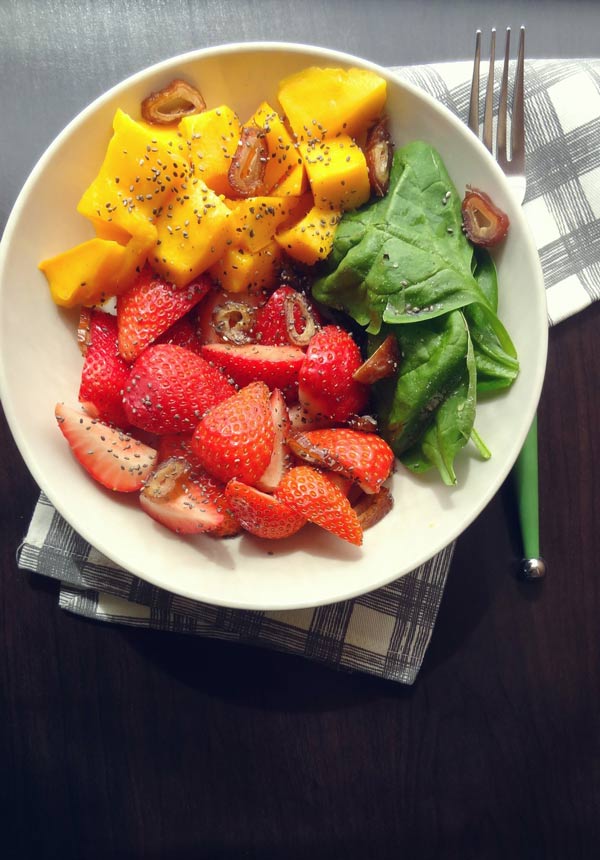 Summer is in full bloom here and so are summer fruits.Lately I have been having a routine. Late afternoon when hunger hits, I often find myself grabbing a bowl and filling it up with whatever fresh fruits and vegetables I can find sitting around. For dressing a gentle squeeze of lemon and few sprinkles of sea salt and black pepper. I love it as it comes together in almost no time and I feel good about eating healthy.
There is no particular recipe and I would suggest you to do the same. Just follow your heart and fill up a bowl with all the fruits and vegetables your heart desire. It will be awesome with some chopped grape tomatoes, apples, avocados, arugula, sunflower seeds and much more. Possibilities are endless here and every time you are going to end up with something interesting. In this I added chopped mango, strawberries, baby spinach, dates, chia seeds with generous sprinkle of lemon juice, salt and black pepper.
So go ahead and give it a try. Weekend is almost here. We have been waiting to go to pool in our community. What are your plans?
Be safe. See you soon .Hugs.
This summer bowl is all you need to make summers rock!