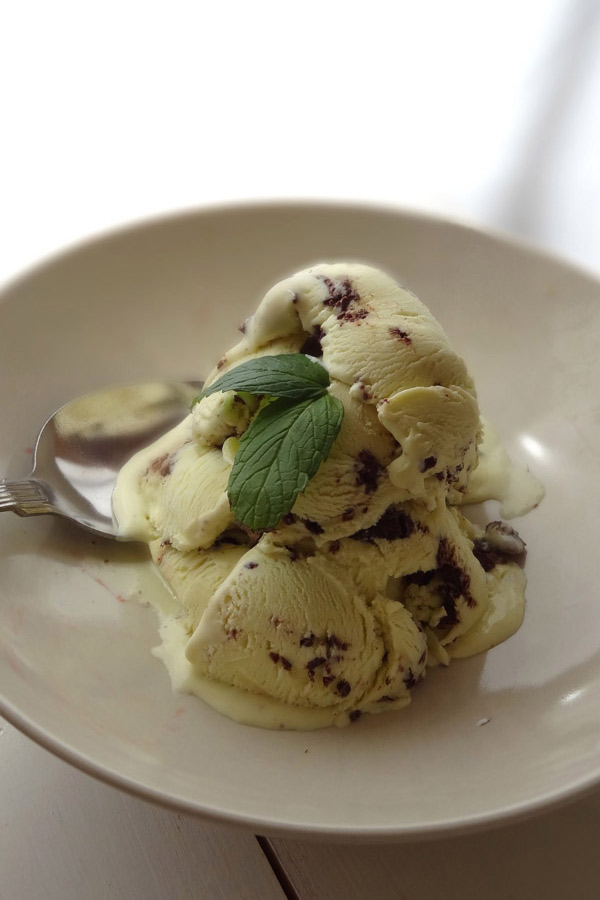 Okay. So I am back after a short quick trip to Dallas. I totally planned on posting on Monday and than on Tuesday. I mean it. But I was so badly sleep driven that I felt light headed most part of the day. Flying at 3 AM. Who does that?! Someone totally  gone insane like me. The parts where I was kind of not light headed, caffeine took care of the rest. HA.
So I decided that I will take care of last missing post and along with it post today's special new feature post as well. For starters, I bought an ice-cream maker(!). It's been almost 2-3 weeks since I brought it home. A small 1- 1.5 quarts Cuisinart ice cream maker in red. Since last winter, I had been pinning all sorts of ice cream, frozen yogurt, sorbet and popsicle recipes. The list has been growing by leaps n bounds and the only thing that was holding me back from trying tons of ice cream recipes was an ice cream maker. Obviously. For the first batch, I decided to make Jerry's favorite chocolate mint ice cream. There are lot of recipes online but the one that caught my eye was by highly esteemed Mr.Lebovitz. This mint ice cream makes all those store bought mint ice creams look nasty. Trust me.  It is not super sweet like store bought ice creams and that was a major plus point. The fresh mint leaves give it a smooth, herbal flavor. Not too minty and not mint deprived either. Just perfect mint with streaks of melted chocolate. Yum.
I suggest you to make it exactly the way Mr.Lebovitz says. Results will take you by surprise and it will be one of your favorite flavors for sure. Win applauds from guests or just enjoy yourself.

Homemade Mint Chocolate Ice Cream
Ingredients
1 cup whole milk
¾ cup sugar
2 cups heavy cream, divided
Pinch of salt
2 cups lightly packed fresh mint leaves
5 large egg yolks
5 ounces bittersweet or semisweet chocolate, chopped or chocolate chips
Instructions
In a medium saucepan, warm the milk, sugar, 1 cup heavy cream, salt, and mint. Once the mixture is hot and steaming, remove from heat, cover, and let stand for around an hour so the mint flavor gets infused.
Remove the mint with a strainer, then press down with a spatula or hands firmly to extract as much mint flavor and color as possible. Once the flavor is squeezed out, discard the mint.
Now pour the remaining heavy cream into a large bowl and set the strainer over the top.
Rewarm the infused milk. In another separate bowl, whisk the egg yolks and then add little warmed up mint infused milk. Stir and pour it all into the remaining infused milk by scraping all the egg mix.
Cook the custard on medium heat, stirring constantly with a heatproof spatula, until the mixture thickens and coats the spatula. It's done when you run your finger over the spatula and it should leave a mark that shouldn't flow back.
Immediately strain the mixture into the cream, then stir the mixture over an ice bath until cool.
Cover the mixture and refrigerate it thoroughly for few hours or preferably overnight, then freeze it in your ice cream maker according to the manufacturer's instructions.
While the mixture is freezing, melt the chocolate in a small bowl over a pot of simmering water. Keep stirring the chocolate till it melts. (Make sure the bowl you use for melting chocolate is completely dry as even few drops of water will harden the chocolate)
When the ice cream in the machine is ready, scribble some of the chocolate into the container, then add a layer of the ice cream to the container. Scribble melted chocolate over the top of the ice cream, then quickly stir it in, breaking up the chocolate into irregular pieces. Continue layering the ice cream, scribbling more chocolate and stirring as you go.
When finished, cover it tightly and freeze until firm. Freeze at least 2-3 hours before serving to get hard ice cream or have it soft serve style immediately.
More Ice Cream Recipes: