Delicious Pumpkin Cheesecake in bite form makes for a great fall treat. Small size makes them great for serving!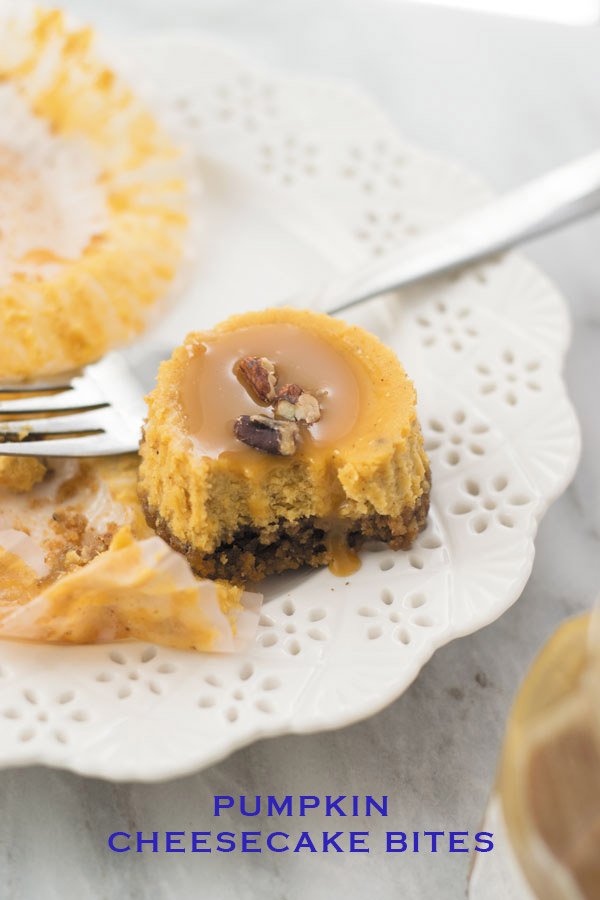 Can you believe that we are already a week into September!! Unlike some of my friends, I am a person who loves everything about fall and winters and there are times when I wish each day was gorgeous snow covered with lots of lattes, cozy sweaters and everyone in holiday mood! I know that's sort of insane to think of but I can't help! I love cold weather and probably last 4 months of year are my favorite!
So since it is fall finally, I had to cook with pumpkin. Ok so truth be told I never really grew eating pumpkin based sweets. Pumpkin in India is mostly limited to savory side dishes which I loved. Since the last few years my love for pumpkin cupcakes, pumpkin breads, pumpkin bars, pumpkin cookies and not to forget Starbuck's Pumpkin Spice Lattes have grown at a dangerous pace so much so that this year I was looking for pumpkin cans in the middle of june just so I can make some PSL at home! 😛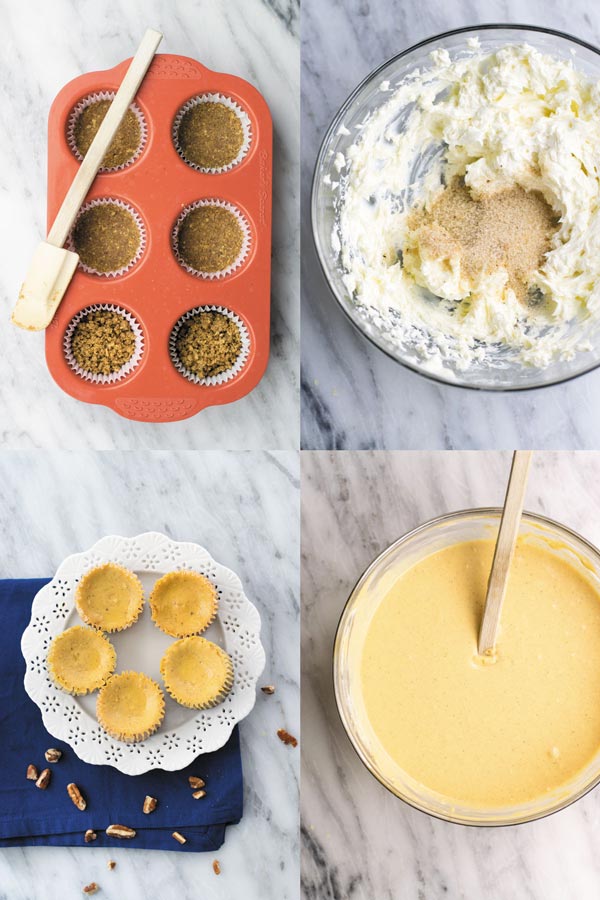 After so many of you amazing readers loved my classic Cheesecake recipe, I knew I had to do a pumpkin version and that too a PUMPKIN BOURBON CHEESECAKE with PECAN GRAHAM CRACKER CRUST. This is mind blowing. Simple fall flavors, the right amount of spices mixed with pumpkin puree and cream cheese. This cheesecake is moist, each bite is packed with flavor and since they are made in muffin cups, they are perfectly portioned. No need to cut and worry about how the slices look before serving.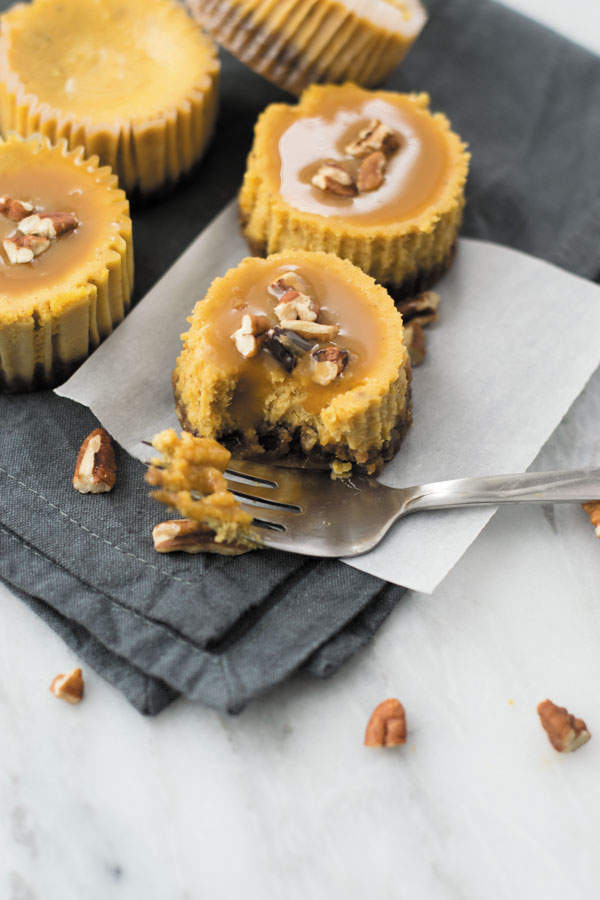 I was thinking of either serving them with bourbon whipping cream or caramel sauce and finally I decided to go with caramel sauce as I find it much easier and quicker to serve. Just make sure you warm up your caramel sauce before serving and always serve with some chopped toasted or plain pecans because it gives a nice texture to the cheesecake.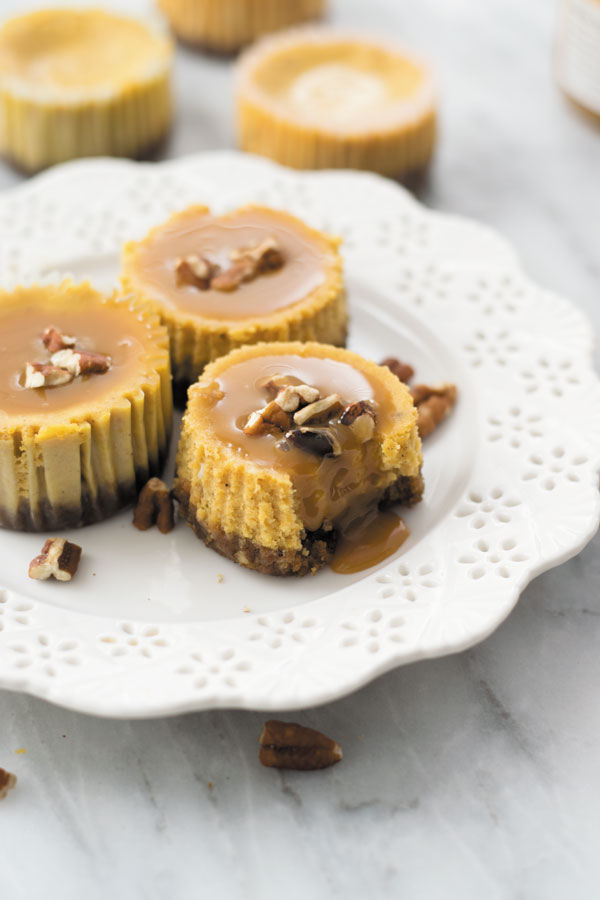 If  you enjoyed this recipe, don't forget to FOLLOW me on  INSTAGRAM ||FACEBOOK||PINTEREST ||TWITTER ||GOOGLE+ || BLOGLOVIN || YouTube
Pumpkin Cheesecake Bites
Ingredients
CRUST :
Graham crackers (3 ounces), broken into rough pieces and then grinded into fine even crumbs (~ 86 gms)
4 tbsp sugar (~40 gms)
½ cup pecans chopped (~2 ounce)
¾ tsp ginger powder
¾ tsp cinnamon powder
¼ tsp cloves powder
4 tbsp unsalted butter, melted plus extra for brushing on the inside of pan
FILLING:
Soft room temperature cream cheese (12 ounces) (~341 gms)
7.5 ounces pumpkin puree
⅛ tsp salt
½ cup + 2 tbsp regular white granulated sugar (~4.6 ounce) (~130 gms)
½ tsp cinnamon powder
Heaping ¼ tsp ginger powder
⅛ tsp cloves, powdered
⅛ tsp nutmeg, powdered
⅛ tsp all spice
2 tbsp bourbon or dark rum
½ egg yolk
2 eggs
Instructions
CRUST:
Pre heat oven to 325 F and make sure the oven rack is in the lower middle position.
Break graham cracker into pieces and then transfer them to a food processor and to it add pecans,sugar,ginger powder, cinnamon powder, cloves powder and process until they turn into fine even crumbs. Transfer it to a bowl and to it add melted butter and using a fork stir until all the graham cracker crumbs are evenly moist.
Melt 1 tbsp butter in another bowl and using a pastry brush or your hands, generously coat the base and sides of 12 muffin cups with butter.
Empty the crumb mixture into the muffin cups placed in muffin pans in equal proportions and press it down tightly using your hands and then make sure it's a smooth layer using the back of a bowl or measuring cups as shown in one of the pictures above.
Bake it for 12 minutes at 325F.
Once baked, the crust will be nice goldenish. Place themuffin pan over a cooling rack so it cools down.
FILLING:
Now make your filling. In a large deep bowl, add soft room temperature cream cheese and using a hand mixer, mix for about 1 minutes until the cream cheese becomes soft and creamy. Add pumpkin puree, sugar, salt, cinnamon powder, ginger powder, cloves, nutmeg and all spice and mix for another 2 minutes.
Now add egg yolk and mix for another 1 minute. Make sure to scrape the sides of the bowl using a spatula so everything is mixed evenly.
Now add remaining 2 eggs and mix for a minute. Stir in bourbon or rum whichever using.
Make sure NOT TO OVERMIX.
Now pour this mix into the already baked 12 muffin cups .
Bake it for about 25 mins at 325F. You will see the center will be a little jiggly but will cook further as it cools down.
Once completely baked, take it out gently and place the cheesecake in springform pan over a cooling rack. Let it cool for 3 hours on cooling rack. Run a clean knife around the cheesecake to loosen the sides. Cover it tightly with plastic wrap and chill in fridge for about 4 hours at least or overnight which I prefer.
Serve with store bough or homemade caramel sauce and chopped pecans.
 Some more FALL recipes ->>