Pumpkin spice bars with hazelnut crust! Pumpkin pie makeover!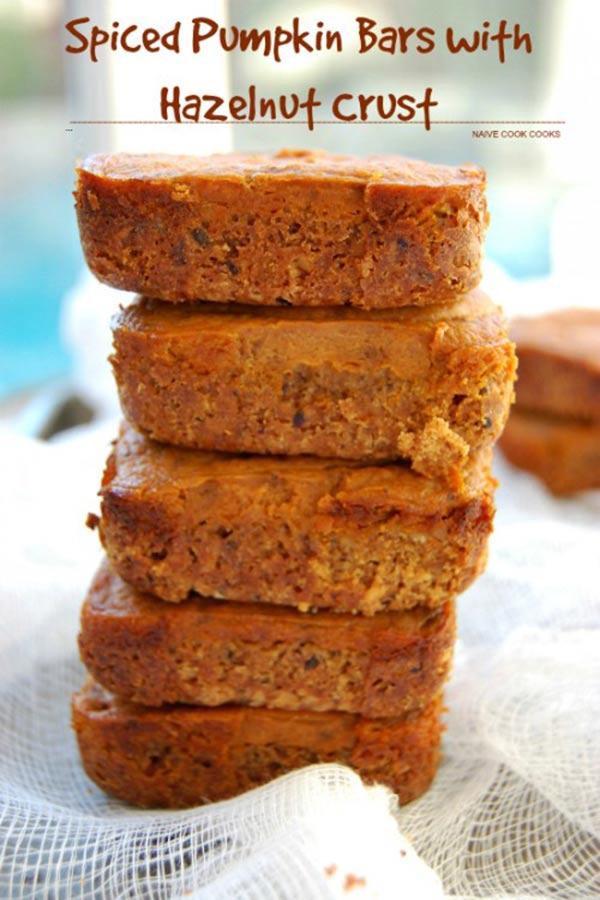 These bars.
So after having our fill of those ridiculously delicious chicken wings we are eating our weight in these oh-so-good pumpkin pie in the form of bars with a hazelnut crust. I have always made pumpkin puree from scratch but this is the first time ever I have used a canned pumpkin puree and I must say that I am impressed. I have been hearing great things about organic pumpkin puree from trader joes but I haven't been able to make it to that place yet.These bars are super moist, pumpkiny and with some extra clove powder, nicely spiced – just perfect fall dessert. Lately I have been enjoying hazelnuts a lot and after this, these bars are my second hazelnut based dessert. If you can't find hazelnuts, you can easily use walnuts or almonds in it's place. It will taste equally delicious!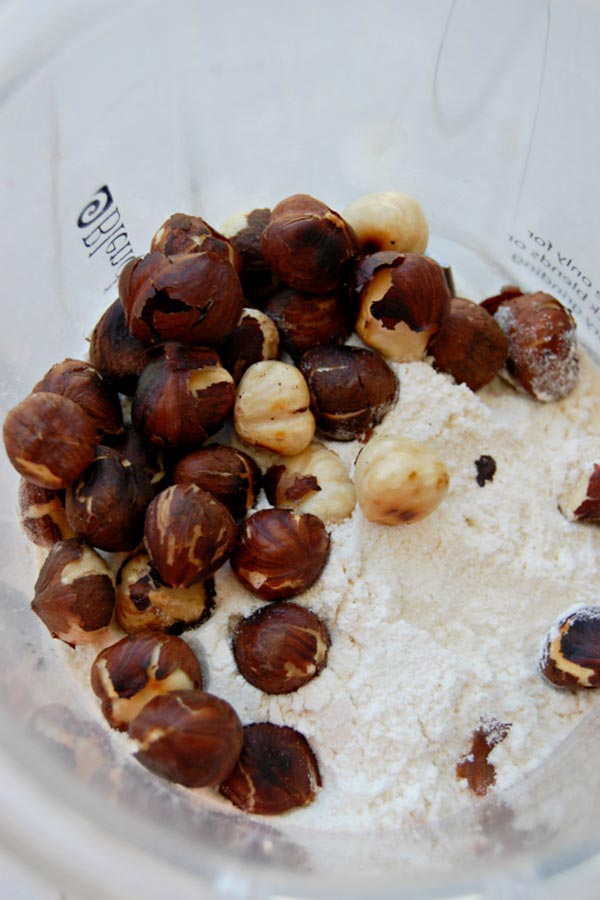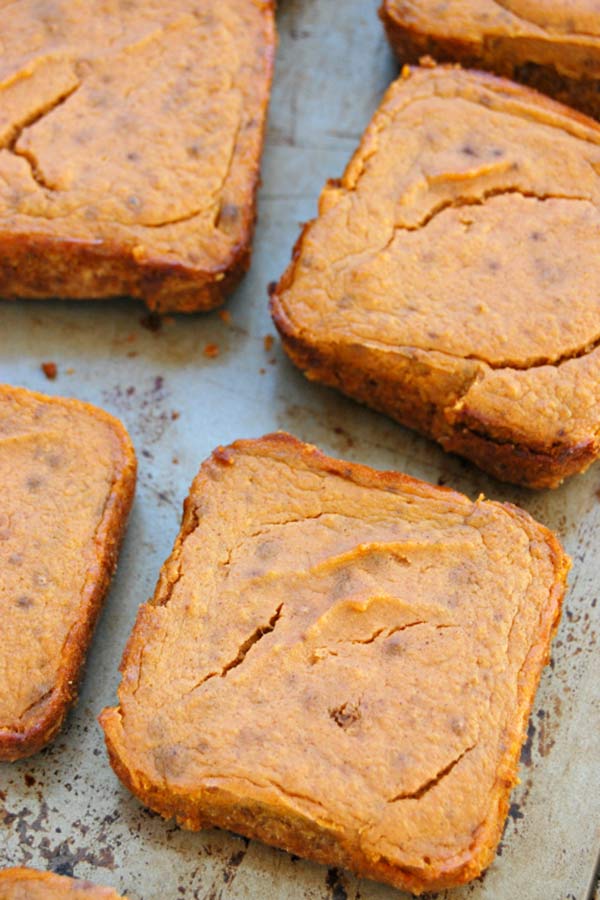 I created these bars for a bake-off contest where I am not sure if I stand a chance as looking at all the other gorgeous creations, I am kind of getting scared. So please please if you like these or if you just plain want to support me, go ahead and vote here! Entries are open only till October 17th 6 am central time!!! I know there is not enough time left but I will totally appreciate your support!!
So without further ado, I present you these delicious looking and even better tasting pumpkin pie bars!!
Pumpkin Spice Bars with Hazelnut Crust
Pumpkin Pie makeover!!
Ingredients
For crust
4 tbsp unsalted butter plus extra for greasing the pan
½ cup all purpose flour
¼ cup toasted hazelnuts
Pinch of salt
¼ cup tightly packed brown sugar
For filling
7.5 ounces canned pumpkin puree
6 tbsp tightly packed brown sugar
1 egg
½ tsp cinnamon powder
6 cloves, grinded to a powder
½+1/4 cups heavy cream plus extra for making whipped cream for serving
Instructions
Preheat oven to 350F.
In a food processor, place toasted hazelnuts, flour and salt and process them to get a smooth flour mix. In a bowl, add melted butter and brown sugar. Using a whisk or hand held electric whisk, whisk the mixture until pale in colour for about a minute or so. Add the flour mix to it and stir to mix it all together.
Line a 6 inch by 4 inch baking pan with a big parchment paper so that you have overhangs on both the smaller edges which will help in taking out the cooked bar out of the pan. Butter the parchment paper generously and then sprinkle with flour. Tap the extra flour out of the pan. Press the crust mix into the pan and bake in the preheated oven for around 12-15 minutes or until starting to brown. MAKE SURE IT DOES NOT BROWN A LOT since we will be baking it again with the filling.
Meanwhile in a bowl, add pumpkin puree, sugar, egg, cinnamon and cloves powder. Stir it all together until uniformly mixed. Add heavy cream and mix it together until a smooth mix forms.
Add the filling to the cooked crust and make sure it goes in all the corners. Bake for 30-35 minutes or until the center of the filling is set. Let it cool down outside once done. Run a knife around all four edges and using the hanging parchment paper, take it out and transfer it to a cooking rack. Cut the bars in desired size and keep in an airtight container.
Serve with some whipped cream.
More Pumpkin Recipes: