Step by step recipe to make really easy New York-Style Cheesecake Recipe! Creamy with a very slight tang, this cheesecake is everything you wanted in your Cheesecake recipe!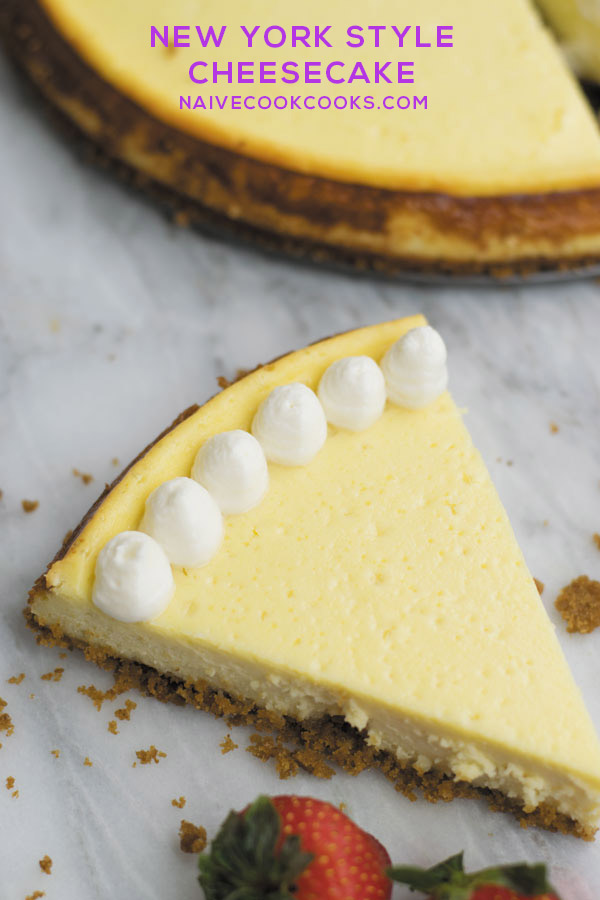 Today I am sharing one of my favorite dessert recipes. It took me a long time almost about 4 years to gather the courage to try my hands at a cheesecake recipe! I have eaten tons of different cheesecakes from classic new york style cheesecake to raspberry truffle to death by chocolate but I was always scared to try to make it at home! For one, it always seemed so daunting a task and I always knew in my mind that I would fail when I try to make it at home! But few days ago one of my sweet reader asked me if I have a cheesecake recipe she could probably make for her husband's birthday! Aww how cute is that! 🙂
Ohh btw I have a board in Pinterest dedicated to just all kinds of awesome gorgeous CAKES. Check it for more inspiration!
Now this was one challenge I wanted to take as this meant if I can master the classic New York-style cheesecake recipe, I can get over my fear of baking cheesecakes! I have done no-bake cheesecakes but never before the authentic baked cheesecake. Finally after 2 trials and using up whole 6 blocks of cream cheese, I am so happy to share my recipe with you all.
This cheesecake, my dear friends, is amazing –  a no fail recipe which requires following the steps as written and you are guaranteed to get a cheesecake that will no longer require a trip to your favorite baker!
Let's do it!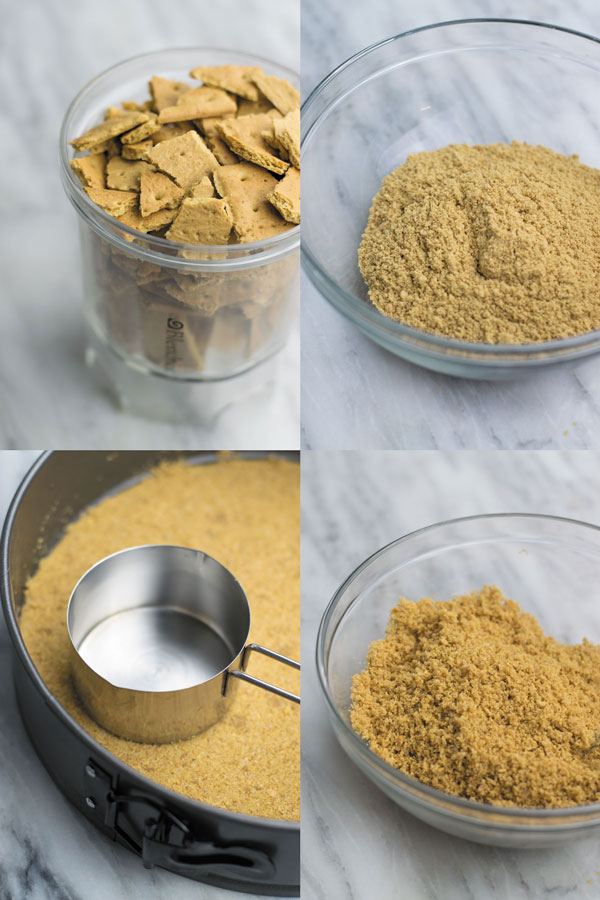 So first the base or crust is made which is a very simple graham cracker crust. If you don't get graham crackers where you live, then use digestive biscuits in place. Graham crackers are crushed to a fine powder and to it melted butter and sugar is added and mixed until graham crackers are evenly coated with this butter mixture. Then in a buttered spring foam baking pan, this mixture is pressed tightly and baked until golden.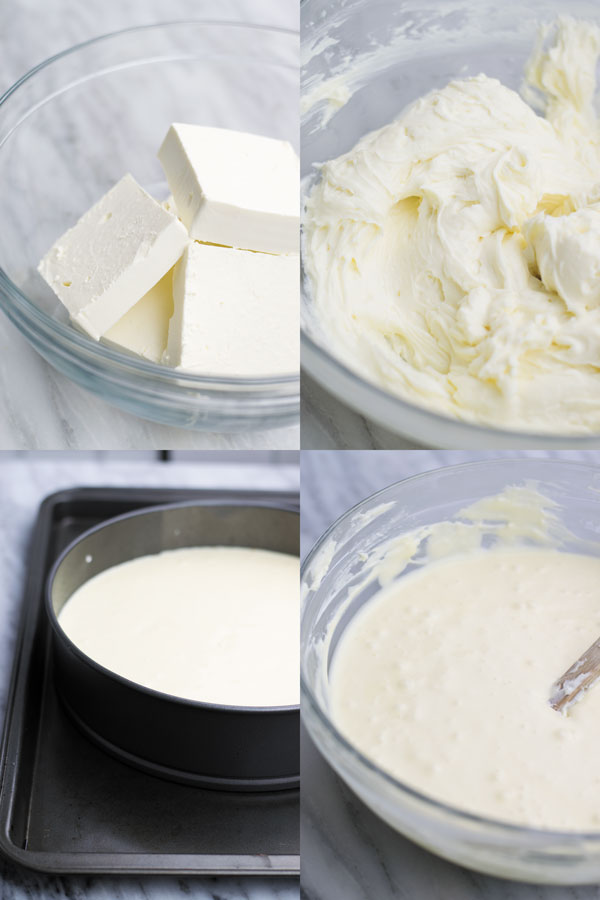 Then while the crust cools down, filling is prepared. Room temperature full fat cream cheese, sour cream, pinch of salt, eggs, sugar and vanilla are mixed and whipped until smooth.This mixture is then poured over the already baked and cooled graham cracker crust in the baking pan and baked first at high temperature for intial 10 minutes and then baked at low temperature for about 1&1/2 hour. The sudden drop in temperatures ensure smooth creamy interior while rich brown exterior! Though real New York-style Cheesecakes are baked without water bath but this is basically a preference as many believe water bath helps in even heat distribution which means less possibilities of getting cracks. For me without water bath method worked out great so this is what I am going to explain here.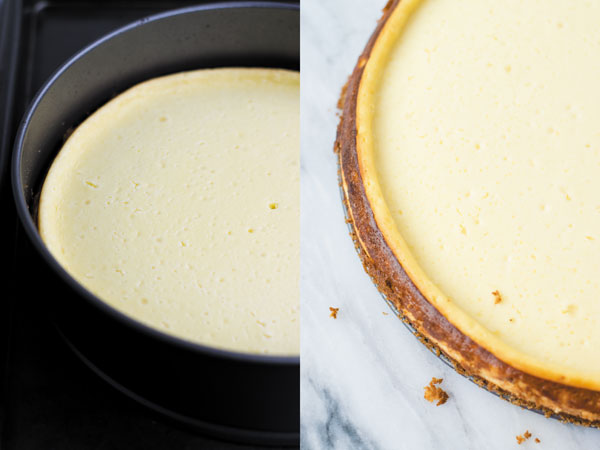 As you can see I wanted to keep my first cheesecake recipe really simple, a classic New York-style cheesecake recipe which if you want can be served with chocolate sauce or a delicious fresh fruit sauce such as a strawberry/ blueberry / raspberry sauce. I served it with simple homemade fluffy sweet vanilla whipped cream!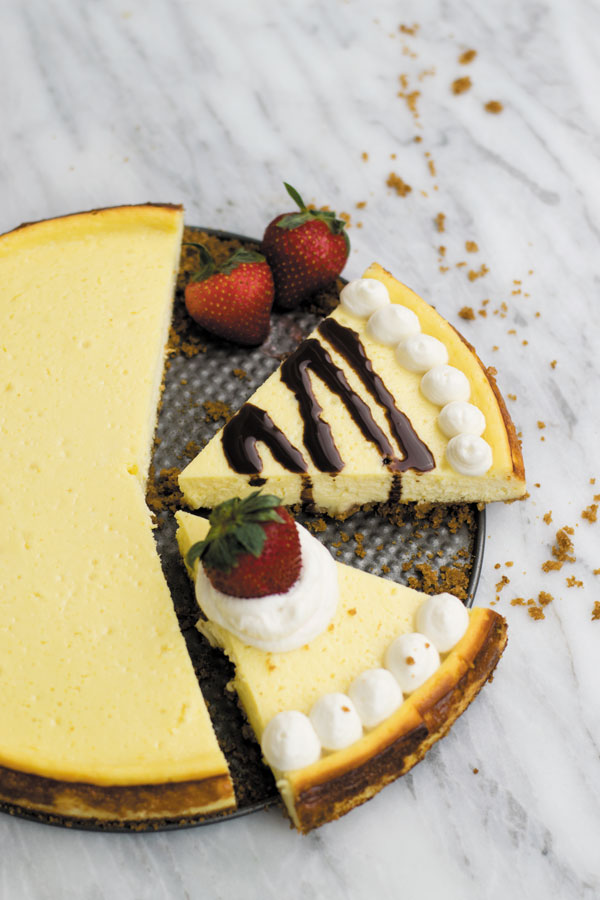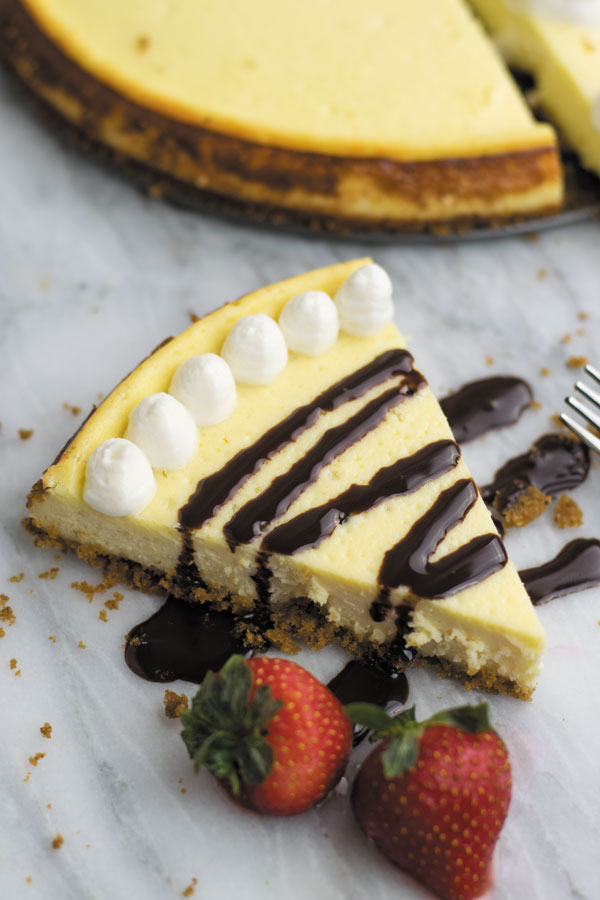 So go ahead, make your grocery list and gather your ingredients & bake this creamy rich cheesecake this weekend! I would suggest baking it a night before as it takes around 6-8 hours of chilling in fridge to get the best results!
If  you enjoyed this recipe, don't forget to FOLLOW me on  INSTAGRAM ||FACEBOOK||PINTEREST ||TWITTER ||GOOGLE+ || BLOGLOVIN || YouTube
Don't get scared by the long recipe. Trust me, its really simple. Just follow it step by step. I have written the recipe in detail so it seems long.
Easy New York-Style Cheesecake Recipe
Ingredients
** I used a 11" springform pan and this gave me a nice thin crust. So if you like a little thicker crust, double the amount of ingredients to make crust and proceed. If you are going to be using a smaller say 8" springform pan then this much amount will give you a nice thick crust! So just go with what you like!
*** Also a smaller size springform pan will give a taller cheesecake.
CRUST :
Graham crackers (4 ounces), broken into rough pieces and then grinded into fine even crumbs
4 tbsp sugar
6 tbsp unsalted butter, melted plus extra for brushing on the inside of pan
FILLING:
Soft room temperature cream cheese (24 ounces)
⅛ tsp salt
1 cup regular white granulated sugar
3 tbsp full fat sour cream (If you don't get sour cream where you live, replace with thick full fat yogurt)
1.5 tsp lemon juice
1.5 tsp vanilla extract
1 egg yolk
3.5 eggs ( To get half half, break one egg in a bowl and stir. Then use half of it and keep the rest of it to use for something else!)
Instructions
CRUST:
Pre heat oven to 325 F and make sure the oven rack is in the lower middle position.
Break graham cracker into pieces and then transfer them to a food processor and process until they turn into fine even crumbs. Transfer it to a bowl and to it add melted butter and sugar and using a fork stir until all the graham cracker crumbs are evenly moist.
Melt 1 tbsp butter in another bowl and using a pastry brush or your hands. generously coat the base and sides of springform pan with butter.
Empty the crumb mixture into this baking pan and press it down tightly using your hands and then make sure it's a smooth layer using the back of a bowl or measuring cups as shown in one of the pictures above.
Bake it for 10 minutes at 325F.
Once baked, the crust will be nice goldenish. Place the springform pan over a cooling rack so it cools down.
Increase the oven temperature to 500F.
FILLING:
Now make your filling. In a large deep bowl, add soft room temperature cream cheese and using a hand mixer, mix for about 1 minutes until the cream cheese becomes soft and creamy. Add sugar, salt and mix for another 2 minutes.
Now add sour cream,lemon juice, vanilla extract and 1 egg yolk and mix for another 1 minute. Make sure to scrape the sides of the bowl using a spatula so everything is mixed evenly.
Now add 2 eggs first and mix for a minute and then add the remaining egg and mix for another 1 minute.
Make sure NOT TO OVERMIX.
Now pour this mix into the already baked crust in springform pan and place this springform pan over a baking sheet so as to catch any spills inside the oven.
Bake it for 10 minutes at 500F.
Without opening the oven door, lower the oven temperature to 200F and bake for about 1&1/2 hours.
Once completely baked, take it out gently and place the cheesecake in springform pan over a cooling rack. Let it cool for 3 hours on cooling rack. Run a clean knife around the cheesecake to loosen the sides. Cover it tightly with plastic wrap and chill in fridge for about 4 hours at least or overnight which I prefer.
It can be kept in fridge for upto 2-4 days!
When ready to eat, keep it out at room temperature for about 30 mins before serving. Cut into slices using a knife. Make sure to dip your knife in how water after each time you cut and wipe it clean before cutting again as it helps in cutting clean slices.
Serve with fresh vanilla whipped cream or strawberry sauce or chocolate sauce.
 Some related recipes ->>