Learn how to make homemade simple caramel sauce from scratch with just 4 ingredients and in under 30 mins!!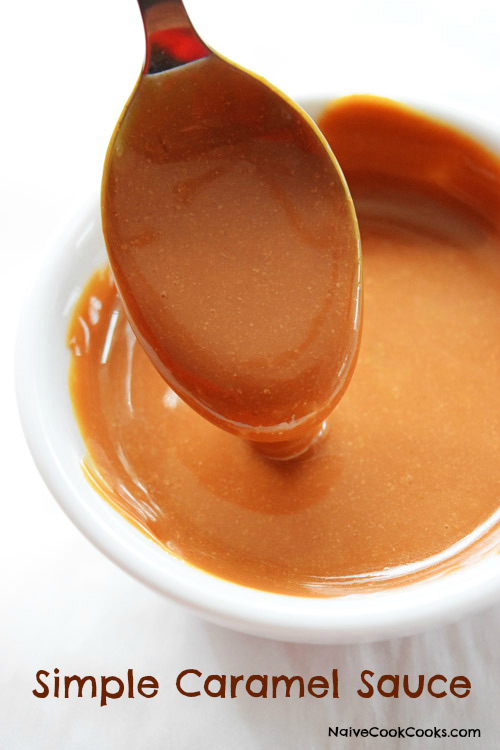 This is the best simple caramel sauce I have ever made or should I say the first ever caramel I ever made! It's sweet, sticky, buttery and just perfect for all sorts of desserts. I always used to think that it would take few trials to get it right but I was so happy when I got it right the FIRST TIME!! ??
So let's talk some more about this sauce or liquid gold as people like to call this! It's so delicious by itself but DO NOT eat it while it's hot because well it will seriously burn your mouth! I like to make sure it's cooled to room temperature and  then drizzle on top of my favorite Apple Pie or dip Churros in this or may I suggest drizzling it on the Best Apple Scones for the best morning breakfast ever! See told you, endless opportunities with this sauce!!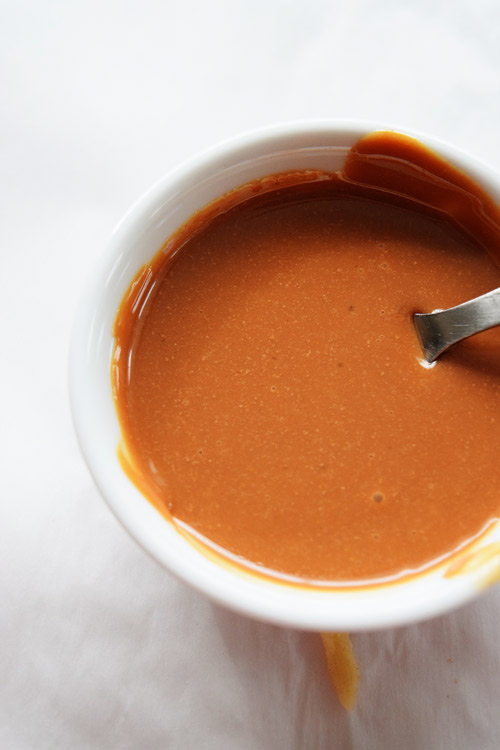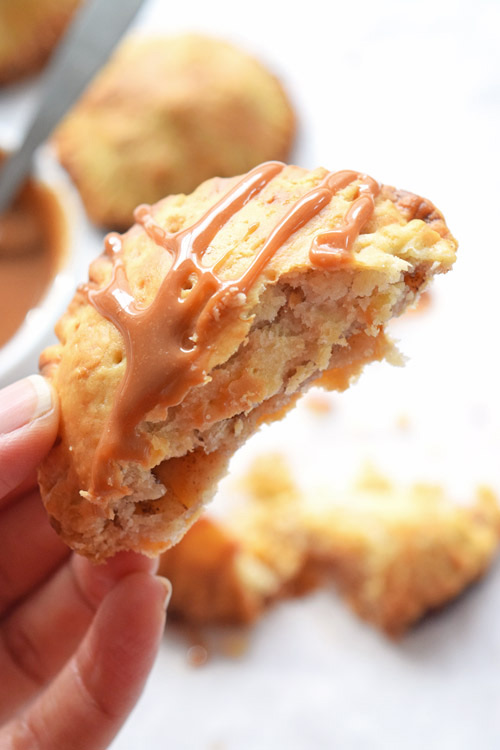 You can store this sauce in airtight glass jar in refrigerator for 2-3 days and just warm up whatever amount you need for 10-15 seconds or more/less in microwave!
If you are wondering, what's that with that delicious sauce on top! Well you will have to wait till tomorrow to know! But I can tell you that you will love it and it's a simple riff on my old recipe but which is so so good this time of the year! So keep your eyes peeled on this space!
Follow along for a lot more delicious treats and life happenings on INSTAGRAM || FACEBOOK ||PINTEREST ||TWITTER ||GOOGLE+||BLOGLOVIN
Simple Caramel Sauce
Easy caramel sauce with just 4 ingredients!
Ingredients
1 cup sugar
¼ cup water
½ cup heavy cream
2 tbsp unsalted butter
Vanilla extract or bourbon or pinch of salt (optional)
Instructions
In a deep heavy pot, stir together sugar and water and cook it on medium-low heat until all the sugar is melted. Now increase the heat to medium-high and cook it WITHOUT stirring. In between if you wish, you can use a pastry brush dipped in water and gently brush it down the sides of the pan. Once the color starts to change to brownish or deep amber color, take it off heat and add heavy cream.
It is going to bubble up vigorously and that's why it's very important to use a deep pot! Stir it on low flame until all is evenly combined. Now add the butter and stir. Turn off the gas and let it cool.
At this point if you wish, you can add flavorings such as vanilla extract or salt or bourbon!
Enjoy this caramel sauce on desserts!
Some delicious treats which will go great with this sauce: 
https://www.naivecookcooks.com/3-ingredient-chocolate-hazelnut-rolls/
https://www.naivecookcooks.com/chocolate-chip-cookie-ice-cream/