Creamy & Comforting risotto with fall veggies!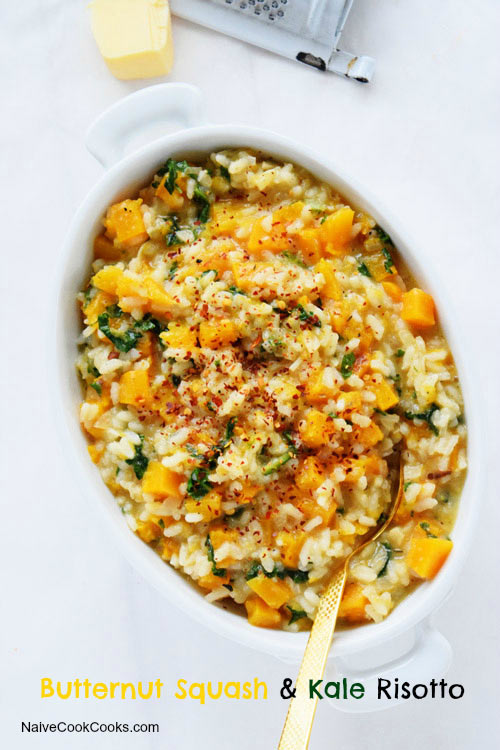 This ☕  meal friends! It's the perfect fall comfort food heaven in a bowl. Now finally it's starting to cool down a bit here and now all I can think of is comforting bowls of my favorite meals, my favorite throw, that favorite spot on my favorite couch and my laptop! And my coffee too! All favorites ?
The first ever risotto I made was this butternut squash risotto which was amazing but as you can see horribly documented. I mean who leaves only a link to a recipe without giving a proper step by step recipe?! Yes that would be me from 2013. Feels like ages have passed!
But anyways since I love love eating risotto but don't make it enough, I thought to play around with that recipe and give it some life. So here we are with fresh photos, a fresh recipe made totally from scratch and with my 2 favorite ingredients : Butternut Squash & Kale!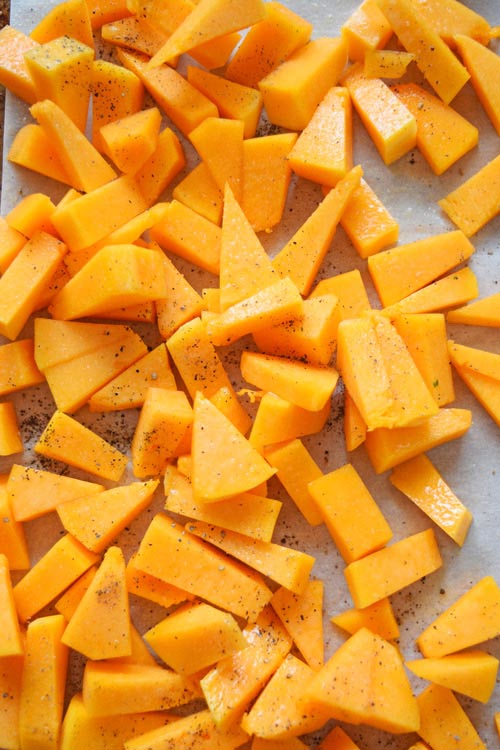 Kale haters, WAIT!! You can replace kale by spinach or green peas or asparagus. Just endless possibilities. So before you think of closing this page down, I suggest you to calm down and read on ?
Yeah Jerry gets sort of annoyed when he is stressed and the best possible reply I give him is RELAX. That drives him nuts!! On a different note as I am myself a very hyper sort of soul, so lately I have been trying to incorporate some yoga in my workout and I am feeling a lot better! Atleast it keeps me calm through half of the day and I work like a normal person but after that as soon as the yoga effect wears off, I am myself – stressed, trying to juggle hundred of things at once and then failing at them miserably at the same time! Every. Single.Day. How do you guys keep your stress levels in check?! I would love to know how do you manage your lives/work effectively?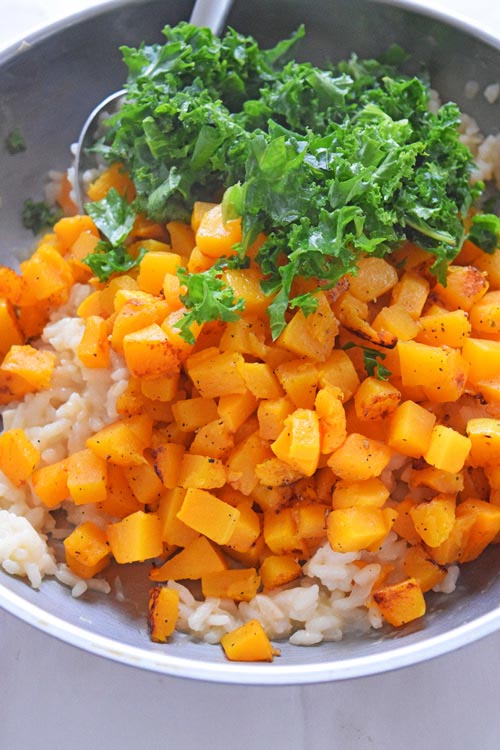 But in those days, I have this delicious RISOTTO that is the creamiest, best tasting risotto ever! Buttery caramelised squash, finely chopped kale, wine & stock cooked rice, few spices and cheese is what turns this into a delicious comforting meal.And now time for a big glass of wine + this ???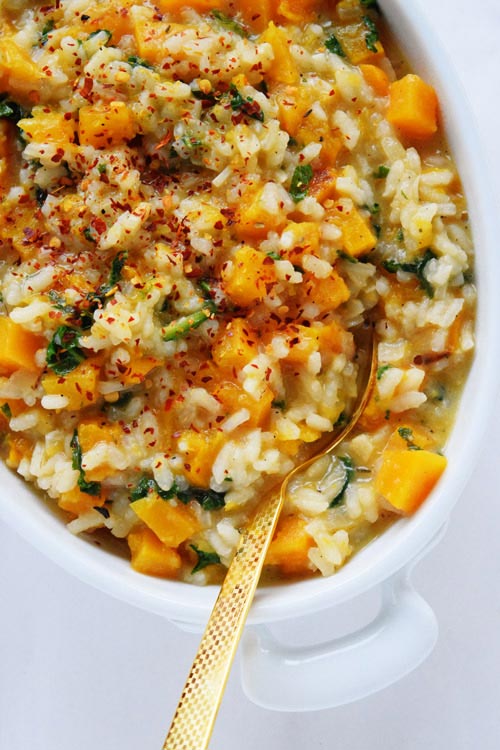 You know you want this!
Follow along for a lot more delicious treats and life happenings on INSTAGRAM || FACEBOOK ||PINTEREST ||TWITTER ||GOOGLE+
Butternut Squash & Kale Risotto
Ingredients
3 cups chopped butternut squash
1 cup finely chopped kale
1 tbsp oil
Salt & Pepper to taste
1 tbsp olive oil
4 garlic cloves,chopped
½ cup onion, chopped
½ cup arborio rice
¾ cup white wine
2.5 - 3 cups vegetable stock
½ cup shredded Asiago cheese or Parmesan cheese
1 tbsp butter
Salt & pepper to taste
1 tsp thyme
Instructions
In a pot, warm up vegetable stock and keep it aside.
Now in another pan, add butter. To it add butternut squash and add salt & pepper. Cook until its fully cooked and a bit caramelised. Transfer it to a plate.
Now to the same pot, add olive oil. Once warm, add garlic and onion and saute for few minutes. To it add rice and stir it around for 2-3 minutes. No add wine and cook it by stirring continously until wine is all absorbed. Now add ½ cup vegetable stock at a time and keep stirring. Once the liquid is absorbed, add another ½ cup. I ended up adding almost 2.5 cups of water by the time my rice was al dente.
Now once you find that rice is al dente that is cooked but still has a little bite to it, add salt, pepper,thyme, butter, cheese and mix.
Now add squash, kale and stir it around. If it feels too thick, add another ½ cup of water. Cook on low and taste and adjust seasonings.
**Make sure you keep the gas on medium to medium-low.
Notes
**I like to add a good amount of red chili flakes at the end for a little kick. But that's totally optional.
 More Pasta Recipes:
https://www.naivecookcooks.com/homemade-spinach-fettucine/