Delicious Indian Style Stuffed Eggplants -Bharwan Baigan is a simple, easy to make side dish great served with rice & dal!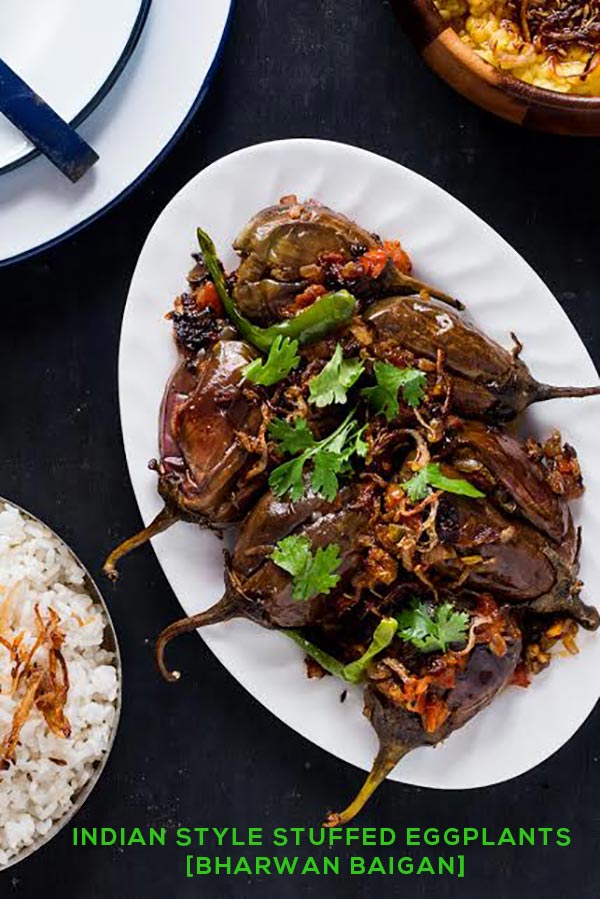 It's been a week almost since I came to India and it's been absolutely amazing, not to mention that I feel I might have gained several pounds with all the delicious food my mom has been cooking for me. When I came I had a list of things I wanted to eat/learn both homemade and from the street carts which by the way sell some of the most amazing food which even a proper restaurant can't replicate. You know street food is big in India and that means every city has it's own food items.
Now I knew that I won't be getting much work done while on my short trip to India so my sweet friend Richa from MyFoodStory offered to create a delicious post for me. I met Richa online through our mutual common interest in food and blogging and I must tell you that she is one gem of a person! Even though I haven't met her in person, I know she is so much fun and full of life and so are her recipes! Have you checked her amazing blog yet?!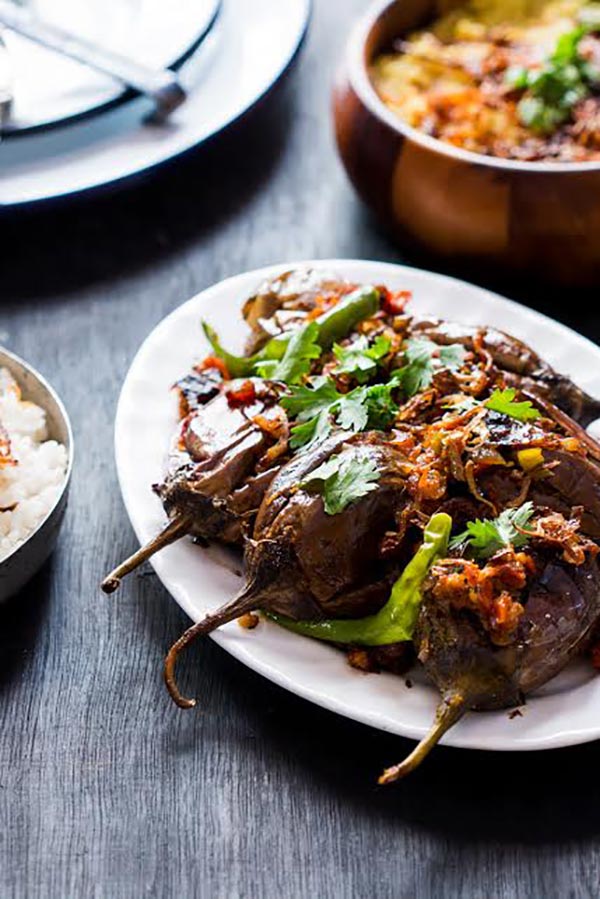 So few days back when she sent me this absolutely stunner of a recipe for bharwan baigan – bharwan means stuffed and baigan means eggplant, I knew atleast one recipe from my list of recipes to learn was already done! I have been wanting to learn Indian style stuffed eggplants and her recipe is super close to how my mom makes it! Make sure to follow her on Pinterest for all drool worthy food boards!
Ok so over to Richa now! 🙂
Thank you Amishi for asking me to write a guest post for your blog. I've always loved your recipes and picture and I'm so excited to be here!
If there is a favorite way to eat Eggplant this has to be it! These bharwan baingans or stuffed eggplant are one of those things I always ask my mum to make when I go back home. Baby eggplants are slit and stuffed with a spicy stuffing made with onion, tomatoes and some spices. The eggplants are then cooked in a little oil till they caramelize from outside and become soft and pulpy from inside. Because of the stuffing, the eggplants take on a different smoky flavor that is intense and hard not to love!
This recipe might sound a little intimidating at first, but once you start you'll realise how easy it is. Everytime I make these bharwan baingans they have to be accompanied by some dal and rice. I like to mix up the masala with the baingans and that's the only way to get all that deliciousness!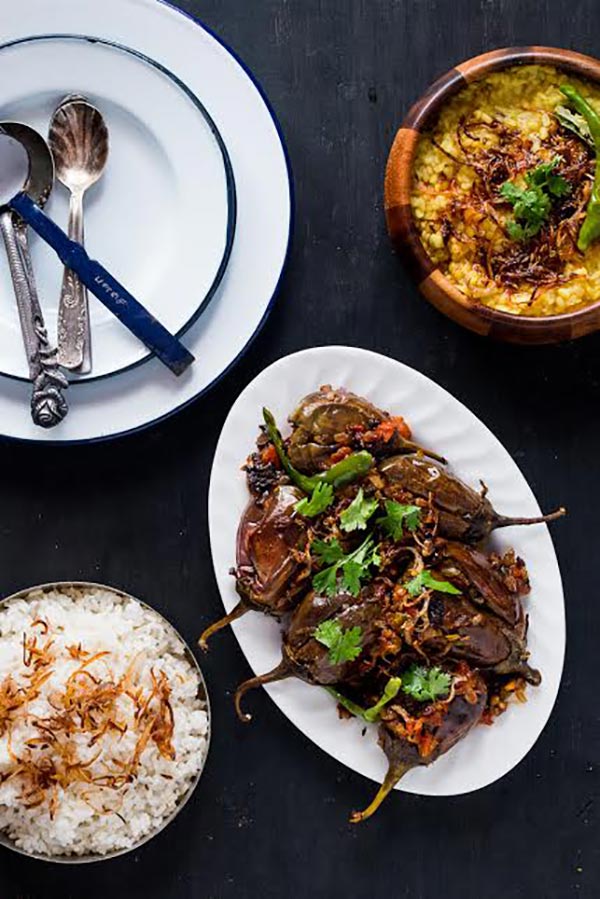 So what are you waiting for friends?! Go ahead and grab the ingredients. Seriously a simple no fuss side dish that will leave you wanting for more!
If  you enjoyed this recipe, don't forget to FOLLOW me on  INSTAGRAM ||FACEBOOK||PINTEREST ||TWITTER ||GOOGLE+ || BLOGLOVIN || YouTube
Indian Style Stuffed Eggplants - Bharwan Baigan
Ingredients
Ingredients:
2 tablespoons Oil
6-8 Baby Eggplants
Chopped Coriander for topping
For the Filling:
2 Onions, finely chopped
1 Tomato, finely chopped
1 teaspoon Ginger paste
1 tablespoon Coriander Powder
1 teaspoon Chili Powder
½ teaspoon Cumin Powder
½ teaspoon Turmeric Powder
1 teaspoon Raw Mango Powder (Amchoor)
Salt to taste
Instructions
Instructions:
To prepare the eggplants, hold them at the base and slit them lengthwise in such a way that they open out like a flower and you don't cut the baingan completely. Set aside.
To prepare the filling, mix together all the ingredients under filling. Stuff the mixture into each eggplant.
Heat oil in a pan and place the eggplants in the pan. Reduce the flame and cover and cook the eggplants for 20-25 minutes till they are soft and cooked through, turning once or twice midway.
Top with chopped coriander and serve hot.
 Some more delicious simple recipes ->>