Delicious Cheesy Roasted Garlic pumpkin rice makes an elegant yet totally comforting dinner that's ready in under an hour!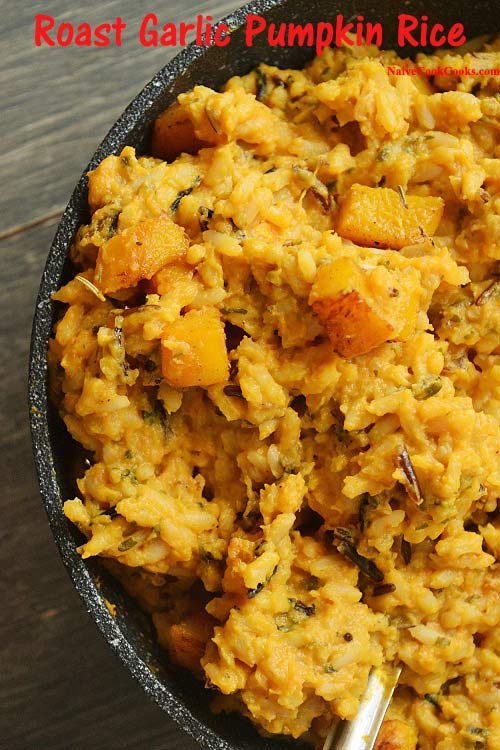 Friends, fall is here officially!! Even though temps are still in high 90'S during the day time, I can see all sorts of fall things : pumpkins ?, Halloween costumes, holiday entertaining stuff everywhere and that makes me so so happy!! I mean can you even believe that its almost October! I know I say this like a broken record every year but seriously why is time flying so fast?!!
These days I am all about easy dinners that are not just healthy but delicious & most importantly comforting!! And since we are talking about holidays which leads us to holiday shopping?, have you ever been to Kroger before? It's one of the grocery stores in my area and I absolutely love their produce section! These mini pumpkins are from there and when I saw them I just couldn't resist and ended up splurging on these cute pumpkins!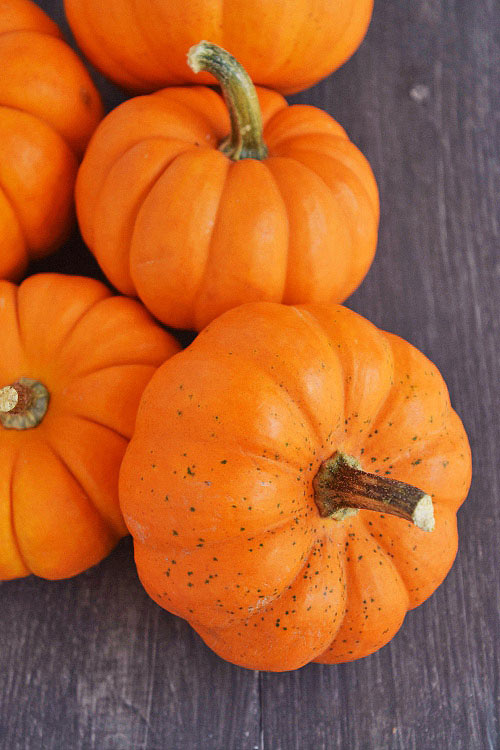 So as I mentioned I am all about easy fast cooking recipes these days, I realised Uncle Ben's LONG GRAIN & WILD RICE is my favorite way to make dishes when running seriously short on time! Like few days ago when I realised it was almost dinner time but I was out of basmati rice, brown rice and even quinoa!! I mean seriously out of all my life savers all at once and grocery store seemed so far away! So this came to my rescue! I bought this long time back and now I almost always like to keep few packets of Uncle Ben's rice in my pantry! Though most of the time I reach for plain basmati rice there are days when I need something quick but flavorful where I don't have time to think much about seasonings!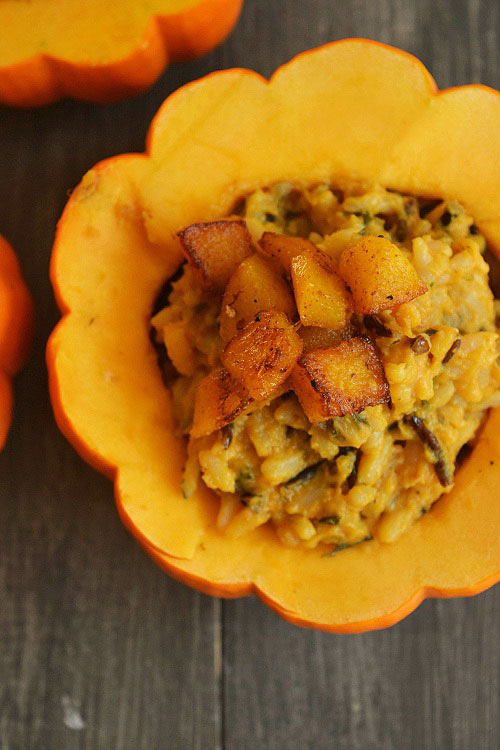 But I must tell you that this makes one killer of a pumpkin rice!! I mean even if you are not into pumpkin, you NEED to try this!! You can't even taste pumpkin here, if that's what you like! It's creamy, cheesy and so so flavorful! I ate almost half of the pan while taste tasting it! Sort of my fast standing lunch it was.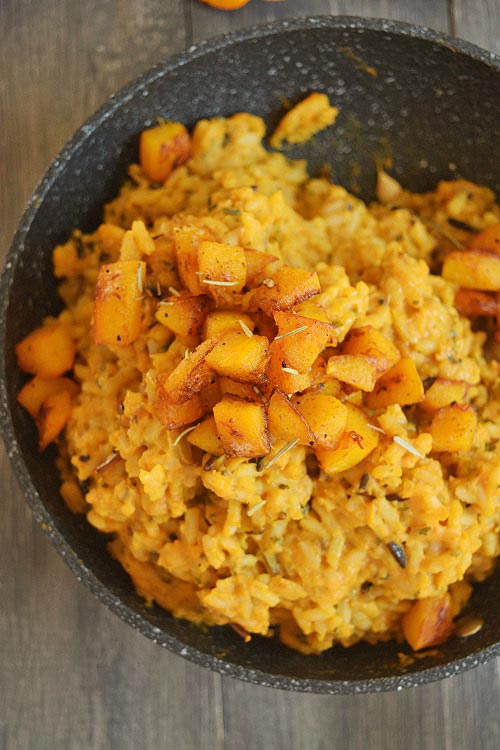 I like to serve it with some roasted vegetables and fried egg! Perfection ??
Follow along for a lot more delicious treats and life happenings on INSTAGRAM || FACEBOOK ||PINTEREST ||TWITTER ||GOOGLE+

Roasted Garlic Pumpkin Rice
Ingredients
2 garlic heads, roasted (Or You can buy roasted garlic paste from store, then use around 4 Tbsps)
2 tsp oil
1 cup pumpkin puree
⅜ cup half & half or heavy cream
Salt to taste
Black pepper to taste
2 cups water
1 tbsp butter
¼ cup shredded asiago or parmesan cheese
1 packet of Uncle Bens LONG GRAIN & WILD RICE original recipe
Instructions
If roasting garlic head at home, you can check out my post on how to make roasted garlic paste at home. Link is after the recipe.
In a pot, add oil. To it add garlic paste. Saute it for few mins and then add pumpkin puree and stir it around for few mins. Now add half & half or cream, water, salt & pepper and bring it to a boil. To it add rice contents from the packet along with full seasoning packet. Stir it all around and cover and cook on low heat for 25-30 mins until rice is fully cooked. Keep stirring it in between to make sure rice is not sticking at the bottom. Towards the end, add butter and stir it around.
Once fully cooked, stir in the cheese and taste for salt & pepper. Serve hot!
Notes
This can be made ahead and before dinner time heat it up in a pot by adding few tbsp of hot water. Bring it to a boil until it reaches the desired consistency and adjust salt & pepper.
P.S Recipe for Roasted Garlic:
https://www.naivecookcooks.com/easy-oven-roasted-garlic/
#semihomemaderecipes