Easy, quick yet satisfyingly delicious Sunday Brunch Butternut Squash Polenta with Crispy Jalapenos! So simple that it will make Sunday cooking fun!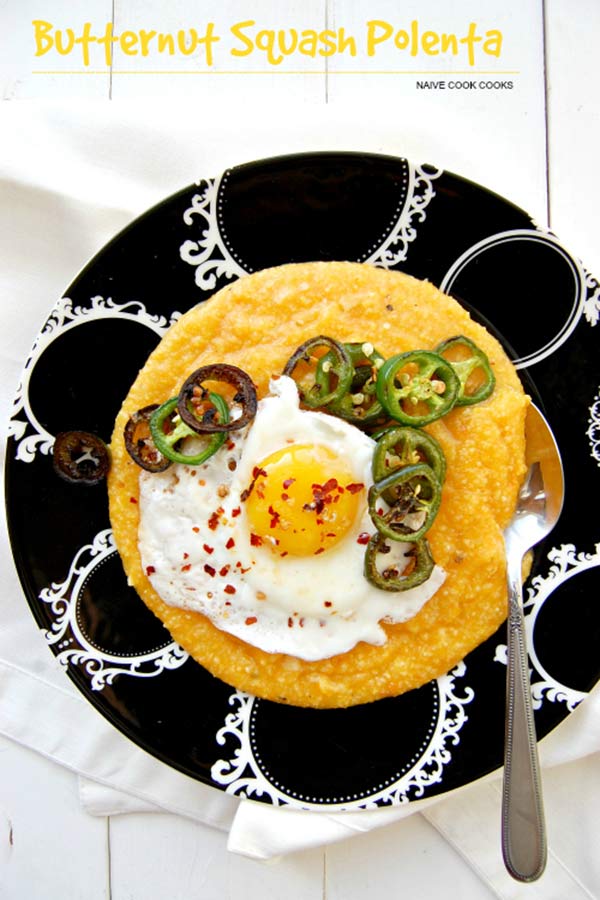 TGISunday!
Temps suddenly dropped here yesterday and its perfect fall weather. Yesterday we picked a huge pumpkin for carving and few small tiny ones for decorating! Fall always fills me with energy and with the start of October it feels like holiday and festival season for full 3 months! I totally love it. Lots of baking, fall scented candles, hot drinks and cozy clothing – there is nothing that I don't like about fall.
The one thing which I kind of despise is cooking for Sunday brunch. After having eaten two days out in a row, usually Sunday is when we try to catch up and chill at home and eat home cooked and it always kind of makes me uneasy. Sundays, usually all I want to do is continue my lazy streak and read and relax! Thought of cooking first thing in the day on Sunday makes me not so happy.
 So I thought why not start a new series named "Sunday brunch" here. It will be helpful for souls like us. Every Sunday I will be posting a simple and quick (mostly) Sunday brunch recipe which we all can make quickly and enjoy Sunday with our loved ones. I will try to keep things simple, less complicated but who knows I might throw in few surprises once in a while!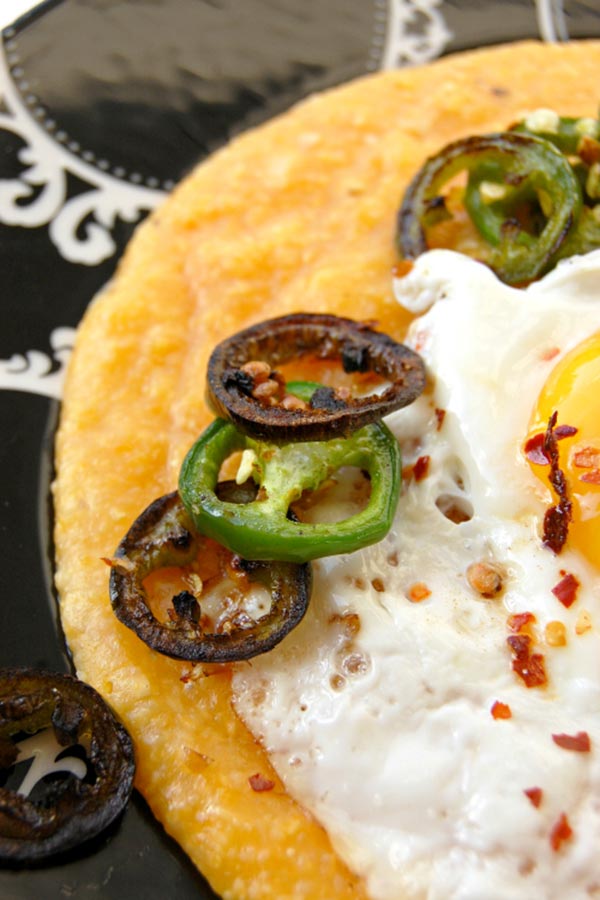 So todays recipe is the first in the series and it's a good one! Totally customizable, super nutritious and delicious, this is a one bowl or one plate meal if I say so. It takes very less dishes to cook  that saves you to time cleaning and gives you more time to relax and get energised for the week ahead. Since it's fall we are doing a butternut squash polenta and since it has a natural sweetness, I like to pair it with crispy spicy jalapenos and an egg on top because why not? Egg makes everything better (atleast in my world!).
 This is a cheeseless dish but you can totally add some cheese if you are in the mood for some extra calories. You can add marinara sauce or saute your favorite veggies, or some meat and make it more filling. Its a perfect fall cozy brunch and I even like eating it for dinner somedays!
 What do you guys usually make for weekend brunches?? I would love to know if there is some recipe you guys will like to see here.
Butternut Squash Polenta
Easy, quick yet satisfyingly delicious Sunday brunch!
Ingredients
⅓ cup butternut Squash puree
3 tsp canola oil, divided
3 garlic cloves, chopped
1+1/3 cup water
3 Tbsp corn grits (or polenta)
Salt to taste
Black pepper to taste
1 jalapeno, chopped in thin rounds
Instructions
If making your own butternut squash puree, pre heat oven to 350F. Place butternut squash cut side down on a lined baking sheet and bake for 45 min until fork tender. Scoop out the flesh and run in a blender or food processor to get a smooth puree.Keep aside.
In a pan, add 1tsp oil. Once hot, add garlic and saute until fragrant. To it add butternut squash puree and cook for 5-7 mins. Keep it in a separate bowl or plate. Wipe the pan and put another tsp of oil. Add chopped jalapenos and let them get crispy on medium-low flame.
Meanwhile, bring water to boil in a pot. Add corn grits and keep stirring on a med-low flame. Once it starts to get thick, add butternut squash, salt and black pepper. Make sure corn grits are cooked through.
Transfer to a bowl. Meanwhile jalapenos should have become crispy too.Transfer them on top of polenta. Now in the same pan, add another tsp oil. Break an egg and make egg of your choice. Serve it over polenta & jalapenos. Enjoy.
Notes
You can customize it by adding sauteed veggies, meat, sauce of your choice in place or along with jalapenos and eggs.
You can double, triple the recipe as per your needs!
More Butternut Squash Recipes: