Everyone's favorite Crunchy Baked Coconut Chicken served with a spicy cilantro sauce! A perfect easy meal for anytime!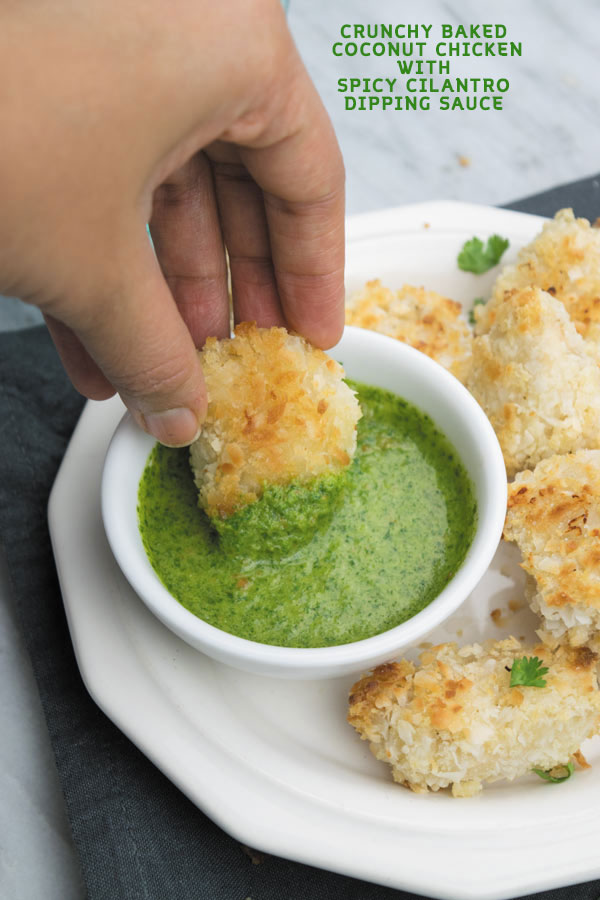 This CHICKEN.
Soft tender chicken pieces covered with a sweet, extra crispy coconut coating. If you have always enjoyed eating coconut shrimp, then this, my friend, is even better than shrimp! It is baked which makes eating this way more guilt free which is always good in my book!
I am not much of a sweet tasting food person. I like to have my sweets in dessert form but this chicken recipe has changed that. I was sort of worried when making this as I have never been a fan of sweet chicken. But, trust me, to me this is one of the best chicken recipes now!
Super easy, it's just like making my easy BAKED PARMESAN CHICKEN BITES which you all have been loving a lot but a little different with coconut involved in the breading.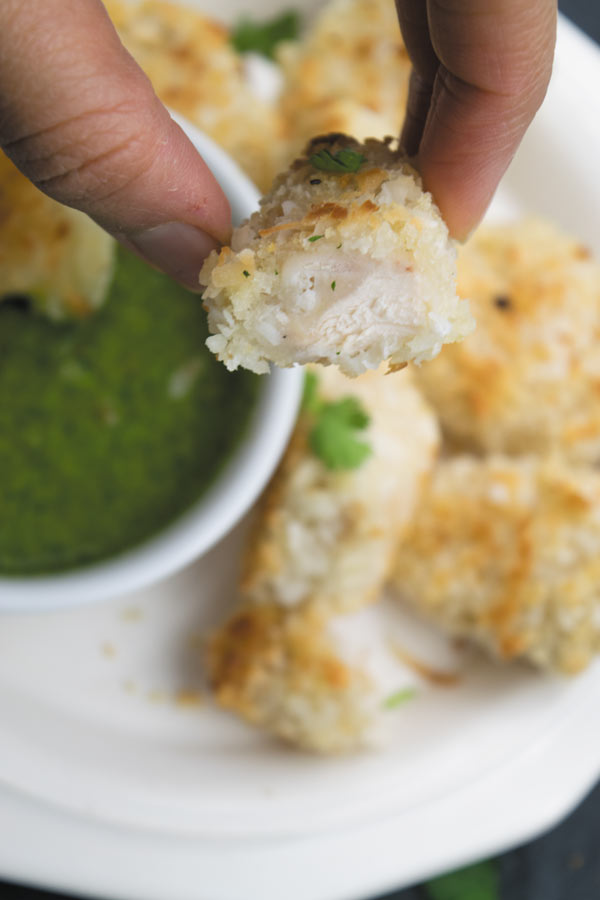 And forget about those sweet or sweet & tangy sauces you see everyone serving these with because this CILANTRO DIPPING SAUCE is the bomb! It is spicy, tangy and so delicious that it balances the sweetness from the chicken in such a manner that you will find yourself finishing the whole plate of chicken all by yourself just like I did! In my defence, Ronak did taste it! 😛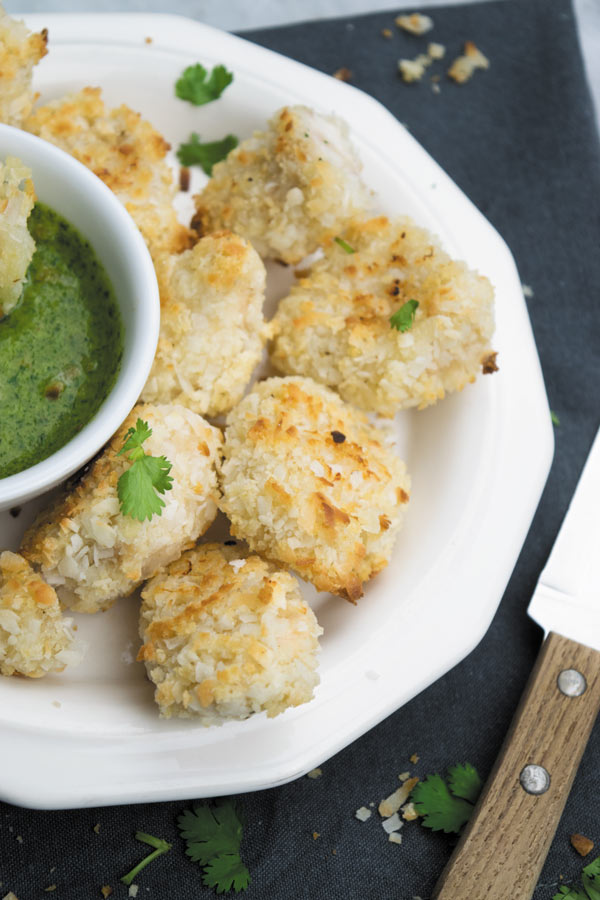 If  you enjoyed this recipe, don't forget to FOLLOW me on  INSTAGRAM ||FACEBOOK||PINTEREST ||TWITTER ||GOOGLE+ || BLOGLOVIN || YouTube

Crunchy Baked Coconut Chicken
Ingredients
Coconut Chicken :
1 chicken breast, cleaned and chopped into pieces about 1"*1"
1 cup sweetened shredded coconut (~60gms)
½ cup panko bread crumbs (~19 gms)
½ cup all purpose flour (35 gms)
Salt & Black Pepper to taste
4 tbsp melted butter
½ cup lite coconut milk
Cilantro Dipping Sauce:
1 cup cilantro
½ habanero
2 tbsp olive oil
Lime juice to taste
Salt to taste
Few tbsps of water as per need
Instructions
Coconut Chicken :
Arrange your work station.
Preheat oven to 400F.
In a plate place all your chopped chicken.
In another plate mix coconut shredded + bread crumbs .
In another plate keep all purpose flour mixed with salt and pepper.Taste it and make sure it has good amount of salt & pepper.
In a bowl mix butter and coconut milk.
Now first dip a chicken piece in flour mixture ->> then in butter mixture ->> then in shredded coconut mix and then repeat.
We are doing double dipping as it helps to give a more thicker crunchier coating.
Place these chicken pieces over a greased parchment paper on a baking tray and spray them with some oil.
Bake for good 10 minutes, flip after 10 minutes and spray with some oil and bake further for about 12-15 minutes until the crust is crunchy and chicken inside is completely white and cooked through.
Serve with the spicy dipping sauce.
Dipping Sauce:
In a blender, add all the cilantro dipping sauce ingredients and blend until smooth.
Some more delicious CHICKEN recipes ->>