Spiced Soft Pumpkin Oatmeal Cookies with a delicious Pumpkin – PB Glaze! Perfect fall worthy treat!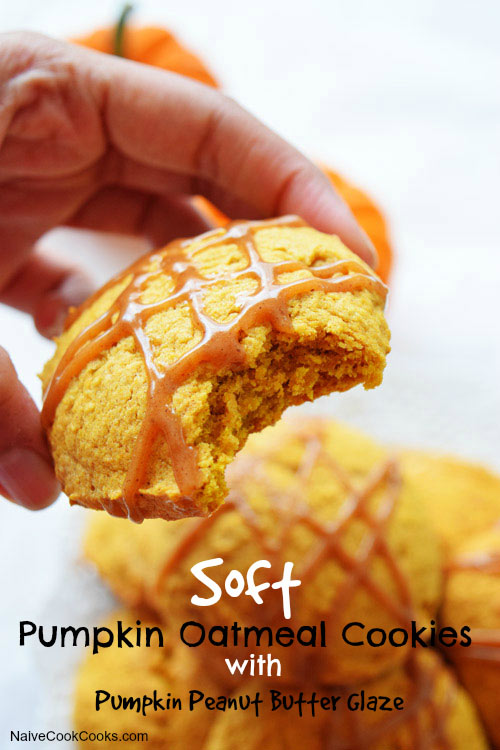 Cozy fall weather + Your favorite drink ☕ + THESE Soft PUMPKIN OATMEAL COOKIES. Yes that's what I am doing right now while typing this post. If you love pumpkin, you know you will absolutely love these. BUT if you don't love pumpkin?? Well I used to be in that group too but it has changed for sure with these cookies!! These are the best darn soft & chewy cookies I have ever made.
Oats make these cookies filling and I feel a big cookie + your favorite drink in the morning makes for the perfect Grab & Go breakfast these days when I have zillion of things to take care of and seems like even 24 hours in a day are not enough!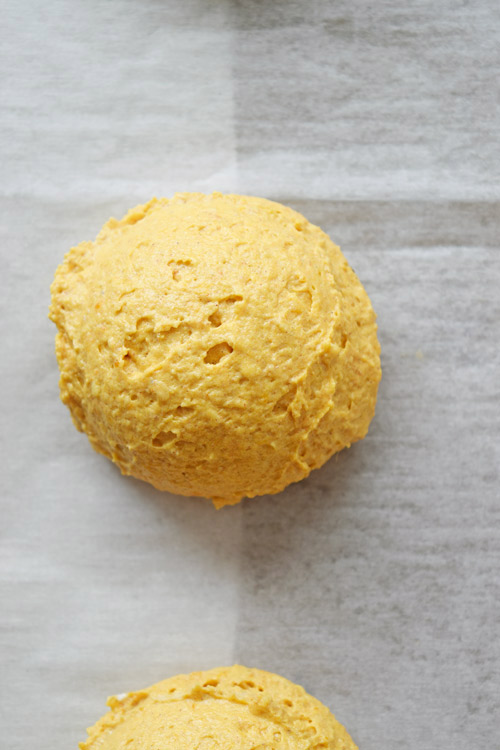 So as you can see these cookies have all the basic pumpkin cookie ingredients : flour, butter,pumpkin. But I would suggest to follow this recipe exactly. I tried playing around with the recipe and tried my first batch by using whole wheat flour in place of all purpose flour & whole oats in place of powdered oats. My first batch tasted horrible!!
So I went with oat powder (which you can grind in your food processor) and all purpose flour to make the BEST COOKIES I have ever tasted!! And I don't say this lightly! Try it for yourself. You will love these!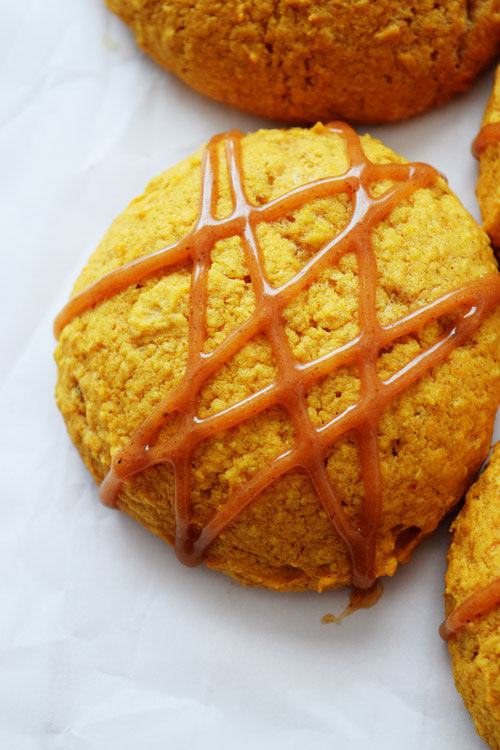 Now let's talk about this amazing glaze we are putting over these already delicious cookies. Yes you might think peanut butter & pumpkin is such a weird combination but trust me it ROCKS together! I had doubts too and few weeks ago when I was sent PB & Company's latest Pumpkin Peanut Butter, I wasn't sure. I kept it stored in my pantry and one day out of desperation I took a bite & OMG! it tasted amazing. The perfect combination of spices, pumpkin & peanut butter. So today's recipe is a lot inspired from it and you can totally skip the glaze if that's not your thing but I am telling you to give it at try atleast once!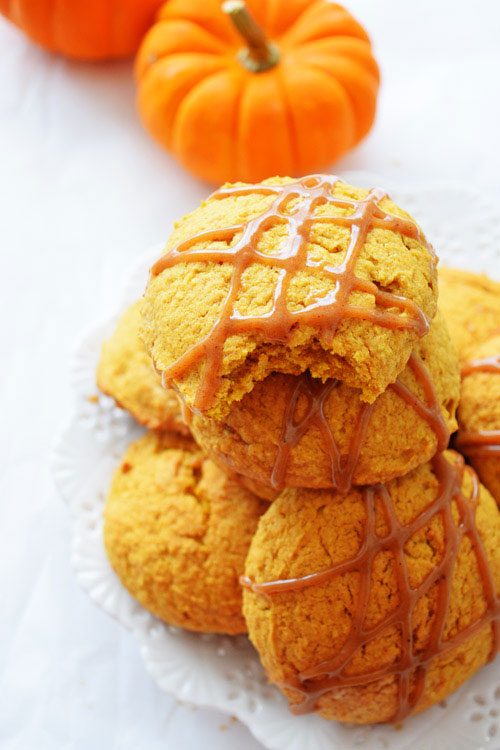 Follow along for a lot more delicious treats and life happenings on INSTAGRAM || FACEBOOK ||PINTEREST ||TWITTER ||GOOGLE+ || BLOGLOVIN
Soft Pumpkin Oatmeal Cookies
Ingredients
1 cup all purpose flour
½ cup + 2 tbsp old fashioned oats, (grind them to powder form)
½+1/8 tsp baking powder
1.5 tsp cinnamon powder
1 tsp ginger powder
½ tsp nutmeg powder
½ tsp salt
1 stick (8 Tbsps) unsalted butter at room temperature
½ cup brown sugar
½ cup granulated white sugar
1 large egg
2 tsp vanilla extract
¾ + ⅛ cup pumpkin puree
Glaze
2 Tbsp Pumpkin Peanut Butter ( If you can't find pumpkin peanut butter, add 1 tbsp pumpkin puree + 1 tbsp plain peanut butter + ½ tsp pumpkin spices)
1 tbsp water, or more/less as needed
4 tbsp white powdered sugar
Instructions
Pre heat oven to 350F.
Cream room temperature butter and both sugars for 5-6 mins until pale and fluffy.
In a bowl, mix flour, oat powder, baking powder, cinnamon, ginger, nutmeg and salt. Stir until mixed.
Once the butter & sugar mixture is pale & fluffy, add egg and vanilla extract and mix for another 30 seconds. Now add pumpkin puree and the dry mix and mix until combined evenly for a minute or so.
Lay parchment paper on baking sheet. I like to use ice cream scoop to scoop out my cookie dough as it means even cookies. But if you don't have one, you can use a spoon.
Scoop out cookies with little distance in between them. I ended up with 13 large and 1 small cookie on 2 cookie sheets.
Place them in the pre heated oven. Bake for 12 mins, rotate and bake for another 12 minutes or until bottom is golden brown.
Transfer them to a cooling rack and start preparing the glaze.
Mix all the glaze ingredients and transfer them to a zip lock bag. Tie it tightly at the back and cut a small hole in the front to pipe the glaze on cookies. Pipe glaze on cookies in any pattern you want and enjoy!!
Notes
Pumpkin Cookie Recipe adapted from
Chow.com
More Dessert Recipes:
https://www.naivecookcooks.com/no-bake-oreo-nutella-bars/