Hello you all! We are ONLY 12 days 14 hours 3 mins away from Christmas (if you believe this clock!) and I am so excited. It's the season for all the carbs, sweets and basically eating your weight in all your favorite foods (you gym lovers, keep those gym passes for next year!!).
I have compiled for you a list of my all time favorite desserts for the holidays!! So here we go!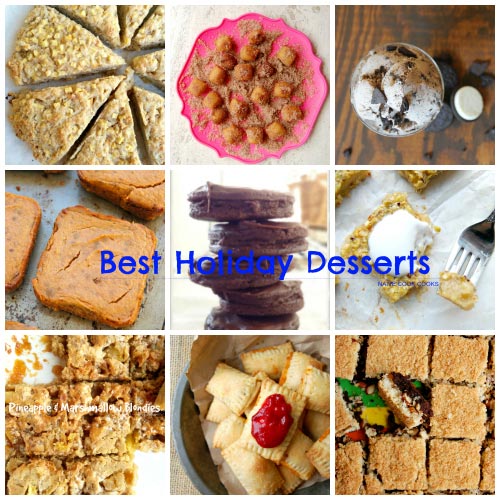 Top 16 Holiday Dessert Recipes:
https://www.naivecookcooks.com/triple-fun-chocolate-bars/
So chocolaty and nutty!
Coming from a non pudding fan, I can't get enough of this pudding!! So sinfully creamy and if you love popcorn, this is a MUST!
https://www.naivecookcooks.com/pineapple-marshmallow-blondies/
One word, make these! You won't regret! 
Eat them fresh and it will be hard to stop!
A cross between baklava and lemon bars, these will sure be a hit at any gathering!
For kids, simple omit the whiskey! Way better than any bakery!
https://www.naivecookcooks.com/sweet-potato-pie-mini-pop-tarts/
Classic sweet potato pie re-invented!Bite sized and so much fun to eat!
https://www.naivecookcooks.com/spiced-pumpkin-bars-with-hazelnut-crust/
Bored of age old pumpkin pie at your dinner table?! Try these bars with hazelnut crust! So good!
If you are in the mood for something cold for dessert, this fresh strawberry & oreo ice cream won't disappoint!! Make in advance!
Last minute dessert idea?! Make these brownies with store bought brownie mix and no body can tell!
https://www.naivecookcooks.com/brown-butter-blondies/
My absolute absolute favorite of all time! This is a keeper recipe!
https://www.naivecookcooks.com/apple-scones/
These scones are loaded with small chunks of apple! Perfect for Christmas morning breakfast!
https://www.naivecookcooks.com/mint-chocolate-ice-cream/
Another cold dessert with fresh mint flavours! This ice cream is so much better than any store bought version! Telling you!
No hassle of cutting lemon bars! Make them in muffin tin instead! So deliciously lemony & indivisually portioned!
https://www.naivecookcooks.com/heavenly-brownie-cookies/
Brownies + cookies = best ever!
Perfect holiday treat with crispy cookies and creamy minty center!
Go nuts with all the Holiday goodness!!
Tag your creating from here with #naivecookcooks on Instagram. Would love to see what you make out of all this!! Happy eating!