These baked nacho fries won't stop from pleasing everyone around!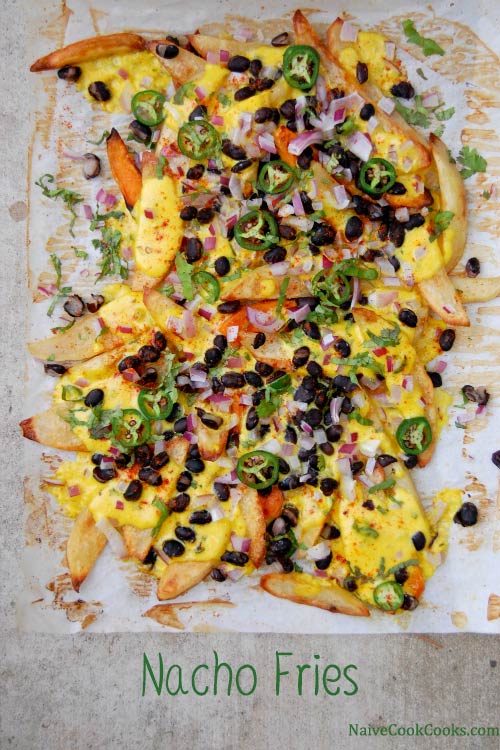 I have solved your Christmas brunch problem.
These baked nacho fries are the BOMB! I mean it, seriously!
BUT, Before we start talking about how awesome, this brunch is going to be, I wanted to ask how far are you in your Christmas planning?!
This time we got a REAL tree which smells so amazing that all the time I feel I am living in a forest. It's my first time getting a real tree and I am so hoping for it to last good 2-3 months! Don't judge me but I can totally see myself having Christmas tree around until Jan-Feb. On another note, I am so waayyyy behind my gifts shopping and I am totally planning to get it done by this weekend!We did get a tree this year but there is not even a single ORNAMENT on our tree yet! We have still not found time to decorate our tree and so as you can imagine we are nowhere near the timely punctual #everythingontherighttime kind of people!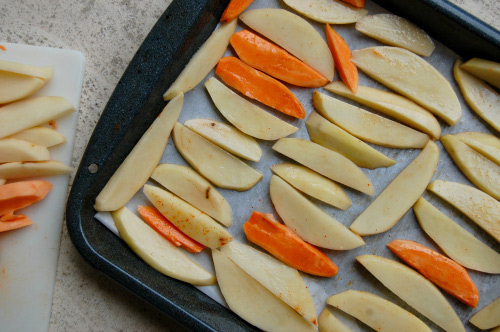 I am going to be travelling for few days before we leave for our Christmas holidays so I am pulling double shift these days, kind of. Working on 2-3 recipes a day ,trying, retrying, shooting, planning way ahead for my posts to be timely and above all so I can relax and enjoy Christmas time with friends and not worry about work.Did I tell you that I am excited to be seeing our friends after a year almost and that's keeping me going!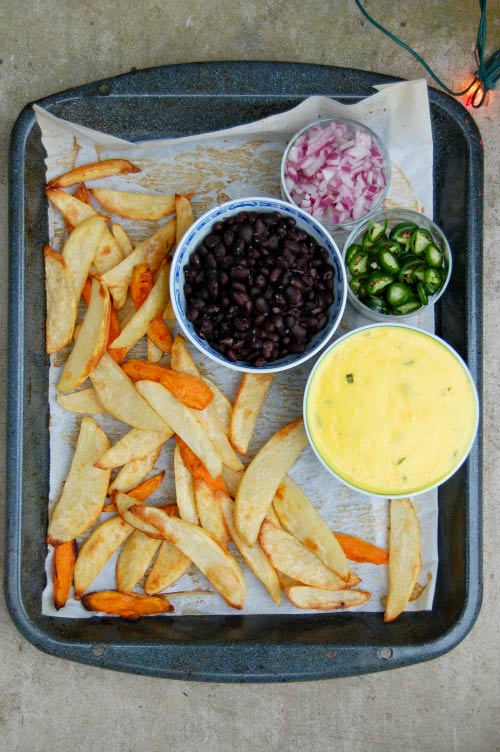 Baked potato & sweet potato fries with a cheesy #fromscratch cheese sauce, black beans, picked jalapenos, onions is what dreams are made of. Waking up to this yummy delicious brunch will seriously make you feel like Santa came early this year! You might say it's more of an appetizer but I will say it seriously dreamily passes as a brunch even way better than as an appetizer. It is healthy, baked, got protein, little cheesy goodness (it's holidays so it's all legal!) and your favorite toppings.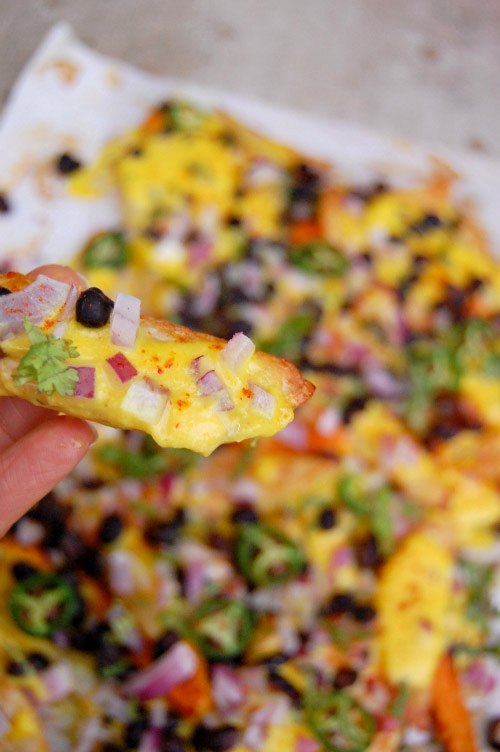 You can plan ahead and make sauce, beans and do chopping part a night before. You can even slice potatoes and soak in water overnight. This will make this brunch a cake walk. Just baking the fries, assembling and eating is what you can concentrate on the day you make these.
I am off to getting gazillion of other tasks done! Till then, eat these and be merry!
Nacho Fries
Ingredients
5-6 russet potatoes,cleaned,peeled and sliced lengthwise
1-2 sweet potatoes,cleaned,peeled and sliced lengthwise
Salt to taste
Red chili to taste
2 tbsp olive oil
1 tsp olive oil
1 jalapeno, chopped
1 tbsp all purpose flour
½ cup milk, 2%
½ cup water
2 cups sharp cheddar cheese, shredded
½ cup dry black beans, cleaned and boiled
salt to taste
½ tsp red chili powder
¼ tsp cumin powder
2 jalapenos, sliced in thin circles
½ red onion, chopped
2 tsp white vinegar
Salt to taste
Red chili powder
Fresh cilantro, chopped for garnishing (optional)
Instructions
Preheat oven to 375F.
Layer the sliced potato wedges on to a lined baking sheet and drizzle with olive oil and add salt and red chili powder to taste. Stir them around to evenly coat with olive oil and spices. Layer them in a single layer and bake.
Bake for 30 minutes. Flip and continue to bake for another 30 minutes until crispy.
Sprinkle more salt and red chili pepper on these baked fries.
Meanwhile, to the already boiled beans, add salt, red chili and cumin and mix.Keep aside.
In a pot, add 1 tsp olive oil. Once hot, add 1 chopped jalapeno. To it add flour and cook until golden and raw smell goes away. Add milk, water and continue to stir constantly. Add salt to it. Add shredded cheese and take it off heat. Stir until all the cheese melts. If needed put it back on low flame and stir until you get a creamy cheese sauce. Taste and adjust salt.
For assembling, cover the baked crispy fries with black beans, cheese sauce, onions and jalapenos. Bake them for another 10-15 minutes until the cheese in the sauce melts. Broil for a minute or two. Serve with a drizzle of vinegar all over these and garnish with fresh cilantro.
More Nacho Recipes:
https://www.naivecookcooks.com/how-to-make-oven-baked-fries/