Fresh Strawberry Oreo Ice Cream makes for such a fun summer treat! Made using fresh strawberries, Oreo cookies and basic ingredients, this one is sure to please everyone!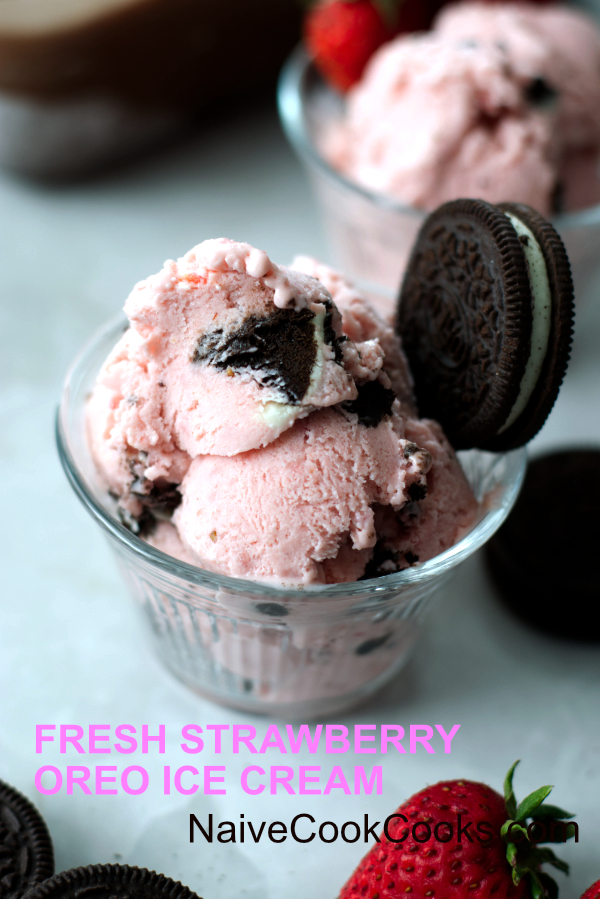 RECIPE UPDATED ON MAY 11TH 2020.
Finally got around to updating one of our favorite ice cream recipe which I posted long time ago and totally forgot about it! Hope you make this and enjoy with your loved ones.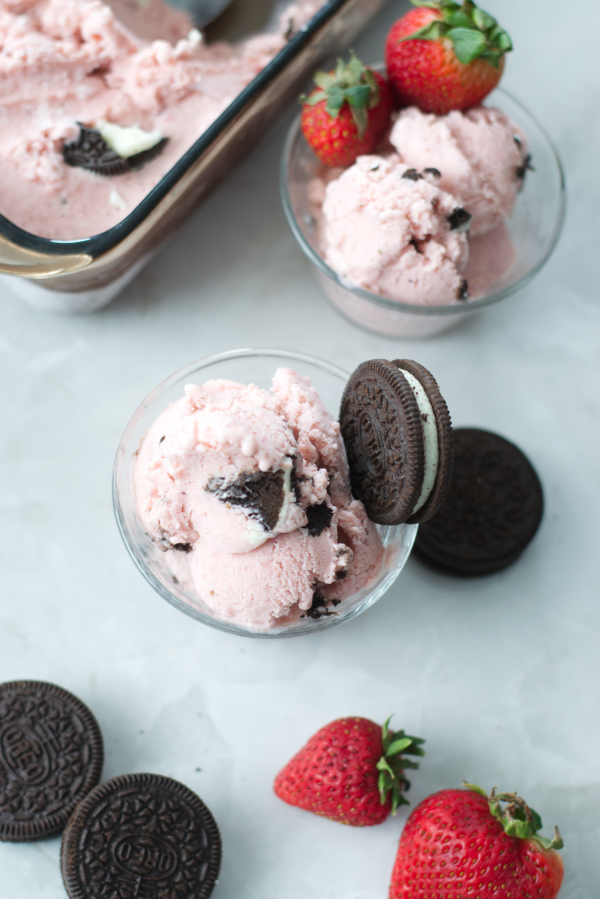 Fresh strawberries + Oreos = what's not to love? The best ice cream combo in town guys! I am updating this recipe and this time I increased strawberry puree from 2/3 cups to 1 cup and added little bit of vanilla extract and a drop or two of pink food color (which is completely optional but since I wanted it to look more appealing, I went with it!)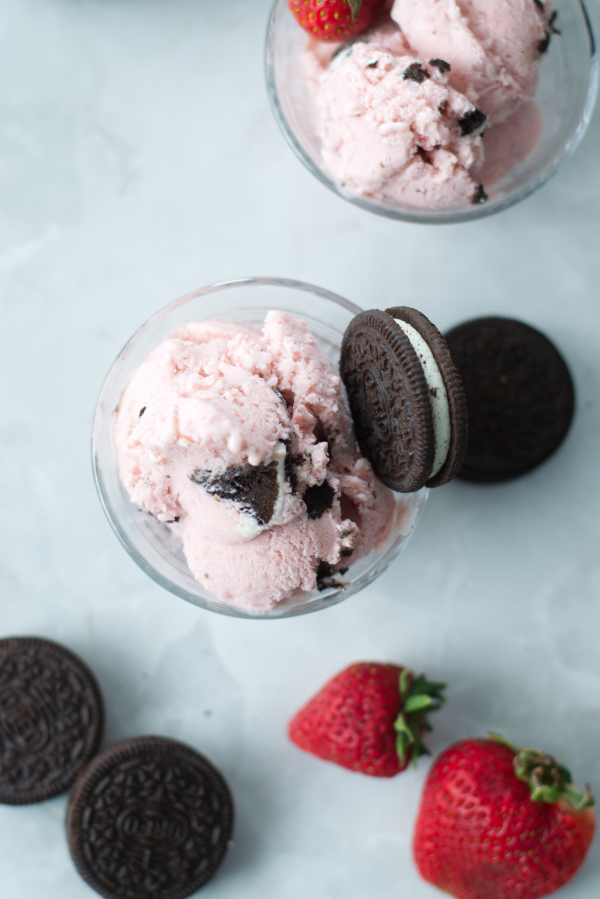 Text and picture from here from earlier :
Since I purchased an ice cream maker, I make sure to keep our freezer well stocked all the times. What better way to treat your guests than with a frozen treat in  this surprisingly hot summer weather. Lately temperatures have been touching almost 100 degrees F here . This ice cream recipe. Let me tell you about it. I have been lingering on writing this post for quite a while now but whatever I would write, never seemed right. I always ended up editing or deleting the few lines I would scribble.  After much thought, I decided to keep it simple because my lack of words shouldn't stop you from making this. This a superb ice cream. And when I say so, I mean it with complete honesty. I have tried so many ice cream recipes which boast of being made with fresh  ingredients. But none could even come close to it.  The fresh strawberries and oreo cookies  together give it a mixed tangy and sweet flavors. To make it more extravagant, Ronak made this unbelievable strawberry vodka sauce. It just kind of completes it. It is a perfect treat for this warm weather.
Edited May 11th 2020 : P.S This is how we served it when we made it many moons ago! This time I totally forgot to make strawberry vodka sauce but if you want to take this recipe fancy, do make this!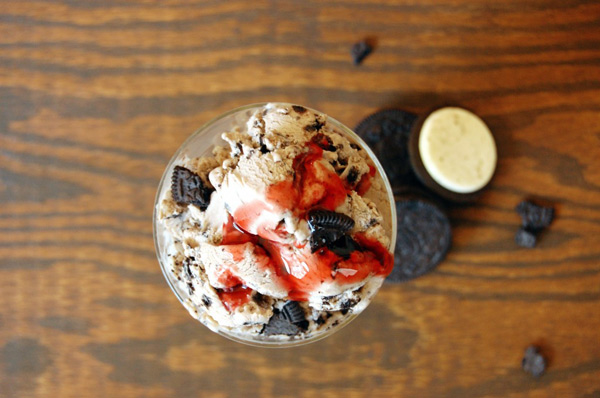 Fresh Strawberry Oreo Ice Cream
Ingredients
Fresh strawberries & Oreo cookies ice cream
1 cup whole milk
¾ cup sugar
2 cups heavy cream, divided
Pinch of salt
2 tsp vanilla extract
1-2 drops of pink food color (optional)
1 cup fresh strawberry puree ( Wash and chop fresh strawberries and puree them in blender. You can keep half in chunks and half in puree form if you prefer strawberry pieces in your ice cream)
10 Oreo cookies or more as per your taste, crushed to bite size pieces or smaller
5 large egg yolks
Strawberry vodka sauce:
4-5 strawberries, chopped
¼ cup sugar
¼ - ½ cup vodka
Instructions
In a medium saucepan, warm the milk, sugar, 1 cup heavy cream and salt.
Now pour the remaining 1 cup heavy cream into a large bowl and set the strainer over the top of this bowl.
In another separate bowl, whisk the egg yolks and then add little warmed up milk. Stir and pour it all into the remaining infused milk by scraping all the egg mix.
Cook the custard on medium heat, stirring constantly with a heatproof spatula, until the mixture thickens and coats the spatula. It's done when you run your finger over the spatula and it should leave a mark that shouldn't flow back.
Immediately strain the mixture into the cream, then stir the mixture over an ice bath until cool. Add the strawberry puree, pink food color and vanilla extract and gently mix it.
Cover the mixture and refrigerate it thoroughly for few hours or preferably overnight, then freeze it in your ice cream maker according to the manufacturer's instructions. While churning the ice cream in ice cream mixture, from the top slowly add the crushed Oreo cookie pieces.
Meanwhile for sauce, Cook strawberries and sugar in a small pan. Let strawberries leave all the juices. Using back of wooden spatula, break them until you get a thick syrup. Add vodka and let the alcohol burn. Once cooled, keep the syrup in airtight container in refrigerator for up to 2 weeks.
When ice cream is ready, cover it tightly and freeze until firm. Freeze at least 2-3 hours before serving to get hard ice cream or have it soft serve style immediately.
Serve ice cream with few crushed Oreo cookies and strawberry vodka sauce.
More Ice Cream Recipes: