Better than bakery and stuffed with fresh cherries and drizzled on top with a chocolate whiskey sauce. Scones can't get better than this!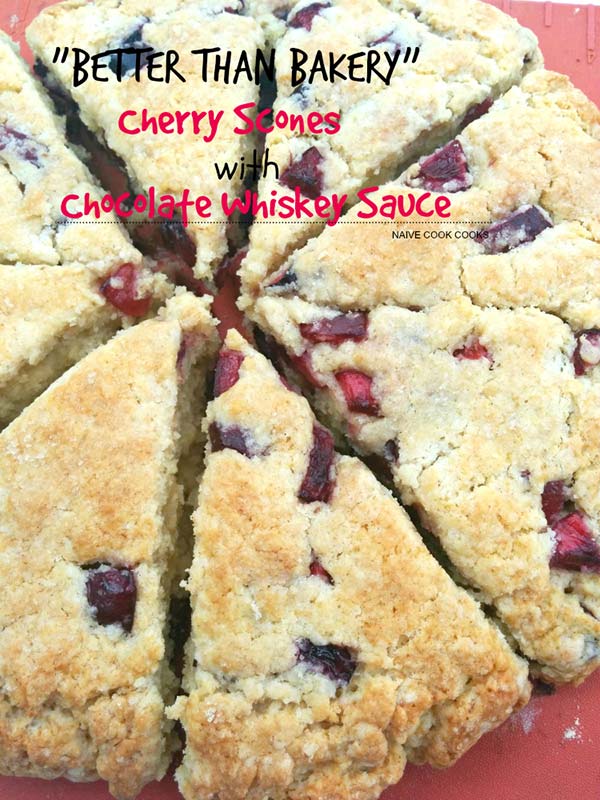 I have been in a phase where I kind of hated scones. Have you ever come across dense, hard and bland scones? I have. Actually they were my very first attempt at scone baking and as you can guess, kind of last too. After that almost for few years I never looked at scones the same way. I would pass them whenever I could get away with and order something else instead. I keep seeing them everywhere in books, magazines, on internet, videos!! But my mind was made up. I was in this notion that scones are not for me.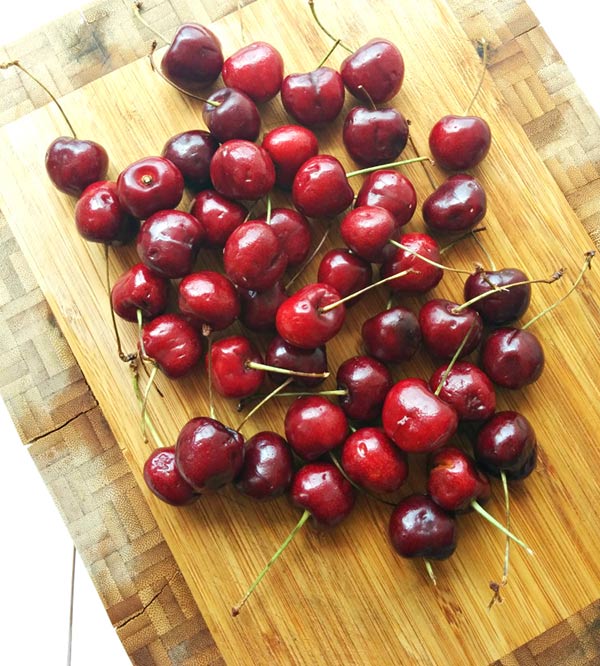 As you might have noticed, it happens a lot with me. I kind of try my hands at something and if I fail once, I give up which in my mind is not the right thing to do. Isn't it all about never giving up and trying hard until you get the desired results.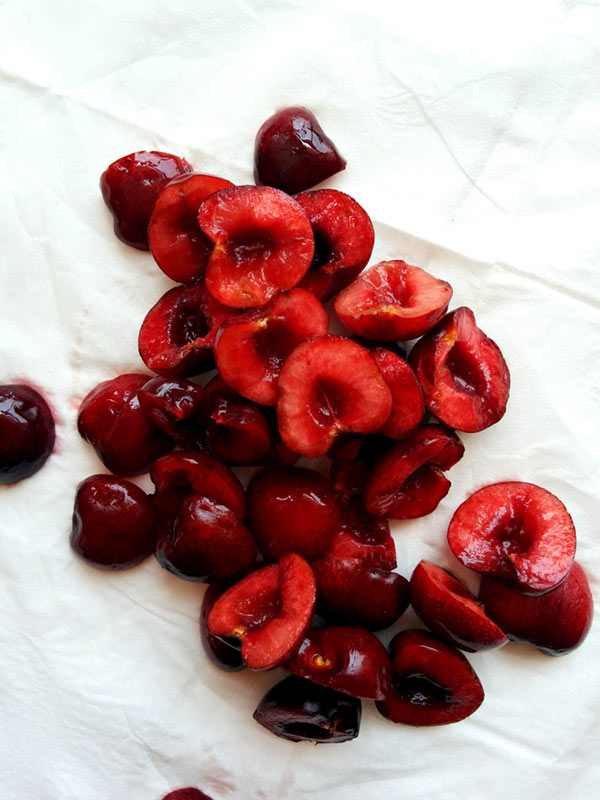 These scones. I just don't know how to describe these as everything I try to write feels not worth enough to describe these. Coming from a person who has never been a scone fan, these are ridiculously good! Little crisp on the outside with soft, moist interior, pieces of freshly chopped cherries in every bite, they are a scone lovers dream. Served with warm chocolate whiskey sauce, these scones will rival any good bakery scones. Still not convinced?! Try for yourself!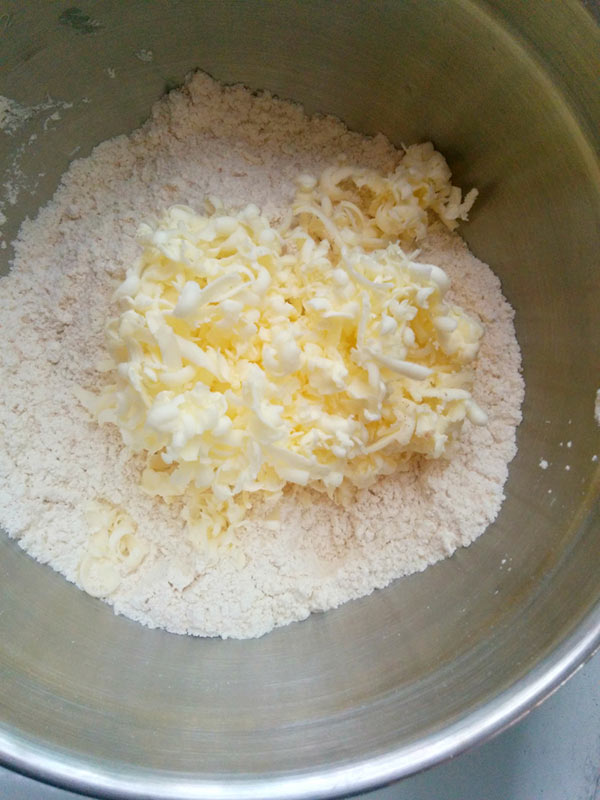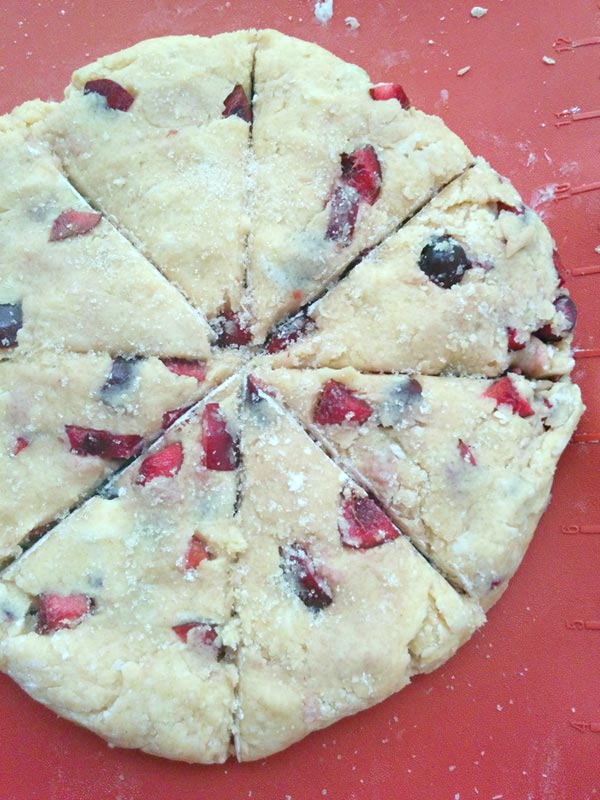 You won't believe when I tell you that in the last two days I have consumed a dangerous amount of these scones! And that sauce I am thinking of adding it to my coffee!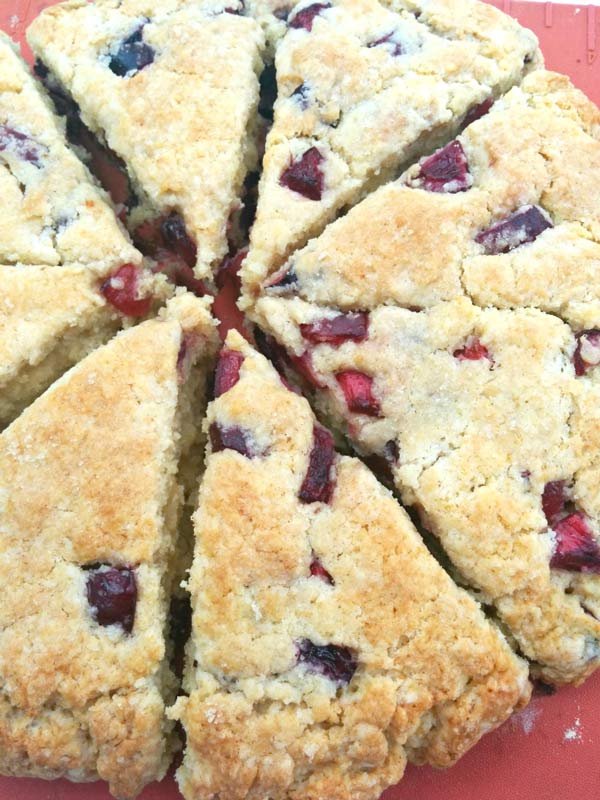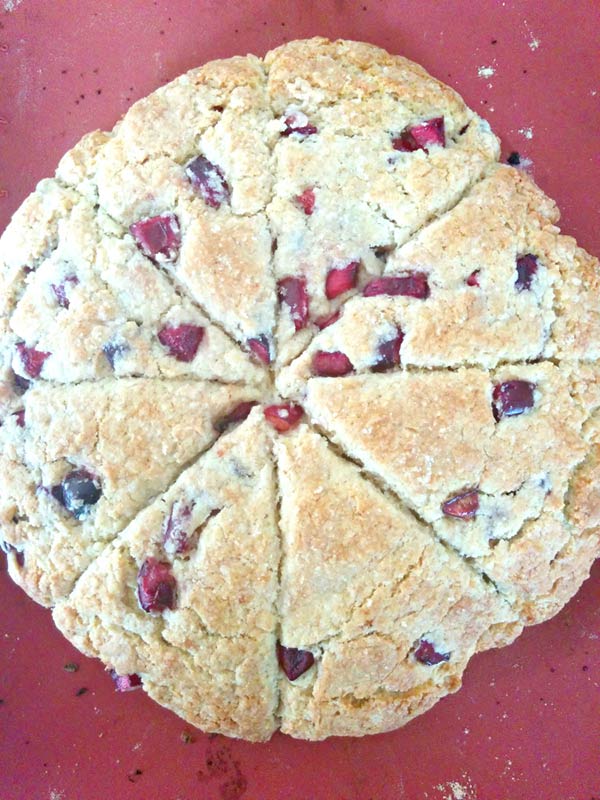 These scones taste good even after two days. Just make sure once they cool down, wrap them tightly in a plastic wrap! Must for keeping them as fresh and moist as when freshly made!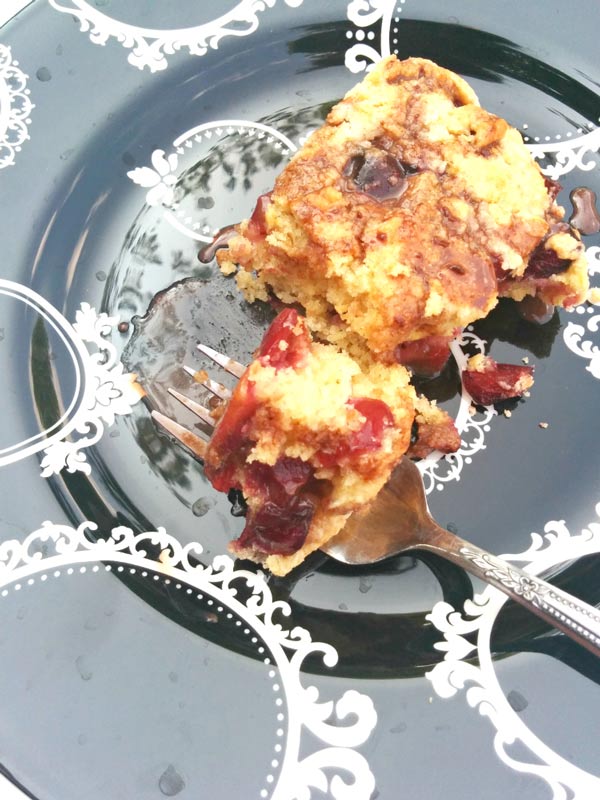 On another note, I have been compiling a list of cookbooks I need to get hold of and I will absolutely love to get any recommendations or your most used cookbooks names or cookbooks you think might be good!! Please I will really appreciate that! Now leaving you with these scones and I am off to a run just so I can consume another one! Post workout treat, anyone?!!
Cherry Scones With Chocolate Whiskey Sauce
Ingredients
Cherry Scones
2 cups all purpose flour
½ cup granulated sugar (I used cane sugar)
2.5 tsp baking powder
½ tsp cinnamon powder
½ tsp salt
½ Cup unsalted butter, frozen and grated on a grater (I used a box grater)
½ cup heavy cream
1 large egg
1 tsp vanilla extract
1 cup packed with chopped fresh cherries, pitted
Coarse sugar for sprinkling on top before baking
Chocolate whiskey sauce
2.5 Tbsp semi-sweet chocolate, chopped or chips
⅓ cup milk (I used whole milk but you can use any fat content)
3 Tbsp sugar
1 Tbsp heavy cream
½ tsp vanilla extract
1 tsp good quality whiskey
Instructions
Cherry scone dough
Preheat oven to 400F.
Adjust baking rack to the middle position. Line a baking tray with parchment paper or silicone mat and keep aside.
In a bowl, as flour, sugar, baking powder, cinnamon and salt. Grate the DirecTV butter on a player and add it in the stirred flour mixture. Mix it using your hands or pastry cutter until it resembles a coarse meal. Set aside.
In another small bowl, add heavy cream, egg and vanilla extract. Stir it until it gets smooth. Add it to the flour mix and using a rubber spatula move t around very very gently until ask the flour send to be most. Do not over work the dough or you will get hard scones!!
Slowly add chipped cherries and using your have just being it all together so cherries get evenly distributed but with minimum stirring of the dough. Try to father dough into a ball add much as possible and transfer to the lined baking sheet. Using your have pat it down into an 8" corridor and using a sharp knife cut in 8 slices. If you feel knife getting stuck, you can cost the knife with all purpose flour everyone you cut in the dough.
Sprinkle with coarse sugar.
Bake in a Porte heated oven for 22-25 minutes until to gets golden and inside gets cooked. Once out of the oven let them cool.
Chocolate whiskey sauce
Melt chocolate over a double boiler. I usually fill a pot with ⅓ water and bring to a boil. Then I lower the heat and place a glass or stainless steel bowl on top of the pot ( take a bowl that easily sits on the pot). I add the chocolate and make sure bottom of the bowl is not in contact with the water in the pot. In few minutes, chocolate will start to melt. Stir it around and once melted keep it aside. In another pot bring milk and sugar to a boil. Take it off heat and add heavy cream and chocolate and stir until mixed. At this point if you want thicker sauce, you can add more sugar. Once little cool, add whiskey and stir, serve over scones!
More Scone Recipes: