Tangy and chewy – these Pistachio Lemon Bars with coconut whipped cream make the perfect summer dessert!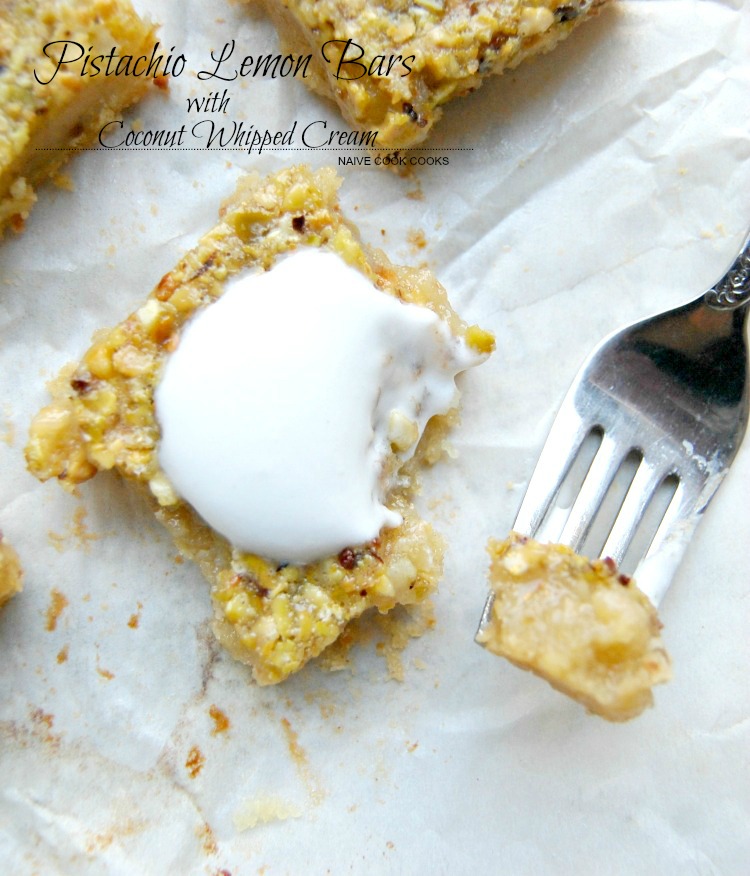 Lemon bars = Good, Pistachio lemon bars = out of this world!
I was on a lemon bar kick when I made these, so much so that in a week I made them thrice: one time with crust, second time without crust and third time with and without crust! Let me tell you that they tasted delicious in every way. We were all kinda done with tangy lemon bars for a while as we consumed an obnoxious amount of these already. But we were wrong. Not.Really. Come these and things are different here. These pistachio packed lemon bars with pistachio crust and a pistachio lemon filling . Verdict: We are all hooked. Literally. Some people in my family have declared these even better than lemon bars. It even reminds some of baklava – a popular middle eastern dessert! I find it to be a cross between baklava and lemon bar. Like getting best of the both worlds in these cute little bars.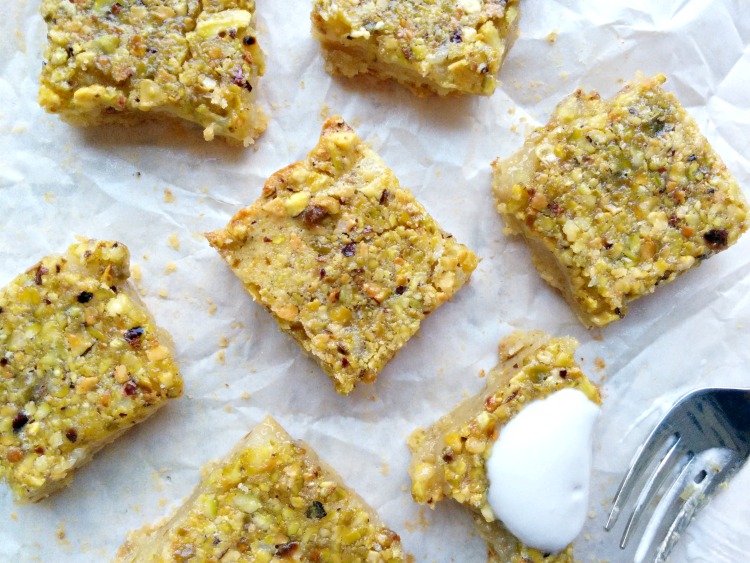 Pistachio imparts them a slightly chewy texture which makes the experience of eating these so much better. And this whipped cream! Coconut whipped cream is the new whipped cream these days! Its hard to find people whipping up that old style whipped cream with heavy cream and all. Coconut whipped cream and lemons together make it kind of a tropical dessert.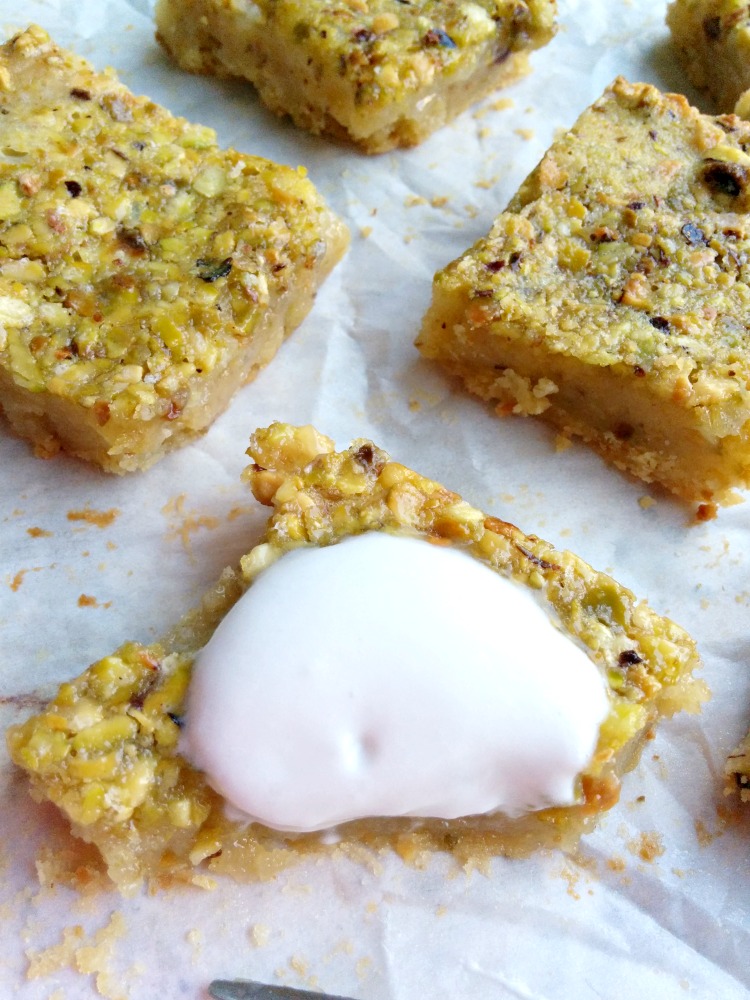 Summers call for this dessert. I mean it! These taste best when serve chilled with a dollop of coconut whipped cream. Perfection!
Wonder what are you guys whipping this summer?? I would love to get new ideas.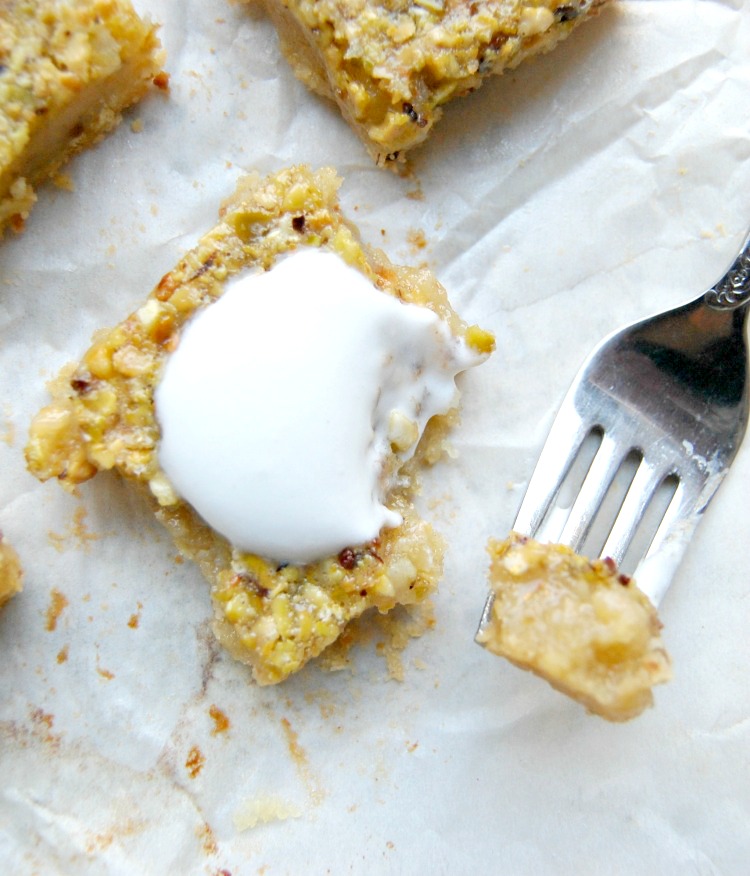 Pistachio Lemon Bars with Coconut Whipped Cream
Ingredients
For the crust
1 cup unbleached all purpose flour
¼ cup confectioners sugar
Pinch of salt
½ cup (1 stick) cold, unsalted butter, cut in pieces
¼ cup shelled pistachios
For filling
2 eggs
1 cup sugar
½ tsp baking powder
2 Tbsp all purpose flour
1 tsp lemon zest
4 Tbsp lemon juice (I got from juice of 2 lemons)
⅓ cup shelled pistachios
For coconut whipped cream
1 can full fat coconut milk
1 Tbsp powdered sugar
Instructions
For the crust
Preheat oven to 350F. Process flour, sugar and salt in a food processor. Add butter and pistachios and process until it comes together. In a parchment lined baking pan, preferably an 8" square shaped, press the dough evenly. Bake at 350F for 16-20 minutes until only lightly browned.
For filling
Grind the pistachios in the food processor for a kind of chunky texture. Whisk together all the ingredients and pour in the baked crust. Bake for around 20 minutes at 350F. Once done, let it rest out until warm. Chill and cut in pieces. Store in an airtight container in refrigerator.
For coconut whipped cream
Leave the coconut milk can in the refrigerator over night. Move it without much disturbance and place it the same way as kept in refrigerator. Sitting overnight ensures that the cream and water separate properly. In a bowl take out the coconut cream. Add sugar and whip until soft peaks form. Serve bars with coconut whipped cream.
More dessert Recipes: