These refreshing Rose Lassi Popsicles made using just 4 ingredients are perfect for a hot summer day! You won't be able to stop at just one!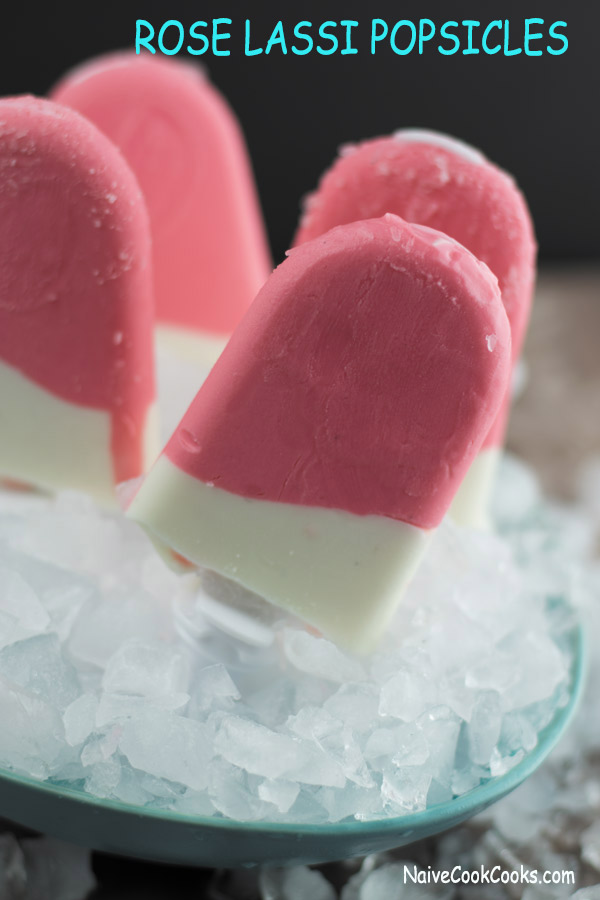 Friends let's talk about these – the BEST summer treat in the entire world! Rose syrup has always been one of my favorite flavors and growing up drinking Rose Lassi and Rose drinks was a very common summer thing to do in India. Now since I am all grown up and when I want to drink it, I have to go make it all by myself unlike when I was back home and my mom would make it for me!. So I thought – what if I make my favorite rose lassi into popsicles so I can have it any time I want without any efforts!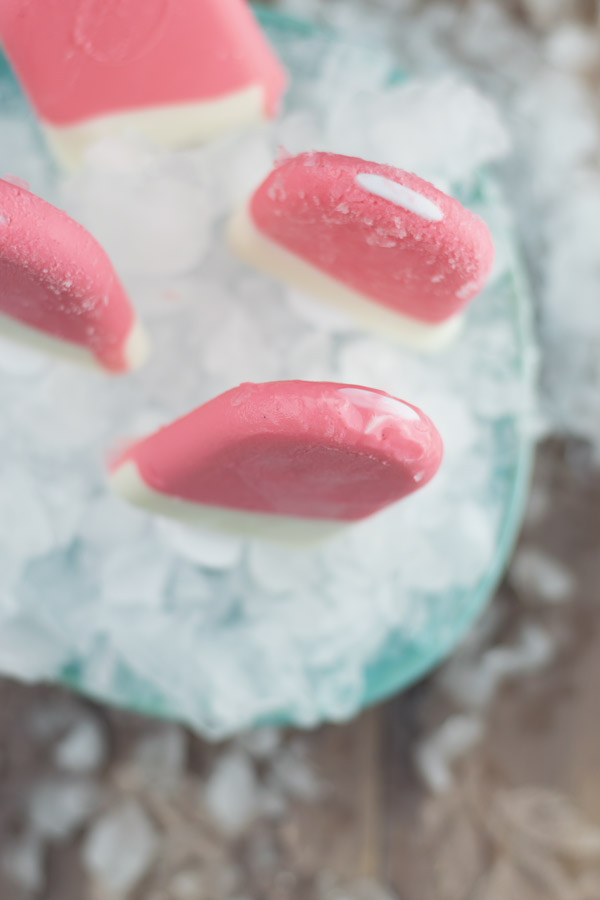 So late last night when I was craving something sweet I reached out for these because these have NO FUNNY INGREDIENTS. Just good quality Greek Yogurt, your favorite Rose Syrup, sugar as per taste and milk. So when you eat these you won't feel guilty at all. It's a very healthy GOOD-FOR-YOU sort of summer treat that won't feel guilty eating!
You can play around with flavors and try other flavors as you think fit! Making these popsicles is seriously simple – just mix greek yogurt with milk, rose syrup and sugar. Pour in into you favorite popscile mold and freeze for few minutes until almost set. If you are going for two tone here then add a mixture of plain greek yogurt mixed with milk and sugar and fill up the popsicle mold upto the brim and freeze! That's it! Now wait until your popsciles are ready to eat BUT recently I received this Zoku brand Popsicle maker for Christmas gift and it's the most amazing thing ever!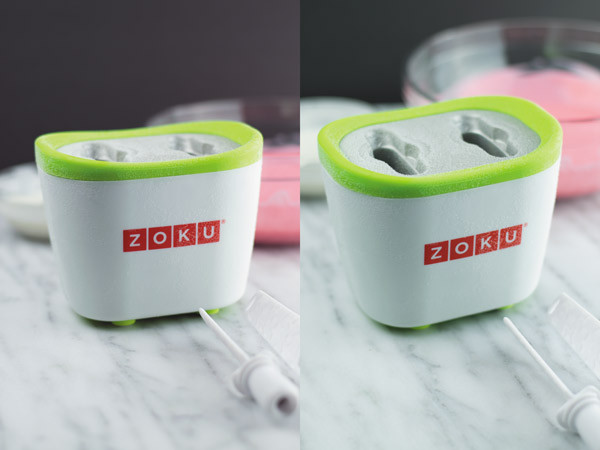 All you do is freeze the machine for 24 hours and the day you want to eat popsicles, just make your popsicles mix, add inside the mold and in few minutes(!!) you have popsicles ready! And they are just how popsicles made after freezing in freezer for good 10-12 hours taste! I am in love with this pop maker and can't thank enough for this amazing and very thoughtful Christmas Gift I received!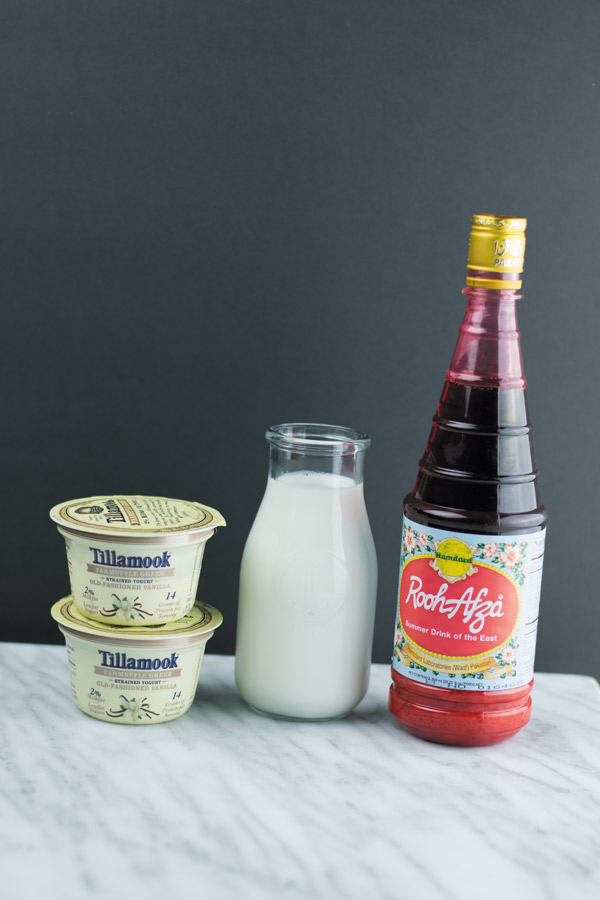 For these popsicles, I used my favorite vanilla favored greek yogurt but you can also use plain greek yogurt, milk, sugar and rose syrup. These is my favorite rose syrup and available easily almost in all major grocery stores. If you have Indian grocery store near you, it's really cheap there.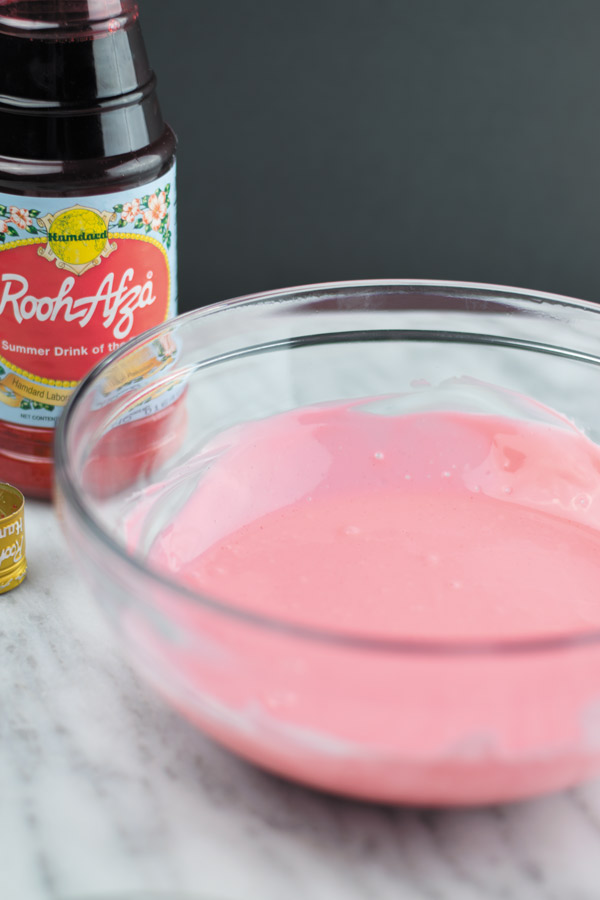 I mix all the above mentioned ingredients and prepare my rose lassi for popsicles.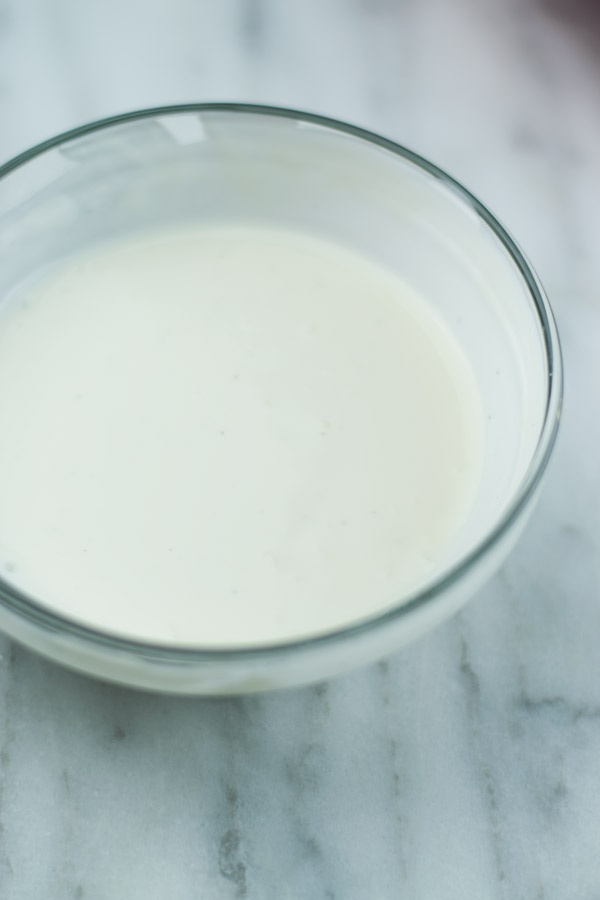 Then to go with my two tone look for popsicles, I mix greek yogurt along with milk and sugar for a plain lassi for popsicles. Then follow the directions of whichever popsicle maker you are using.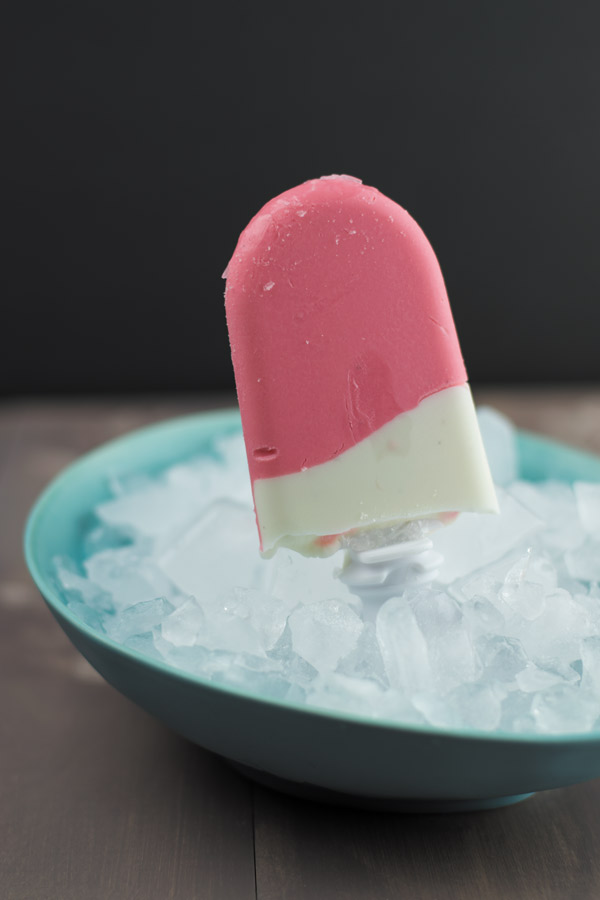 To this date, these are the BEST popsicles I have ever made and I love that they are not rock hard. When you take them out from freezer to eat, they are the right consistency you find in popsicles you buy from stores! And the flavors – scented rose, creamy greek yogurt go along so very well! Rose Lassi Popsicles forever!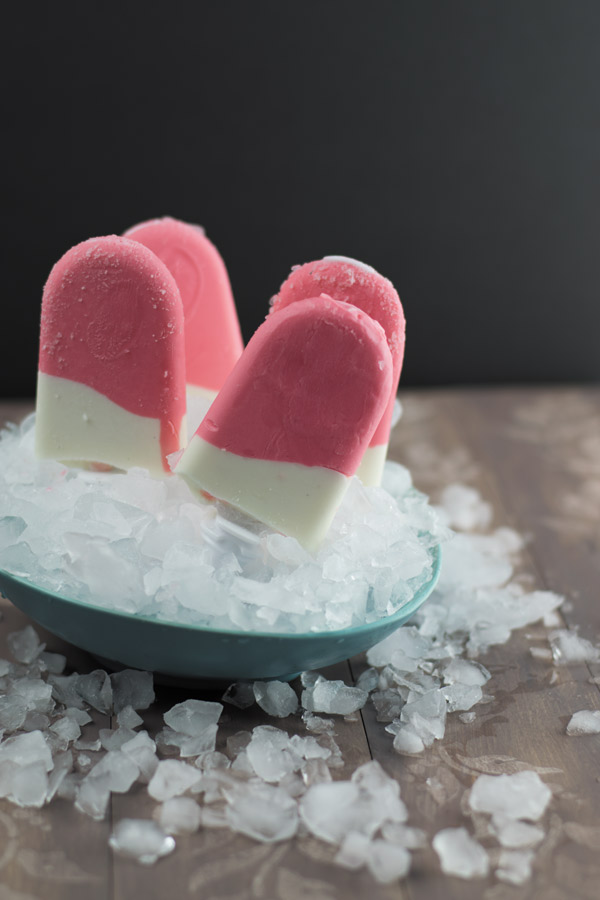 I have been eating one every single day and today plan on making some more!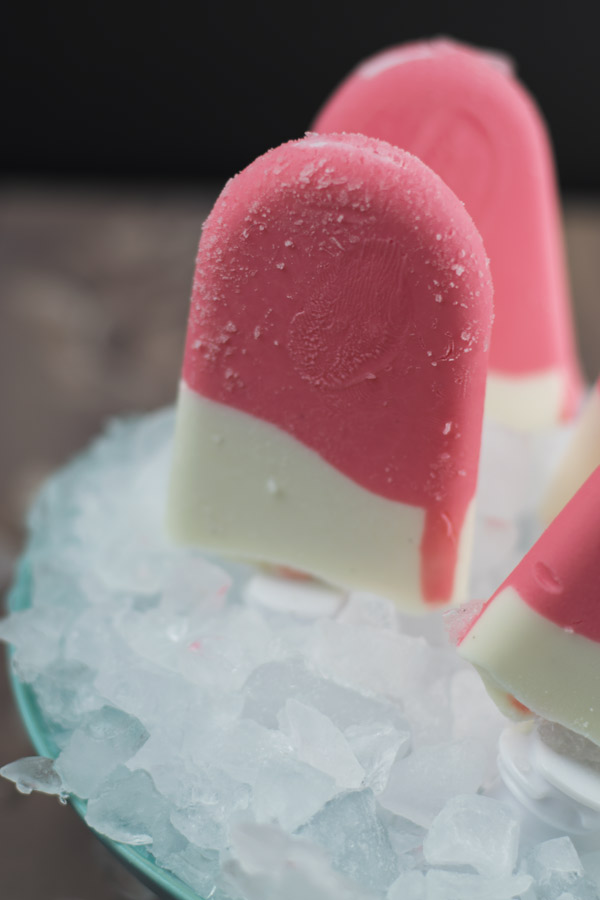 If you enjoyed this recipe, don't forget to FOLLOW me on  INSTAGRAM ||FACEBOOK||PINTEREST ||TWITTER ||GOOGLE+ || BLOGLOVIN || YouTube
Rose Lassi Popsicles
Ingredients
For ROSE LASSI :
⅔ cup vanilla or plain greek yogurt (**If you live in a place where greek yogurt is not available, take regular yogurt, hang it in a cheesecloth and drain for about an hour! You want a thicker creamier yogurt BUT not too thick!)
6 tbsp Rose syrup ( I highly recommend THIS brand)
4 tbsp milk
Sugar to taste
For PLAIN LASSI:
⅓ cup vanilla or plain greek yogurt
2-4 tbsp milk
Sugar to taste
Instructions
Mix rose lassi ingredients in one bowl and plain lassi ingredients in another bowl.
Take out your popsicle maker and fill with rose lassi upto ⅔rd full. Freeze for 10-15 minutes or until little hard so when you add plain lassi it doesn't mix with rose lassi.
Fill with plain lassi upto the top and freeze for naother 10-20 minutes. Insert popsicle sticks in the center of popsicles and freeze for 6-12 hours.
Enjoy!
Notes
Ami says :
If you don't have or can't find Greek Yogurt just use a nice thick yogurt and hang it in cheesecloth until thick and make sure your lassi is thicker than the regular lassi consistency!
 Some more POPSICLES for summer ->>