Everybody's favorite State Fair dessert now at home in 30 mins! Oreos dipped in pancake batter & fried!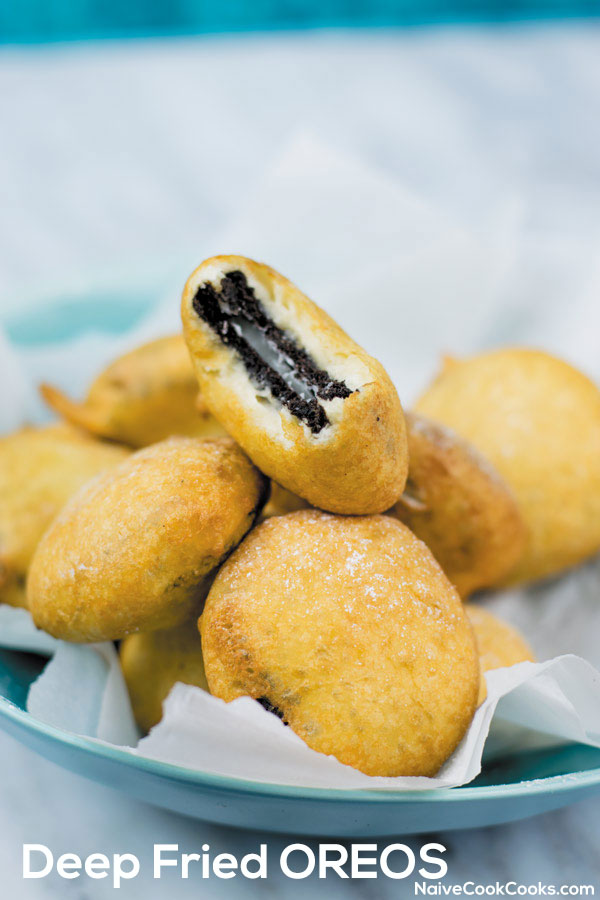 Today I got you something special, something so darn tasty that you will find yourself making them all the time. I love eating Oreos and if you remember I mentioned how I try not to keep oreos at home because well I seriously have no will power when it comes to oreos. If I know I have a packet of these at home, suddenly my late night cravings turn into oreo party with Oreos being dipped in chilled milk. Sounds familiar? If not I am so jealous!! How can you resist!!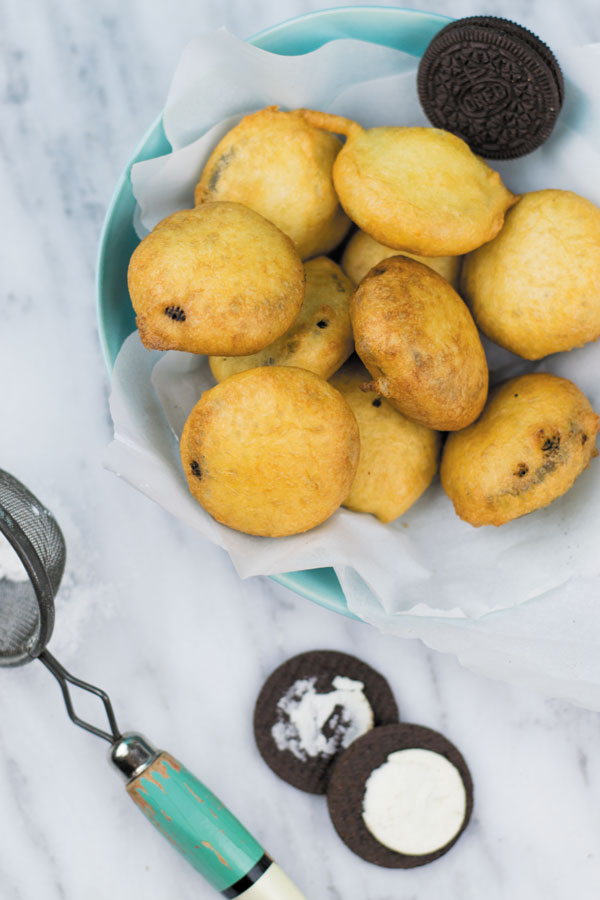 So the first time I ate these it was when I was working in India. I wasn't into cooking at that time and even though I must say I enjoyed them I had no intention of learning how to make them. But recently I realised I wanted to eat them badly and that meant I had to make them too this time all by myself!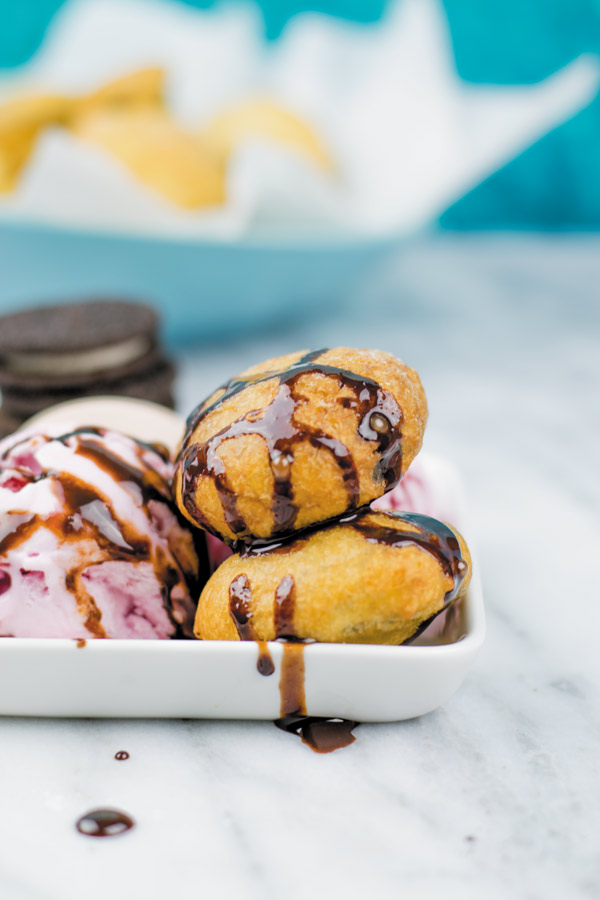 I had no idea that it's so simple to make these. Basically all you do is make your favorite pancake batter -> dip Oreos in it and fry! That's about it but I like to make them extra indulgent by serving with some ice cream and homemade chocolate syrup! Ohh did I tell you that I will be sharing recipe for this chocolate syrup super soon. It's so good, better than Hersheys and stays well in fridge for 2-3 months easily!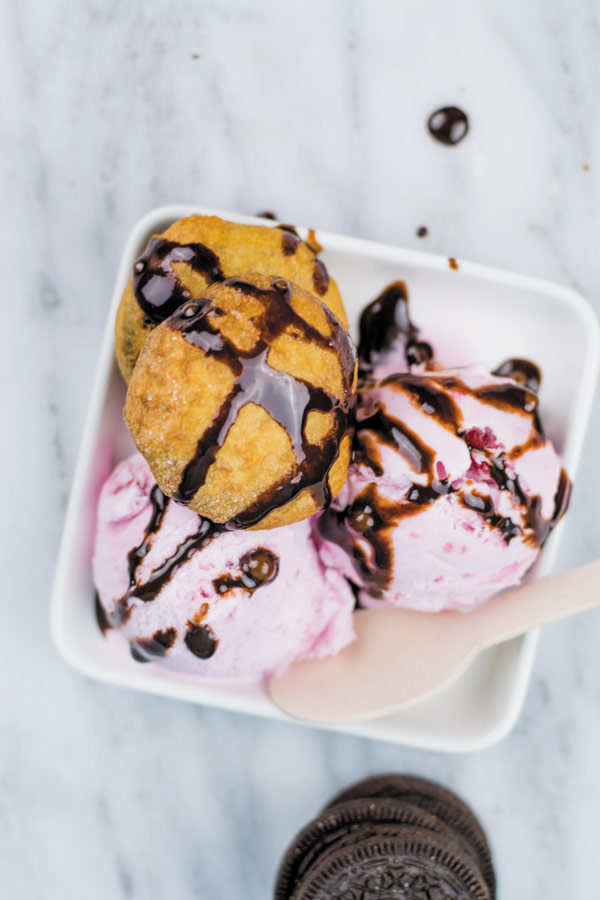 Ok so let's chat about these beauties!! Enough talk about that chocolate sauce 🙂
These for a dessert means all your Oreo dreams come true. I mean Oreos dipped in fluffy pancake batter & fried, then served sprinkled with powdered sugar & drizzled with chocolate sauce! What more can a dessert loving heart ask?!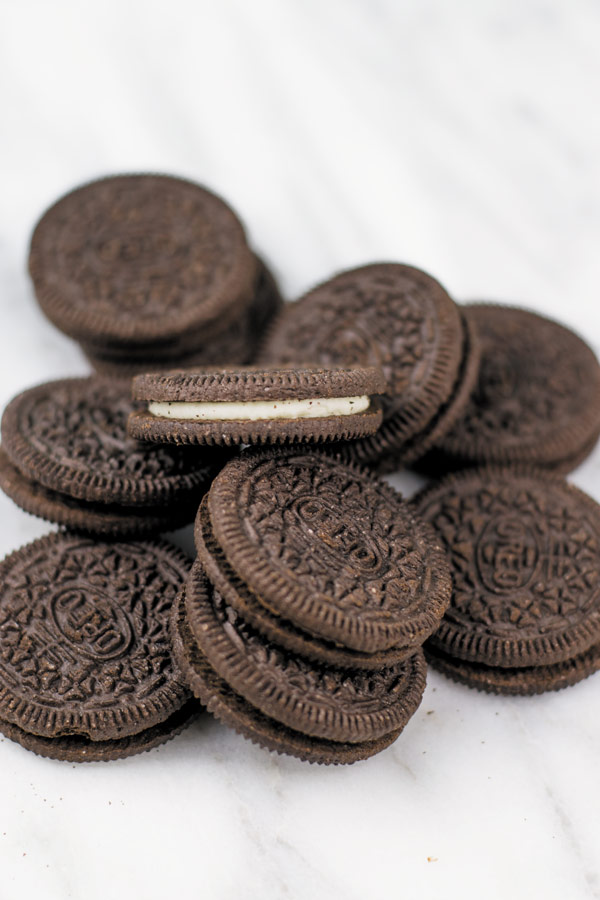 Oreos are obviously what you will need!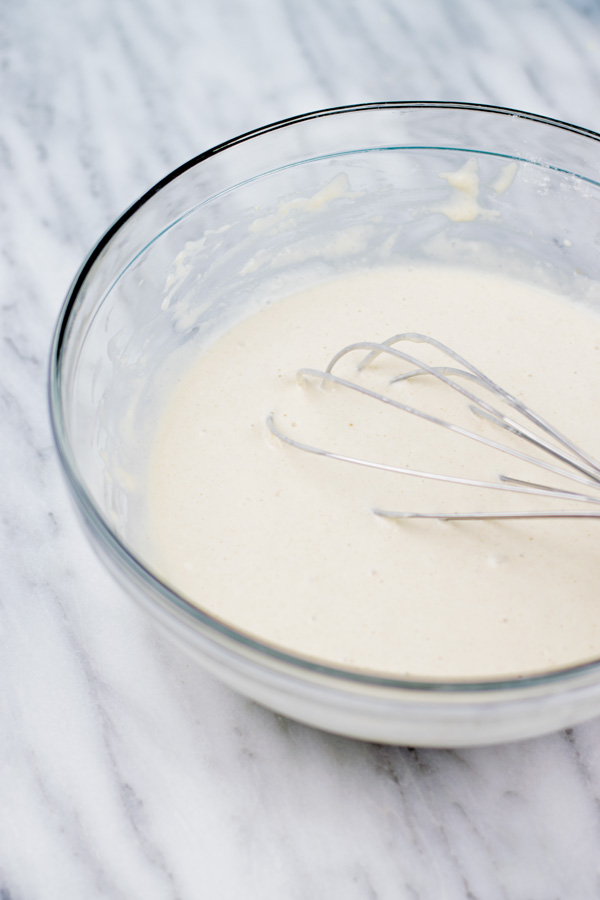 Then make pancake batter. I use my easy pancake recipe for this.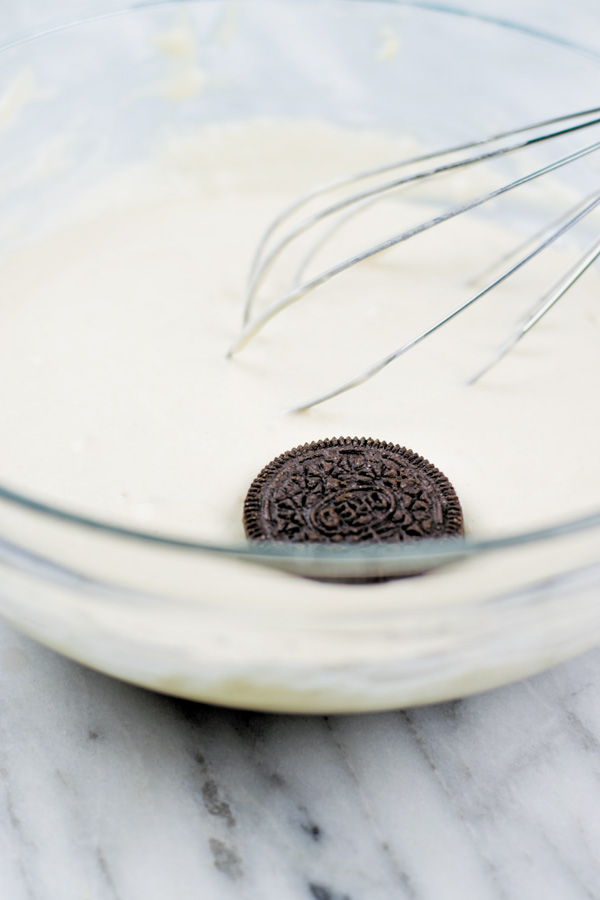 Then while you have your oil heating for frying, Oreos are dipped in batter and then fried.
There we have soft pillowy pancake batter dipped fried oreos!! DIVINE!! A must try for every Oreo lover!
If you enjoyed this recipe, don't forget to FOLLOW me on  INSTAGRAM ||FACEBOOK||PINTEREST ||TWITTER ||GOOGLE+ || BLOGLOVIN || YouTube 
Deep Fried Oreos
Serves:
24-40 deep fried oreos
Ingredients
Pancake Batter (I used mycinnamon pancake batter but without any cinnamon and nutmeg) :
1+1/8 cup all purpose flour
1.5 tbsp baking powder
Pinch of salt
1 tbsp sugar
1 cup milk
1 tsp vanilla extract
Other :
24-40 chocolate oreos
Powdered sugar for sprinkling on top
Chocolate Sauce (optional)
Ice cream for serving (optional)
Oil for frying
Instructions
Make pancake batter. In a bowl mix all the dry ingredients for pancake batter. Now add the wet ingredients and mix until you get a smooth batter.
Heat oil in deep pot.
Prepare a plate by laying few sheets of paper towel for keeping the fried oreos so it can absorb excess oil.
Now dip few oreos at a time in batter and cover them from both side and slowly add them to hot oil. Fry on medium heat for few minutes on each side until golden brown.
Transfer them to paper towel covered plate and continue frying the remaining oreos.
Serve sprinkled with powdered sugar and if you want chocolate sauce & ice cream!
 Some MORE Oreo based recipes ->>
https://www.naivecookcooks.com/no-bake-oreo-nutella-bars/