Pistachio Lemon Bars with Coconut Whipped Cream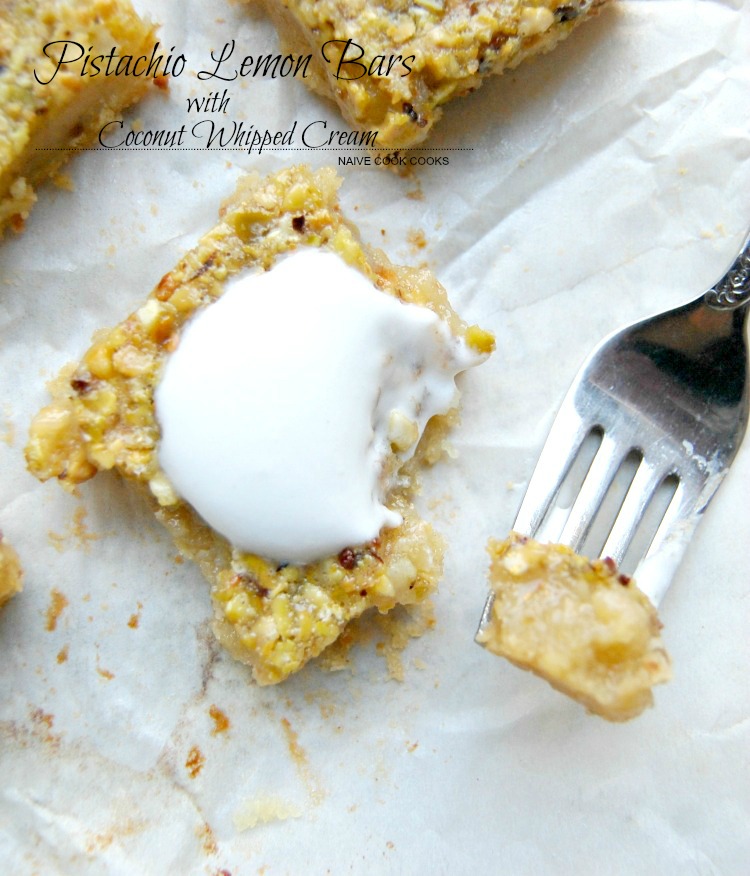 1 cup unbleached all purpose flour
¼ cup confectioners sugar
Pinch of salt
½ cup (1 stick) cold, unsalted butter, cut in pieces
¼ cup shelled pistachios
2 eggs
1 cup sugar
½ tsp baking powder
2 Tbsp all purpose flour
1 tsp lemon zest
4 Tbsp lemon juice (I got from juice of 2 lemons)
⅓ cup shelled pistachios
1 can full fat coconut milk
1 Tbsp powdered sugar
Preheat oven to 350F. Process flour, sugar and salt in a food processor. Add butter and pistachios and process until it comes together. In a parchment lined baking pan, preferably an 8" square shaped, press the dough evenly. Bake at 350F for 16-20 minutes until only lightly browned.
Grind the pistachios in the food processor for a kind of chunky texture. Whisk together all the ingredients and pour in the baked crust. Bake for around 20 minutes at 350F. Once done, let it rest out until warm. Chill and cut in pieces. Store in an airtight container in refrigerator.
Leave the coconut milk can in the refrigerator over night. Move it without much disturbance and place it the same way as kept in refrigerator. Sitting overnight ensures that the cream and water separate properly. In a bowl take out the coconut cream. Add sugar and whip until soft peaks form. Serve bars with coconut whipped cream.
Recipe by
Naive Cook Cooks
at https://www.naivecookcooks.com/pistachio-lemon-bars/